Having done half of our journey, it is time to reflect on the vegan meals since our last blog post about food specifically.
Crossing into Muslim countries we were slightly unlucky in our timing, because we hit Ramadan dead centre. For those of you who don't know, Ramadan is the month of fasting for Muslims, and this entails no food or drink when the sun is up. This means that from sunrise to sunset it was virtually impossible to find open restaurants or cafes, and when we did find open ones, there would be nobody in them at all. Some cafes would have men sitting under the shade, talking, reading the newspaper, but nobody would be getting anything off the menu. Of course as travelers we stuck out among the locals in any place we went to, and therefore were not entirely expected to follow the fast, but you can imagine it is very uncomfortable to be eating in front of people who haven't had anything in their mouth since sunrise.
The amazing thing about Turkey was all the fresh produce we could find on every road, being sold in fruit stands, supermarkets, small shops, and so on. The tomatoes had real taste and texture, the peppers were fragrant, the garlic enormous. We cooked most of our meals in the car, and I am glad we did, because it is rare to find such amazing fresh food in the UK so cheaply.
In Istanbul we tried our first falafel – and were greatly disappointed. It was just a usual fast food stand, they have billions of them in Turkey, mostly serving meat. The falafel was yellow on the inside instead of the usual green, it was soggy and fell apart easily, and the wrap had sad looking lettuce in it, and for some reason they put french fries in the mix? What a disappointment! The saving allure of Turkey was the coffee, which is my favorite type of coffee, brewed in a special little pot, sometimes with sugar and spices.
Next on the list of countries is Egypt, although something to be said about food in the Iskenderun-Port Said ferry: it was awful. The first day we were excited about food, because they served amazing bread, big tomatoes and olives – what more can a vegan want! But as the days wore on, the meals became more meaty and creamy and smellier, and the seasickness didn't help either. We resorted to making tomato soup from a packet we still had in Troopy, basically a life saver.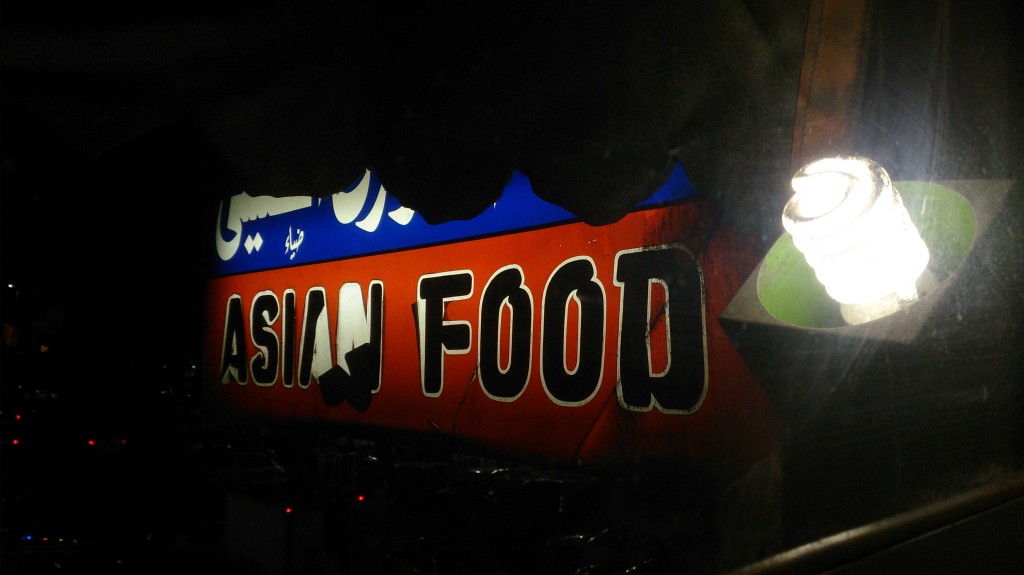 Egypt for the most part was also a blur of self-catered meals or random snacks. The time spent in Port Said we either ate figs, grapes, packet soup or noodles, or went to the only restaurant serving beer during Ramadan, and the first time I ordered a "curry", I got a mostly disgusting dish of curry powder and cornflour sauce with barely any vegetables floating in it. The second time I got a salad, which was a thousand times nicer. The third night out in Port Said we went to an Italian style restaurant and had a vegetarian pizza with no cheese, it was quite nice!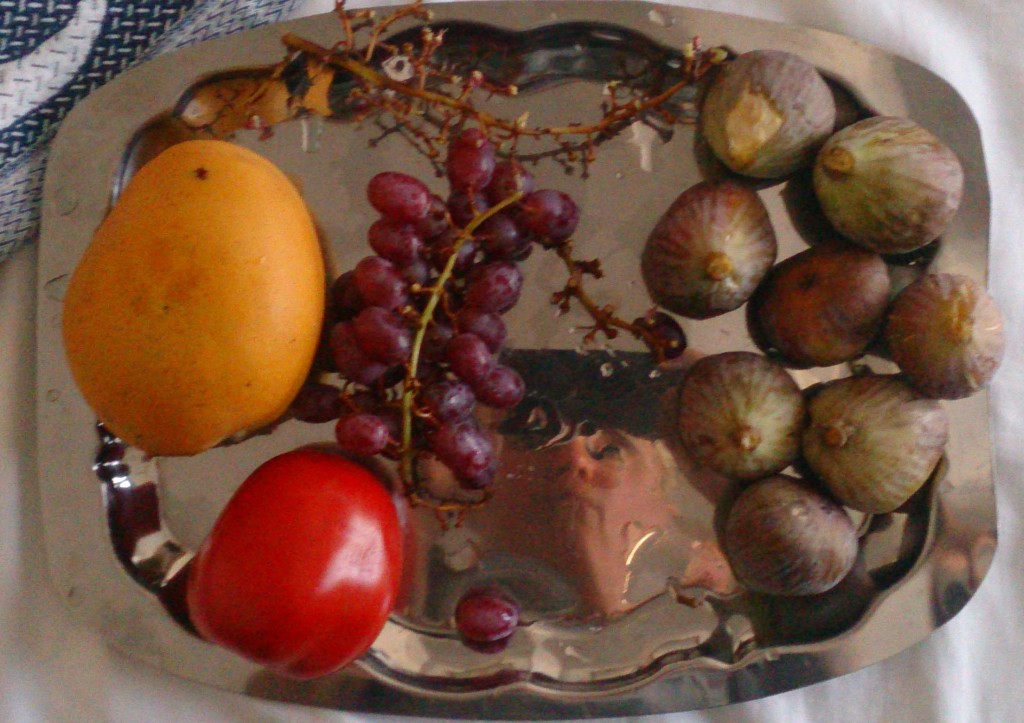 The rest of Egypt was a hit or miss. In Cairo we visited an amazing Lebanese restaurant Taboula, possibly one of our favorite restaurants so far on this trip. They had very fresh salads, and tiny pickled aubergines, very tasty hummus, and the other similar Middle-Eastern vegan delights. Shame we didn't manage to walk there for the second time, because apparently their wines were nice as well. I think the only time we tried "real" Egyptian food was in Luxor, when I ordered a strange pot full of veggies, tomato-pepper sauce and overall it reminded me of ratatouille. In Aswan we mostly resorted to falafel and other sandwich-based meals. The falafel was amazing though! It was prepared by a brooding old man, who charged us pennies for our falafel pockets, and added grilled veggies inside the pita, and always asked if we liked it or not. Delightful! The other food was less impressive, from a different food stand, nevertheless it was sustenance during my giardia-ridden days, when any food looked like the enemy to me.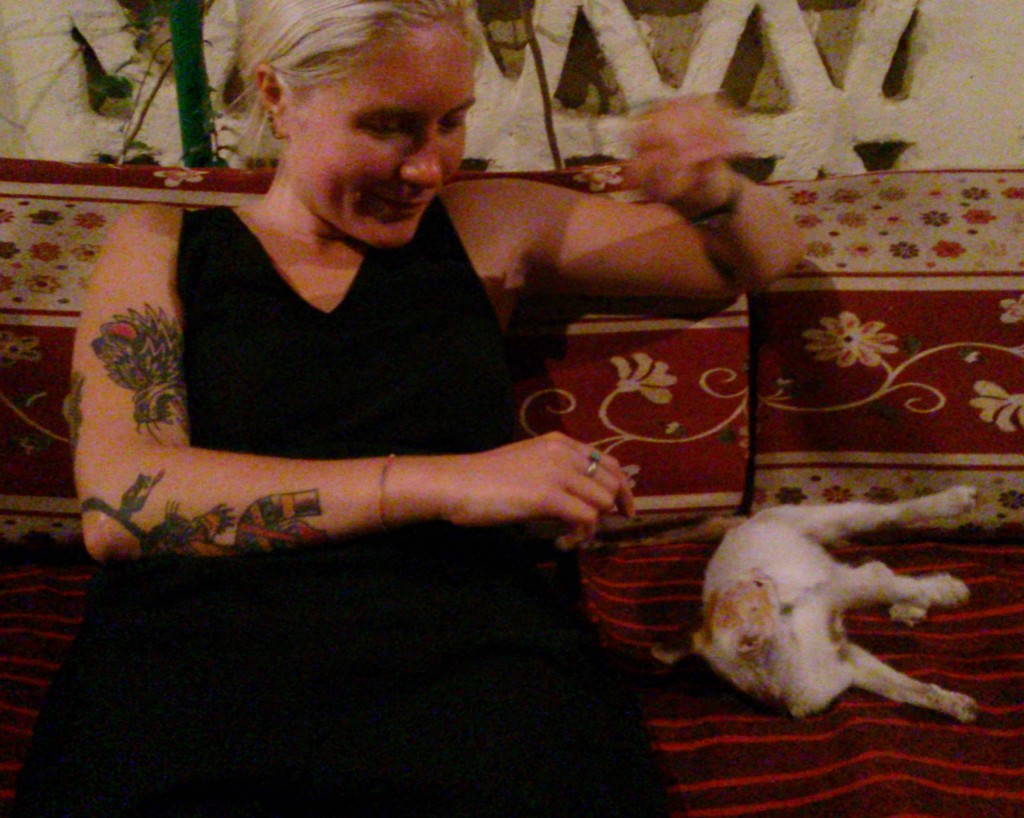 Enter Sudan, and we entered the land of the endless "ful" – fava beans cooked in water. Staying in Wadi Halfa for a week, with barely any variety of food to eat, vegan or not, we thought we might actually go off food altogether and start "juicing". If you are into the juice fad, Sudan is the perfect place to go – orange, mango, guava juice stands on every corner, even in the desert town of Wadi Halfa. If you don't want sugar in your juice, tea, coffee, any beverage at all, you might find it very hard to convince the person preparing your beverage that you really don't want it sweet. They put so much sugar in everything – even the local brand of coke tastes mostly of sugar rather than syrup or any other flavor. But back to "ful".
There are many varieties of ful, and many versions of how to prepare it. For some reason, every time we got ful, it was fava beans cooked in plain water, probably for a whole day, with no other spices or flavoring, and then when it was served in a bowl, about half a bottle of vegetable oil was dumped on in. You get pita bread to go with it. Sound like a tasty meal to you? We had it every day, although we got more sneaky and started adding fresh vegetables and salt. The only other thing we could have in Wadi Halfa was the falafel – the first day it was served with a nice salad in the pita, but every day after that it was just dry falafel in stale pita bread – sometimes with a "chili" sauce that just made everything mushy.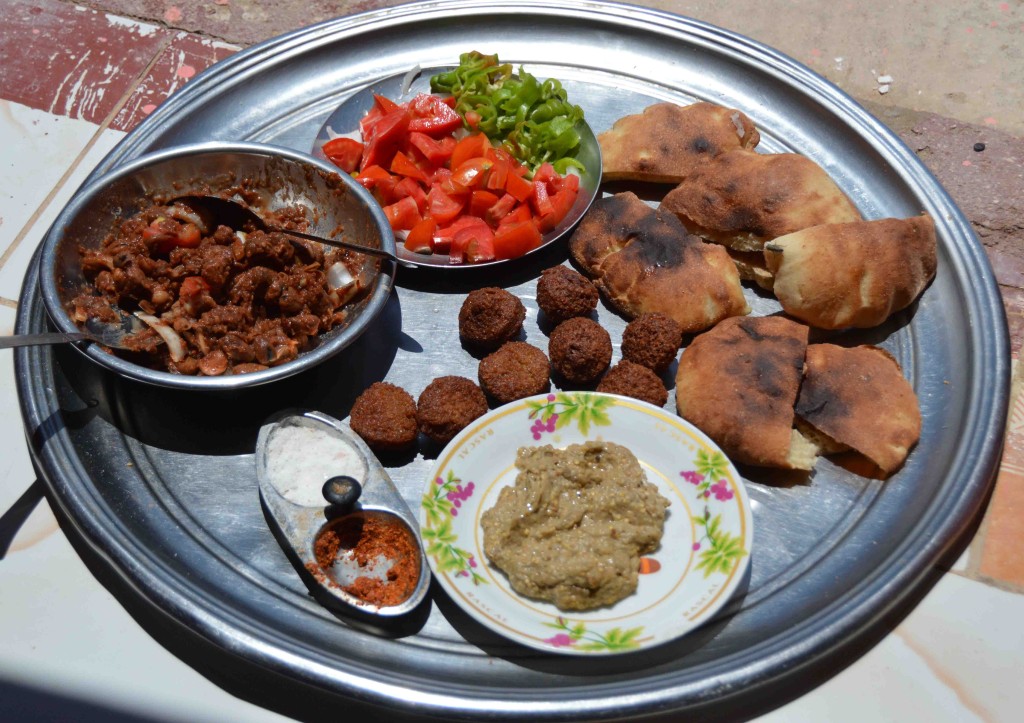 Moving onto Ethiopia. If you have never tried injera, you are seriously missing out. It is a traditional flat bread-pancake sort of thing, and you can have it with many different things. The point is to dump your sauce or veggies (or meat) onto the injera and tear off pieces of the bread to pick up the sauce with. The good thing about Ethiopia is that as an Orthodox Christian majority country, they have a lot of fasting days. The longest fast is before Easter, and then every Wednesday and Friday are also fasting days for most of the year. On fasting days you are not allowed to eat animal products, although in some places they still serve fish and honey as those are not understood as "animal" per se. Which is why you can walk into most Ethiopian restaurants and ask for "fasting" food, and you will have no problem as a vegan. The bad side of this whole thing is that Ethiopian tradition is bathed in meat and animal raising for killing. You don't have to go far outside your hotel just to see it, and after every fast there is a big meal with many slaughtered animals.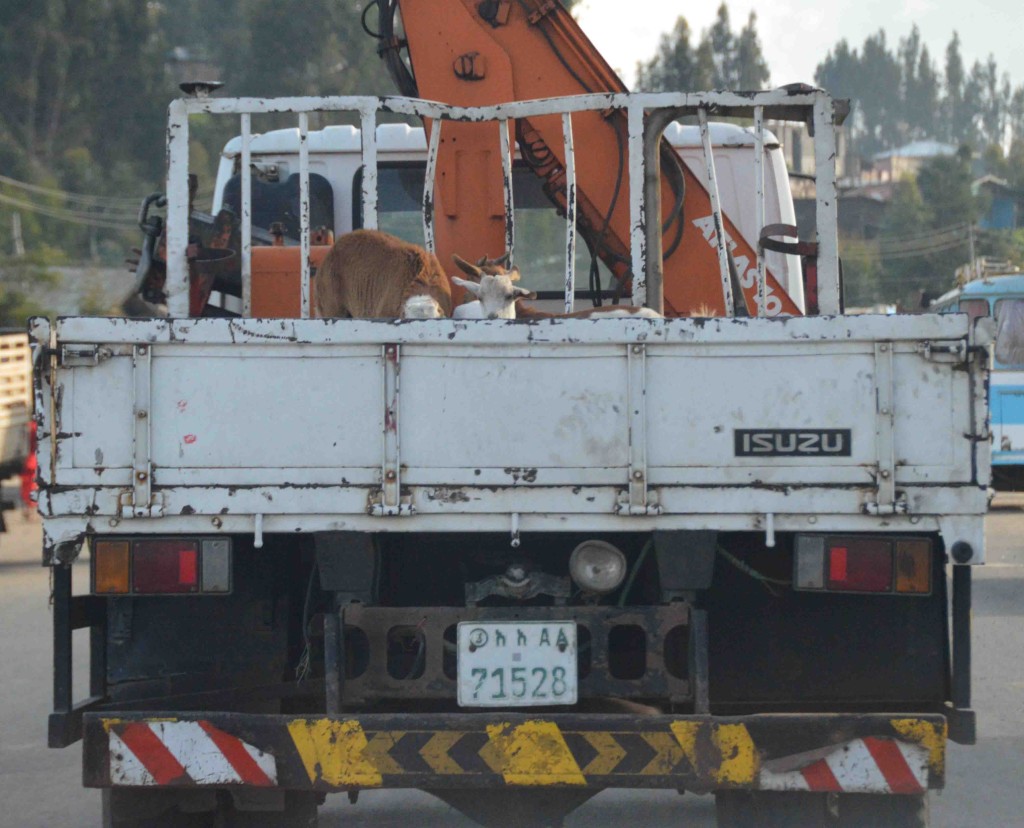 We tried a few traditional "vegan" meals, and loved all of them. Tegabino and shiro are initially made from the same ingredients, but prepared slightly differently, and they consist of pea (or chickpea) flour with a mix of special spices, prepared with onions and other similar vegetables. Fasting fir-fir is a bowl of already torn injera pieces soaked in a similar red-orange sauce, a lot of people have it for breakfast. Then there is beyaynetu – a selection of different stews and sometimes unconventional items, like pasta, served on top of the injera. Possibly meant for one person, it is easier to share with someone, because you get a lot of food, and a great variety as well! Our favorite was at the Seven Olives Hotel in Lalibela. 
If you want to know more about vegan dining in Ethiopia, definitely check out Mesfin's blog post about it, he knows better than us!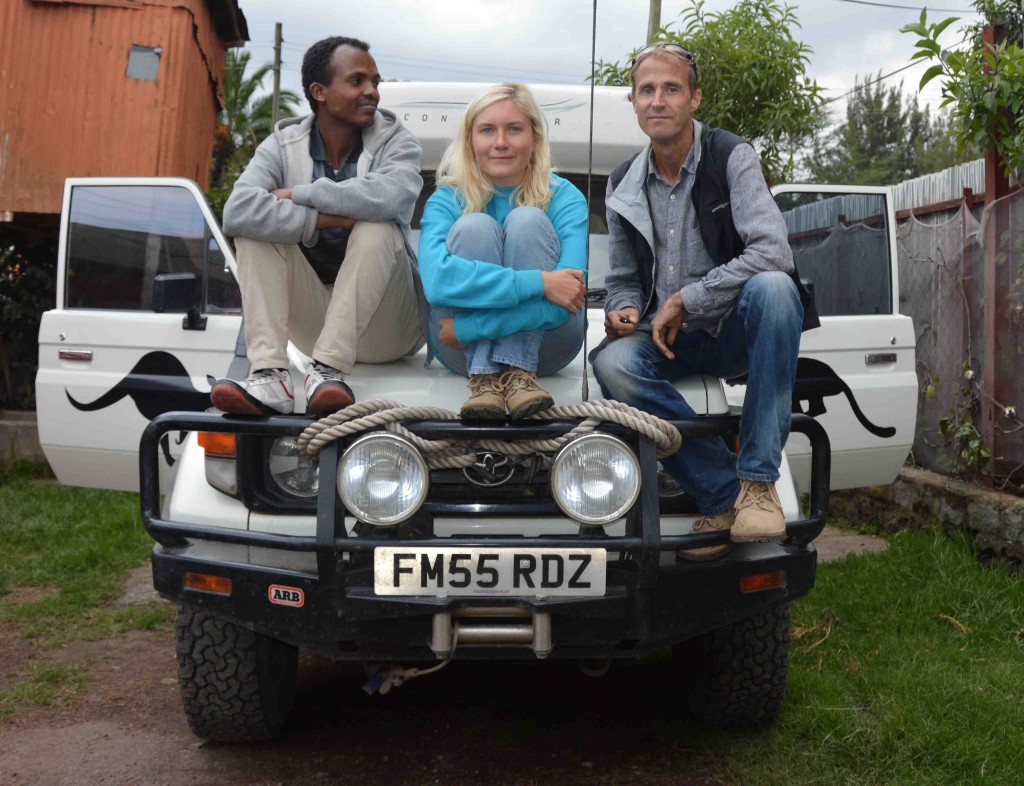 Overall, we are strong and have maintained our veganism. Some countries have been a lot harder than others, but the good thing is you can always find fresh fruits and vegetables in markets, and you can always find canned beans and pot noodles. The general idea in the Middle East is that you eat salads, hummus, falafel, and similar dishes.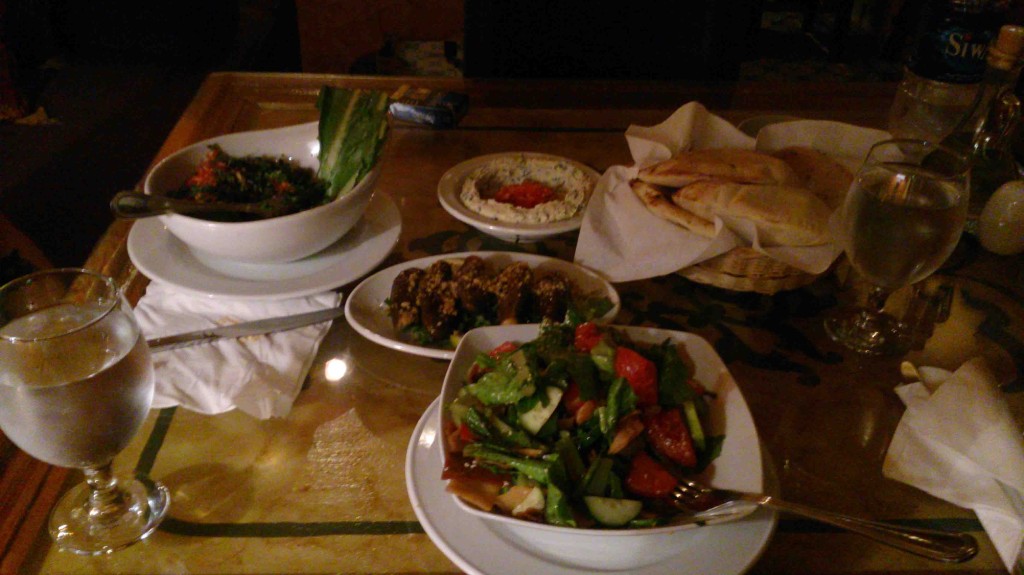 A lot of countries we visited since Europe rely on beans, chickpeas, tomatoes and a variety of different breads. We are looking forward to discovering vegan options in the next countries, Kenya, Tanzania, Mozambique and others further down south. Keep reading and hopefully you will get inspired to go vegan too!