After the fiasco with two roads through the Sahara that we couldn't take because we didn't have various permits, we tried to cross the desert for the third time, north to south. We started out of Giza's Meridien Hotel with soured hopes, I was feeling really ill all morning, and we had to postpone our start until early afternoon. As we drove out of Giza and onto the desert road south, my mood perked up. We headed to Bawiti and hoped to camp there for the night, starting out to the Black Desert and the White Desert the next day. Having passed a few checkpoints on the way with no problems (finally!), we rolled into Bawiti just before sunset. The town was busy with other "Troopys" flying over speed bumps, getting fixed in garages and people shouting, relaxing and shopping. I was particularly in awe of a huge Fanta mountain outside one shop – a massive construction of boxes of many soft drinks, mostly Fanta. We saw a shop with a "Stella" sign outside of it, and Jonathan went in to buy five bottles of this Egyptian drink. I personally wouldn't go as far as calling it beer. The first time you try it in a Muslim country, after having searched for alcohol for days in vain, you fall in love with it. The consequences of the next morning hit you pretty hard, and every time you drink it again, the less of it you consume and yet the more drunk you get. It is quite vile tasting and the night spent in the White Desert will become my last night of drinking it.
We checked into a really quaint dusty hotel on the edge of town, called Desert Safari Home. The rate was cheap, and for some reason I opted out of the air-con option, thinking the fan would suffice. The owner – or somebody who spoke English – was very kind to us, explained everything, and the next morning accompanied us to a car parts shop and helped Jonathan buy a tyre pressure gauge, all out of the goodness of his heart. We were really impressed by this little oasis, so unlike the busy hassles of Cairo and most of the populated areas of Egypt, where kindness comes with an expectation of a monetary reward. After settling in, we walked around the town looking for food, but ultimately Jonathan had to cook dinner in the car. The night was hot but the breakfast was very nice, the caretaker even went out on his motorbike specifically to buy us coffee.
As you leave Bawiti, you technically enter the Black Desert, although visually it starts some kilometers before the oasis. It is called "Black" partially in contrast to the whiteness of the White Desert, but also because the sand is covered in black pebbles and rocks. The sand of the Black Desert is strikingly dark yellow, almost orange, and contrasts nicely with the black crackle on top. There are tall cone-shaped "mountains", formed out of sand and covered tightly in black rocks on the top. These reminded me of volcanoes more than of anything else I've ever seen. We stopped at one of those cone shapes and decided to climb it to take in the view of the whole desert. Some might say this was a ridiculous idea to go climbing up the sand in the middle of the day in the open sun in the hottest time of the year for the desert, and having done this, I am partial to that opinion. We didn't take nearly enough water with us, but once we had climbed, the view was spectacular. Because the ground is flat, we had an aerial view all the way to the horizon, with these black cone shapes, which added a degree of alien to the landscape. This wasn't quite like Mars; this was, for sure, a planet from another galaxy.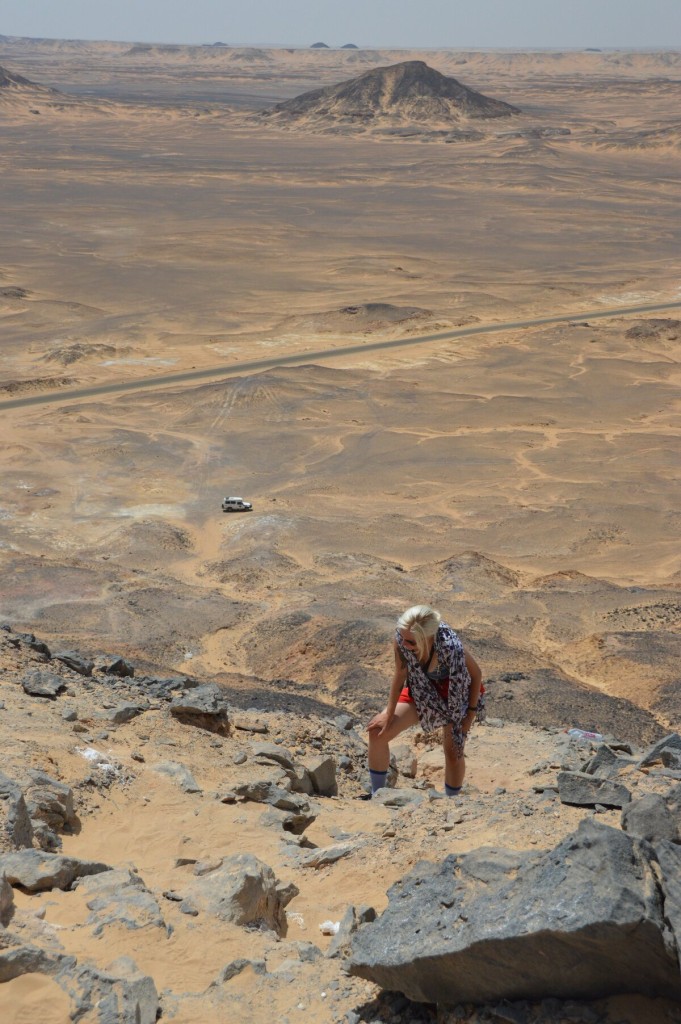 After the Black Desert came the White Desert, with its own checkpoint on the way in and out. To experience the White Desert properly, you are allowed off the main road and into the sand. The map at the entrance of this rough-track journey was too old and quite unhelpful. There are three "tracks", but only one of them was marked clearly on the ground. We started following the track that goes all the way south passed the "Mushroom" rock formation and then north-east and then west, and comes out a few kilometers north onto the main road. Jonathan let me drive for a while, as he took in the view and did some video taping. I enjoyed driving in the flat sand, it was softer than anything I've ever driven on. Oh, but the scenery! I don't think words can do justice, and neither can photographs. The chalky white and peachy stones interspaced with yellow sand create such a unique landscape, I don't think any place on Earth looks like this. At first the structures remind you of mushrooms, but then they get totally weird. Not even the craziest abstract artist could create these on a whim. The stone is actually very fragile and can turn into a white dust cloud if you accidentally drive over it.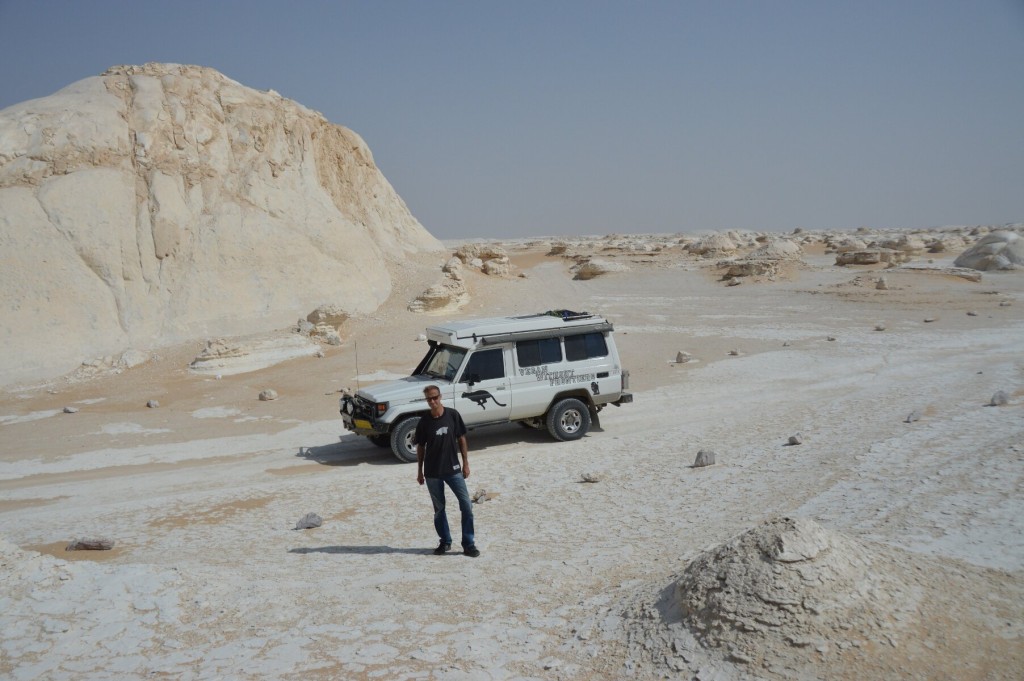 Of course we got ourselves "lost" – not quite lost because we knew exactly where we were and had a compass, but we lost the main track and got ourselves stuck in the sand. Jonathan went around digging out the car while I ventured out on a short walk to find the lost track, but without results. Once the car was released, we had to drive back a few kilometers and start following the well-known track instead. By well-known, I mean that it was clearly marked and there were many wheel tracks visible in the sand. I remembered our friends' advice, who were driving around the same tracks just a few days before us, and headed for the acacia tree, and from then on back to the main road through some really rough black rocks. From there we decided to go up north and try out our firstly chosen track backwards, from north to south. The track was not marked, so with a lot of guess work we re-entered the rough patch from the main road and finally came to a beautiful valley, the ground of which was covered in dark yellow sand, with fading tyre tracks leading forward, and massive stone structures overlooking the valley. Here I could really feel small and insignificant compared to these white giants, centuries old and untouched, with only sand, wind and the sun for company. I couldn't imagine rain ever coming down here.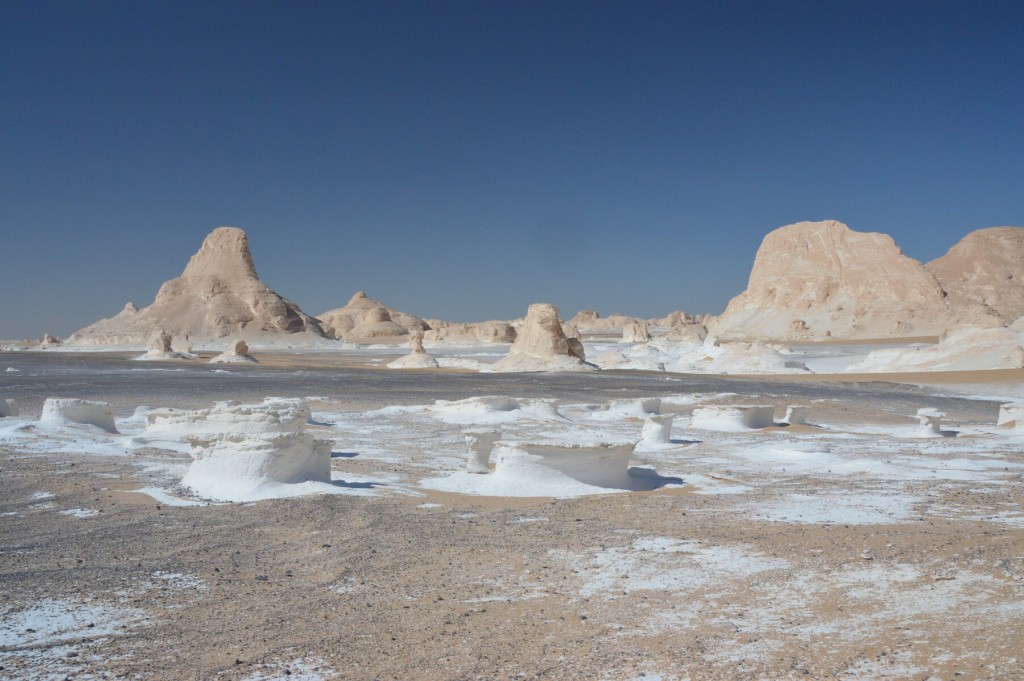 The rest of the journey on that side of the main road was about the same: we got stuck, we dug ourselves out, we drove with trepidation through patches of tricky sand, and with hearts jumping up and down through stony patches. We had to rejoin the track we had taken before (with the acacia tree) because it was easier to get onto the main road and find ourselves a camping spot for the night. Off the main road on the other side (the west side) there were even less tyre tracks, and having driven through really disjointed white rocks on the ground, we came to a place under a massive white structure, which shielded us from the sun somewhat, and had a spectacular view of other, smaller, white giants. Unfortunately, we also endured crazy sand-blowing wind, and I slept very little because the car was rocking side to side, the wind was mostly hot and full of sand, and the car felt like a sauna.
The next morning I felt ill again but we continued to drive onwards towards the left-over oases, finally coming to Kharga. Here we stayed in a "fancier" hotel – with air-con, TV and a fridge, and I ended up just watching a dumb movie and sticking to a liquid diet of soup and guava juice, trying to get better for the next day. We were afraid the direct road from Kharga to Luxor would be closed, according to our friends Jack and Cynthia who drove through a few days before us, but we got lucky that the road was miraculously open and we got to Luxor and then Aswan in no time. Sometimes in Egypt it seems as if things happen randomly, somebody sits in a room making decisions based on nothing, like pulling cards out of a pack, although I am sure it is more complicated than that.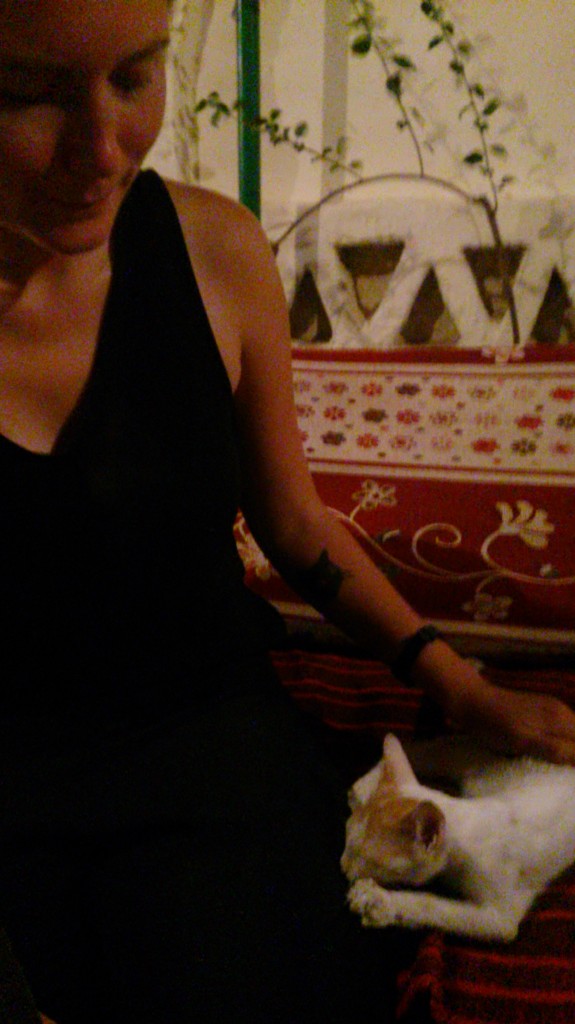 Our first visit to Luxor flew by us as we only stayed for tea to visit our friend Jane, (on that later) and from Luxor we took the desert road to Aswan. In Aswan we rejoined Cynthia and Jack, and met Tony, another overlander, and Nick, a sort of guide who drives 17 people around Africa in  a truck. Nick was waiting for his truck to arrive from Wadi Halfa (Sudan) on a barge, while all of us overlanders were waiting for a barge to sail south. Poor Tony had been in Aswan for almost a month, being promised at least 3 times that the barge was going to sail, but it never did, and Nick was there for two weeks waiting for his barge to arrive, apparently it was stuck somewhere with a broken engine.
Aswan, just like the rest of Egypt, is dirty and there are a few hasslers as well. The hotel had excellent internet connection though, and "Stella" beer – which I didn't partake in any more. After spending a day in bed really ill, we (as a group) discussed that I should take antibiotics or anti-parasite medication, and I bought pills from the pharmacy that happened to have both in one. After a few days I finally recovered, having sufficiently killed whatever was living inside of me. Our "fixer" Kamal took me and Jonathan to the Sudanese embassy for our visa, after two day we got our visas (with another marriage proposal under my belt),  and as there is nothing to do in Aswan, we decided to go back to Luxor to visit Jane properly and do some sight-seeing.
Jane is in charge of "Flats in Luxor", an apartment building for visitors, sort of like a hotel but with your own kitchen, bedroom, bathrooms, and so on. There was even an outside pool, which is surely a luxury in the 42+ degree heat. We visited the Valley of the Kings, a spectacular ancient burial site for 18th, 19th and 20th dynasties of pharaohs, and we were able to visit 4 of the tombs there. Then we visited the Temple of Hatshepsut, a magnificent ancient building with many features intact, built just at the foot of the major cliffs on the outside of the valley, making it appear to be built right out of the cliffs instead of next to them. We also passed some more derelict ancient temples on the way and visited the Luxor Temple on the east bank of the Nile. There is a row of sphinxes that apparently used to stretch for 3 km, a long straight road with identical sphinxes evenly spaced out, staring dead ahead, and now there are still a lot of these left, although not for 3km, but the impact remains the same.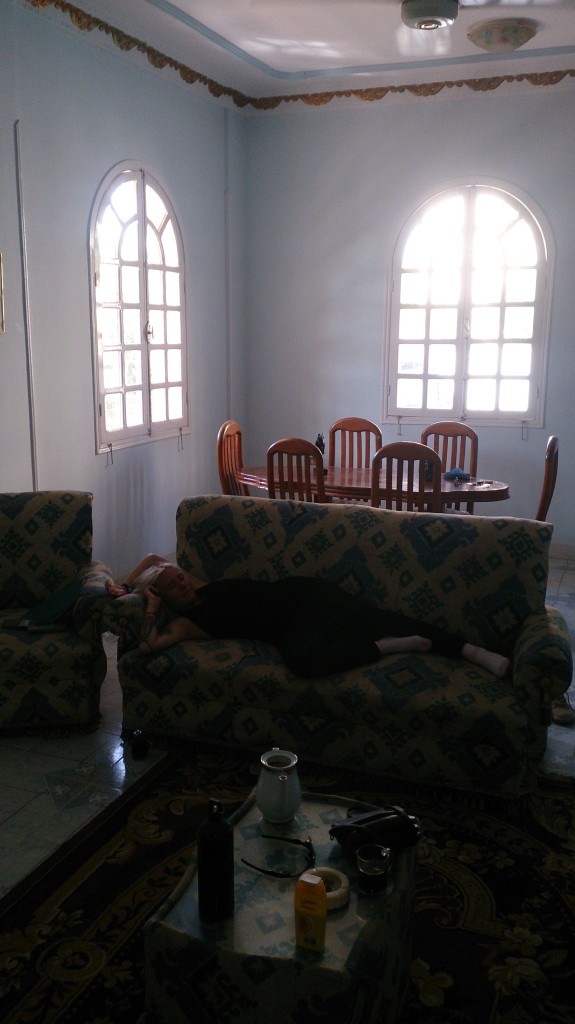 After two nights in Luxor we went back to Aswan and were told that our barge would be loading the next day and we would be getting on the passenger ferry the same day also. We ran out of luck on the way back to Aswan: we got a flat tyre whilst we were on the desert road. It wouldn't have been such a big deal, but it was midday heat, no shelter, busy windy road, and as we had only one spare, we don't have a spare tyre any more, and this variety is very hard to come by, at least here. But otherwise we really did load our car onto a barge on Sunday, spent basically a day at the port dealing with various bits of bureaucracy, and then got on the passenger ferry, and now we are stuck in Wadi Halfa in Sudan. I think these particular experiences require their own post.