Vegan Without Frontiers Limited is a Not-For Profit Company, registered in the United Kingdom. This does not mean that we do not aim to be 'profitable', just that all proceeds are directed to charities or other worthy causes and projects. Set up by Jonathan Duffield in order to share his experiences of exploration with other vegans, or as he likes to say (with a degree of amusement) 'to inflict Africa on them'. Guests are invited to join Vegan Without Frontiers and be a part of the adventure.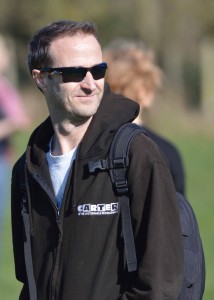 Jonathan had accumulated extensive adventures already, before driving the length and breadth of Africa, twice.
From 2000-2005 he trained for and competed as foredeck crew in 'The World's Toughest Yacht Race' – racing from the UK around Cape Horn to New Zealand and Australia in Global Challenge 2004-5.
Not all these adventures were quite so 'serious' – travelling the world bungy jumping dressed as a pantomime horse, backcountry skiing, and dragging an assorted rabble of adrenaline (and wine) junkies around Europe on extreme sports challenges through the Dangerless Sports Club.
Then in 2014 the African adventures began. The original expedition by 4×4 vehicle led through Europe, Eastern Africa and on towards Cape Town. In the second expedition, Jonathan was joined by new and old friends for various sections of the journey through North West and Southern Africa.
Now you can join us too!