I was worried that this post was going to be all a bit samey…we'd travelled around Lake Malawi and stayed in some lovely places (and some only slightly less so), but enthusing about the beautiful scenery of lakes and mountains and the friendly people of Malawi didn't seem to have a story to grab the reader. Then we crossed into Zambia and spent a couple of days and nights surrounded by the sights, smells and sounds of wildlife in all its forms, and we have tales to tell. So the delay caused by the scarcity of any usable internet has turned out for the best I think – but apologies anyway!
That isn't to say our travels through Malawi weren't worth reporting – a country we went through as a result of a late change of plan after not getting into Mozambique turned out to be a highlight of the trip. Its just that I feel a little as if it was too nice, and we spent lots of time in swimming in the clear (though Bilharzia afflicted) waters, snorkelling and watching the multicoloured fish and crabs. We spent a couple of nights up on the escarpment overlooking the lake at an eco-campsite, eating excellent vegan food (see Katana's food blog on that) and visiting Malawi's highest waterfalls.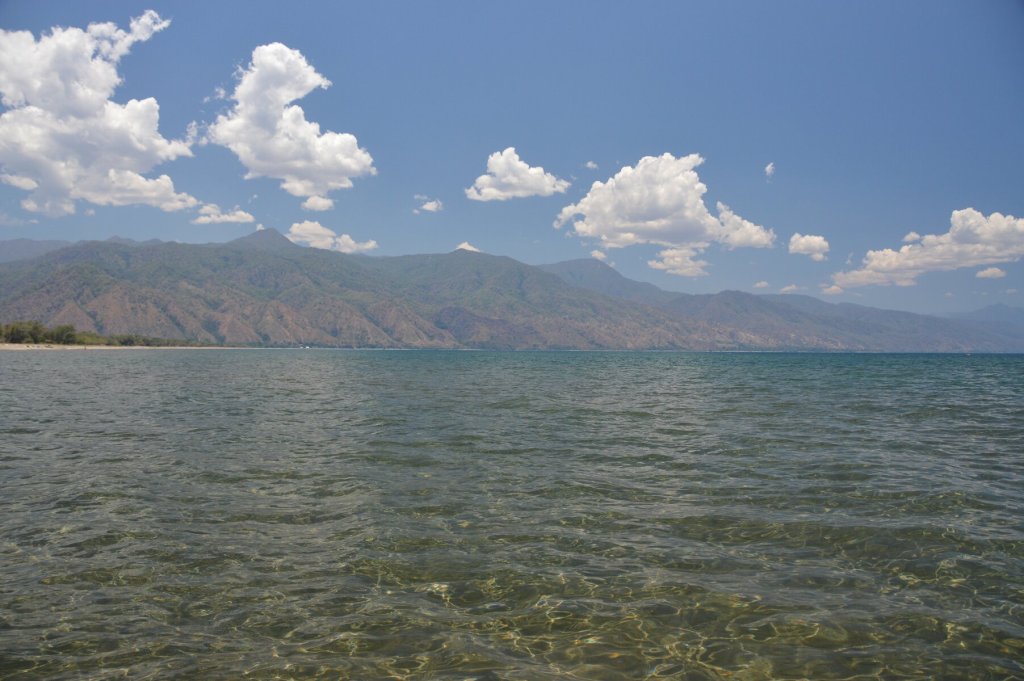 But again I'm getting ahead of myself – our first experience of Lake Malawi was in fact in Tanzania, just before the border. We camped on a sandy beach under the shade of a tree at the Blue Canoe Safari Lodge at the end of a long day's drive from Songea – the last 50km in the dark over dusty, rough, stoney roads filled with bicycles, pedestrians, goats and oncoming headlights. We even got bogged in soft sand 2km from our destination – requiring the full 4WD capabilities of Troopy to get unstuck, and leaving us with the front hubs stuck in Lock position as a spring had slipped off inside preventing release. This was the first use since the repairs at Toyota Kenya…so I have suspicions! Its OK now though – I dismantled and reassembled the locking mechanisms in some quiet time further down the lake. But anyway, we spent 2 nights at the Blue Canoe, spending a full day there swimming in the lake and cleaning Troopy inside and out – and maybe having a luxury G&T on the veranda of the lodge whilst watching the sun set. It was an easy place to linger, and the bananas we bought in the village (Matema) were the tastiest I've ever had – short and fat, with a hint of pineapple.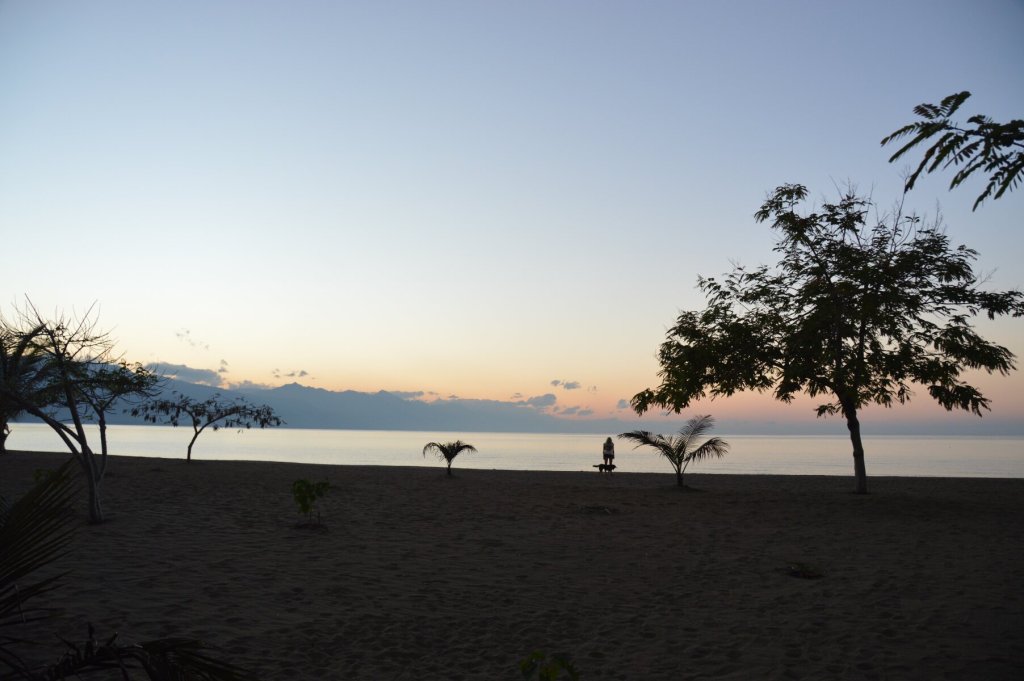 On our second morning, we packed up and headed for the border – the rough road was a lot easier to drive in daylight! Apart from a slightly eye-watering fee of $100 for Katana's visa (my entry stamp cost nothing), the formalities at the border were pretty painless and we rolled into Malawi not really knowing what to expect.
I like Malawi a lot. The people are friendly when approached but not intrusive – even the boys who wanted to 'guide' us around the waterfalls got the message that we wanted to just chill and experience the natural environment so left us alone. The lake has the clearest waters I can remember, showing off the multicoloured (and unique) fish that inhabit it, along with some big and colourful crabs that I was surprised to find in a freshwater lake. Away from the lake the forests were dry and dotted with forest fires, but these didn't seem the result of land clearance rather than random dry-season events. We didn't venture into the National Parks, but saw plenty of smaller wildlife (and larger spiders!).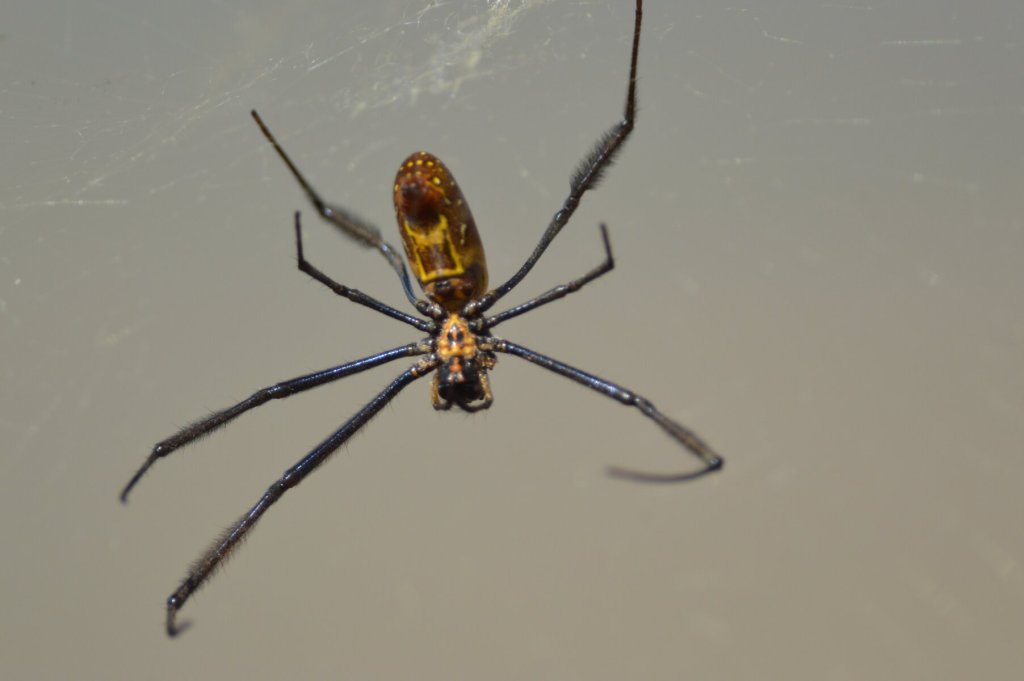 Our first night in Malawi was at Chitimba at a campsite frequented by commercial overland trucks – a strange way to travel I think – the trucks we have seen are not particularly adapted to rough terrain or anything (no 4-wheel drive or rugged suspension for example), but they carry lots of camping equipment and it seems a popular way to see the continent. The passengers do seem a little jaded on arrival, though I guess the same could often be said for us after a hard day on the road! We swam in the surf on the lake with a mixture of local kids and western travellers – quite a bruising experience in the morning after the wind had created quite a swell on the sea-sized lake.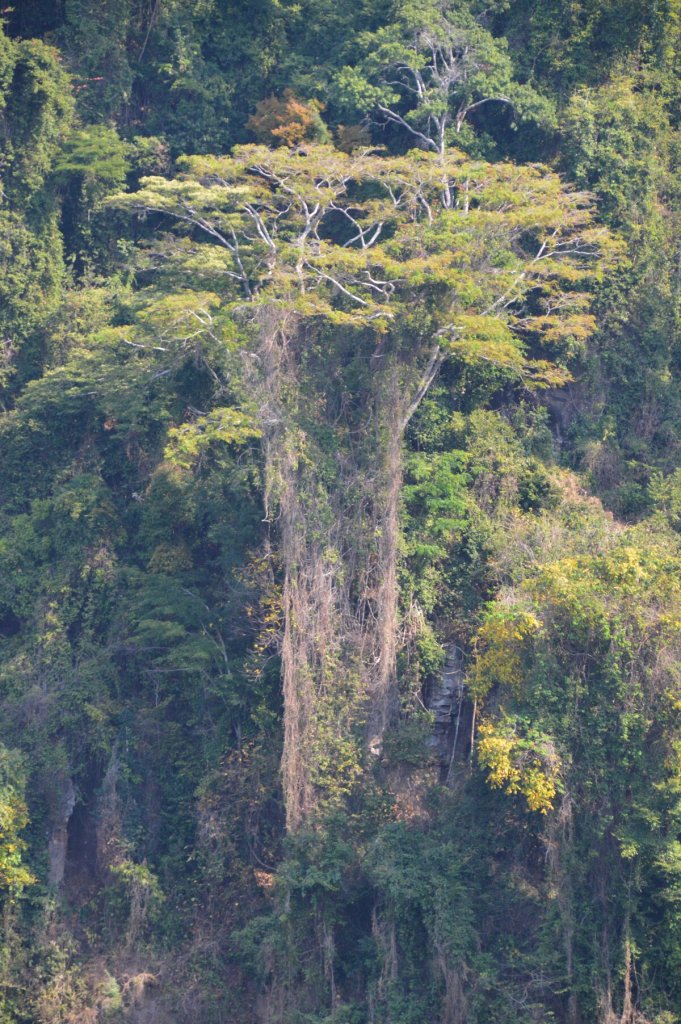 We then made the short drive up 15km of rocky track hairpins to The Mushroom Farm, an eco-campsite where we looked down on the lake, swinging in a hammock in the forest. It was from here we walked up the hill to the waterfalls  with a classic view of water pouring off an escarpment over a lush forest with vine-bearded trees.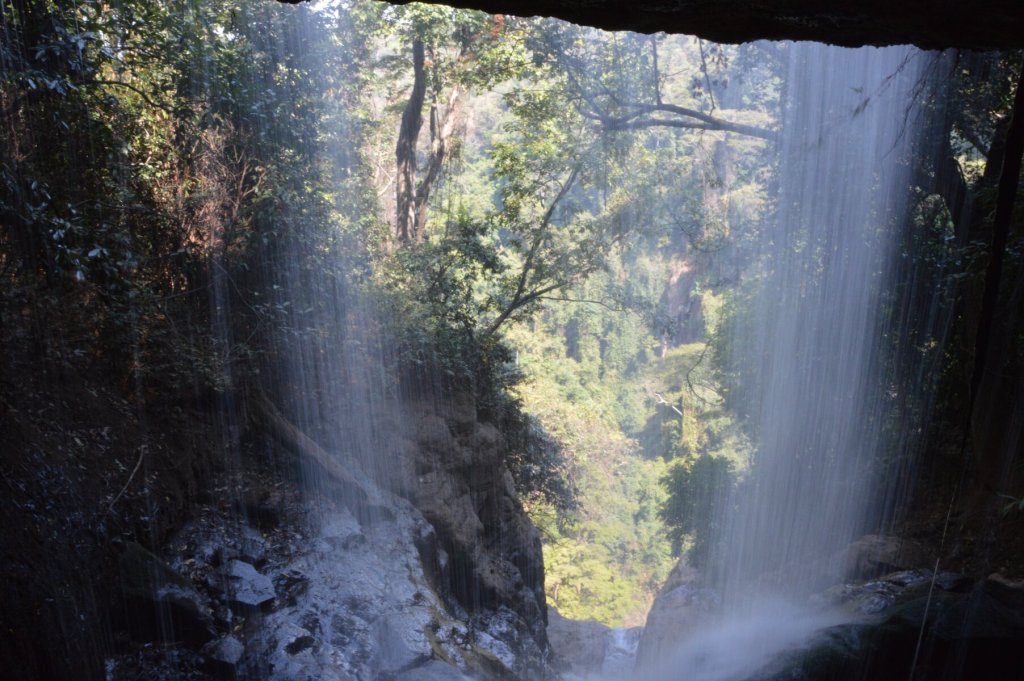 Leaving there we took the back (dirt) road through the hills – mixed forest, fields and banana plants – back towards the lake at Nkhata Bay. On the way we checked out the slightly strange world of Livingstonia – a mission settlement that was established by the Scots up in the hills away from the malaria-ridden lakeshore. It is little more than a hilltop village, but alongside the rather British-looking church it now has a university – I suspect studying here is a different experience to most!
After another couple of stops camping by the lake, it was time to head West, possibly without a wild swim until we hit the Atlantic! We're getting used to these border crossings now, so we had little trouble though some annoyance getting into Zambia – the usual currency touts and a few extra charges were little more than an irritant. After a stopover in Chipata, where we picked up a couple of backpackers who were heading our way, we made the trip to South Luangwa National Park with the aim of seeing some big African wildlife. We were not to be disappointed. Slightly terrified, but not disappointed.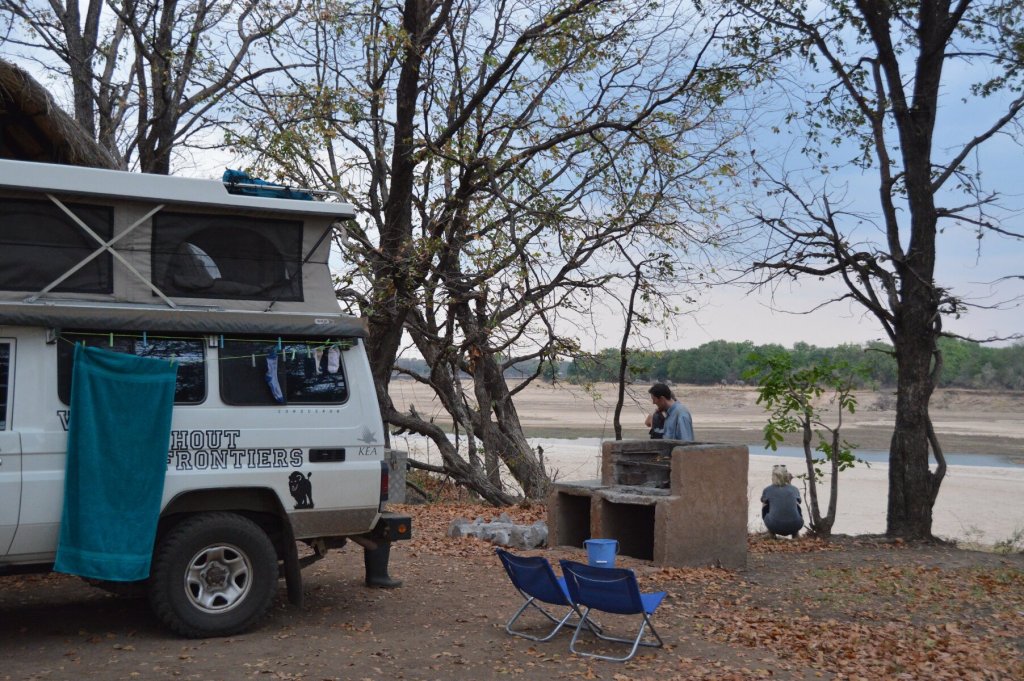 As we set up camp at The Wildlife Camp on the banks of the Luangwa River, just outside the park proper, we were already treated to hippos lounging in the water and a variety of antelope heading down for a drink. Later on, elephants appeared out of the bush on the far bank, crossed the river and passed by the camp just 20m from where we watched. Baboons and monkeys caused minor mayhem as usual and we were told stories of elephants rolling cars over after smelling oranges inside. As more elephants passed behind the camp, something made a fearsome growl from the pond – a hippo had taken up residence and objected to the elephants intrusion…a sentiment I was to appreciate myself, though I'm not big enough to risk or be able to growl like that – it sounded like an angry lion.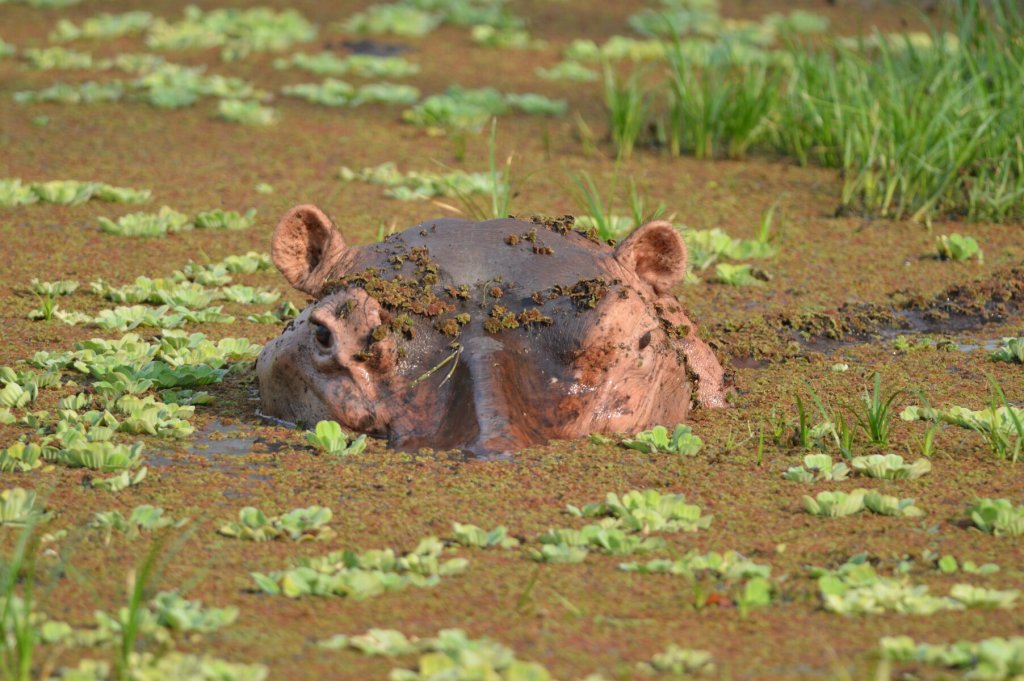 That night, we slept to the sounds of hippos booming and munching grass, elephants rhythmic rumblings, and a loud chorus of frogs. In the morning we wondered why the backpackers we had given a lift had moved their little tent across the site and under one of the thatched shelters. It turned out that an elephant had brushed past their tent in the night, and they had thought better of the instruction to stay in your tent on the basis that it was a tiny tent that an elephant could easily tread on and squash them without noticing. This was just 20m from our camping spot in Troopy, and I thought that was quite close enough, even if a little disappointed to have missed seeing it.
We spent the day watching wildlife from the camp – more elephants came and went, and hippos plodded back and forth between the trees and the river. But to see lions, we went on a night drive into the park. Check out the photos for week 19 – we saw leopards close up, more elephants, and lions hunting zebra. It was quite a chilling experience to be amidst big cats in the wild, wandering around and occasionally glaring at us as they woke up and prepared for their night's hunting. Then it absolutely chucked it down with rain and we were glad of the canvas roof over the open top landrover we were in, even though we still got drenched.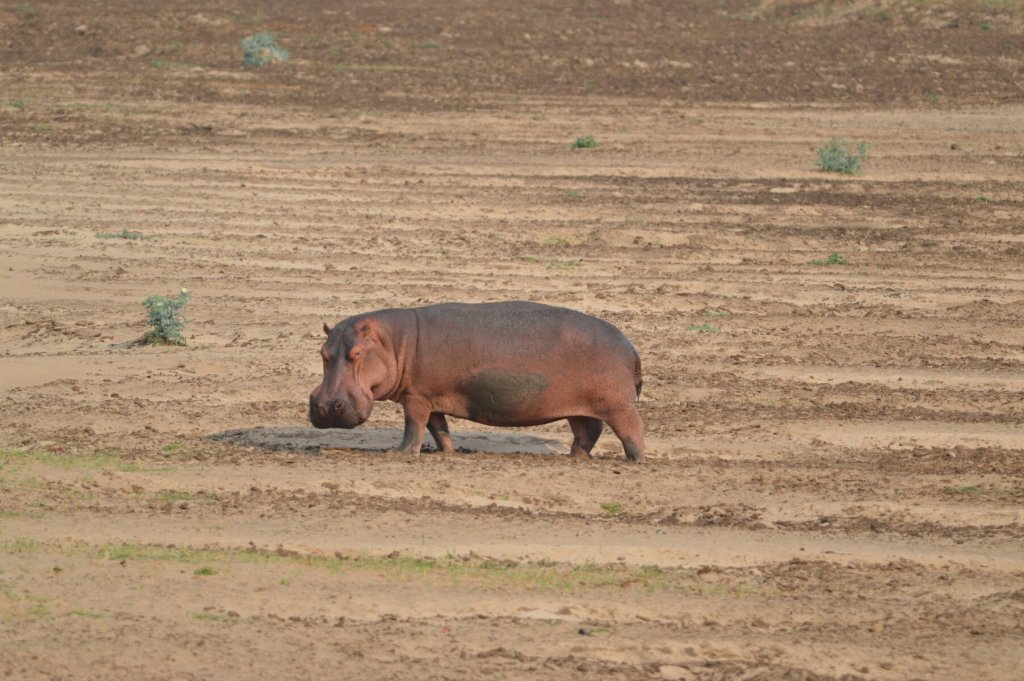 Back at camp we settled in to sleep. Not for long. The unmistakable stomach-rumbling communication of elephants came closer, and we were aware of a big old tusker wandering up the gulley into the camp. We heard the shredding of leaves and snapping of branches as the elephant devoured the nearby trees. Then it was right there outside our mosquito net – this was actually really scary after hearing the stories of wrecked cars and break-ins to storage rooms. We felt extremely vulnerable in the canvas and plastic roof platform we sleep in, just a couple of metres from and at the same level as a big elephant's backside. Katana was particularly glad it didn't have to take a leak…we would have drowned. We held our breath and tried to calm our heartbeats…and in the end it moved slowly away and on past the end of the campsite as we watched, now more excited than scared. Another big elephant and a little baby one then came the same way, and by now we were only slightly terrified and hugely in awe. What a fantastic experience?
So as we drove around the park the next day, taking Troopy to see the wildlife (and glad we did because some of the tracks were now very soft and muddy, or just plain wet), we had a slightly different feeling about the big grey silent giants. We saw lots of wildlife, including giraffes which we hadn't seen since Samburu in Kenya, but couldn't track down any more lions. Afterwards we camped at another campsite just outside the park gates – I figured we'd try a spot in the middle this time, away from the trees since one close encounter with an elephant was quite enough – unforgettable, actually awesome, but quite enough thank you. So we parked up by a thatched camp shelter and went for a swim in the pool overlooking the river – not bad accommodation for $10? Obviously, an elephant then wandered through camp and went to work hoovering up acacia pods from around the raised pool area. I could have reached out and patted him on the mud-caked head.
So – enough with all the elephants you think? Not quite. The closest, scariest experience we saved til that night. As it turned out, we had camped on the very spot where the previous night some elephants had come raiding the camp and found a metal storage box of food securely locked up. They had smashed it, and used the plastic (sealed) rubbish bins to bang on a car roof. I almost decided to move…
I woke from a deep sleep for some reason. Something moved on the thatched roof outside Katana's mosquito-net window…oh hell, baboons I thought and made shusshing noises and waved at it. It jumped onto the side of the car and ran down the outside of the canvas. Shhhoosh, get off I whispered and leant over to swat at it. As my hand made contact, I woke up another notch and thought, "That's not a baboon…". Baboons are not so dense and heavy feeling, nor are they 6ft long and grey. They also don't have big, white curved tusks. All those warnings about being quiet, not moving and not startling elephants came rushing back. This could end very badly.
Fortunately, it seemed to take the hint and backed away. I looked out on 2 adults and a young elephant wandering round the back of Troopy. Then a trunk appeared, sniffing at the back window as I struggled out of my sleeping sheet. Then there was a loud tearing noise and a clang of tusk against metal and I had visions of the roof being ripped off with one easy swing of an elephant's head. I might have slightly lost it at this point and despairingly shouted at the intruding grey face. It seemed to work, or the big old softy felt sorry for me, or didn't like how I smell (most likely, I hadn't brushed my teeth) – but all 3 elephants turned and walked off to look at the next camping pitch, and then off the site followed by the 2 night-watchmen and their torches.
There was no damage – the tearing was the velcro of the mossie-net windows being pulled apart. We pulled the roof down and slept downstairs…with just the sound of wild dogs or jackals, hippos and frogs to add to the intermittent alarm calls of the birds. We left the next day, fully satisfied with our wildlife encounters, though I am still rather embarrassed to have mistaken an elephant for a baboon and slapped it on the trunk.