Its been a while since the last post – sorry! We were rather busy keeping to schedule to get Yury and Maria here to Dakhla on time for their flight home – a lot of miles, some of it without even tyre tracks to follow across the shifting sands and rocky dry riverbeds. But it was lots of fun, so here's what happened: Part 1 – The Mountains.
Personally, I couldn't wait to escape from the busy Northern coastal area and head off for the more wild parts of Morocco. Yury and Maria found themselves hitting the ground running and having to adapt pretty quickly to life on the road, and we all had to adjust to the constraints of living together in a car! After a first day's drive on modern motorways, a stop for lunch at a service area and mint tea in a cafe at a random rural town – we were straight into the first range of the Atlas mountains. I had a couple of waypoints on the map for potential places to stay, and a couple of route options. In the end we settled on a place marked as 'bivouac wood' – a wild camping spot just over the first range of mountains.
The scenery during the day shifted from the big flat fields near the coast into rolling hills with a more patchwork pattern of crops, and then into rocky scrub-forested mountains as we climbed into the foothills. I started to breathe a little easier as we climbed and saw snow again on a small road which was being 'upgraded', so for now was a gravel and dust track. So began a week of ever-changing scenery…with only the sun, dust and the wind ever-present!
Up in the mountains it was pretty chilly, even during the day, though the sunshine made for a pleasant warmth when we stopped to admire the views.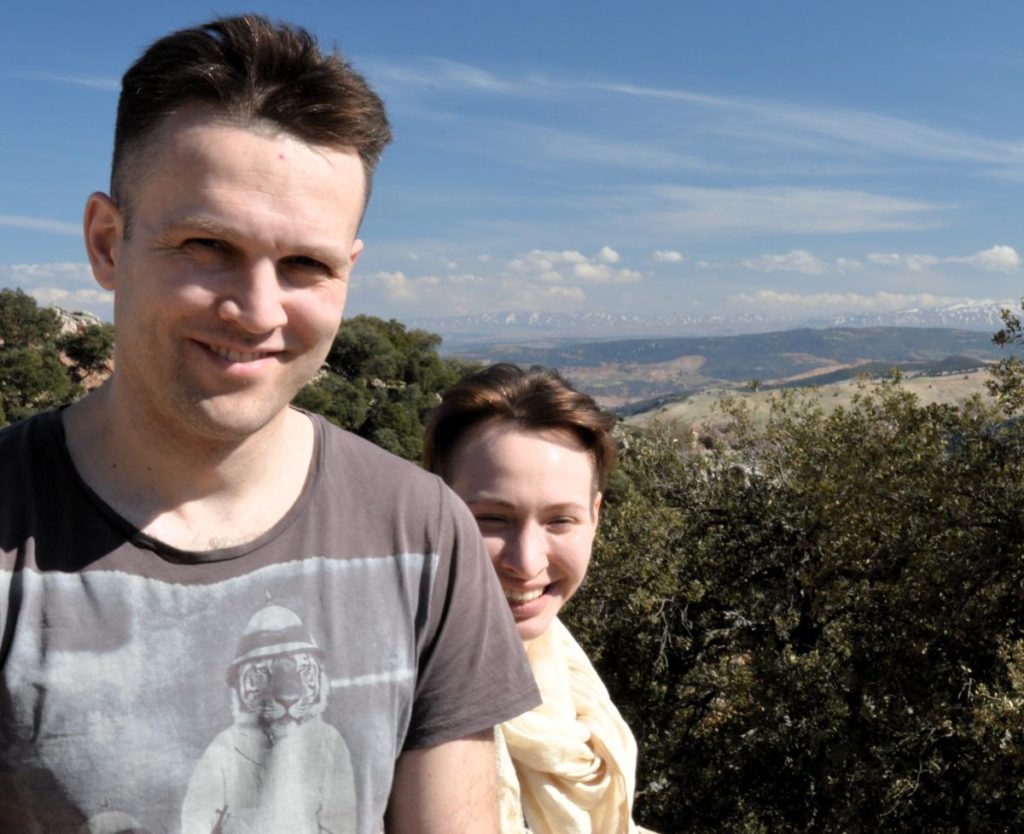 As we descended into the valleys there seemed to be lots of people in little villages, and groups of men strung out along the way doing preparation works and tree-clearing for the road improvements. We began to wonder how quiet our 'bivouac wood' was going to be, passing little campfires and groups of houses as we came within a few kilometres of the waypoint. But there it was, a clearing in the low trees at a bend in the road – with nobody in sight, though plenty of voices in the distance. We found a spot not too visible from the road and got the chairs out. I think my nerves at the first night wild camping had got transmitted and amplified in a rather shell-shocked Maria, but we got a campfire going and started to make dinner. At this point, a car stopped and a man and a boy were dropped off and came over towards us. First contact! They were actually very, very nice and had stopped to check we were OK, and to invite us to stay at their house…but we were all set up by then, so they assured us it was all good to camp there and said goodnight.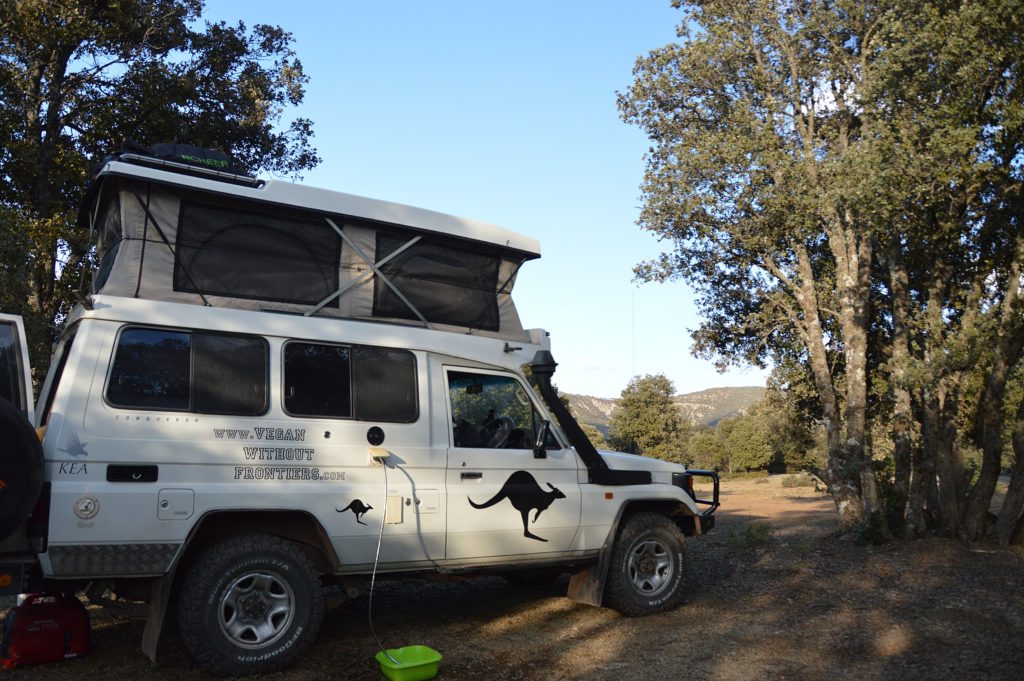 Some time after dark another car pulled into the clearing…I walked over to meet the approaching (friendly) shadow – it seems this spot is also a place for younger locals to come and wind down away from the village. After some music and a little singing, they went on their way, leaving a couple of beer bottles on the pile at the end of the clearing…one suspects that apart from the generic attitude to dumping rubbish in these parts, beer bottles may be frowned upon at home?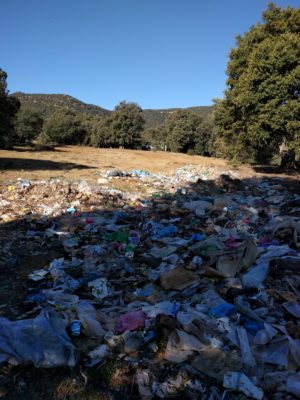 Actually I think the temperature stayed just above zero outside under the stars. The campfire was still smouldering when we got up,  but the roof inside Troopy was dripping condensation by morning. A baptism of sorts for my guests, and perhaps a bit much for a first night out of civilisation.
So after some antique Namibian porridge for breakfast (mmm, bit stale) – it was off to the bigger ranges of the Atlas Mountains. Another day of changing scenery – majestic mountain views and busy market villages where we were for a while hemmed in by crowds and overloaded vehicles of all shapes and sizes. Even here, everyone seemed very friendly in a nice and relaxed way. Just not in a hurry!
After climbing up a long and occasionally scarily overhanging road, which decayed to rocky track at the top, we emerged onto a high and dry plateau.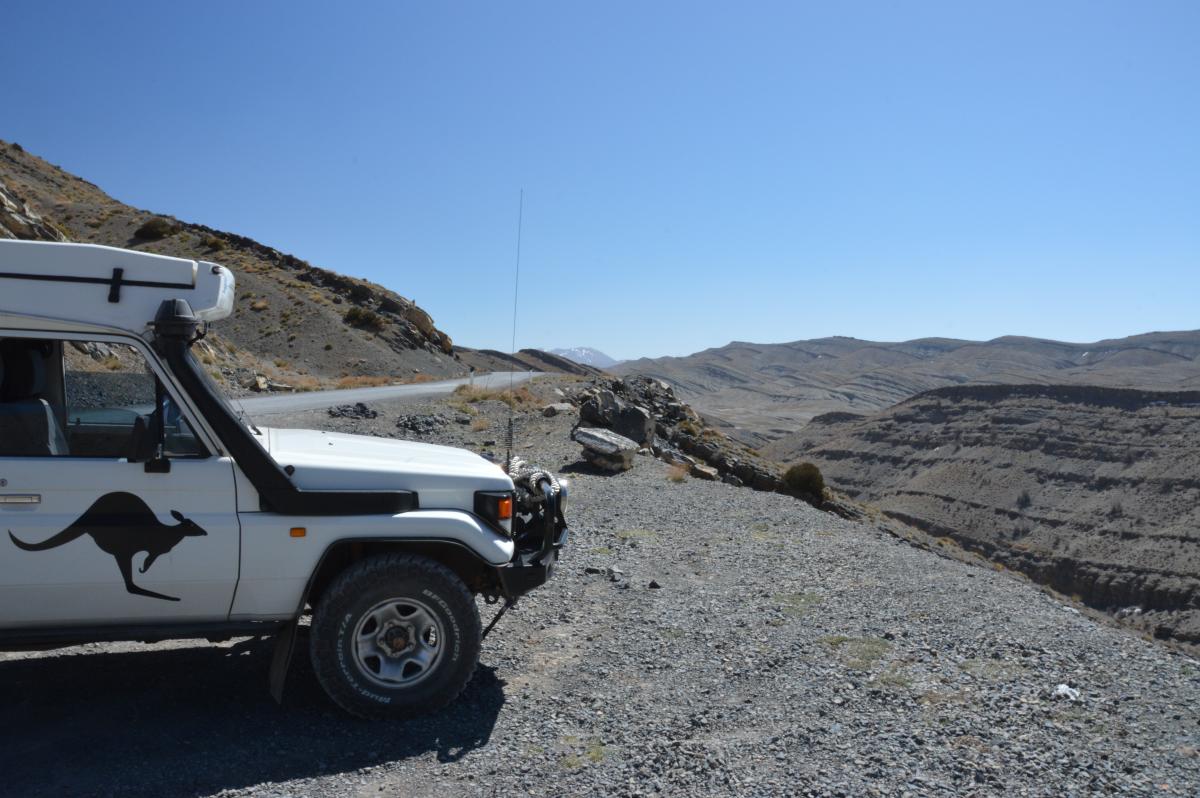 Time for some gawping at views and then lunch. The afternoon was the same thing in reverse…dropping off the High Atlas into the Todra Gorge…described in my honest guide to overlanding in Morocco as 'impressive but not spectacular'. It was impressive.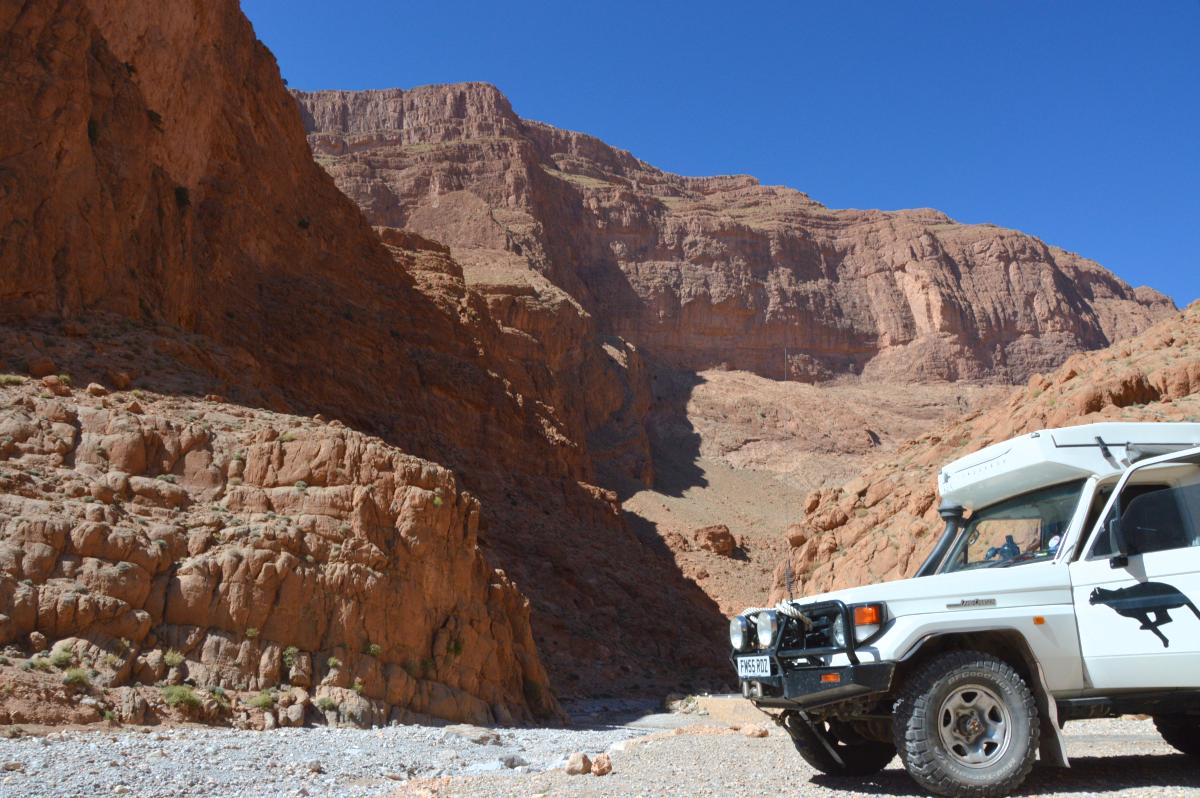 Also for the first time an obvious tourist destination, with climbers and day-trippers admiring the views and the souvenirs. Even here, none of the pushy touting experienced in other places though.
After the previous night, we figured a hotel would be nice…well a hotel room for Yury and Maria, and a secure parking area and a whole Troopy with access to facilities for me! Here we met a bunch of British bikers who arrived after dark having got into some trouble involving a narrow ledge and a riverbed earlier in the day, fortunately the breakages were limited to the bike and not the rider.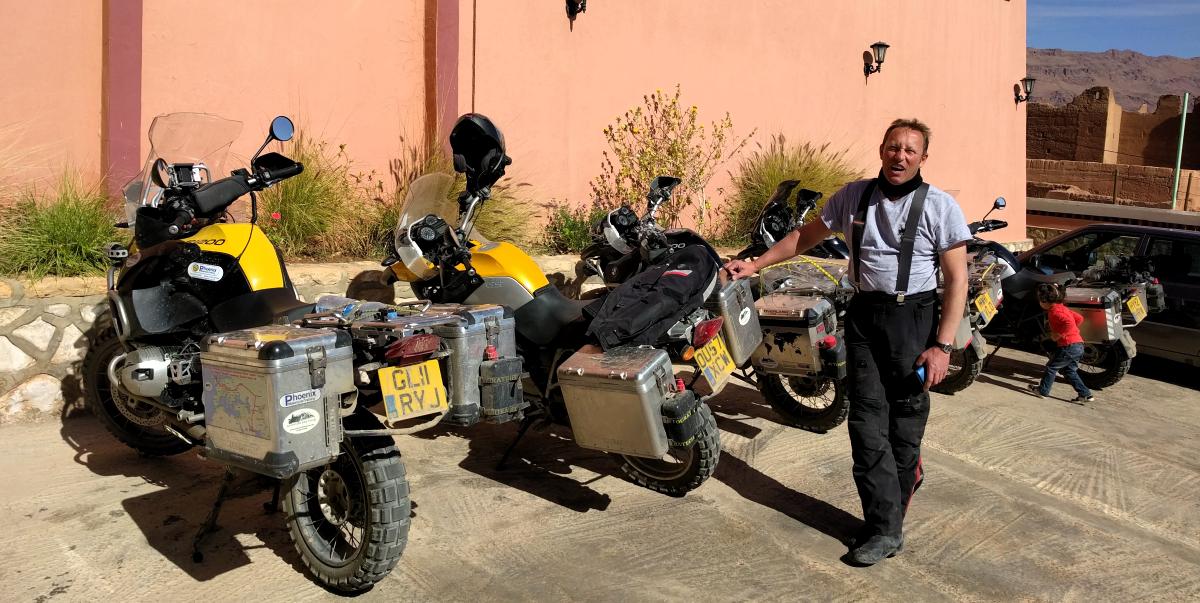 It turns out that Gareth also flies a Catalina Flying Boat for fun and entertainment when he's not off-road biking in Morocco! We had a good exchange of tales in the morning, which accounted for a slightly late start! Meanwhile the nice security chap at the hotel filled my water tanks and offered me use of his staff facilities.
Then we were off to the Sahara.
Vegan Viewpoint? This was all pretty successful from a 'mission' point of view – we were making our own food after all so were in control, though how the hotel would have done we don't know as the kitchen had closed by 8.30pm when we went to find dinner!