I'm tempted to leave it at the title, and point you in the direction of Yury's video for this stage, but I guess I should describe the days we spent off road along the Algerian border in a little more detail, since this was the highlight of my plan for Morocco!
But in case you missed it…here's the video again!
Our entry into the Sahara-proper required a quick transfer on blacktop down to Merzouga. On the way we stopped off in a town to pick up some bread, and also found tasty fried aubergines and potato cakes – and since I'd had a breakfast of coffee in my Troopy-hotel-car-park-camp, rather than the hotel, this was most appreciated! Lunch did not go smoothly, and underlined the need for all of us to communicate more clearly, especially given the cramped living conditions…and after this we pretty much confined meals to breakfast and dinner, plus whatever snacks were available during the day, rather than trying to cook at lunchtime as well. This was however mostly the result of the rough terrain and slow miles we were about to encounter for the next couple of days…beautiful, ever-changing, but rough! We would have been eating lots of sand and dust if we tried cooking lunch…
Approaching Merzouga we passed alongside the dunes of Erg Chebbi – one of Morocco's desert tourist highlights, complete with 4×4 and camel trips for day trippers and overnighters. It is apparently a tempting spot to go straight off into the sand for arriving overlanders, which can end in unfortunate bogged or rolled consequences. We settled for rolling into town and having tea at a cafe amongst a collection of tourist 4x4s and overlanders from France and Germany.
Then we headed off onto the desert pistes – navigating by waypoints and whatever tracks were available. It was a bumpy and stony introduction, which later descended into a river bed of ultrafine feche-feche. But it was fun! I guess I should explain feche-feche…the product of the occasional rain in these parts, it is basically the mud which gathers in the riverbeds, and is then baked in the sun for months, and churned into the finest powder by the passage of vehicles. It has no solidity, and when you drive into it it flows up over the car in a dry wave, then forms a clinging cloud. Get too deep in it, and you'll need dragging out. Sand is a wonderful driving surface in comparison to this. For the first evening, it was dirty and annoying, but not threatening to our progress – and we overhauled a couple of French Landrovers our route had converged with to get into clean air before stopping for tea, and then the night at Auberge Porte du Sahara.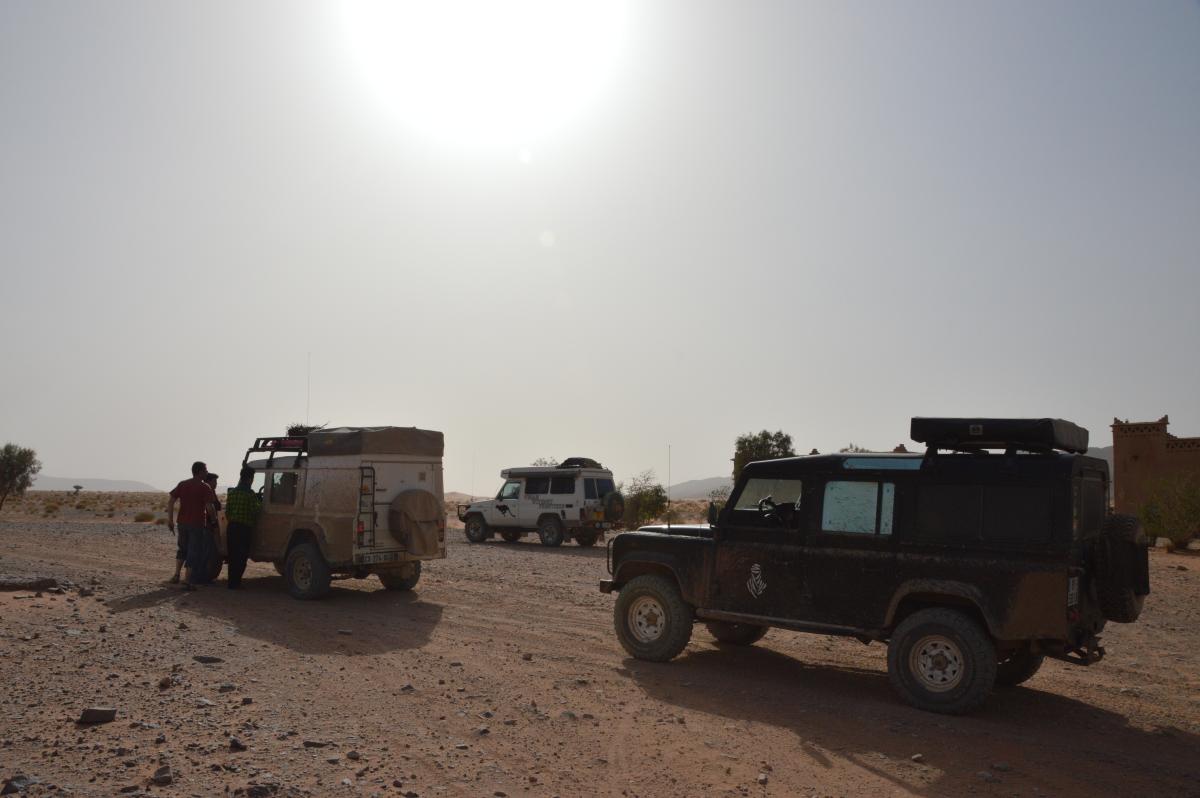 This was a lovely spot, with dunes behind and a view across the wide valley towards the mountains of Algeria (not IN Algeria as suggested by the DeLorme map!).
The staff here were great – friendly and accommodating to our requests for vegan food – 1 'sans epices', 2 'avec'. The food was great, though somewhere in the chain of communication between the guys we talked to and the chef (brought over from the village), those details were lost and a random boiled egg and some tinned sardine appeared on the (otherwise delicious and gigantic) salad. Bit of a fail, but the main courses were really tasty. Note for future – must make sure communication is direct! I apologise to the food-photo fans, I didn't get photos of the tasty tagines or the unwanted eggs…too busy enjoying 1 and too annoyed at the other…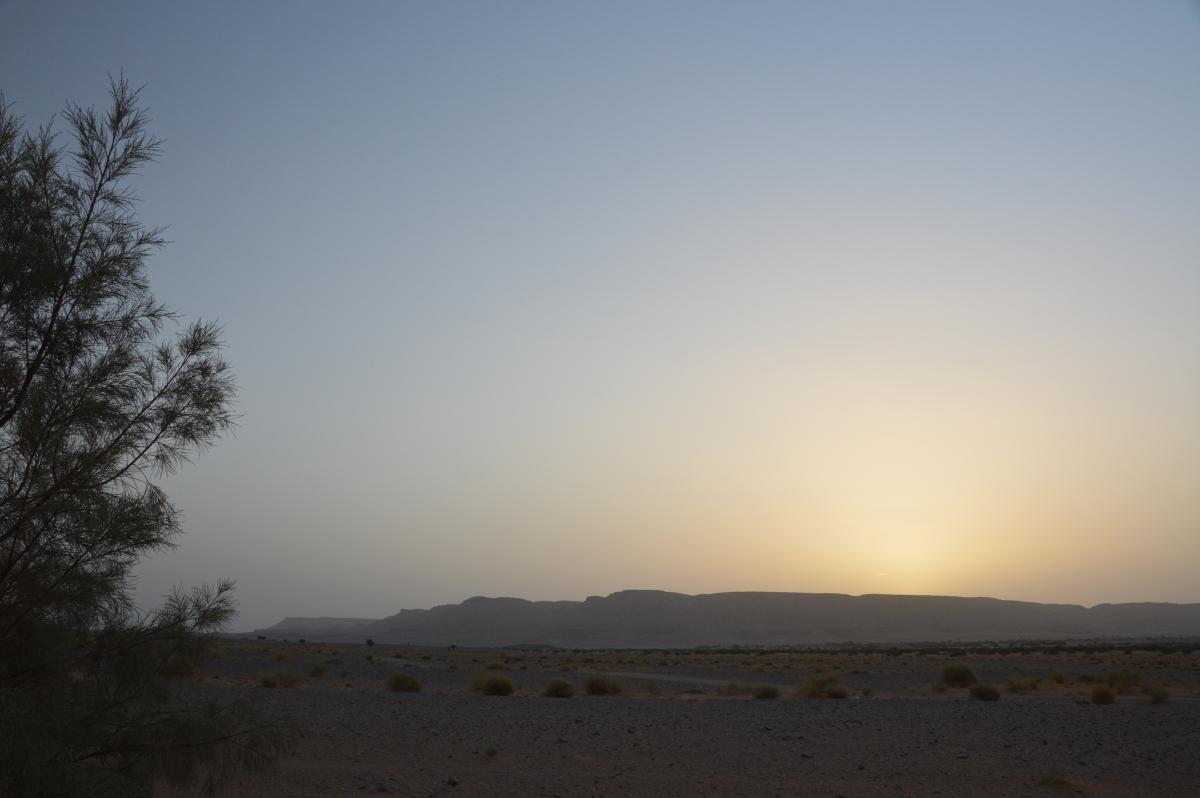 In the morning, after I assembled the paramotor with lots of interest and optimism the night before, I woke to sunrise and a very light breeze – perfect flying conditions! It was a beautiful flight over the reddish dunes, curving in wide S shapes along ridges, and swooping through the valleys. Shame the GoPro was refusing to play, but I enjoyed it for you anyway! 🙂 In order to check the landing conditions I had to make a low pass over the front of the Auberge, which was not in any way to provide a spectacle or entertainment for our hosts, though they did seem to enjoy it anyway…
Having packed away, breakfast was another partial success, as there was bread and jam and coffee which was good for me – but they had produced various non-vegan items as well. I think after this section of the trip I'll have to reassert the mission with a bit more rigour, since while I'm not consuming non-vegan food, the idea is not to cause it to be used…
Now, the next stage had a prologue the previous evening, during which our friendly hosts had tried to convince us that the Oued up ahead was treacherous, and several 4x4s had needed rescuing recently after becoming planted in the feche-feche. Having experienced a little of the stuff on the way in, this was somewhat believable, and if it weren't for the excessive fee they wanted, we might have been convinced to accept the offered motorbike guide through a detour. In the end, we headed on to Ramlia and stopped to chat to a group of various overlanders while deflating the tyres for the big crossing…which turned out to be a rather pleasant jaunt through some sandy curves for a few kilometres with no sign of the dreaded feche-feche. The Auberge Porte du Sahara Tripadvisor commentary will be positive, but not quite perfect!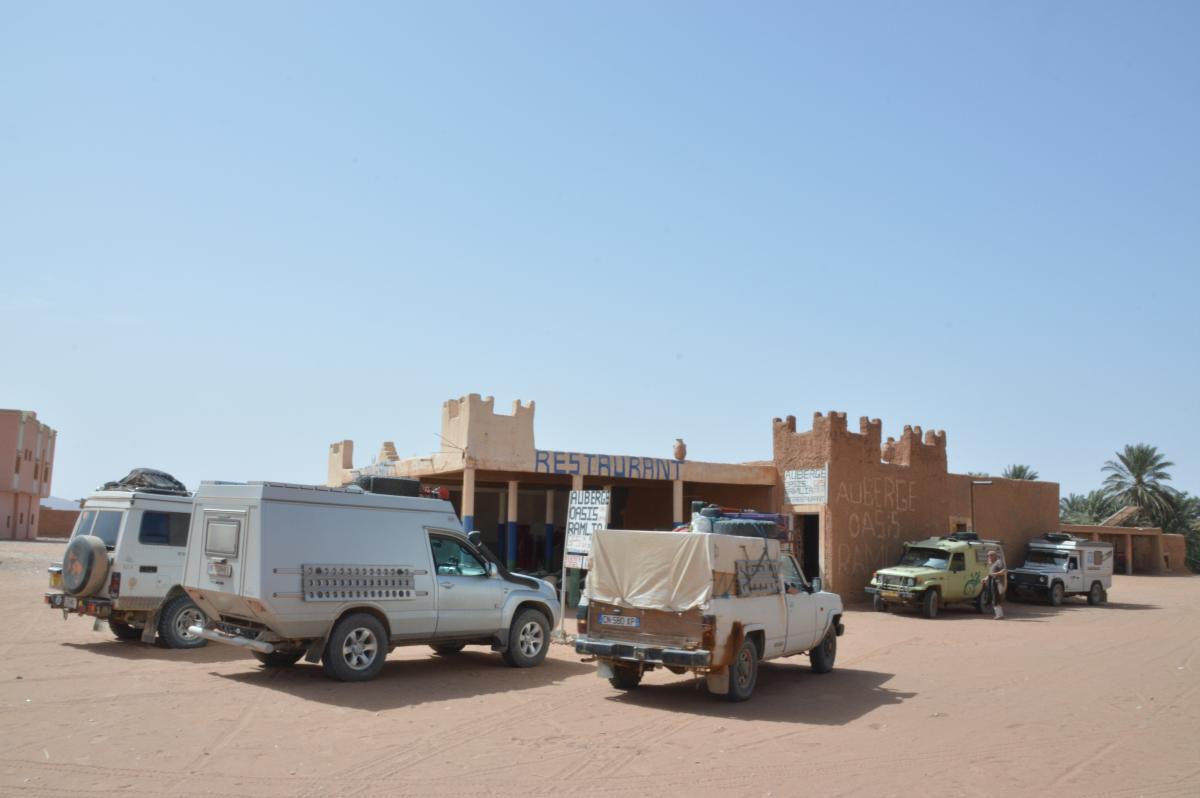 Anyway – another day, another hundred different lanscapes. We took the (apparently difficult) direct route towards Mahmid, across flat plains, rocky tracks, deep valleys and dry lakes. On the way, on a parallel track we overtook, then turned back to gawp at and applaud a group of cyclists doing an off-road tour race of the Moroccan Sahara.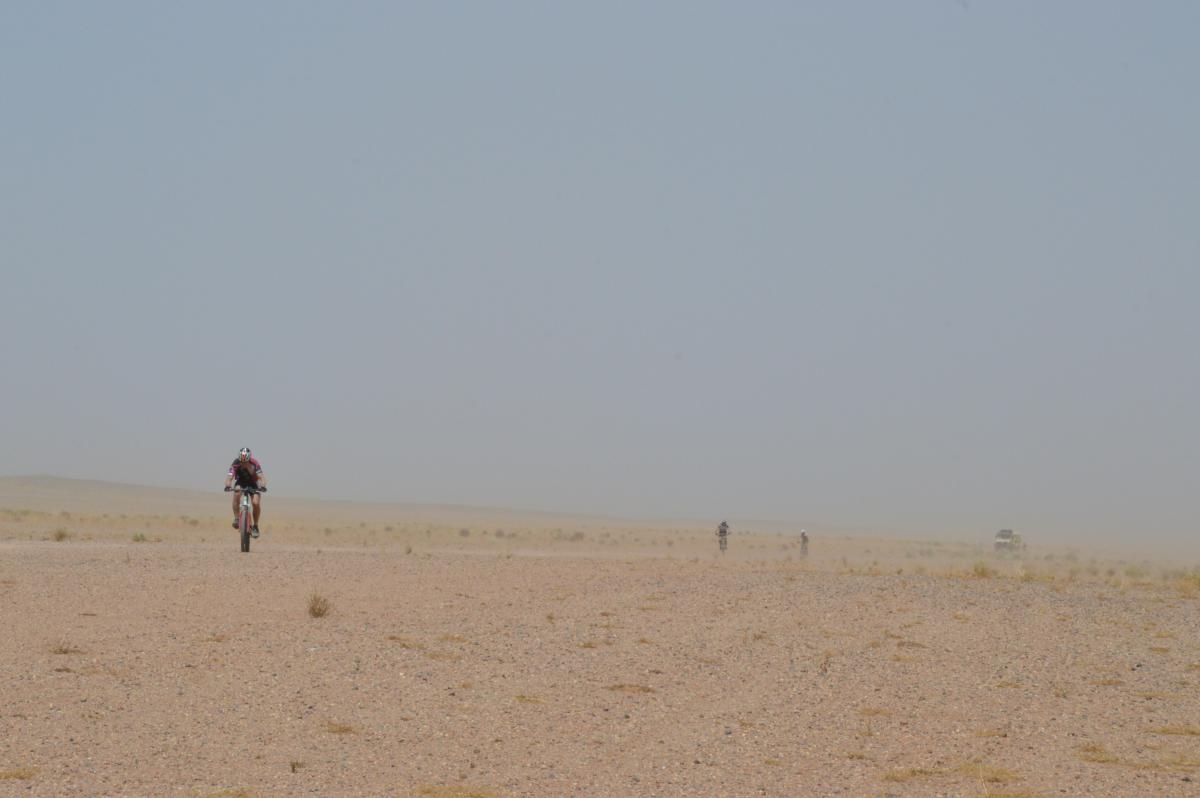 Their support-truck driver thought they were all crazy, and from our air-conditioned rolling home we had to agree they were indeed a little differently wired-up to most people. Crazy, awesome adventurers – and all the way into a fierce roasting headwind and blown sand.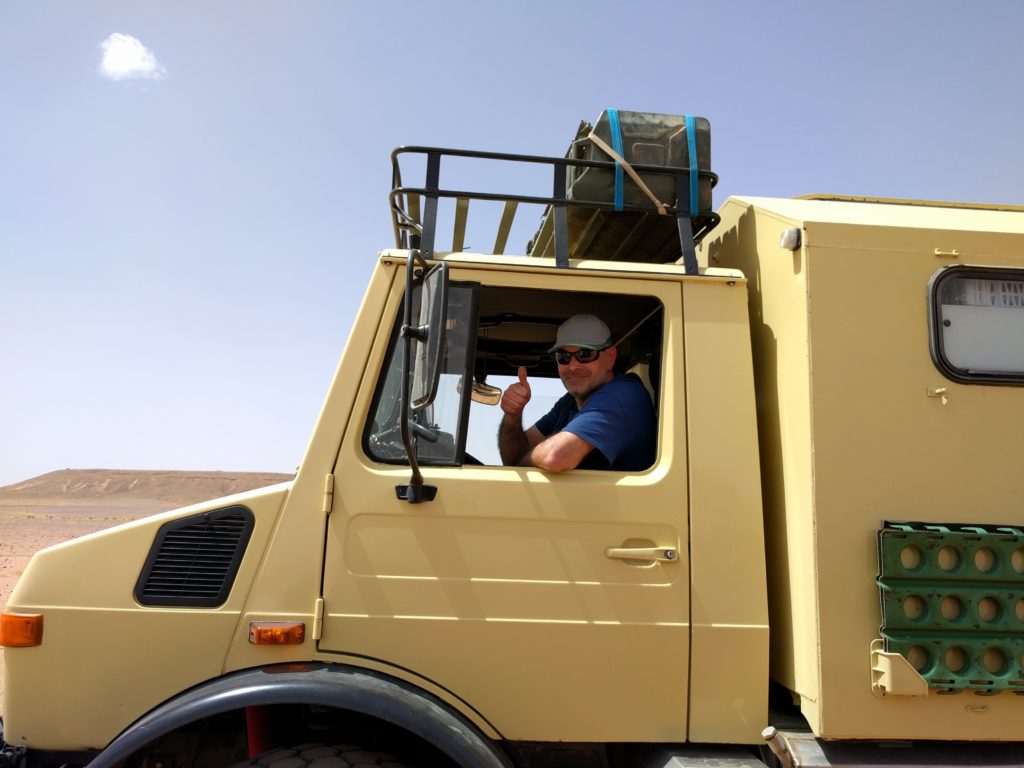 Mhamid…another oasis in the desert, and a hotel with a beautiful pool and a bar.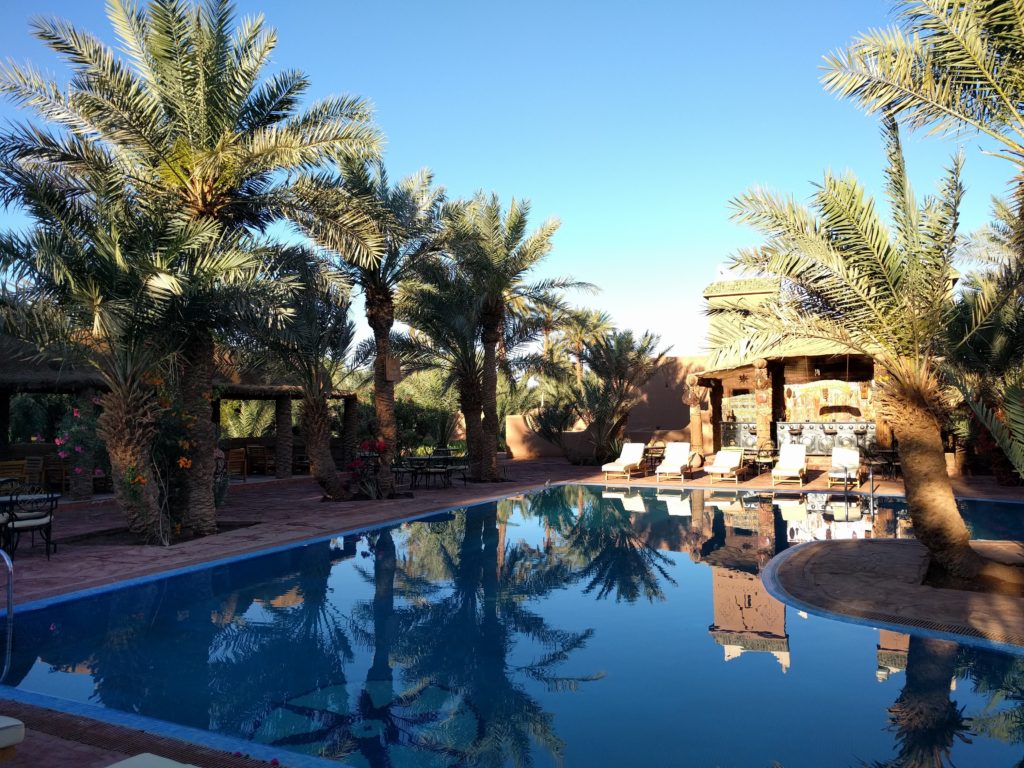 As I sit in Atar, Mauritania, writing this up in the late afternoon shade of a tree in conditions (and water consumption) reminiscent of our previous stay in Wadi Halfa, the thought of a cold beer and a swim is probably as appealing to me as a the hot sahara sun is on a cold, wet day in London.