So this is the final instalment of Vegan Without Frontiers' African adventure. This week I crossed the Orange River into South Africa and completed my final tasks – bungy jumping from the world's highest bridge jump, reaching the southernmost tip of Africa, and rolling into Cape Town 10 years after my first attempt.
If you except the last blog update (I couldn't resist a little April Foolery), I left you back in Namibia wondering whether Troopy's oil leak would lead to more trouble. Before leaving Namibia I topped up the diff oil and found I'd only lost about 250ml since way back North in Opuwo, so unless the home-made fixes came apart there wasn't much to worry about. Hopefully. Having a short time to get to Cape Town though meant I'd stuck to the main roads and populated areas in case of trouble. At Springbok I dropped into a Toyota garage, but they didn't have the needed parts so we headed on South. In the irrigated farmlands half way to Cape Town I stopped for the night at a farm/overlanders campsite before heading on the next day through burning stubble fields, cutting East away from Cape Town to head for the Bloukrans Bridge.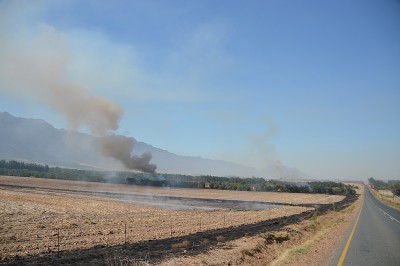 The third bungy jump of the trip has been on my to-do list nearly as long as the Vic Falls, and was an equally special location; above a ravine with forested mountains inland and the surf of the Southern Indian Ocean just below.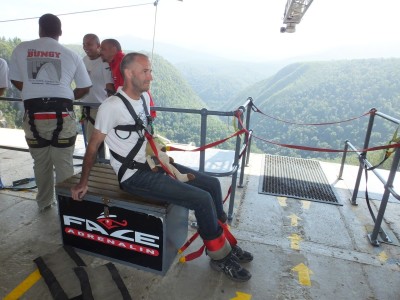 I had intended to stay locally for the night and maybe hang out with some other jumpers, but having to drive as well as navigate and find accommodation was a bit too much and I ended up heading back towards Mossel Bay with an increasingly messy oil leak. I almost bailed out and headed straight for African Overlanders in Cape Town, but Mossel Bay Toyota rescued the situation – they had parts, and also time and inclination to help me out. A 2 hour pit-stop later Troopy was leak-free for now and we headed towards Cape Agulhas, where we arrived in the dark at about 10.30pm. The end of the continent. The next day, after some photos to mark our achievement, we headed along the coast into Cape Town.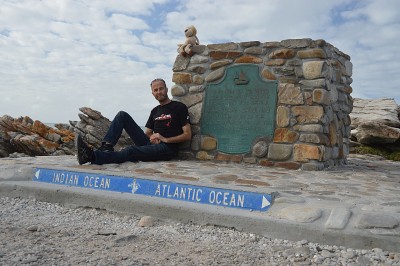 So that was that. Job done. Time to go home.
But back at the beginning of the week as I drove through the highlands of Northern Cape the roads were long and well made. I couldn't help but reflect on what it felt like to be here and on the last leg of our journey. Previously I had said that the trip was as much about the personal journey as the 36000km of potholed, muddy, dusty, bone-jarringly corrugated and amazing roads we had travelled. It was just as much an adventure with as many highs and lows. So as I passed out of that spectacular landscape into ordered fields of crops – I felt the mission, the adventure and the whole experience had been as magnificent, as stunningly beautiful, as dramatic…and as empty as that desert landscape.
What do we have from life but a collection of memories? And memories not shared are lost as soon as they are stored. This journey was a joint undertaking, and I am finishing it alone. Did we succeed? I'm sure we had some positive impact but in the end we set out to do something and WE are not here to finish it. So as I drove into Cape Town there was a sense of satisfaction, at a job done, and a fair amount of relief! It was not the triumphant joyful crossing of the finish line that might have been. As you will gather from a forthcoming blog, I have done a lot of reflecting in this last 2 weeks – on the things we have seen in our journey across Africa and what we can or can't do to make the world a better place. About human psychology and our judging our own efforts against others rather than our potential. So whilst the April 1st blog was a wind-up (sorry Mum for scaring you!), there was truth in what I said. As I reached the Southernmost tip of Africa, and as I crossed the finishing line in Cape Town the following day, there were many mixed emotions. I slapped Troopy on the side – YESSSS, we made it!! But from a personal viewpoint it feels like a fail – crossing the line without your team is not a cause for celebration.
So to those questions I was looking to answer – what does it mean to finish? Well I think I answered that – it feels good to have completed the task; there is a lot of satisfaction on having reached Cape Town and survived all those adventures along the way. I hope we have put to bed some of those fallacies about it being difficult to be vegan – anywhere. But the experience also underlined for me that it is easy to be complacent and think we have done enough – there is always more we could do. I hope our experiences will help us do that in future.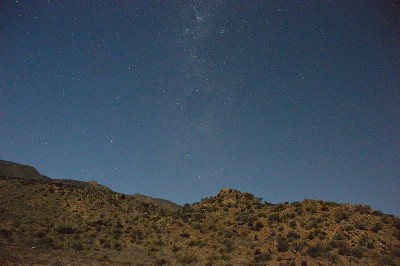 Will it make a difference? Who knows – it is hard to say whether the balance of our good impact through spreading a positive message outweighs the negative impact of driving a 4×4 vehicle across Africa (and perhaps leading others to do the same – who knows what lessons and inspiration others may get from this?). Not to mention flying half way round the world and shipping the car.
We all need to feel a purpose I think. But looking at the night sky these last 2 weeks, seeing the absolute vastness of the universe out there, it is impossible not to feel tiny and insignificant. What does it matter what we do? In the grand scheme of things we are nothing so why worry or bother? But at the same time, our life is all we have. Maybe in all this chaos a butterfly flapping its wings can be the start of something big. Elena flapped her wings with all her might in her brief time with us. All I can do, and it is why I carry on, is to flap my own as hard as I can to give her efforts a boost on their way before I am allowed to join her.
Sometimes it seems that whatever I do ends up having negative consequences. I guess that's the thing with butterfly wings, they are a bit random and rather at the whim of the weather. But what else is a butterfly to do? Flap, point in the right direction and hope the gusts we ride can be nudged in the right direction.