Last time I talked about vegan meals on the road, we were crossing from Malawi into Zambia. The more south we have gone in the last couple of months, the less we have gone out to eat and started cooking more and more in the car. There are a few reasons for this: firstly, there are better stocked supermarkets; secondly, there isn't as much traditional foods to try, but rather a mix of different cuisines, mostly meat-based; and thirdly, the places we have been staying in lately have "game" on the menu, basically the animals we see running around wild end up on people's plates. No thank you.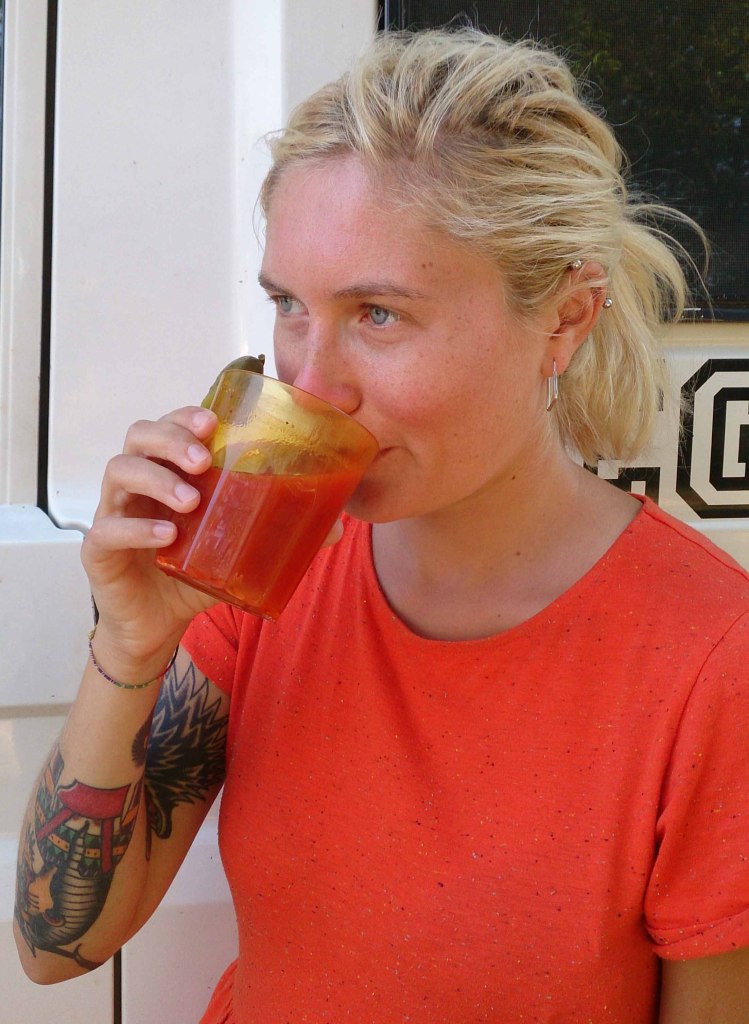 When we got to Lusaka, I thought I got rid of yet-another-illness of the stomach and we got some tomato juice and pickles and celebrated with a Bloody Mary. A day later I ended up going to the hospital (unrelated to the drink) and found out I have multiple infections in my digestive system and got put on yet another platter of pills, so Jonathan had to drink all the consecutive gin&tonics and Bloody Marys for a few weeks.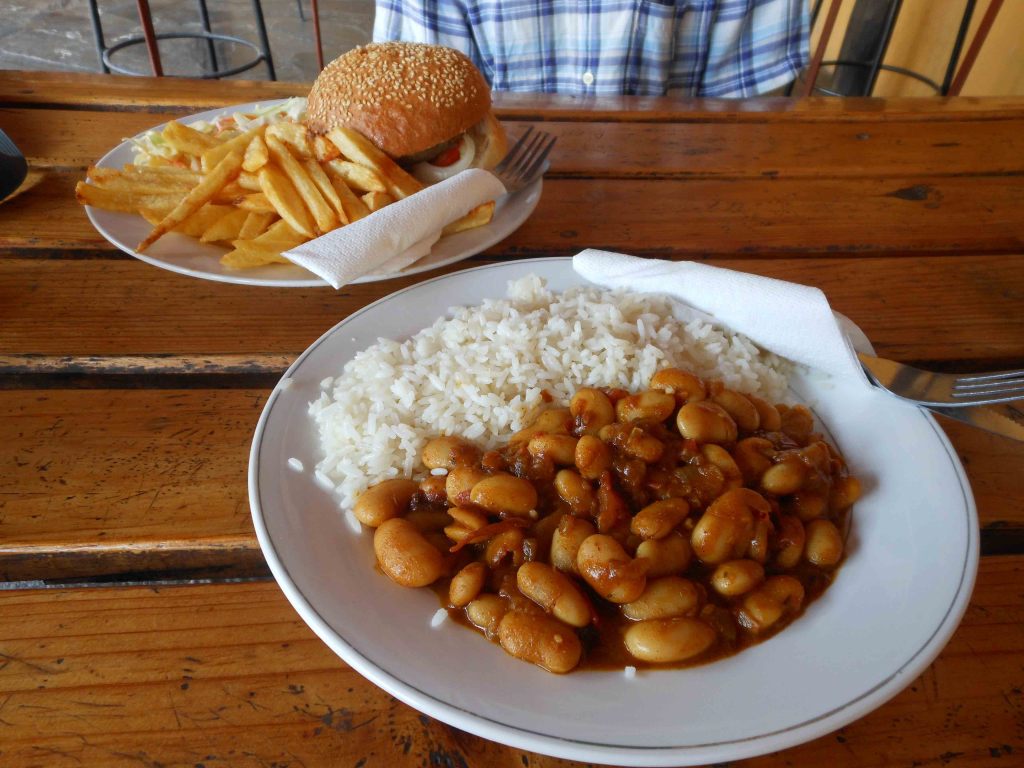 While in Lusaka, we had gone out to eat twice (not counting chips). The first meal was at the mall, and we ate in an Indian fast-food place, which was alright and even good by mall standards. The second time we ate at a backpacker place where we had gone to check out the wifi and the bar. Jonathan ordered a veggie burger, while I opted for the beans and rice; the food was quite yummy despite taking about an hour to make and driving us into hunger-induced bad tempers. I found the "veggie burger" option in a few places actually, which is a nice addition to the usually predictable chips.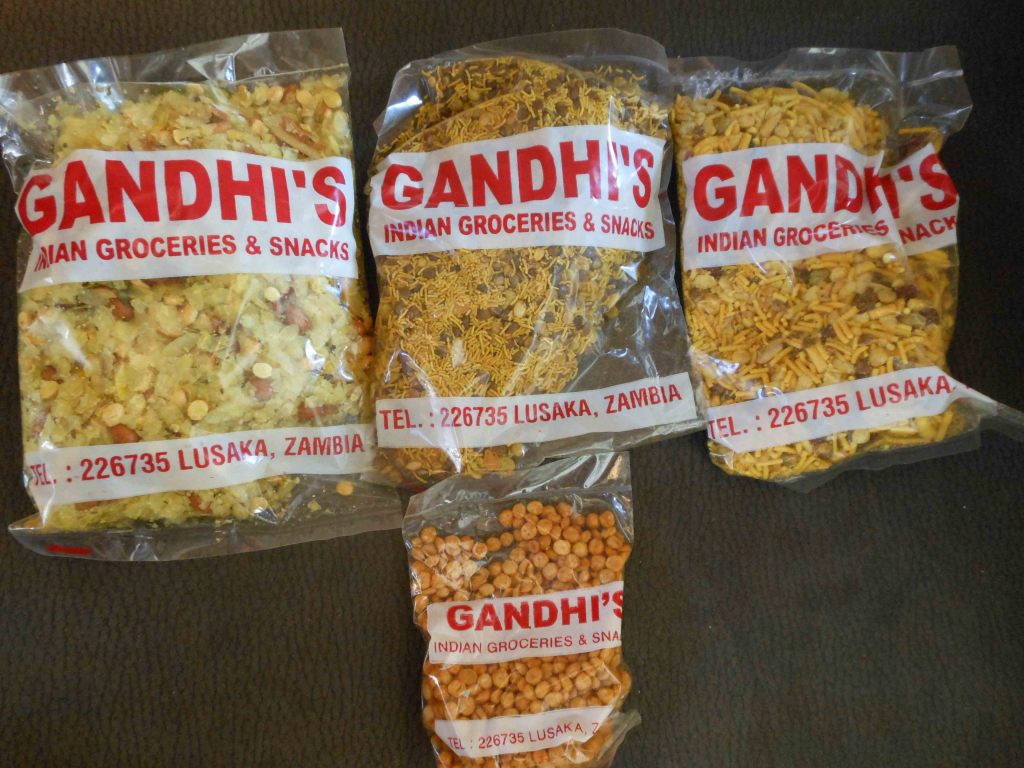 Before leaving Lusaka, we found a little Indian shop that sells Indian snacks, so of course we had to buy some. The most bizarre looking one ended up being the insanely oily but addictive one, whereas the others left us mostly indifferent. They are good to munch on before lunch, but they are so oily that everything in the front of the car gets oily as well.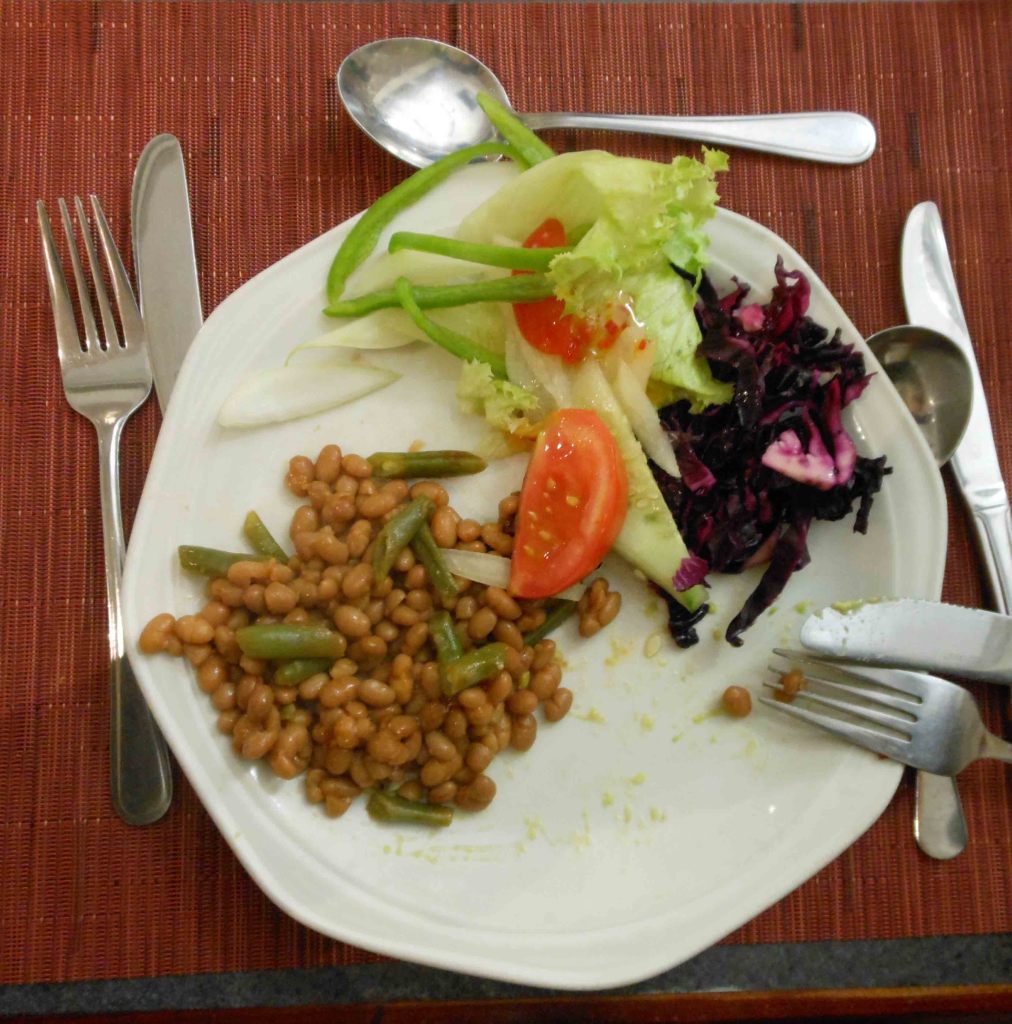 After Zambia we headed to Zimbabwe, and in Harare went out to eat the first night – to the Holiday Inn restaurant. They had a buffet which surprisingly had quite a few (accidentally) vegan options. On top of that, they apologized tremendously that they didn't have more for us, and only charged us the price of one meal. Incredible? We had some salads and then some sadza (maize meal) for the first time on the trip, and I wasn't impressed. I know it is a staple in many countries but it was just a bit bland and reminded me of baby food – or kindergarden food.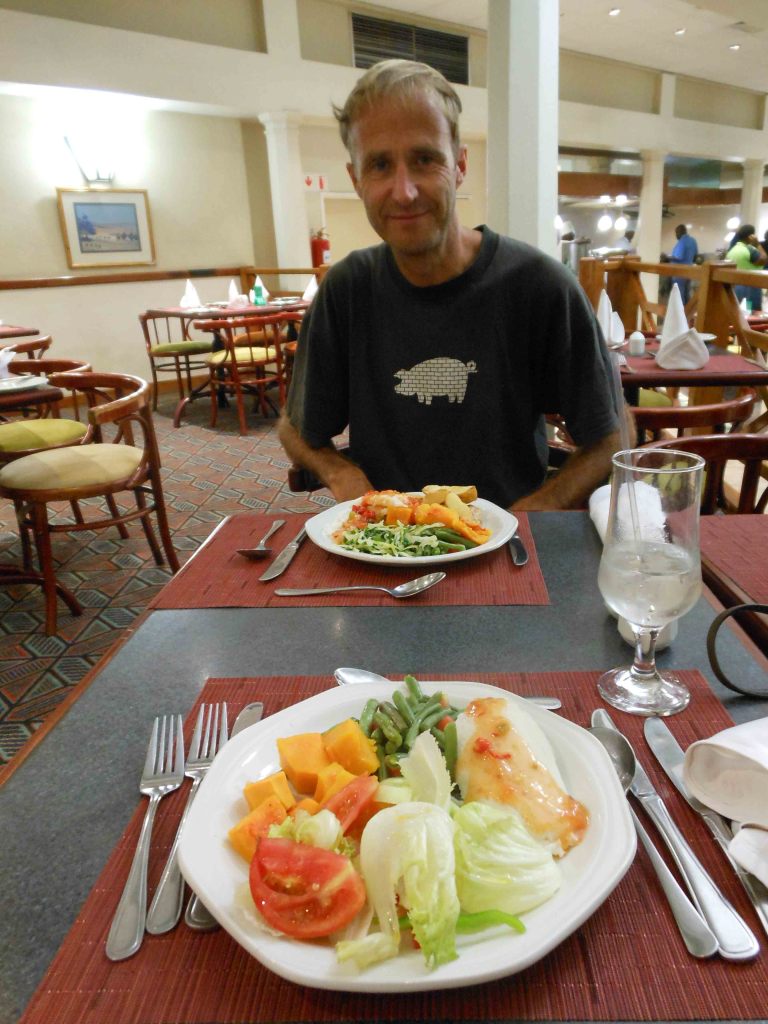 The other amazing thing about Harare of course was that we visited V Delights – the Vegan Friendly Products (read interview here) restaurant, which is completely vegan. There are many items on the menu, all catered for different kinds of people, some are vegan African dishes, some more Western ones, then there are a whole lot more "healthy" options, and then again more options suited for new vegans or transitioning vegans. The pies and the cookies we had in V Delights were just out of the world. If you are ever in Harare, you have to stop by there!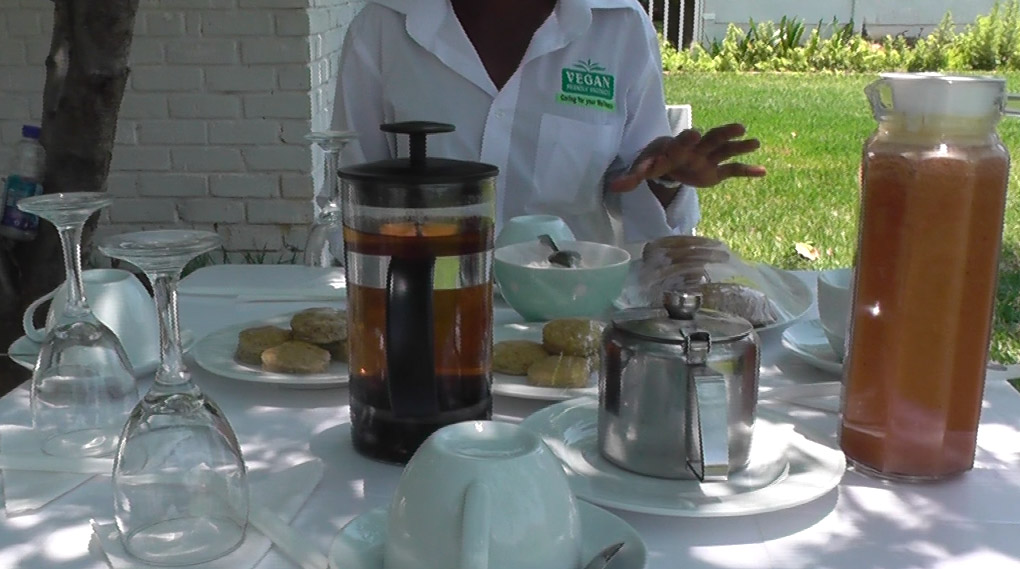 While staying in Victoria Falls, we went to one restaurant twice – and had some tapas. There were a few vegan options (I had maize again, this time with some spinach things inside) but the second time we came the food quality had dropped significantly. Their gazpacho was too salty, their toasted bread was soggy, but overall it wasn't so bad I guess.
The last place I want to talk about (before mentioning that we are going to check out the Ethiopian restaurant here in Windhoek!) was called La Marmite in Windhoek. We accidentally stumbled upon the place in the "Zoo" park in the center, thinking we would only have drinks but then saw the menu and decided to try out the vegan options. The food was pretty good, and the dishes are supposedly variations on Western African cuisine. I had a stew with okra, Jonathan had another stew with groundnut sauce, and we also shared spring rolls and salad. Windhoek has a lot of places to eat and drink, and I am sure traveling vegans would have no problem finding food here.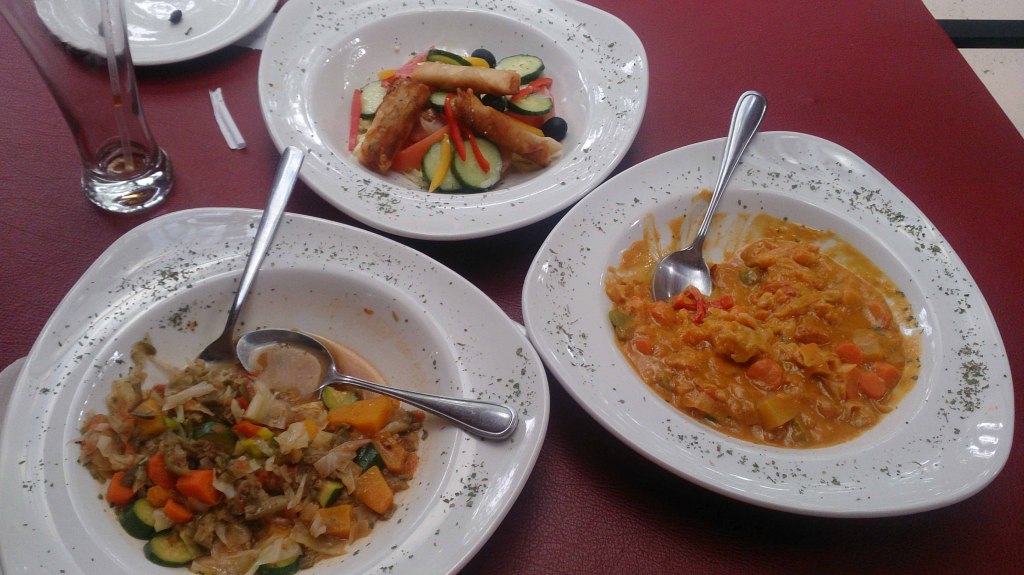 The rest of Namibia – not so much. In Botswana and Namibia a lot of expensive lodges (where sometimes we end up staying because they do cheap-ish camping) the menus pride themselves on having extravagant game steaks – gemsbok, springbok, kudu, oryx, and so on. The first place we stayed in Namibia, in Gobabis, was one of those places. I think I already mentioned how awful the service was in a previous post, but let me add that the menu was incredibly un-vegan, and when we tried to get something altered, it came as is, so I ordered potato wedges, asked for "no mayo" and they still brought mayo. Trying to ask for some olive oil instead of creamy dressing turned into another ordeal. This is sadly the way it is in most places where expensive guests are catered for. We had another buffet experience, this time in the Etosha Park, and I ended up eating sad salad and boiled rice with mustard. Only after we paid we were told "oh yes there is a separate thing for vegetarians" like the waiter couldn't have told us earlier or figured something was wrong as he saw a pile of sad rice with nothing on it on my plate. Oh well – I was just getting my cold then and I was already in no mood for food anyway.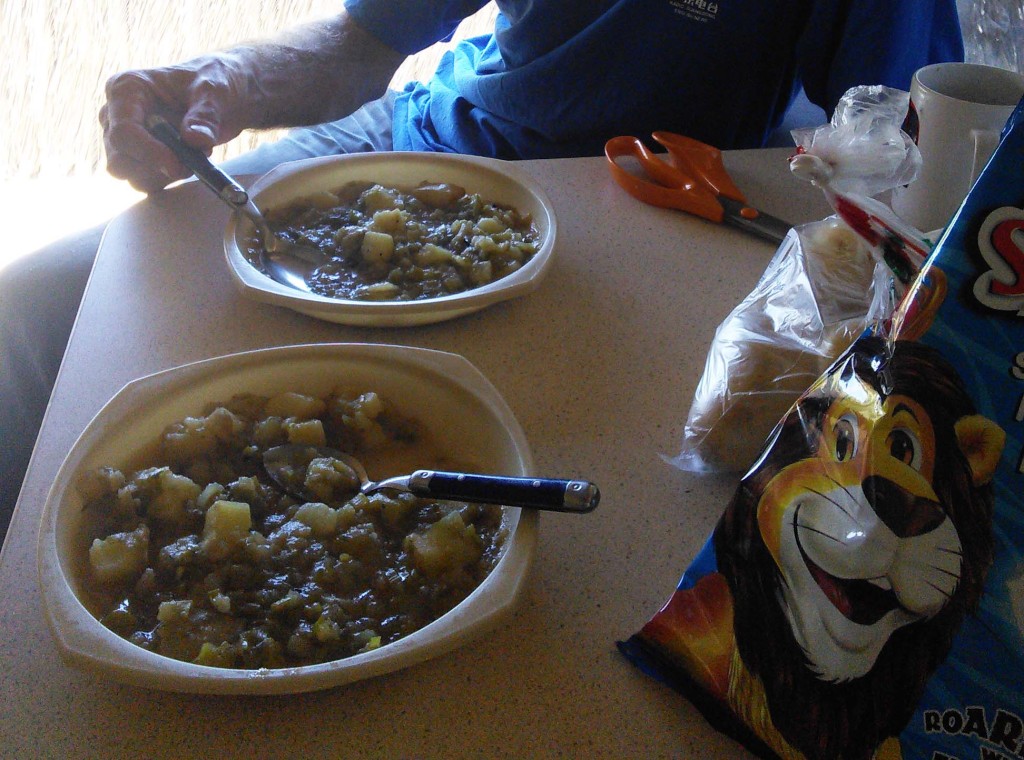 As for us cooking our own meals, we have come up with some real highlights lately. We have been buying leeks because I personally love them and Jonathan makes a really nice potato leek soup. Sadly one day I decided to make it, with a special twist (pickles) but I didn't manage to achieve the taste I wanted, which was a shame. Otherwise we've had a lot of curries and chillies, there was a particular evening meal I remember well. We bought a box of white wine, which was quite fancy (by our standards) and I wanted to make a few dishes. I made a stew / chilli with cabbage, cauliflower, potato, beans and so on. I also made guacamole (the avocados are good again) and Jonathan toasted some brown German bread as we had no tortilla chips to go with the guac. It was truly magical, the whole combination!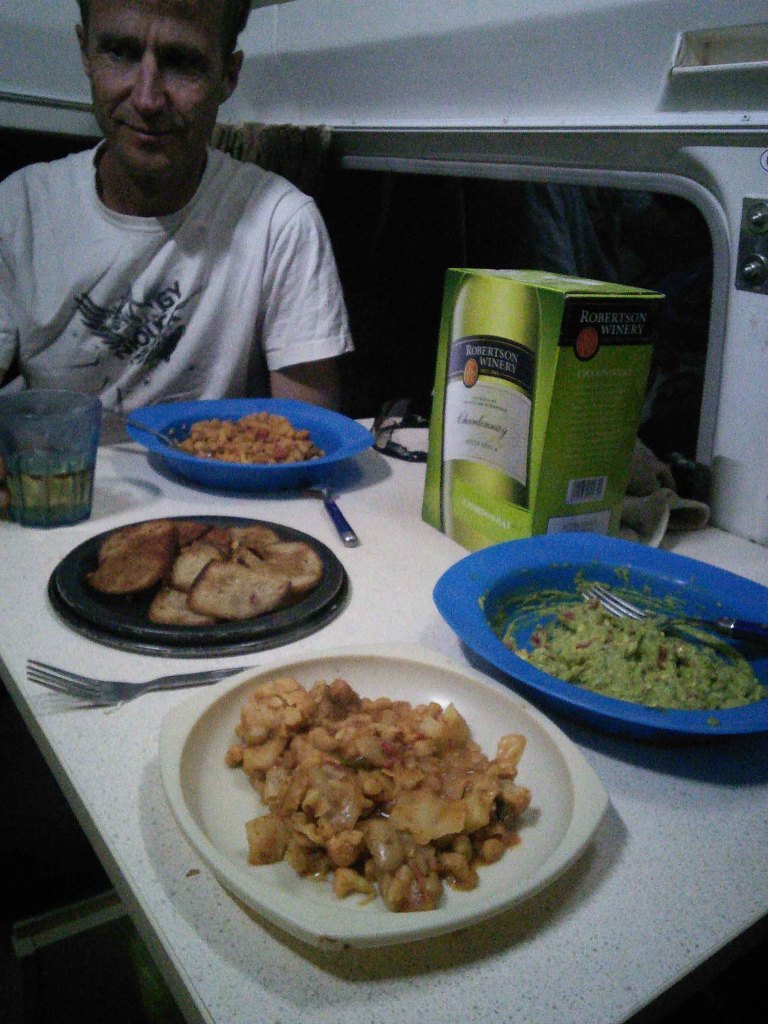 And then just the other night Jonathan made one of his coconut curries which was supposed to be very good for my sinuses, as I was really ill at this point. There was chilli sauce and ginger, and many other ingredients, and they blended so well together that we had to restrain ourselves to leave some for the next day's lunch.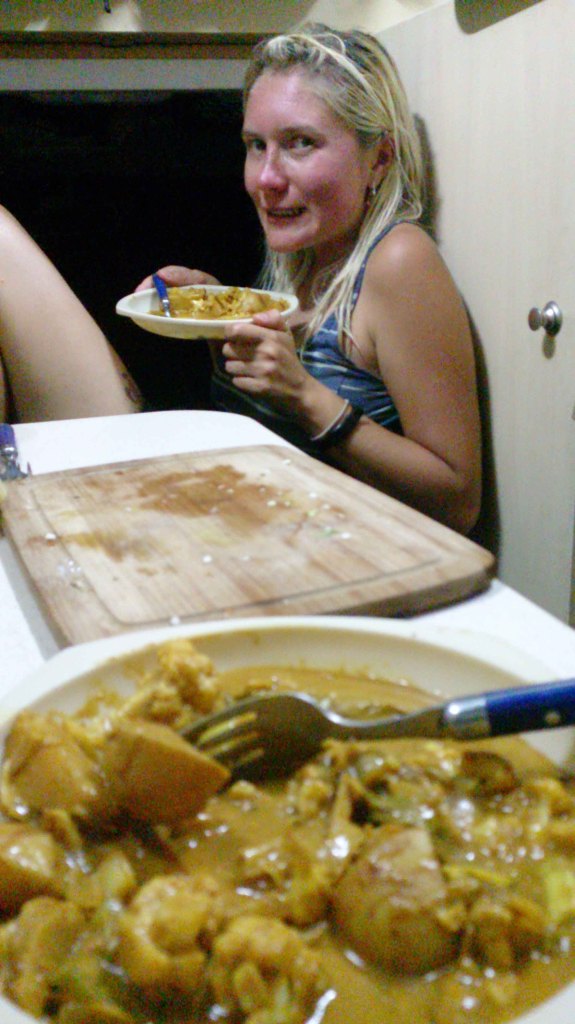 A word about chakalaka: what is it? where does it come from? It is a tasty canned mixture of tomato gooeyness with some veggies and curry flavoring – and quite spicy too! It has an unforgettable taste and smell, I mean I recognized somebody else having it in our campsite yesterday. It can be put on bread, it can be used in stews and sauces and curries. We mostly put it on bread, but sometimes we also use it in sauces. They even make chakalaka packet soup! Which we had once as well, it didn't look like much but it was spicy and it was better than tomato packet soup.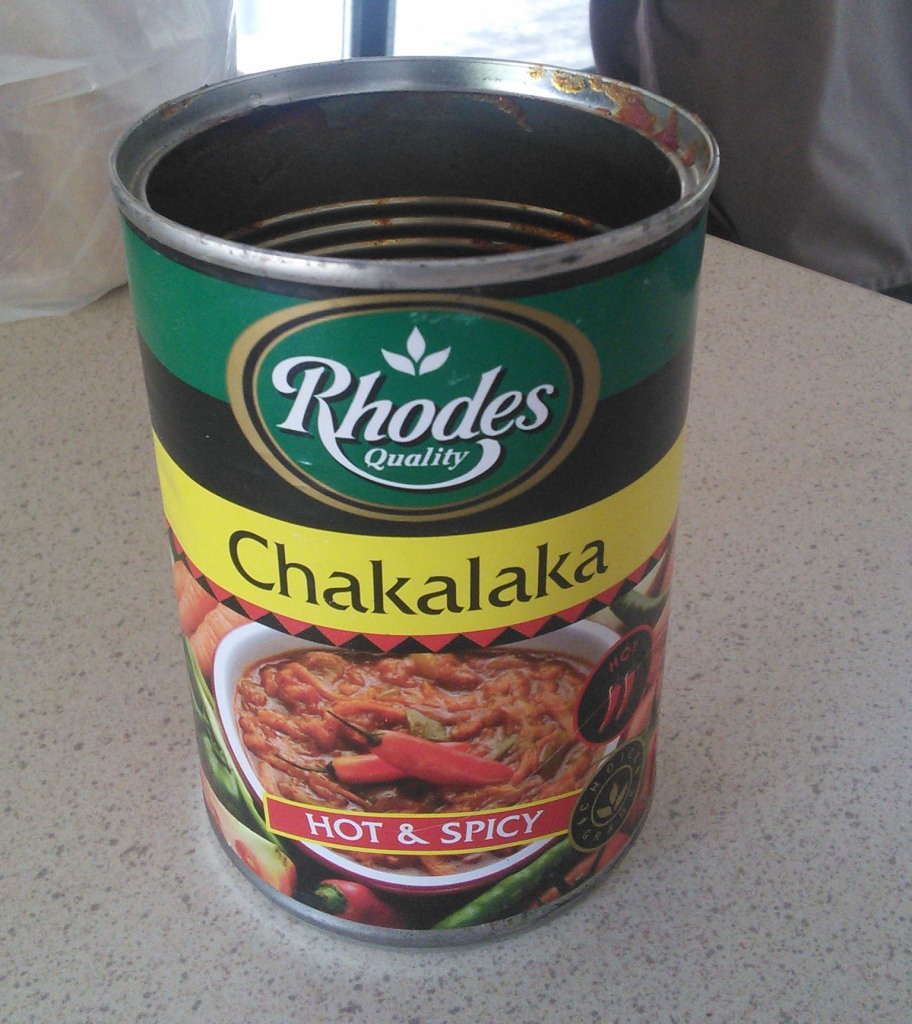 We've had a lot of snacks, most of them quite unhealthy, so instead I am adding a picture of me snacking on tomato paste, something I do quite often. We are done with our adventure for now, excited to try out the Ethiopian restaurant in Windhoek(we really miss Ethiopian food) and overall it hasn't been hard being vegan on the trip at all! I do realize we have the option of cooking for ourselves, which a lot of times saved us, but in reality everywhere will have at least rice or maize and some vegetables. However, Ethiopian food has been the most memorable by far on the whole trip, both in terms of availability and quality of taste!