We are back in London, slotting back into the rest of our lives. I haven't seen Katana in a whole week – which is quite a change after spending 24 hours a day in each other's company for 6 months. But we are off out for an Ethiopian dinner and a catch-up this evening and hope to be booking our return to Africa soon – there is the small matter of getting to Cape Town to deal with!
But first we should wrap up the last part of our journey, having left you in Tsumeb on our way South towards Windhoek. We set off into the Namibian wilds again aiming to find some traces of extremely old wildlife. On the way we passed the Waterburg Plateau, and were almost tempted to stop a night on a private game reserve there, but the campsite pool wasn't quite enough to stop for since it was only just lunchtime. Instead we carried on, admiring the ever grand scenery from some good gravel roads. The maps were a little vague on the subject of exactly where we were to find what we were looking for, but Katana's usual navigational magic worked again and we rolled up to the Dinosaur's Tracks campsite in time for tea. Our host told us all about the dinosaur's tracks and the history (short term and geological) of the place, whilst firing up the hot water. We were again the only people on the camp site, and enjoyed another special evening in the bush…aware that these were coming to an end so soon and making the most of them.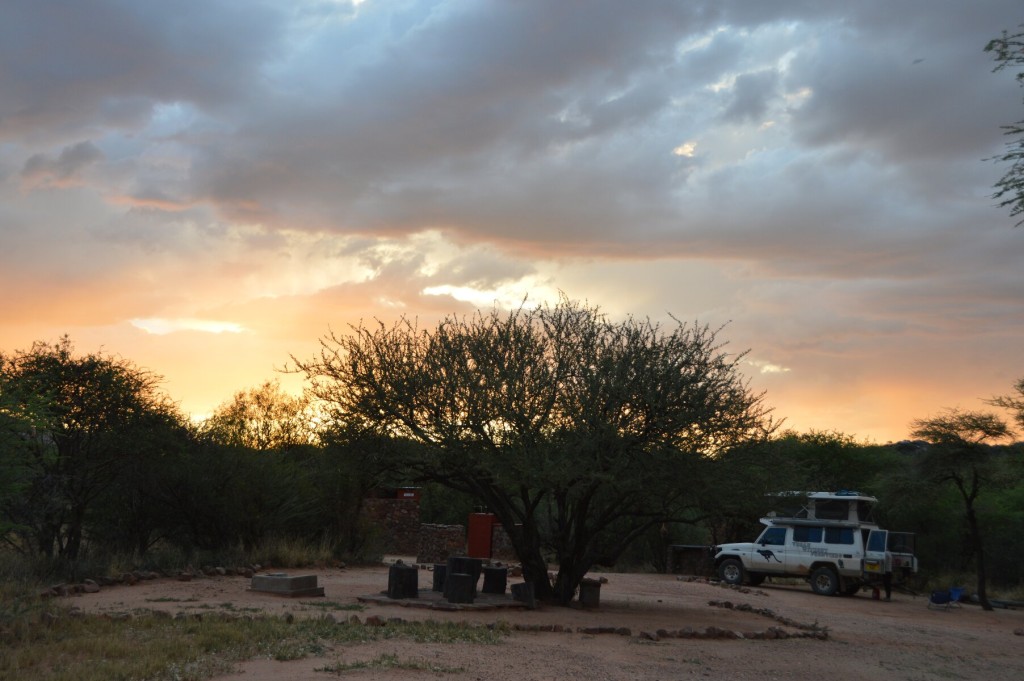 In the morning, we walked to the tracks – 190 million years ago some dinosaurs walked through the muddy remains of a pool, which was then covered by the encroaching sand as the climate dried out. Just like the pans and dunes of the present day Namib desert. Perhaps we should have left some footprints while we were there for whatever species there is to find in another 200 million years?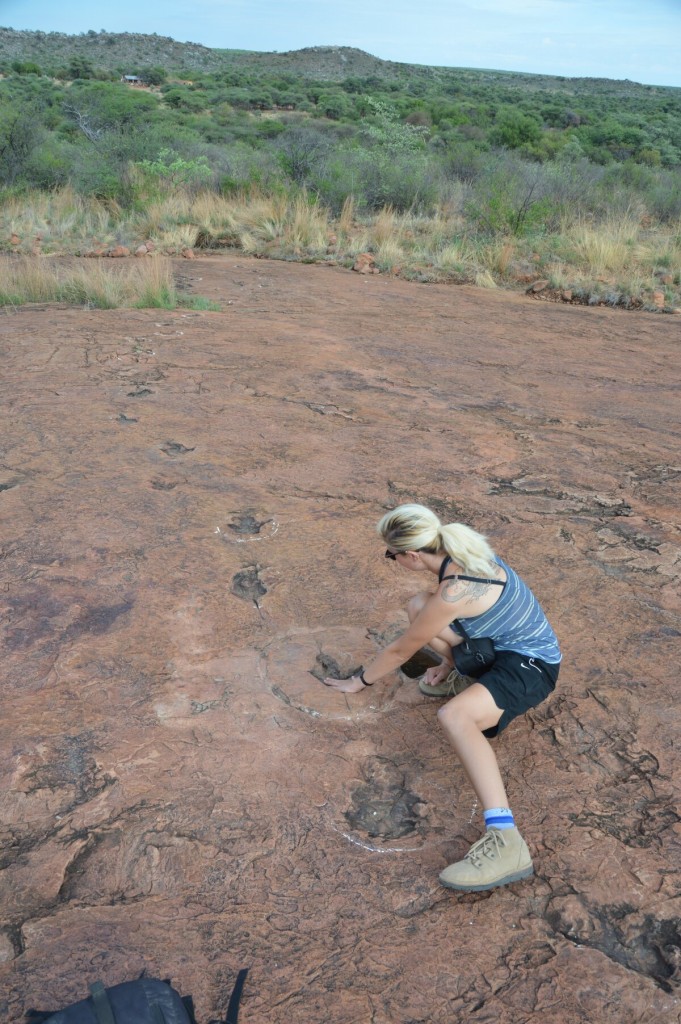 But we had to move on – when we first looked at what to see in Namibia, Katana was keen to check out the work of other artists in the area. At Phillipps Caves, there are some impressive examples of 3500 year old rock paintings. We followed the roads marked on our maps into the mountains, and they were rough and stony tracks, until they stopped. It seems that someone has drawn a road through the mountains from their imagination, since it has never existed in reality. There was plenty of wildlife and scenery to make the detour entertaining though, and we were in no particular hurry. Again we considered camping early, having driven off the track into a fold of the hills, but again it was just a bit too early and we headed on. This was to be our last night in the wild areas of Namibia, and we spent it at the Ameib Ranch campsite – a wildlife reserve which also provides access to Phillipps Cave, and a swimming pool for our private use since there were no other guests. This was not a bad way to sign off!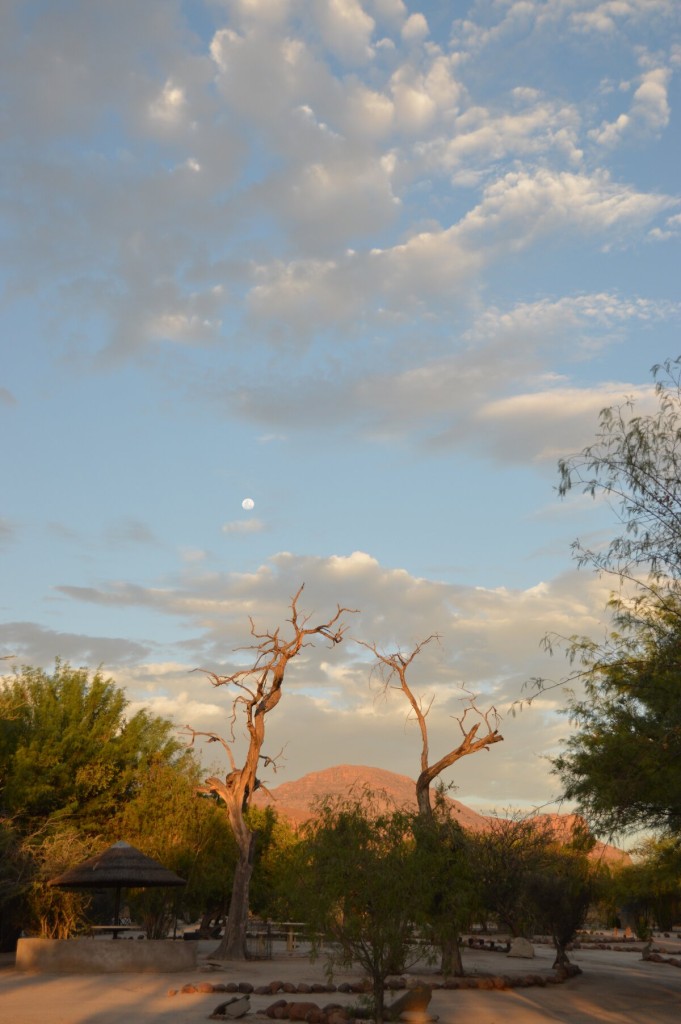 In the morning we visited the cave and admired the rock art – Katana making the hike/climb without too much trouble to her injured leg. After some lunch at the strange rock formations called 'Bulls Party' and 'Elephant Head', we turned towards Windhoek and began our journey home.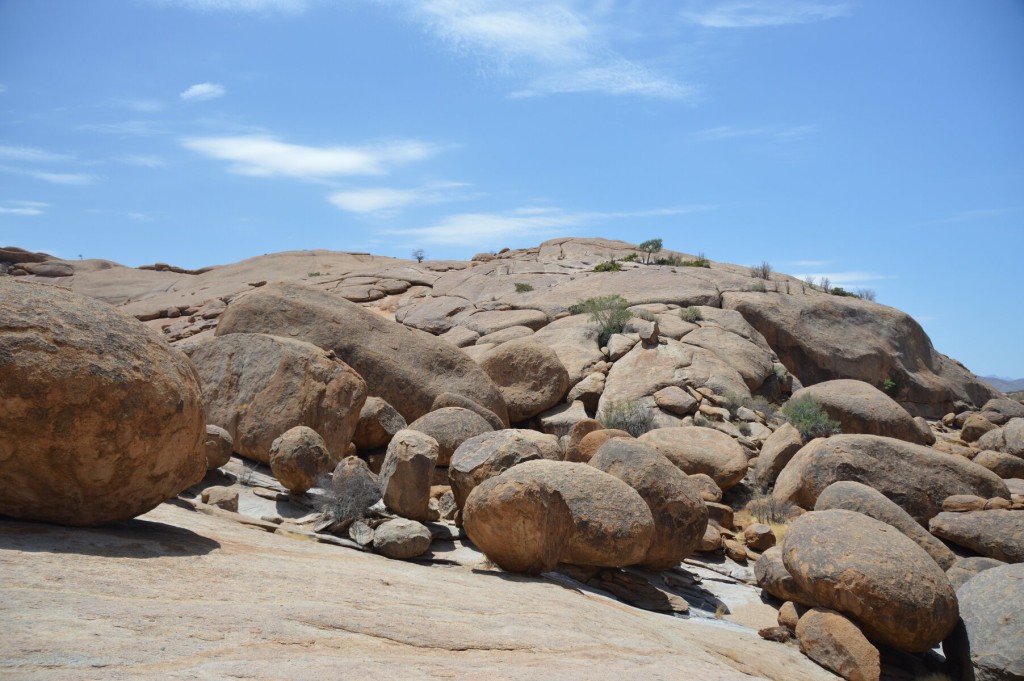 OK, we spent a few days in Windhoek before flying out, but it was all about preparing Troopy for storage and ourselves for the cold weather of Europe.
Whilst in Windhoek, we had intended to go to an Ethiopian restaurant we had heard good things about – already pining for the tastes from earlier in the trip – but it turned out to be permanently closed. Home cooking in Troopy was a good solution anyway – after a second lunchtime visit to La Marmite Royale for some African specialities. So we tidied and cleaned, threw away worn out clothes, agreed to come back in the Spring and then headed for the airport, leaving Troopy behind. I hope he doesn't mind too much.