We were 30km up a rough, 2-wheel-track, rocky hill and sandy riverbed alternating 'road' leading off the main gravel run between Opuwo and Epupa Falls into the wilderness of Namibia's North West. Then there was an excruciating metal grinding noise as we crawled up a boulder slope. We stopped. Oil flowed down the rear left wheel again – the infamous driveshaft oil seal had gone again…only this time it looked a lot worse.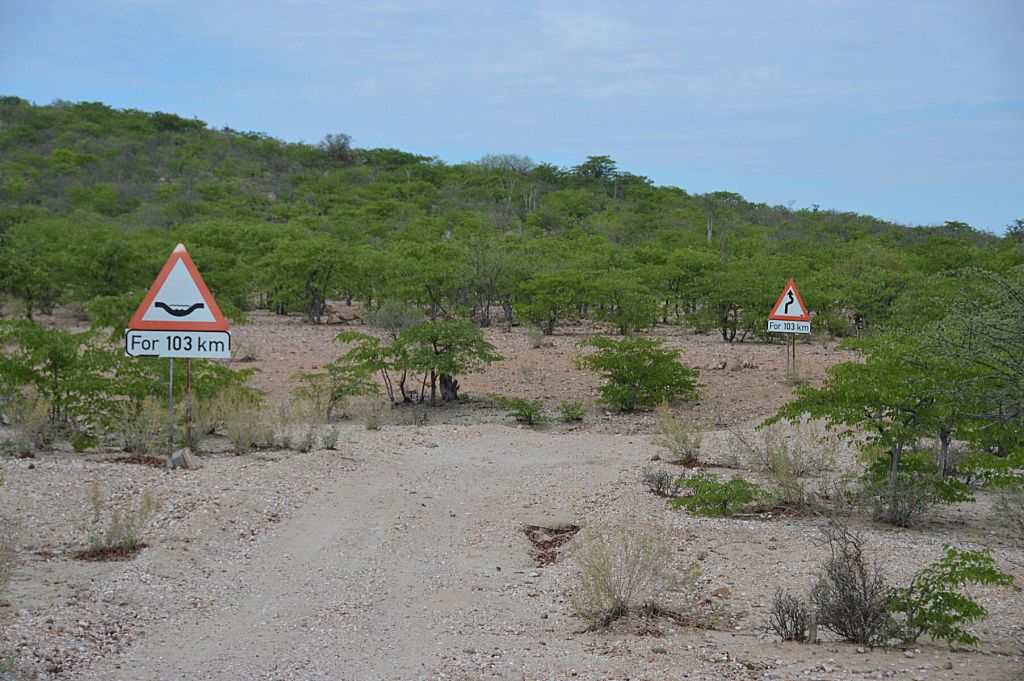 This was the moment our plans changed again. We were heading for Van Zyl's pass – touted as one of the most beautiful, yet harsh and steep routes there is. Instead, we found ourselves some 30 minutes later being assisted in a strip-down and rebuild of the wheel bearings by a Himba guy who happened to be walking that way, watched by his wife and buzzed by hundreds of little flies whose sole intent appeared to be to commit suicide by flying into any available orifices. These are the things that make a trip memorable.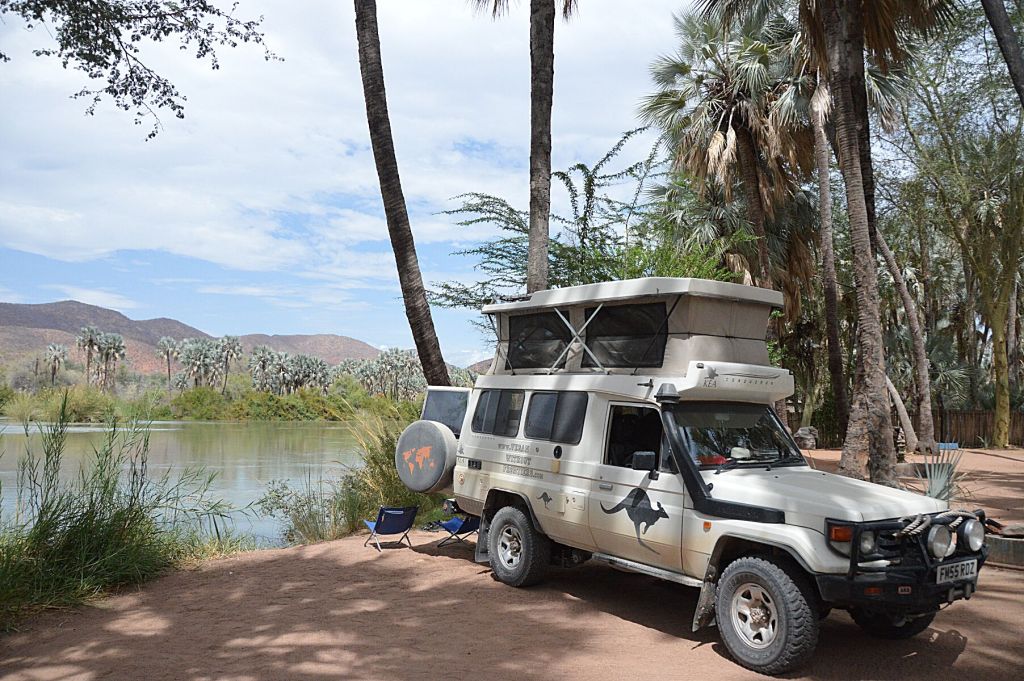 We had already gone North to the Angolan border and teetered on the edge of the thundering Epupa Falls as the river Kunene slices its way down a jagged stairwell towards the distant Atlantic. The base for this launch into the wilds of the North West was Opuwo – a frontier town far from the national border where the colourful Herero and Himba people mix with a few intrepid tourists and a lot of locals. It's a dusty, chaotic town of supermarkets, petrol stations, bars and tin shacks….and one luxury lodge – on the way up we stayed there in the attached campsite and made good use of the infinity pool.
As we took the hub apart it became clear that the damaged lock-screws had once again come out, only this time the whole retaining mechanism had completely unscrewed itself and shaved bits of metal into a nice greasy-oily-paste which was then deposited into the brake drums and onto the desert sand. The good news? The bearings seemed to be still functional, if only we could get the whole lot back together over squashed screw-threads and tighten it all up again. And thankfully I had had the foresight back in Botswana to get an extra spare oil seal! It was messy, hot and frustrating work, but we did the necessary road-side repair and turned back to limp towards Opuwo again. Having paid off our helper with cash and apples, we were sadly not able to give him, his wife and 2 dogs a lift as Troopy was full of firewood.
The return to town was uneventful, and the repairs held out well – even though we only had 1 (badly bent) lock screw left, and that wasn't in fact doing anything helpful, and the oil seal failed again! Over the next 2 days I discovered the intricate details of how the whole thing works. I also found that we are no longer in a part of the world where every corner shop sells Troopy spares. The oil seal had to be sent for from another town. The lock-screws were just unobtainable so I had to make my own – walking for hours around town finding tools and bolts, then cutting bolts to length and shaping the ends to match what was left of the mangled originals. It was nearly a perfect repair…except for a couple of sheared off bolts!
During this time we stayed at the Ameny Rest Camp in town – it was cheaper that the original lodge and walking distance to the spares and food shops. It did however come with shouted arguments between customers and the owner at 2am, and was basically a dust-bath…soft but bad on the lungs when crawling around under the car. So, by the time Troopy was fitted out with new bearings and put together as well as possible given the limited resources, we were definitely ready to leave! Where to though? In the circumstances, with less time and less confidence in Troopy, we decided to abandon the extremely remote North West, and simply head into the remote North West along the border with Angola. It is still a wild place with beautiful and varied scenery, but the odds of being stuck for a couple of weeks with a breakdown looked a little lower.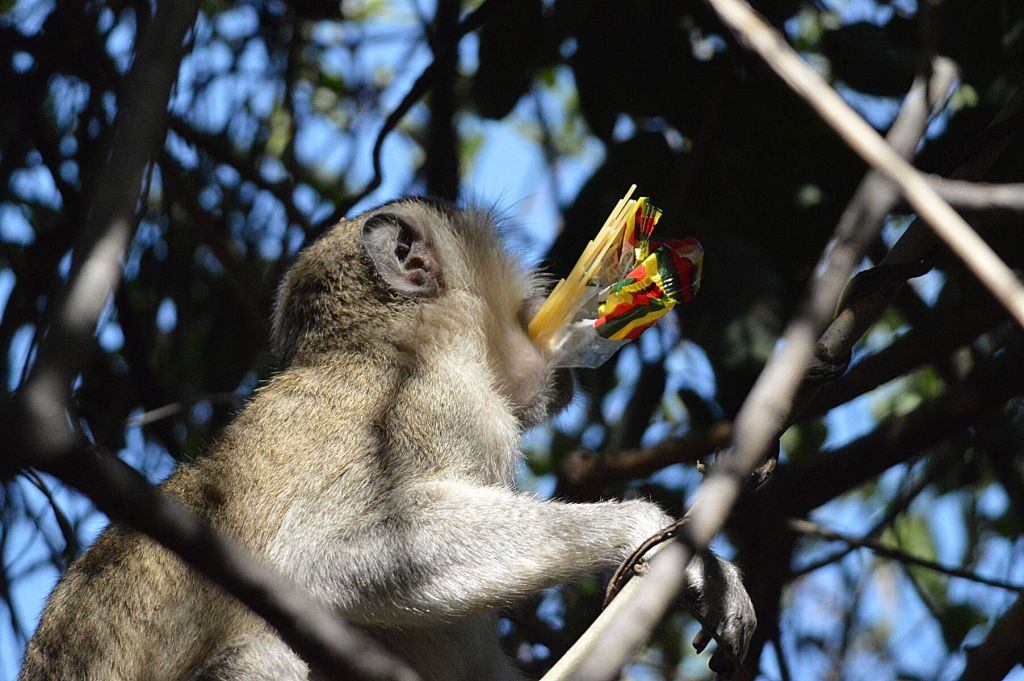 After following the river Kunene and staying on its banks (where we were robbed of our spaghetti from inside a cupboard by a cheeky and swift raiding monkey) we dropped in at the border post at the Ruacana Falls to see if we could get our visit permits extended to cover the extra time before our flights, but despite a lot of sympathy from the immigration guy, it seems this can only be done in Windhoek. I'm sure this won't be a problem. The falls themselves are a little dry now, since the water is nearly all diverted for a hydro power station, but they must have been impressive once!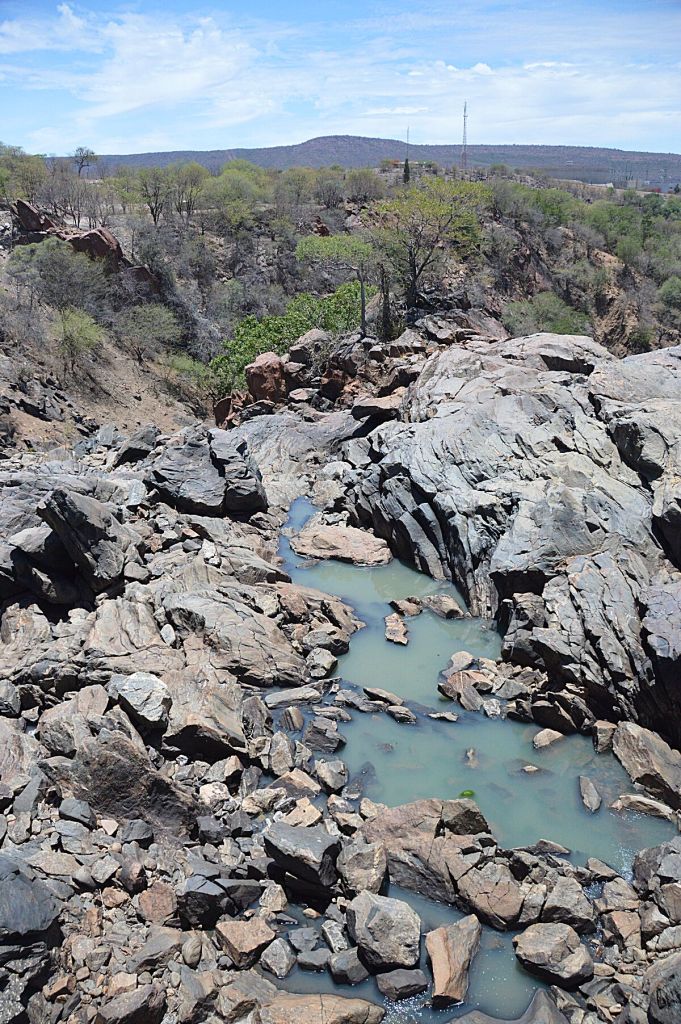 So onward towards Etosha, where we hoped to see some Rhino at one of the park's waterhole camps. First though we had another night of wild camping, tucked away amongst the rocky outcrops off a sandy track. It was a really nice wild camping spot despite the tiny flies, but not without consequences – after an evening of playing cards (with gin) we had both managed to accrue forfeits which required us each to wear clothes chosen by the other for the following day. Entering the National Park and obtaining the permits in the morning was therefore a little entertaining, but I did find the skirt more comfortable than my usual trousers in the heat.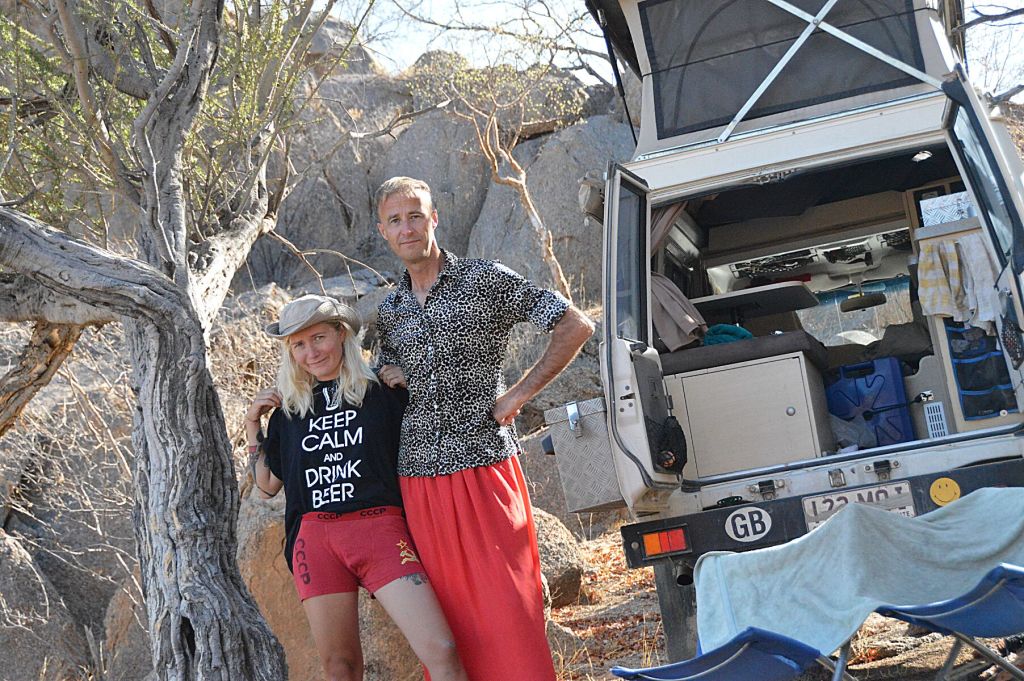 As to the park – it was remeniscent of the Central Kalahari in Botswana, but with more visible wildlife – elephants, zebra and all sorts of antelope gathered at and around the natural and man-assisted waterholes. In the evening we sat by a floodlit waterhole and waited…and just when I was thinking we were going to see little more than the birds hoovering up the flying insects in the floodlights, along came some giraffe, followed by a rhino…then another, and a family of 3. A sole male lion also turned up for a drink to complete the evening's viewing before bedtime, though this didn't seem so popular with the other animals!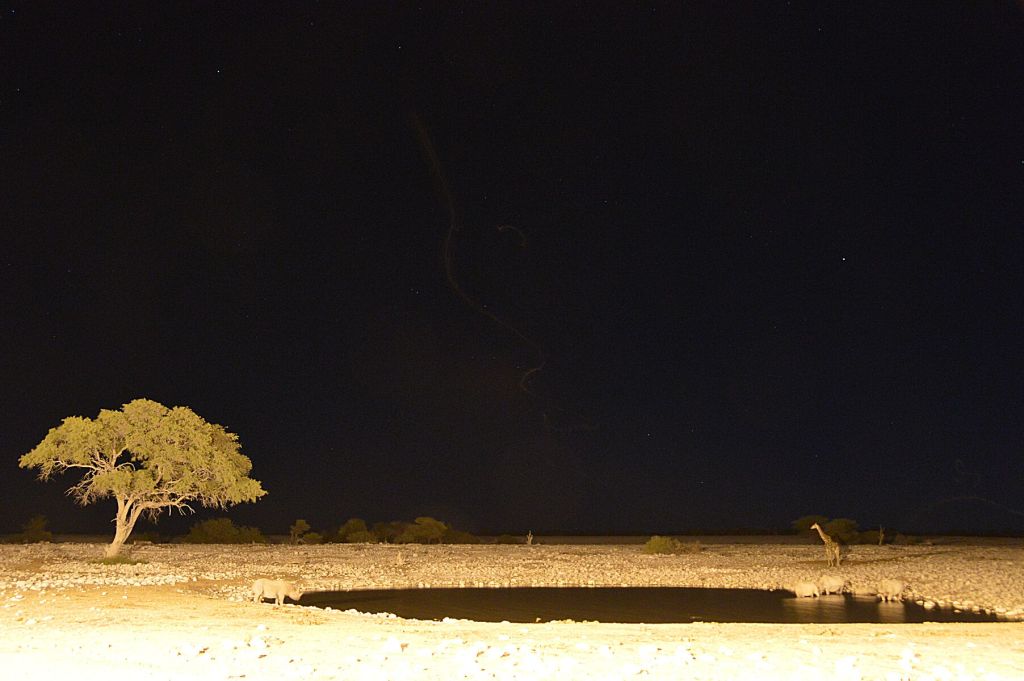 In the morning, with a sick Katana suffering from a cold, and Troopy showing small signs of oil around the rear hub, we set off for a leisurely tour of the eastern end of the park. As usual we found our way into the less-travelled parts! Here we found lots of elephants, Kudu, Gemsbok, herds and herds of Zebra, Springbok etc. We did have to crawl along for a while behind a group of giraffes that were well aware they had right of way and looked slightly  disapproving of the car using their track, but in the end they were nice enough to step to one side and let us pass. Then as we were heading towards the exit…a pride of lions dozing under the shade of a bush! This pretty much completed all our aspirations for wildlife in Africa…though a Cheetah would have been nice!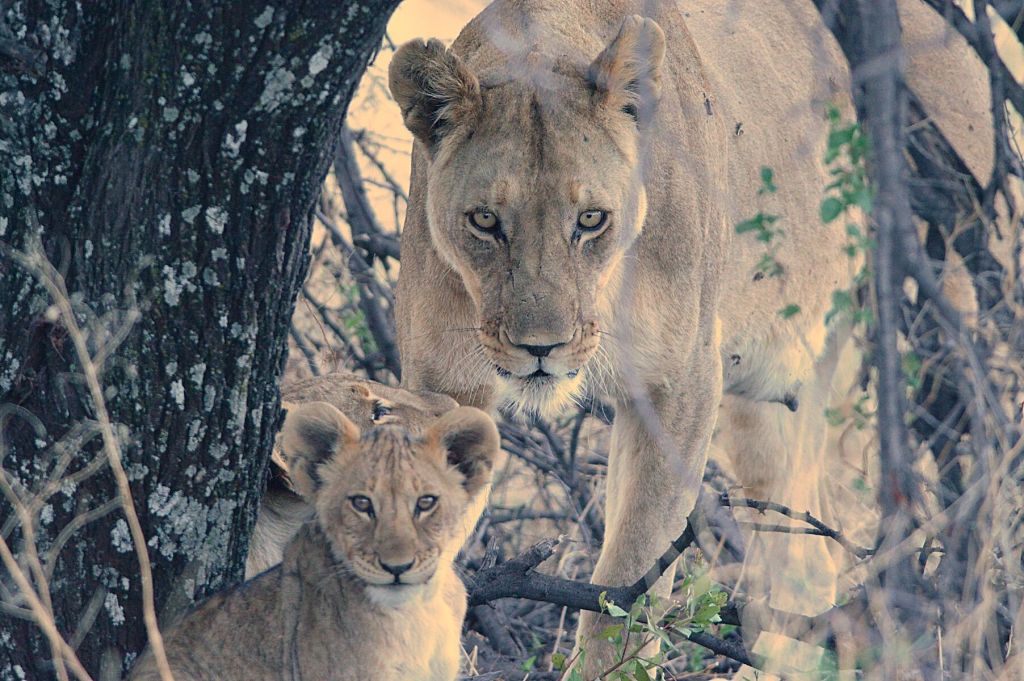 We rolled out of the park and onto tarmac, turning South again onto the last leg of this trip in the direction of Windhoek. Thunderstorms were gathering and dropping curtains of dark rain to the West and North. In Tsumeb we stopped at a backpackers campsite, on a nice clean gravel and grass area, where the infamous driveshaft came out again and the seal was replaced after a morning trip to the local (genuine) Toyota garage. The bearing is all holding out well, but it looks like a new driveshaft may be required to put an end to the leak…however, that and the annoying lock-screws are not in stock even here! In any case…its going to be a bit tricky to disassemble on the road as I first need to contrive a way of extracting the decapitated home-made lock screw which is still firmly doing its job! Oh well, we must leave some things for the next chapter!