This week I'm going to take you on a tour through the other side of the trip. Yes, we have been swimming in the sea in beautiful places (up to 5 times a day as we rolled down the Adriatic coast through Croatia, Bosnia, Montenegro and Albania). Yes, we have found great vegan food to eat and wine to drink. Yes, we have seen absolutely spectacular scenery and weird and unusual sights. But we have also had our issues, hardships and rough moments.
And then there's the 'unusual' aspects of our journey and our characters which you might get to see develop over future posts and videos. For example, as I drive down rough tracks or open roads I am not only watching the road to be safe, but I am looking out for dead things in the road. Katana has a slightly unusual project on the go at the moment which I am supporting with a mixture of intrigue, admiration and revulsion. You will perhaps see the results in a photo gallery dedicated to 'Katana's Dead Nature Studies', though I guess you won't experience the full sensory affront of the subject. This has however also led to the rescue of a tortoise (I'm sure Katana wasn't really disappointed to discover that this particular road-kill was just road-turned-on-its-back-unable-to-move)(actually, I'm not at all sure about that but one can hope…).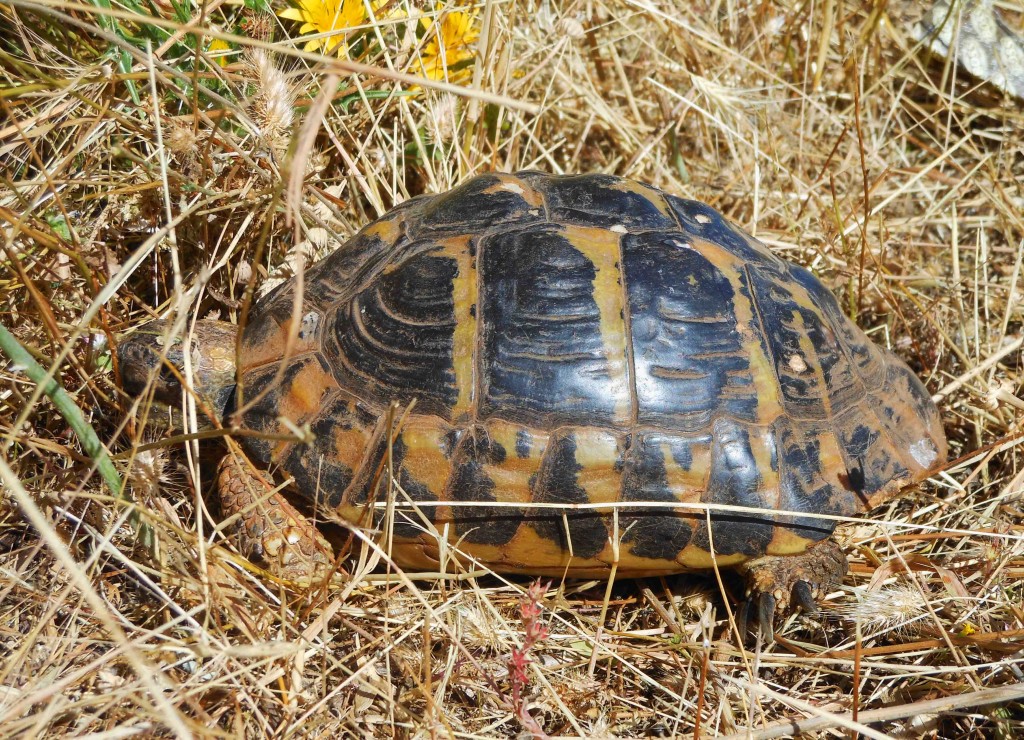 We spent some time after that discussing how long it had been there, and whether the poo around it was its own and an indicator of its time inverted on the side of the road.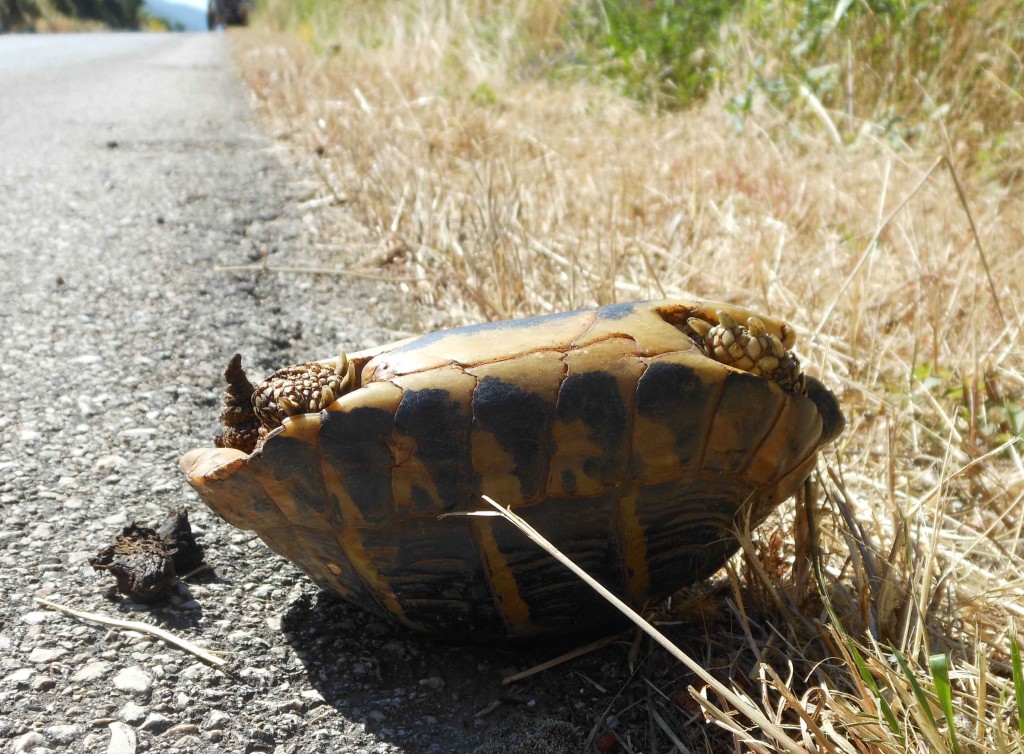 The tortoise rescue day also had other moments. Once we had packed up from our wild camp in the woods and stowed the shovel (they don't have loos out there), I had a near miss with some road-kill which turned out to be a very-much-alive snake, and then spent a jolly half hour in 45plus degrees under Troopy by the side of the road greasing the suspension which had gone rather squeaky after our detour into the Albanian mountains. Incidentally, Troopy was given a pretty good workout in Albania – a lot of the mainish roads randomly run out of surfacing and turn into rough tracks or riverbeds, and we had deliberately gone off the map to see the wilderness, making the 4WD a necessity as we climbed into the mountains over eroded tracks inhabited by people on donkeys and mopeds.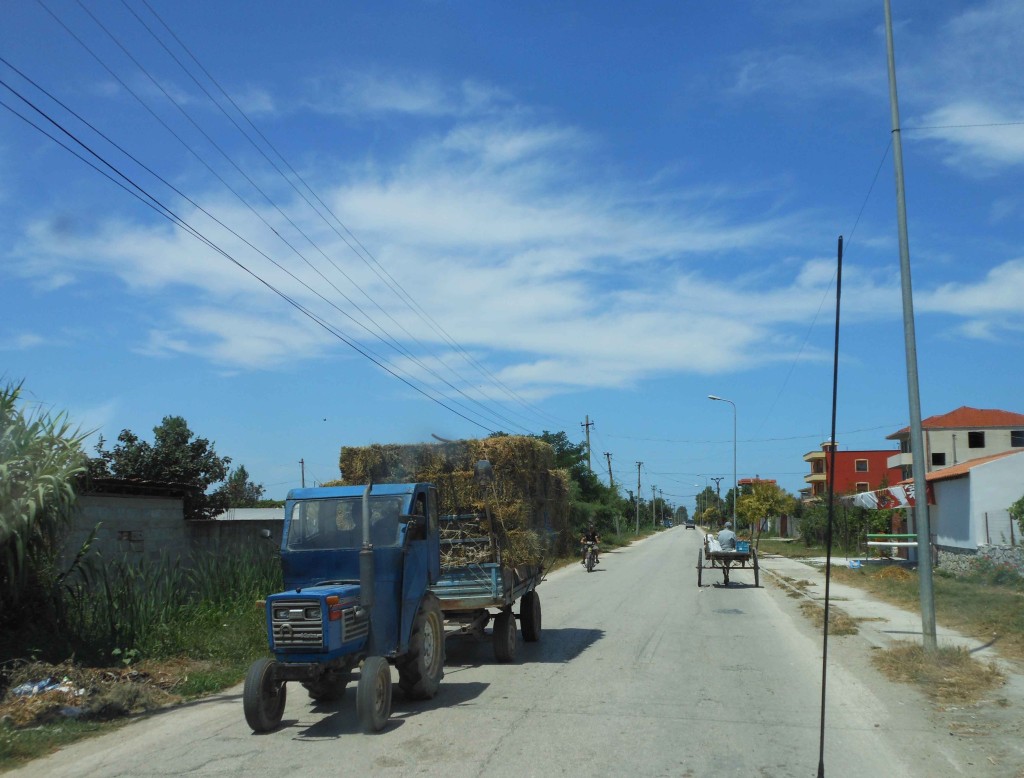 Actually that last comment also applies to Albanian motorways where the most alarming incident (apart from having to swerve to avoid a lurching coach) was seeing 4 donkeys being dragged across a busy motorway between trucks, but they did seem more at home in the mountains.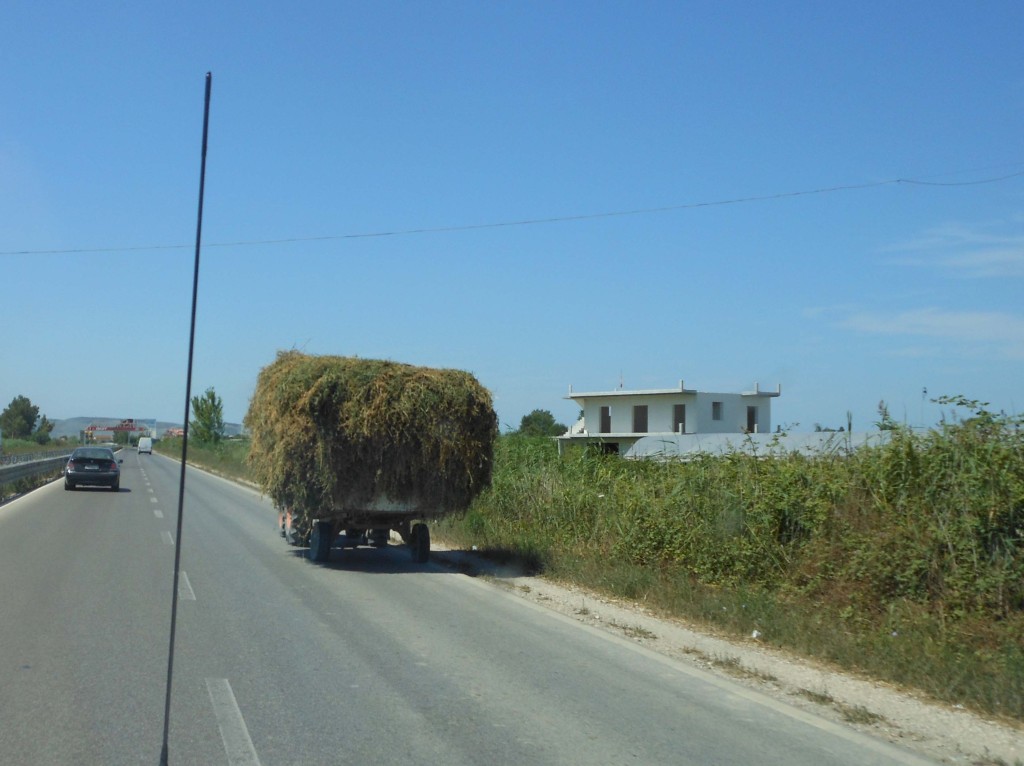 I think I am also much more at home in the mountains. Put me in a city in traffic trying to find somewhere to park and I am liable to get a bit snappy and take the first excuse to escape I am given. Katana has been an excellent Navigator, of the sort whose good fortune is as much of an asset as her undoubted ability to choose and direct us on our route. But we have had our stressful moments when reality on the ground doesn't appear to match reality on the maps and we have had to take a few minutes to calm down. That good fortune is awesome though – some of our best adventures have resulted from taking a less-intended route such as that which led us to our first wild camping of the trip.
Even that, however, was not looking good as we were detained by Croatian customs officials at the Bosnian border (where we had arrived by accident), who seemed to take delight in going through Katana's personal belongings in great and repeated detail. It became clear that the young man's intent was to cause discomfort enough to get us to 'pay him a ticket' right there rather than wait for a sniffer dog to be sent down, and then be dealt with by a judge if they found some hidden illegal items. Katana did a good job of ignoring them, whilst I paid friendly chatty attention to exactly what he was doing until they gave up and sent us on our way – the dog never did arrive. Bad taste left though.
So on the subject of taste – back to our vegan mission. That too has been largely great, but occasionally not so much fun. Driving along the northern part of the Croatian coast was for some time just a succession of whole pigs on spits by the side of the road – which given the sparse traffic must have amounted to 1 per person on the road and was the only food available for some miles. Then there was the restaurant that served the Arrabiata sauce with slices of bacon, though not as stated on the menu.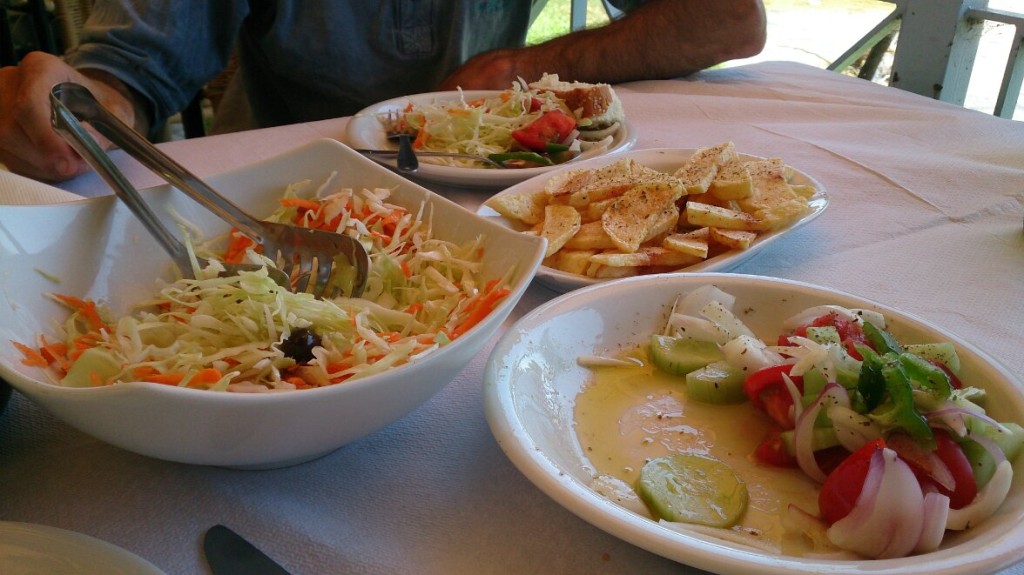 And now we are in Athens, or at least a campsite outside the city. At least, it calls itself a campsite but we are still trying to work out what the true purpose of its existence is. A caravan graveyard? A dog breeding farm? A mosquito super-bug breeding centre? Who knows? We are the only guests. Yesterday there was an Australian couple here who had been here 3 days and seen no other customers. And yet cars come and go, the mosquitoes are watered and the toilets don't flush. The dogs sit outside Troopy at night and bark at each other or into space. We leave tomorrow and that can't come soon enough.
Up until now the worst campsite we encountered was a dilapidated site in Montenegro with 1 small toilet block that nobody seemed to use – on getting up early to find them being hosed down, I wandered behind a second (overgrown out of use) wash block and found an area of concrete liberally encumbered with piles of human poo, and a ditch full of toilet paper. At least then I understood. This place is more disturbing than that, and we aim to camp wild more often from now on. Right now we are using beer as an antidote to weirdness…it seems to be working!