Being Vegan in Ghana is a nice experience. You get to hear new and strange stuff about veganism, what people think it means, you meet people who think you're weird, or worst, a fanatic. 
So let me introduce myself. My name is Ady Namaran Coulibaly. I am vegan, editor for Health Africa Magazine (the only Bilingual Vegetarian Magazine in Africa) and also the campaign manager for Meatless Monday Ghana. I had the opportunity to get in touch with Amanda who told me about her project (356 Vegans) and learnt that she was coming to Ghana for the first time, to interview vegans as part of her project, which I find really inspiring. She's put so much passion and zeal into this; it's hard not to want to support her. This project is special and I am excited to be a part of it. We agreed that I pick her at the airport.
After a heavy downfall on Saturday night, Sunday morning was really cool. I left home at 7:30am to fetch my friend Amanda from the Kotoka International Airport in Accra. I got there a little late, spotted her and we hugged and exchanged pleasantries. Then we got a cab to the hotel and met with Jonathan. Jonathan lives an exciting life (I actually wish I was in his shoes), travelling around in his Jeep (called Troopy), and experiencing being vegan in different countries.
We wanted to have a day out somewhere, and we thought it would be nice to spend time at the Kokrobite beach in Accra, which is about an hour's drive from central Accra. We boarded Troopy (I couldn't wait to have a ride since I saw it on veganwithoutfrontiers.com) and off we went. The drive was peaceful, except for some drivers ignoring the street lights. It was a Sunday, and as most Ghanaians are religious and always go to church on Sunday mornings, there was little traffic on the road at that time of the morning.
We got to the beach and stood by some fishing boats, just admiring the scenery.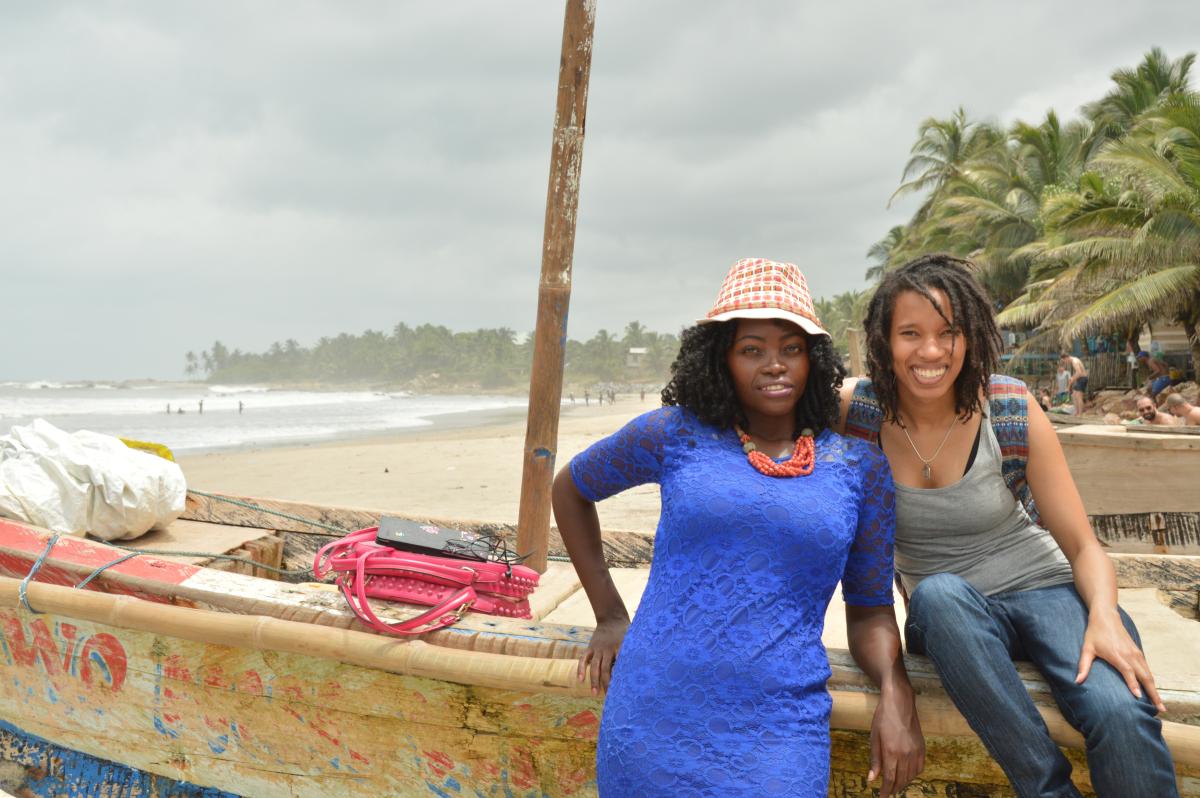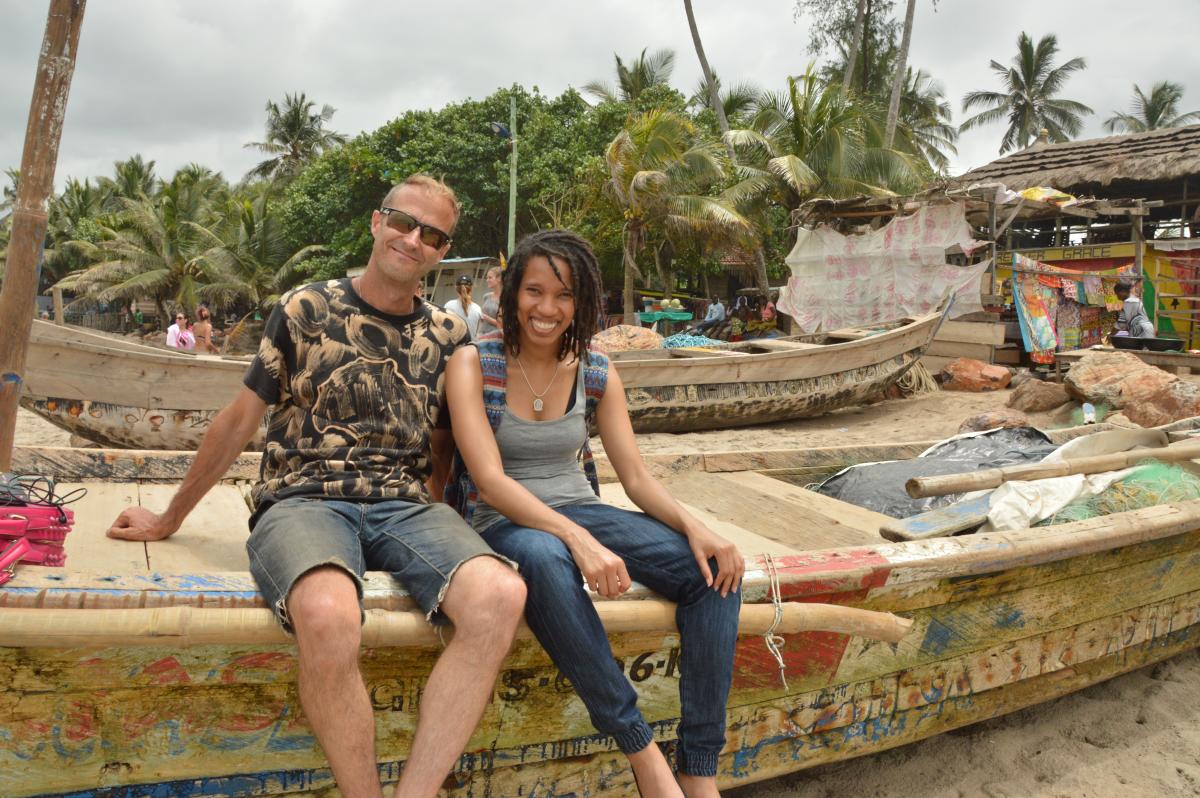 There were lots of white people; something Jonathan said was unusual in other countries like Mali, Burkina Faso etc, probably due to terrorism reported in the media. We stayed around for a while, taking pictures with Amanda, who was busy taking pictures of a dog. I think she's got a soft spot for cats and dogs.
The sea was really cool and chilled; we could not resist the temptation to swim in it. After sometime we had some drinks and talked about how nice the place was and other stuff.
By the time we had made up our minds up to leave the place, the clouds had turned dark and it seemed like there was going to be some heavy showers. And oh! Barely five minutes after we had driven off, the rain started falling very heavily. Within twenty minutes the roads were flooded.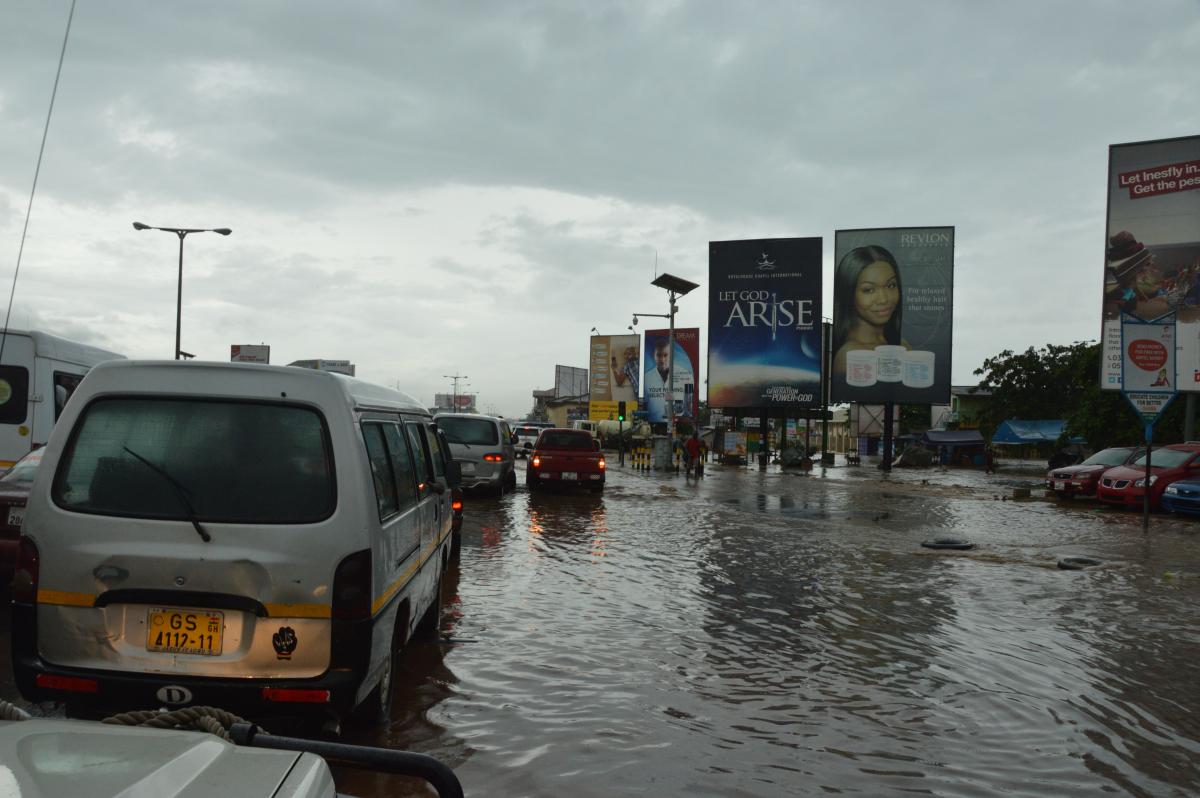 Several vehicles were parked by the street, obviously because the owners preferred not to take the risk of driving through the rain. Such heavy rain in Accra usually causes a lot of damage. The gutters are small and open; as such people just use them as refuse dumps and throw in all sorts of items, especially plastics. When it rains, the water can't pass through so it just comes on the road, and carries away cars and other items. This is a recurring phenomenon, but all the same, the Mayor of Accra won the award for 'Best Mayor in Africa' just last year.
We got to a point of the road where we would have gotten stuck, but for Troopy the Jeep. We were able to drive through volumes of rain and made our way back to the hotel, and to Asaase Pa around 4pm to have lunch. Asaase Pa is a Twi word that means 'Good Earth', and this restaurant is the first Vegan restaurant in Ghana, and was set up 18yrs ago. According to the owner, Brother Kwasi Adu, it was difficult getting clients because the concept of veganism was a new one but gradually he was able to create awareness about its benefits. Lots of people patronise vegan food now, thanks to his efforts. He was very friendly.
Amanda ordered 'Zinger', Jonathan got some 'Royal Ginger' and I got some pineapple juice. Zinger is made from a mixture of Hibiscus and ginger. Burkinabes and Ivorians call it bissap while Ghanaians call it sobolo.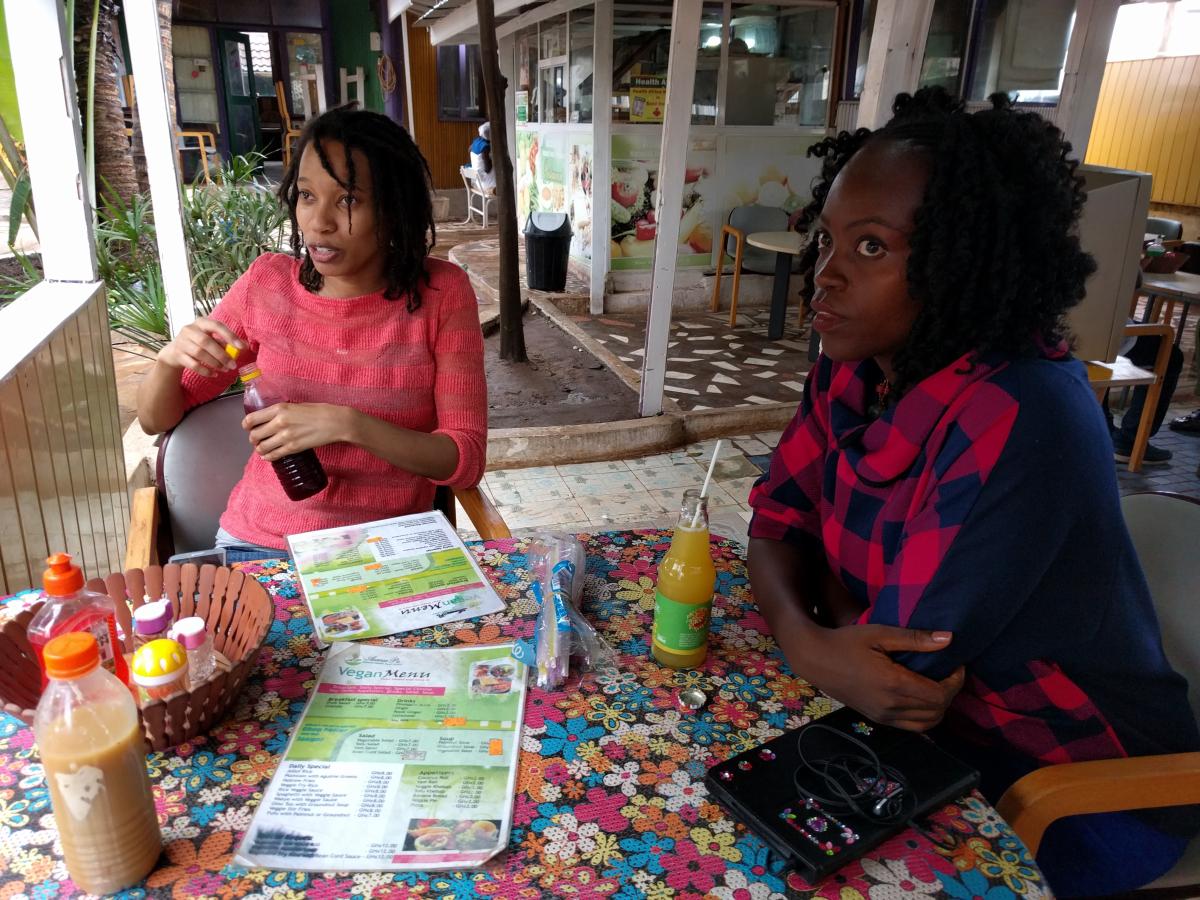 Amanda wanted to try a local Ghanaian food, fufu. I suggested she tried it with groundnut soup which is my favorite. Finally, Jonathan and Amanda had fufu with groundnut soup and I had brown rice with groundnut soup. The food was good.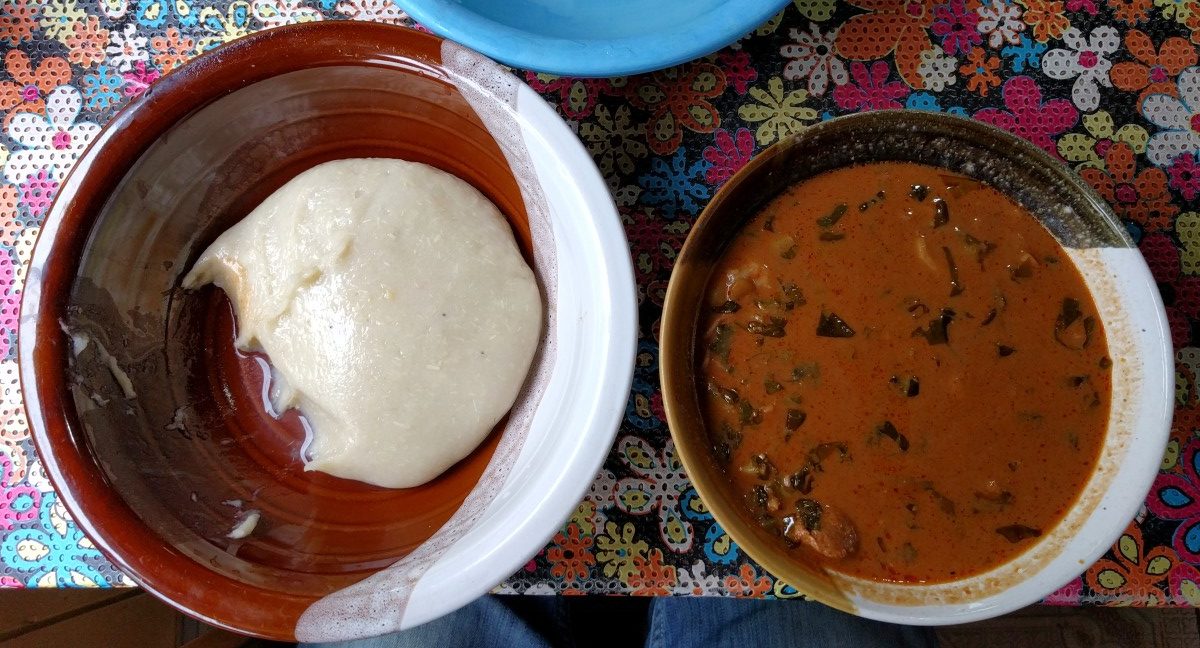 After we had eaten, Brother Kwesi Adu introduced some vegans to Amanda, and although initially she had planned to start the interviews for 365 vegans the next day, she started right away. I was third to be interviewed, and really had fun during the interview. Can't wait to see it on 365 Vegans Youtube Channel!!
My day was just perfect. Thank you Amanda and Jonathan for the great time, for what you are doing out of your passion for veganism and your vegan journeys which are inspiring. Looking forward to spending more time with you guys!