Steve Cox has joined me on a few little trips before, by way of the Dangerless Sports Club's bungy jumping jaunts around Europe. This was a bit different though, and I was very happy to have his company, and even more so since he happily and wholeheartedly joined in with the vegan theme. We had a great time travelling around Zambia and Botswana…and he lived to tell the tale…despite some occasionally experimental and less successful cooking!

Over to Steve…
After 24 hours travel I arrived at Victoria Falls international airport, got my visa and picked up my bag. Like a bottle of natural spring water I was looking for a sign with my name on which I was told would be there for my connection to meet Jon. Instead I got an introduction into how things work in Africa, there was no sign and there was not going to be a sign so it was time to head to Maramba River Lodge. The journey was relatively uneventful – I got my Zambian visa, then across the bridge by the falls and into the taxi on the other side of the border. The taxi was genuinely terrifying, I was convinced it would burst into flames or fall apart at any moment and the lack of working seatbelts in the back made me automatically feel much better about the whole situation. #RoadSafetyMatters

At the lodge I have to say it was a good camp site, hot showers and good facilities. Quickly we headed out to Victoria Falls and Jon and Agne did the jump whilst Leo and I watched on with great interest. First night there Jon and Agne and myself had an adventerous vegan meal (their own words) lots of new and exciting things were tried, many of them turned out to be orange in colour which was good because I like the colour orange. Not sure who knocked over the bag of Wasabi coated nuts I guess some things are best left a mystery but I hope the monkeys liked them – I am sure they were a surprise. Agne then headed off to get ready for her return flight and I was getting tired so it was time to get some sleep to the sound of Hippos doing whatever it is Hippos do at 8pm. I slept great that night, from what I can gather Jon also had a good nights sleep, no noise apart from the Hippos*.
* I take it this is a veiled reference to the snoring? 😉
Next day I saw my first Elephants just outside the lodge as we went into Livingstone to get some essentials and take Agne to the Airport.
We waved goodbye to Agne who had a bit of a crappy journey back by all accounts with flight cancellations, d'oh. >.<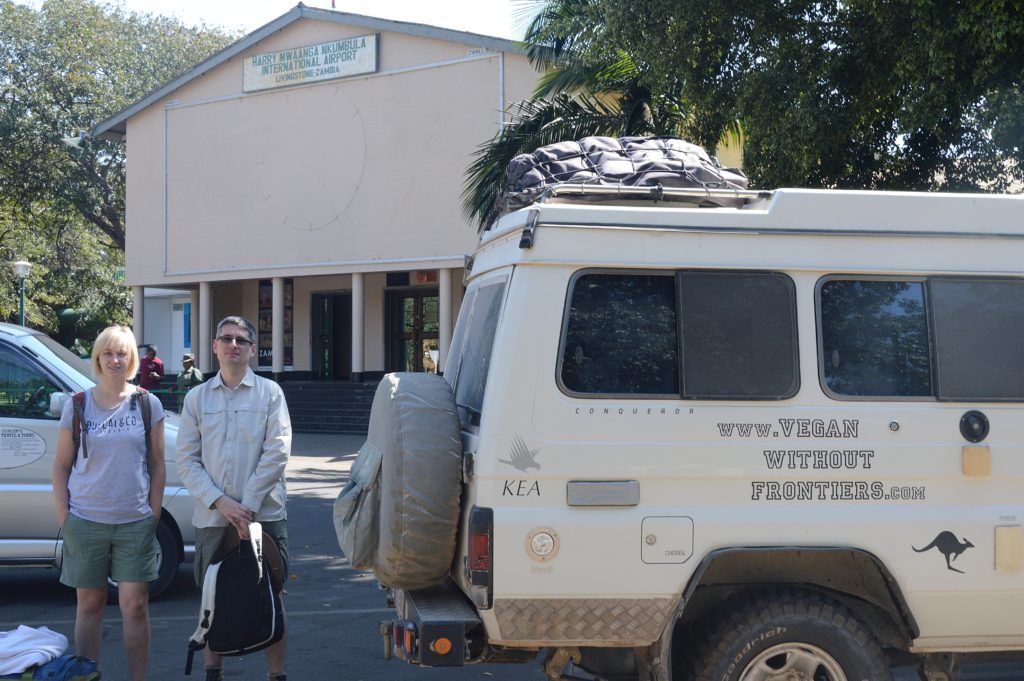 Sunday I went to Victoria Falls and got some good pics. Victoria Falls. Very Big. Very Wet. Much Funs.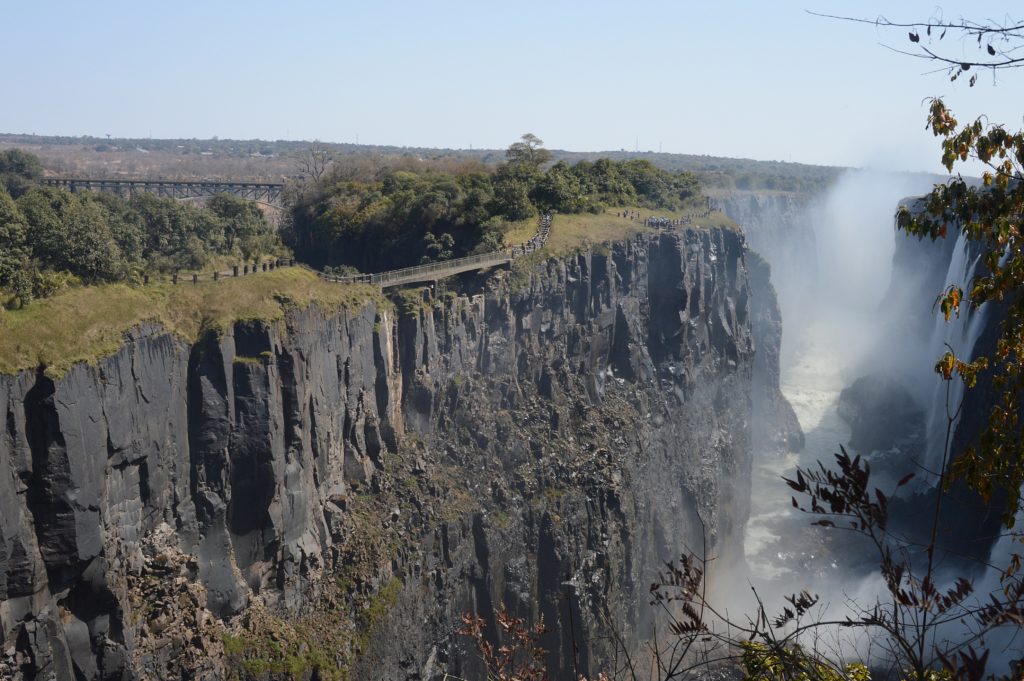 Got back just in time to head off to Botswana and set off down the road. I say road and this time I mean an actual road, you know with actual tarmac and stuff – something of a rarity on the holiday I later came to realise. One of the nicest things about crossing borders in Africa is the number of people willing to help you get through the organised chaos that is the border, that and the people with the machine guns. After negotiating our way to Botswana, not drowning on the ferry and just about scraping over the line with fees for the car and visa it was onward to our next destination, another nice place where I can happily report I had no problems lowering the tone of with my presence. The beware of the crocodile signs right by our spot right next to the gentle slope down to the river proved to be a highlight worthy of remembrance.

After not being eaten by the crocodiles it was off into the wilds for some 4×4 action and even if I do say so myself, some exceptional map reading and navigations skills exhibited by yours truly. Saw some giraffes on the way, zebra, warthogs and went over some very bumpy sand, some smooth sand, some slidey sand and even some hiding holes in the sand sand. There were probably more types of sand we encountered but there is only so much I can remember about sand in a day. That night we stayed at this place with a bucket shower just outside one of the national parks and had a close encounter with an elephant eating a tree in the dark. I kid you not it was actually eating the whole tree. Think Jurassic World when the troopers are looking for the giant escaped dinosaur and you see the tree and then you realise the dinosaur is in fact the whole damn tree, it was a bit like that…Largest. Elephant. Ever. I won't deny it – I bravely hid behind the van trying to cast Dispersing Orb.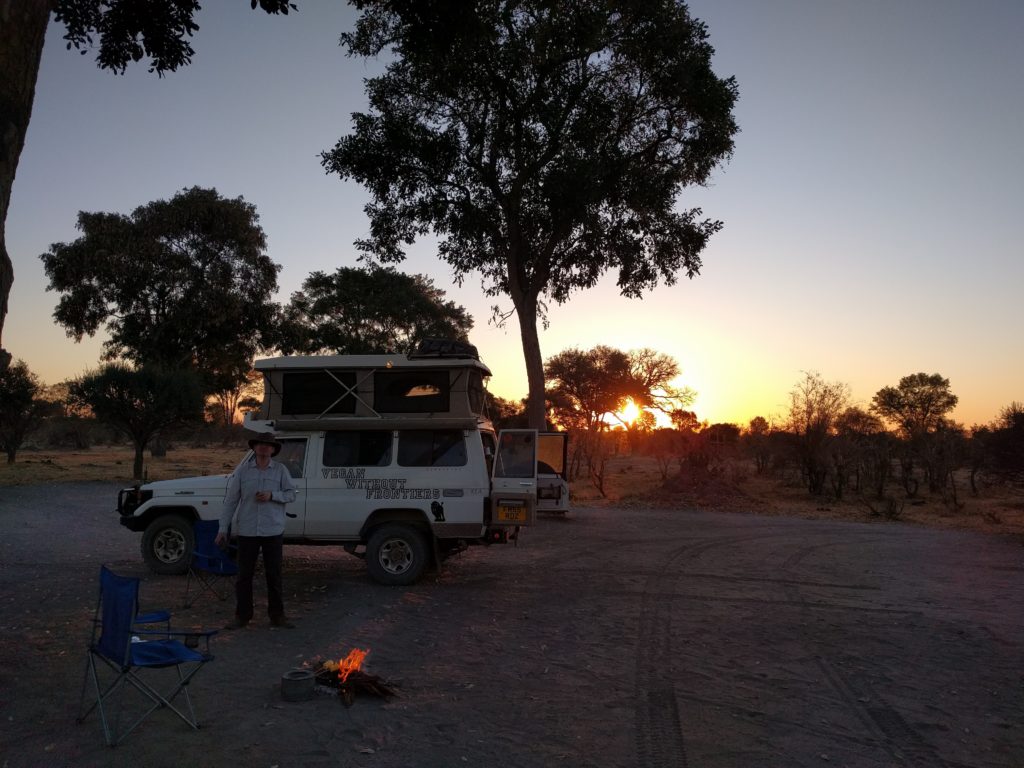 Over the next few days we saw a fair few new types of sand, experienced new definitions of the word road that I didn't even know existed and saw plenty from the antelope family, all of the big 5 (including the fearsome African Donkey) but no Lions. We did have an interesting spin round a circuit with a water feature trying to get to a road we wanted to use. Some lake / pond / river thing had inconveniently appeared right where the road was and had swallowed it up, so we went into the water and had a bit of a dip whilst some water buffalo looked on. Oh and we also did a bit of rallying on a large piece of mostly solid road with lots of sand on it which allowed us to get up a bit of speed on the way to Maun. Colin McCray would be proud.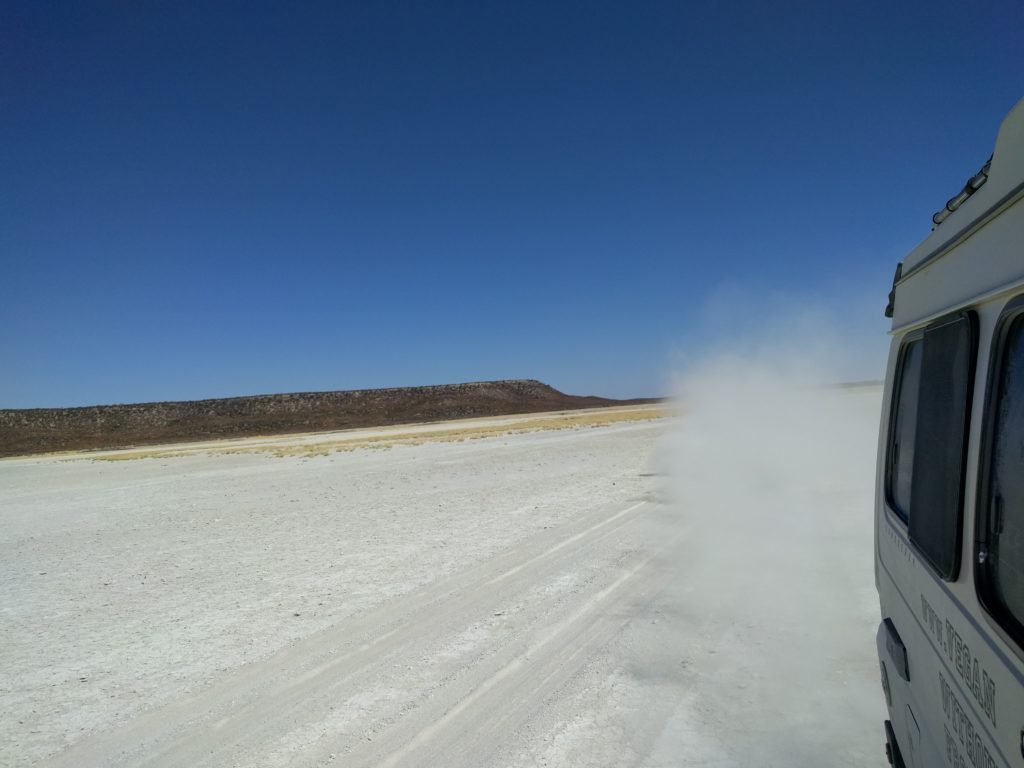 Eventually we hit the Nwetwe and Sua Pans and stayed at Kubu Island camp. This place was literally in the middle of no-where but the pans were awesome to see, a desolate dry huge lake bed for miles in every direction, worth taking a snap or two of that one. At night it was pretty impressive although I think Jon got the better view as he did some paramotoring there so it probably looked pretty awesome from up there.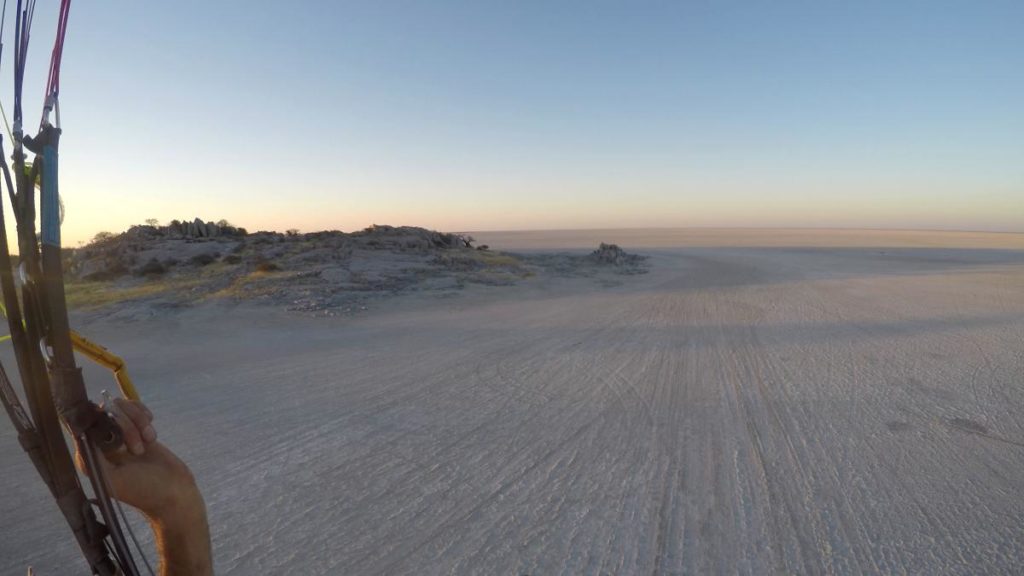 If you do ever go to Kubu Island and find a blue towel hanging up somewhere at one of the camps please let Jon know it's probably his.*
* Yes, and also about 5 pairs of shorts/swimming trunks at various stops down Africa!
Kubu Island out of the way we headed ever onwards and looked around the area, more pans some more camp sites which looked pretty good but it was too early in the day to stop so it was onwards to the next location. En-route we had a new passenger, one of the rangers in the parks who control the entry and exit points from various places, he got a lift to the town and we had a chat to him about his job and how things were going in Botswana. Dropped him off at Nata and then headed down to a camp site that had an artificial river and a lot of elephant activity at night. Stayed up and once it got a bit dark there were elephants all over the place, herds of elephants coming to the river to get the fresh water all hustling and bustling, bathing and interacting with each other.

We then headed back north toward Chobe and stayed at this place with an amazing view across the Chobe river, stunning it was. I took one of the paid safari tours through Chobe National Park for the late afternoon / evening tour and got to see loads of animals. There was lots of everything but the highlight was the lions, we saw them waking up from their day napping in the sun and after a bit of yawning and saying hello to each other they all got up and headed off to catch their dinner.

The journey back to Zambia was much faster as we passed through the same border point again – as we had an idea of how it worked!
With one last night at Maramba River Lodge I hired out a Doom Tent (maybe they meant dome tent, I don't really know) to stay for my last night which had a fold up bed. A bed. AN ACTUAL BED! So shower and real bed that day felt good and a beer where I met somebody who lives not 20 miles down the road from me. Small world.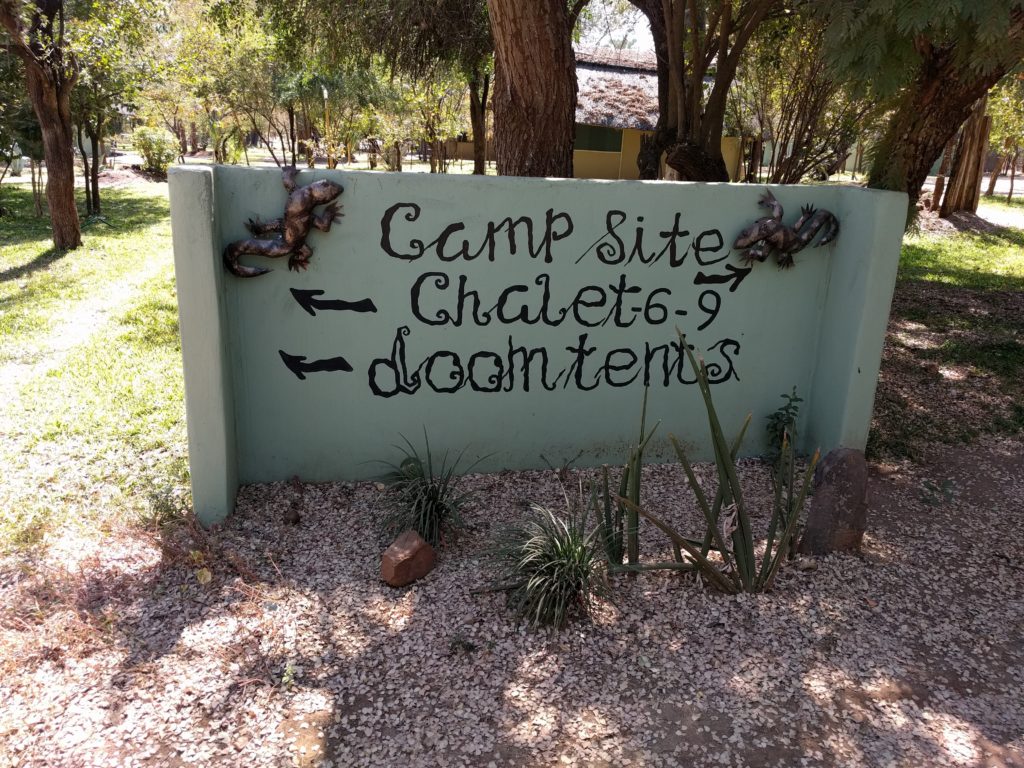 So last day arrived, an uneventful journey back to Victoria Falls airport just some walking in the sun dodging the guy trying to get me to sit on his bike with him so he can pedal me to the other side of the border and charge me whatever it was he wanted to charge. After a long journey I was finally back home and that 5L mini-keg of black cherry beer which had been waiting so patiently for me got my full attention.

Overall I had a great time on the trip and hopefully Jon enjoyed the company a little bit too. I wasn't even bothered by the vegan diet. Although I will confess to missing milk with my coffee in the morning but aside from that it wasn't really that bad once I got into the swing of it, didn't really notice much of a difference. That's not to say knowing it was only going to last for two weeks wasn't a factor. 🙂
Thank you Steve! Glad you had a good time – thank you for your company and masterful navigationing, and for getting into the spirit of it all! Where to next?