It is 7pm and has been dark for an hour. Winter in the Namib is quite pleasant – warm and sunny during the day, and hardly any annoying flies or mosquitoes. This makes a nice change from Togo in the rainy season! We had a week of unusually hot and sunny weather due to east winds on the coast, but at night it can get chilly, especially at the the higher altitudes further inland. In Windhoek the other day I woke with a cold head to find it had dropped to 4 degrees C…tonight its set to drop to TWO!!
But we're back on the road again and its good. After picking up Troopy from the port in Walvis Bay I spent a few nights in the Namib Naukluft Park before heading slowly to Windhoek to meet up with Agne.
The first night in the wild was just near the spot we camped last time and met the strange but friendly Rock Hyraxes. This time though I took the opportunity to do some more exploring, criss crossing my old trails and spending a night at the most remote campsite in the park. As usual I had the place to myself – camping in a sort of semi-cave of overhanging rock looking out over the Tinkas Plains.

I made a supper of corn and sweet potato on the braii – cooked using recycled wood and charcoal scavenged from old campfires.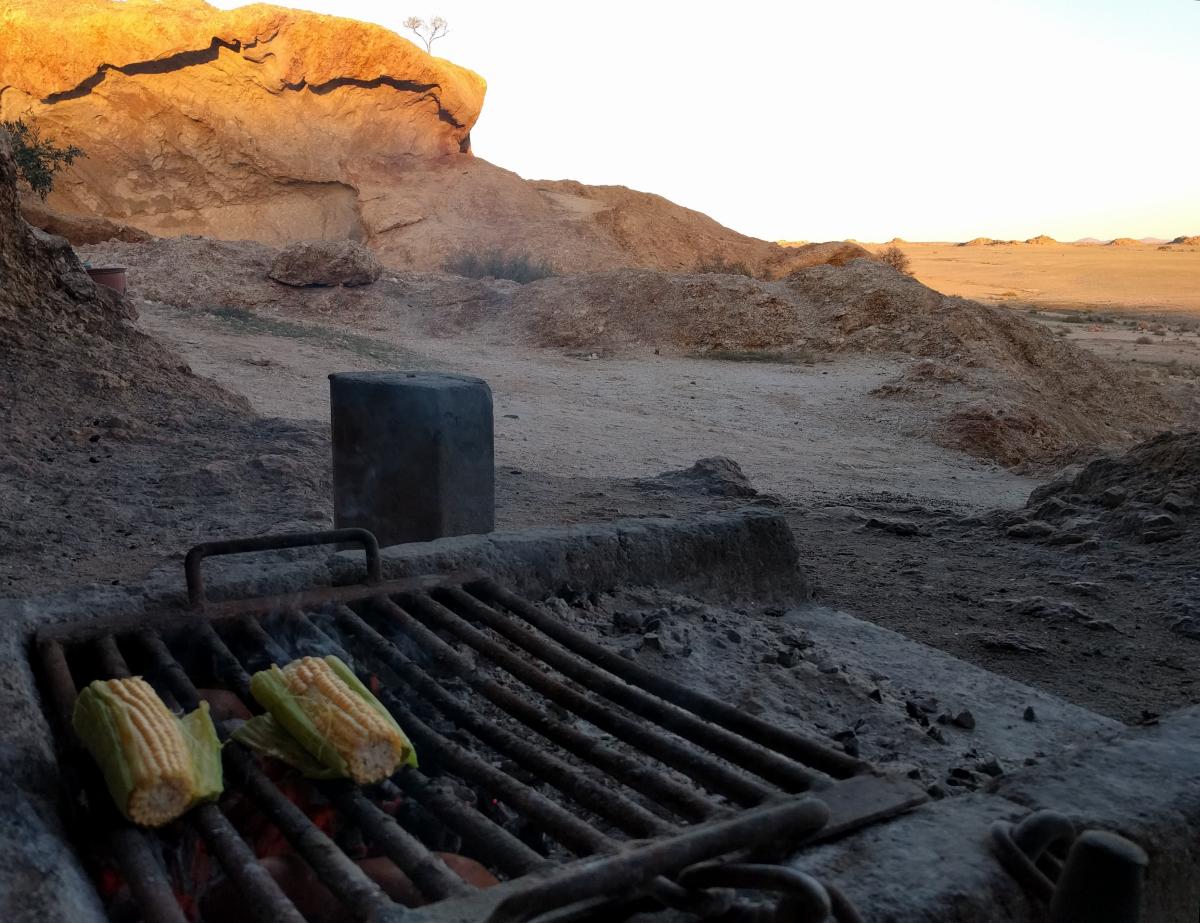 I'm pretty confident there wasn't another human being within 10 miles, which is a higher level of confidence than at any point on the travels so far – even back in the Mauritanian Sahara. It was strangely relaxing to be out there alone, though the sound of galloping zebra charging around in the night took a bit of getting used to. They seemed to be spooked and I don't blame them – there were some strange noises out there!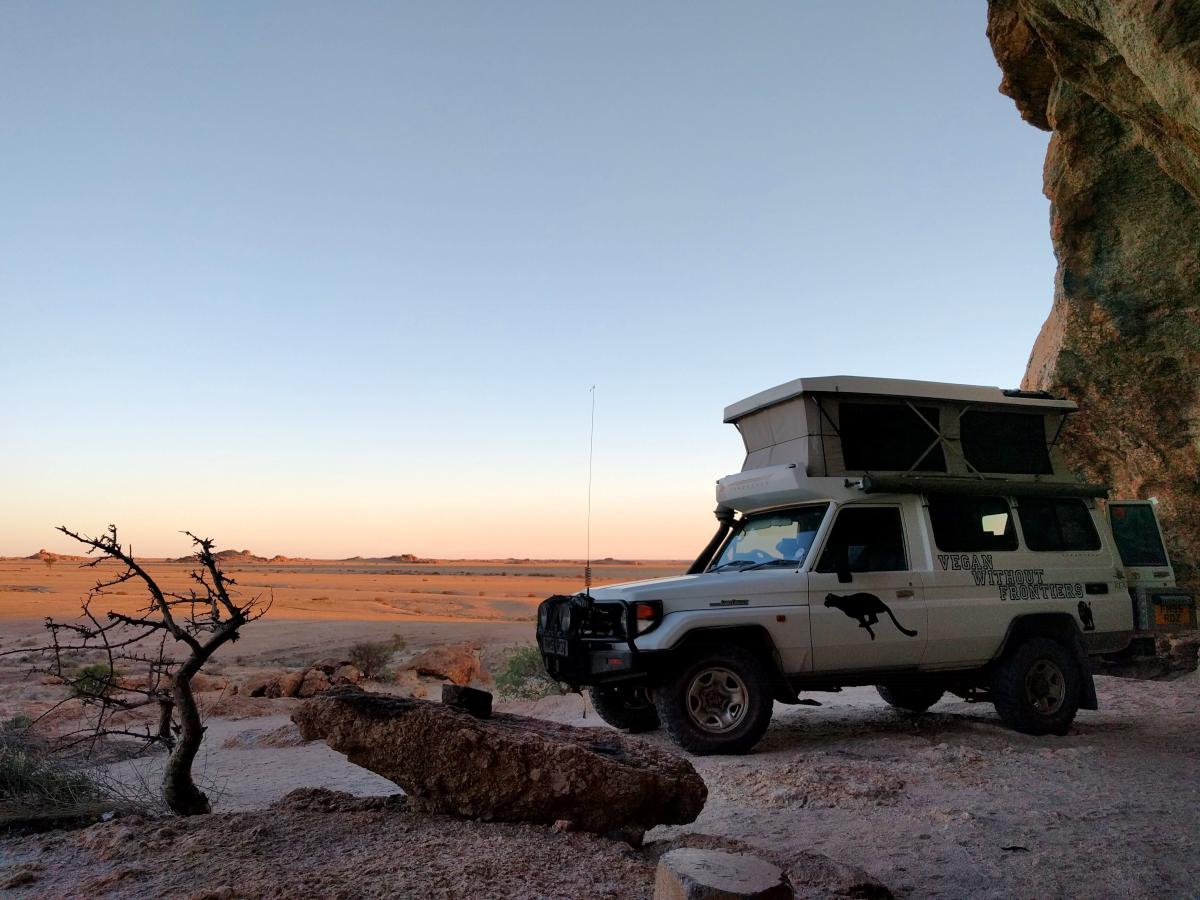 If the Rock Arch campsite was basic and wild, the next night was its luxury cousin. Another overhanging rock to camp under, but this time on a 'Guest Farm' with running hot water for the shower – still outdoors of course, with a view across the rocky hills.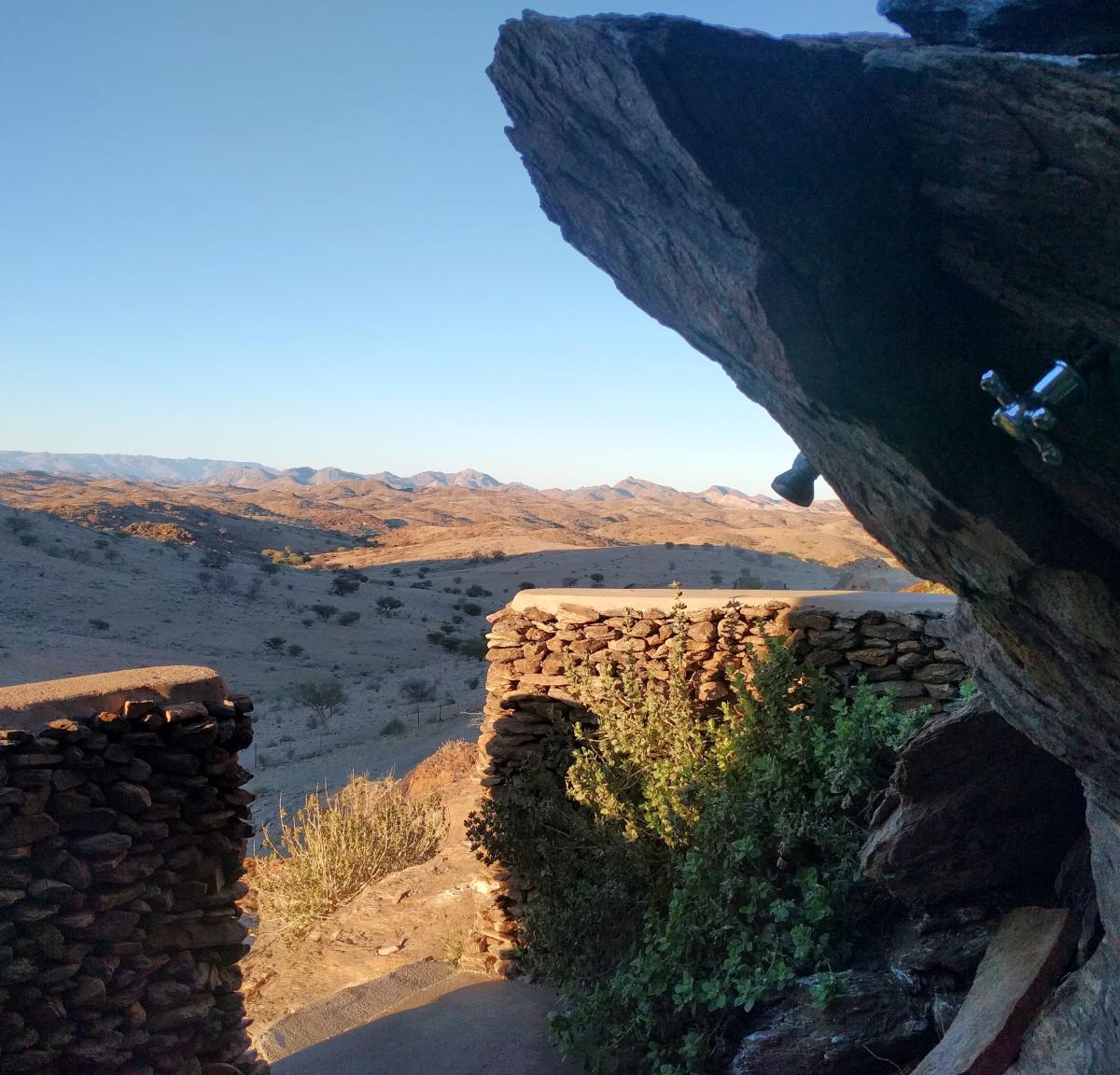 I have to say though that I preferred the real wilderness, rather than the fenced 'safe' version which didn't seem to have much in the way of wildlife – just a pet Gemsbok and Zebra. My campfire cooking got a bit more adventurous and I came up with a couscous dish that reminded me of the daily vegetable tajine's from the Moroccan leg.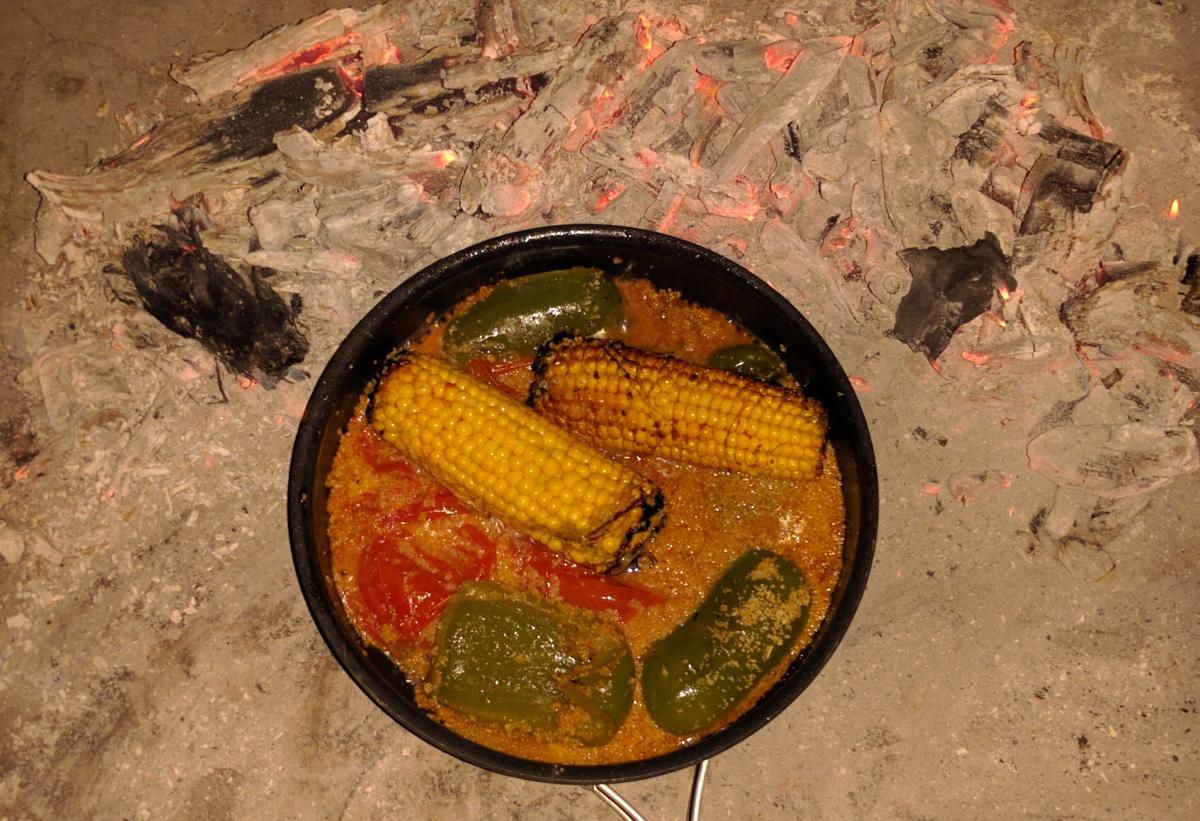 There's a lot to love about Namibia, but at the same time I'm already feeling a little uncomfortable about some things. History has left its mark in a different way down here than back up North – it is certainly a cleaner and more developed country, but you can't help but notice the preponderance of white, German-speaking owners of the guest farms and lodges, contrasted with the poorer neighbourhoods of Walvis Bay. Then there was the sign at my campsite asking that we hand any donations of food or clothes for the 'employees' to the owners for distribution. What Namibia does have however, which most of West Africa doesn't, is tourists and the infrastructure to support them. It is a very easy place to travel, though not perhaps the most vegan-friendly!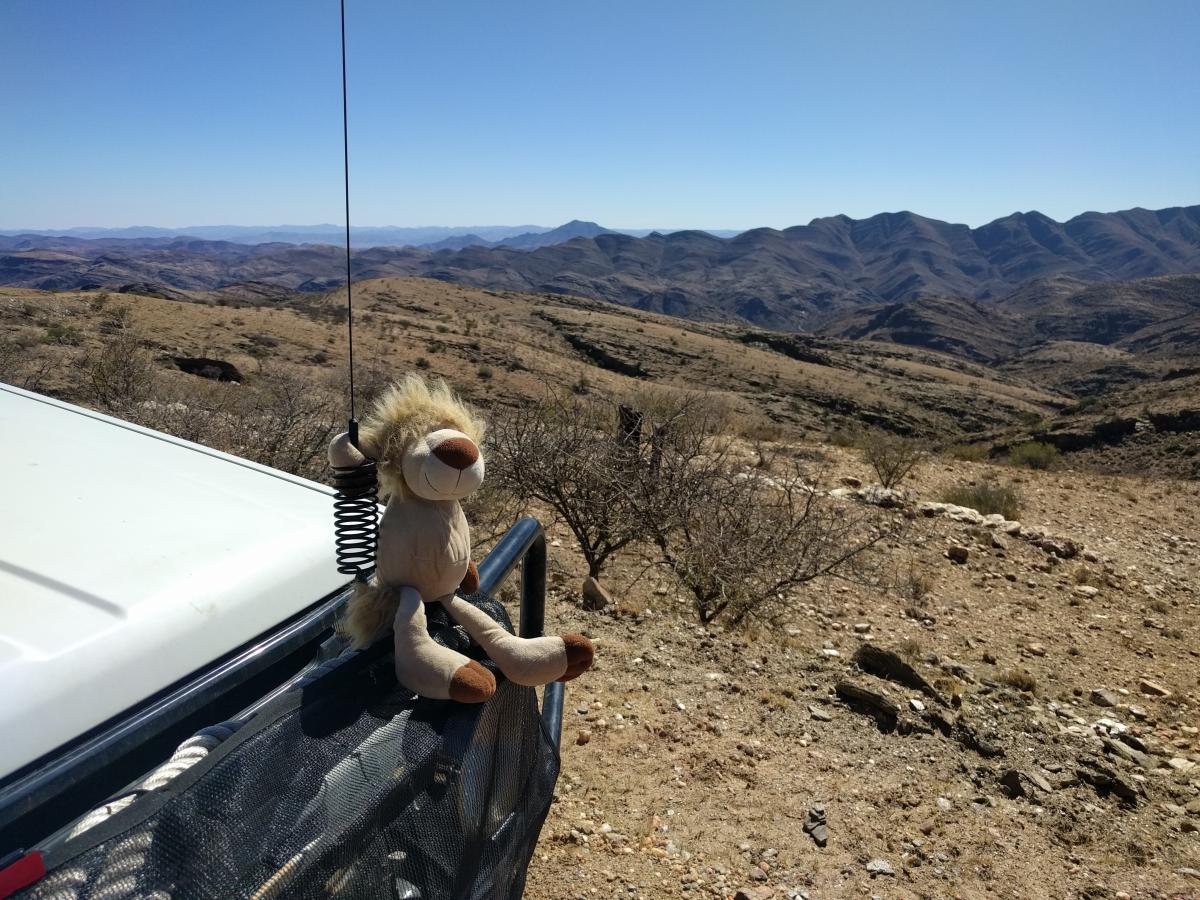 So onwards to Windhoek and meeting up with Kevin and Heike again. Troopy had a trip to a garage to get a new front axle oil seal fitted – I'd have done it myself but looked at the Haynes manual and decided it would be a long, messy job that someone with all the tools and parts could do in half the time. I'm using the 'iOverlander' app on this trip for finding campsites and it also has other useful places like embassies and garages listed, with reviews, so I was able to pick a good mechanic who sorted it with no problem. Lets see how that works out later…
Tomorrow Agne arrives for the leg up to Victoria Falls, so we'll have more to talk about soon. If I don't freeze tonight, of course!