Well, I guess it is time for an update and a small announcement…Troopy is being prepared for a return to Africa!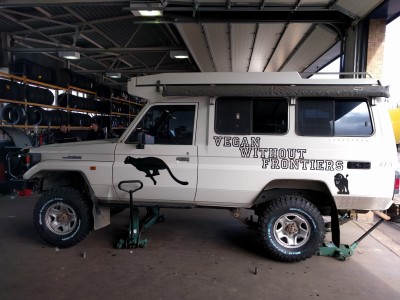 In a couple of months time I'll be heading down to Spain and across to Morocco. It has been in the balance – I had a good offer from a nice guy I met in Cape Town to buy Troopy, but in the end there were too many problems with import/export regulations and it didn't happen. This is good news for me, since its really too grey and wet for me in England and the opportunity to go back to the Sahara was too tempting. South America was considered, but in the end I don't think we're finished with Africa…and its also really easy to just drive to!
So the Vegan Without Frontiers 'Mission' will go on, but with some differences and a few new faces. Planning is now pretty advanced – the format this time is a core crew of 2, Jonathan and Leo the Lion…with guests joining up for individual legs.
Joining in as 'leggers' so far will be Agne, Yury and Amanda (and maybe my brother Pete for a mini-leg) – you'll hear from them later as the adventure unfolds.
Stage 1 : Paris-Dakar

Prologue – The prologue to this adventure takes us from the UK, through Paris to the South of France, where there will be a base-camp before setting off for Africa.
Leg 1, Morocco – For this part of the trip Jonathan will be joined by Amanda, as we get straight into the wild scenery of the Atlas Mountains and then get a taste of the Sahara.
Leg 2, Morocco, Western Sahara, Mauritania, Senegal – Striking out South and making the crossing of the Sahara where it meets the Atlantic, Yury and Maria join for the final part of the Paris-Dakar (including driving along the beach for 27km whilst the tide is out, and a detour through the desert following a railway track).
The rest of the trip is still in planning, but features include a Special Stage for the Dangerless Sports Club – Bungy Jumping and White Water Rafting at Victoria Falls (hopefully avoiding injuries this time!). And somewhere around Congo to Namibia, sometime around July, Agne will be flying in for a Leg. This is about as much detail as we dare put in at this point…as we found last time, border crossings, illness and political situations can disrupt the route and the timing!
But if anyone feels the urge to visit somewhere on the route map which isn't yet marked up as a leg…let us know and we'll see if we can add you in as a legger – just 1 rule – you have to be or go vegan for the duration of the leg!