Well, we are back on the road again. I was pleased to find Troopy in as good condition as we left him, though 2 thoughts went through my mind when I got in again for the first time;
1. Its dirty in here – we cleaned the inside before we left, but the dust is still everywhere, and obviously on-the-road clean is not the same as London-clean!
2. Its SMALL in here – how did we ever manage to live in such a small space for 6 months?
The first night back was spent at the Trans Kalahari Inn – an evening discussing population, farming, and their menu with the owner over some local wheat beers (they are updating the menu to show vegan options now – they used to put cheese in things even though it didn't say so on the menu). Next morning it was time to head South again, via Windhoek for some stocking up on supplies. You'll also notice the Map page has changed – I am now using a mobile app to update the location over mobile phone network so I had to get a local SIM for the data. Somehow the satellite tracker went AWOL in the office back in London the day of departure, but this seems to work OK as well (just click on the link to see the map in Google Maps if they haven't enabled the embedded map yet).
So how is it to be back? Its familiar – I took a detour on the dirt roads to take in some sand dunes, and remembered to photograph a Weaver bird nest for my mum. Troopy is also being familiar – the rear left driveshaft is showing signs of oil again, but nothing too bad so far. I've given myself a No.3 all over African-weather haircut, and then started to regret it when it got dark and the temperature plummeted! I did experiment with some starlight photography – it was good to see the Southern Cross again showing me which way to go.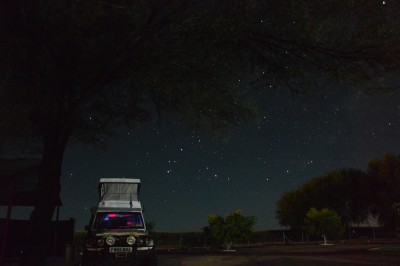 For breakfast it was the familiar porridge – complete with Katana's favourite topping of soy sauce. I always preferred jam on mine, but I left that off my shopping list, so soy sauce it was. Sipping coffee while waiting for the wood fire to heat the water for a shower on the veranda of my campsite at Bastion Farmyard was a nice change to the Central Line. This morning I will be heading on South towards Luderitz, but depending on the progress divert towards Fish River Canyon – Luderitz would require a backtrack of a couple of hundred kilometres as there's only 1 way in or out, and I was never keen on doing the same bit of trail twice!