Today was quite a day, and probably deserved a blog post all itself. It started with a drive through the desert on rough tracks through alternating sunshine and fog banks, followed by a relatively short drive South on gravel roads to the banks of the Orange River. At this point I have to admit to having a little emotional moment – there on the opposite bank was South Africa. The last country. It is not easy to describe or even understand the feelings you get at moments like this – but a little later in the day when I met a lone cyclist, who turned out to be on the last leg of an epic bike ride from Sweden to Cape Town, he also spoke of his mixed feelings on approaching this same border. I'm guessing he'll be crossing the river tomorrow.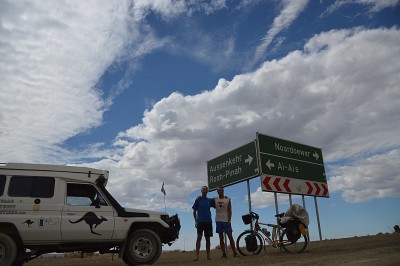 If it weren't for the fact that his intended crossing point was a ferry, motorbikes only (no Landcruisers), I was tempted to head back the same way to talk some more. But as it was, after 20 minutes or so exchanging tales, we set off in opposite directions towards the same place. I am now camping by the Orange River a hundred or two kilometres further South East and will make my final border crossing in the morning.
Further up the road towards Fish River Canyon, I met a bunch of nice lasses who stopped and chatted about our travels and being vegan/veggie on the road, and how nice Mozambique is…only a slightly sore point, that.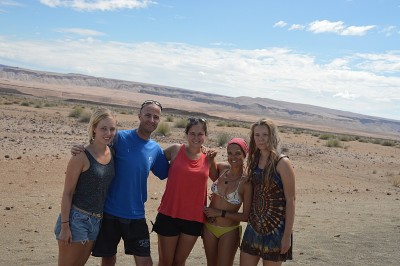 It was good to meet people today – to share experiences, and it also took my mind of the continuing worry of Troopy's oil leak (I need to top up the rear diff oil before heading off in the morning!). In fact its been a good part of travelling solo – I have been talking to lots of random people.
Going back a little – the trip from Mariental to Luderitz was my first crossing of the Fish River, quite wide even that far North, though little more than a trickle between thunderstorms – we are in the land of dust and flash floods here.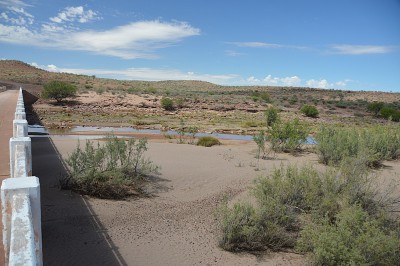 Then as the landscape gradually changed from fields, to thick scrub, to desert I was pleased to see my favourite variety of antelope – Gemsbok – along with Zebra. By the time I came to the last 120km I was crossing the Southern Namib desert and it was pretty much sand, rock and more sand. I've even made a time lapse video of the experience so you can all join in – 2 minutes, rather than an hour and a half sound OK? I'll post that on youtube HERE! Reaching the Atlantic again was just as cold as last time, though no surprise this time round.
Having found the campsite in Luderitz and picked a spot overlooking the harbour a German couple in a Landrover turned up and we shared some G&Ts and tales. I was a little jealous as the next day they were heading up through the dunes to Walvis Bay, a route which we weren't able to take because a storm had washed the beach away in November. They also made me hungover and running low on gin (well that's my excuse!).
On the upside, they suggested a campsite and a nice route towards Fish River Canyon, and they were spot on – and I found myself camping in an arid wilderness with a swimming pool. That is where I set off from this morning. The road along the Orange River was entertaining and picturesque, before the road North towards the canyon struck out straight across another vast, flat gravelly expanse of desert. I tried to take photos of Fish River Canyon, but its one of those things you just can't get the feeling of HUGE scale from unless you are there.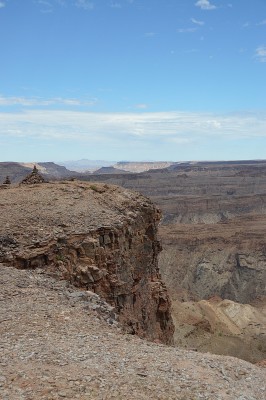 Its big. Accompanied by thunder and lighting, it was a fair way to sign off Namibia. Tomorrow South Africa, first stop (I hope!) a car parts shop in Springbok!