So for this last part of the Vegan Without Frontiers blog things are going to be a little different. As I'm starting on a 2 week final episode, I will hope to not only report back on the experience as it happens, but also to reflect on how we got here and whether we achieved any of those aims we set out with. Maybe we achieved other things too, and maybe there's lessons to learn?
I've been through a whole range of emotions these last few months – going to work to pay off the costs of our adventures so far while trying to look ahead to the future. Having this unfinished business hanging over me has made it tough to make progress. There was definitely a temptation to just pay someone to deal with shipping Troopy back from Namibia and get on with the next thing, but I managed to resist that way out.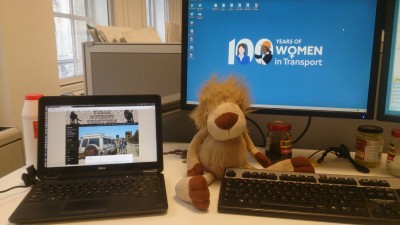 So here I am getting on a plane tonight back to Namibia with a mission to complete, and a lot of questions about life I'll probably never be able to answer. Commitment? What does it mean to finish? When things don't turn out as you hoped, why do you carry on? When you can't see the point anymore, do you just keep going because you set out to do it? OK so most of those questions are about more than this trip, they are questions that I ask on a daily basis since losing Lena. But maybe I can come up with some of the answers between here and Cape Town. To borrow a catchphrase, I've started so I'll finish.
It was all so different back in November when Katana and I reaffirmed our commitment to the mission, to each other and to ourselves – to come back and finish as a team. But then I've been here before on the other side – almost literally – 10 years ago I left my crewmates in Australia and came back to Europe as they set out on the leg of the race from Sydney to Cape Town. I had good reasons – injury, finances and the need to be here for my new wife all played a part in my decision. I still believe it was the right one back then. But the failure to finish what I had set out to do still hurt at the time and has in some way been hanging over me ever since.
I do wonder about commitment and finishing – and how my crewmates felt about me leaving back then. I think they understood, but I never fully considered what they felt about it. I guess it wouldn't have made a difference to my decision, but understanding our fellow humans is never a bad thing is it?
But what does  it mean to me to finish? Without my friends – my crewmates and Katana? And without my best Lenachka? I don't know what it will feel like to get to the end – its a bit scary to be honest – but I'll let you know in a couple of weeks when I finally drive into Cape Town.