4th November
Thunder is rumbling across the savanna just like elephants don't. The storm clouds are all around us and their winds rush through the parched camp in dusty turbulent gusts – a clear warning of an imminent deluge. The rainy season is not here yet, but all the signs are that its coming soon.
We are in Botswana for a second night before heading across Chobe National Park towards Maun. Tonight we're at the Senyati Safari Camp – where we have our own individual toilet, shower and washing up block. A tiny lizard just scared Katana as it hid from the weather under her pillow as she was lying on our little veranda. Still in the early stages of recovery from the rafting injury, she's doing well but its a bit rough. The knee is very painful and can't bend yet, and its awkward and exhausting getting in and out of Troopy, the bunk and walking about with a stick. Luckily she has me to wait on her hand and foot!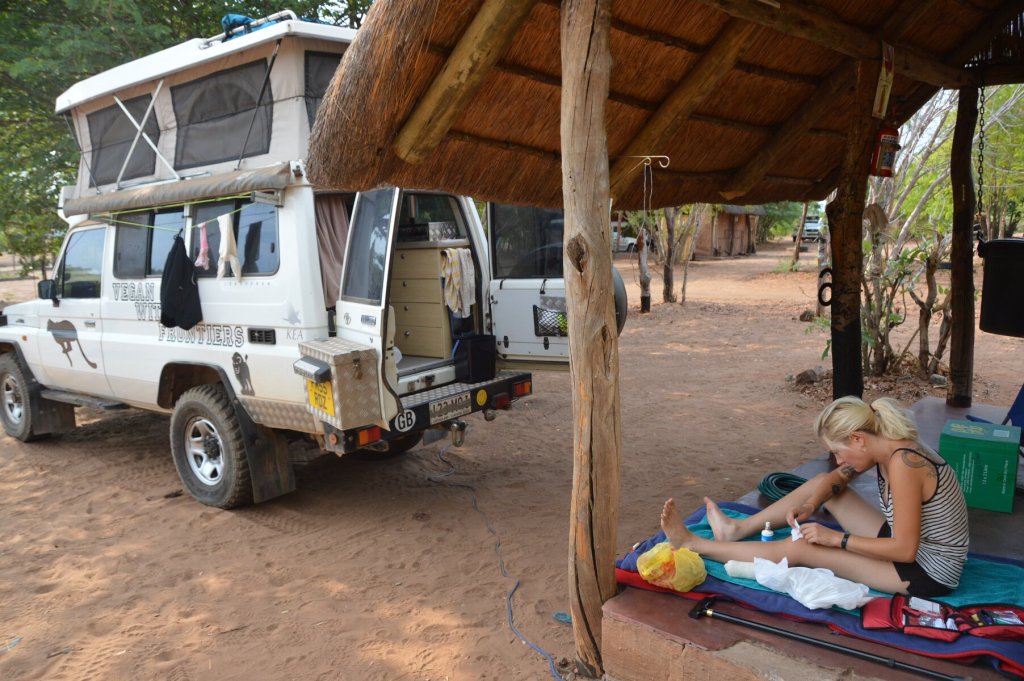 After the rafting, there was the bungy jump. I was a bit nervous doing that after the previous day's drama, but its a jump I've been looking forward to for over a decade so it had to be done. I even took Leo with me. As it turned out, it was a great jump – the scenery was pretty special, with the Zambezi churning through the gorge below in green and white breaking waves – and the hot weather made for a nice smooth bounce on stretchy elastic!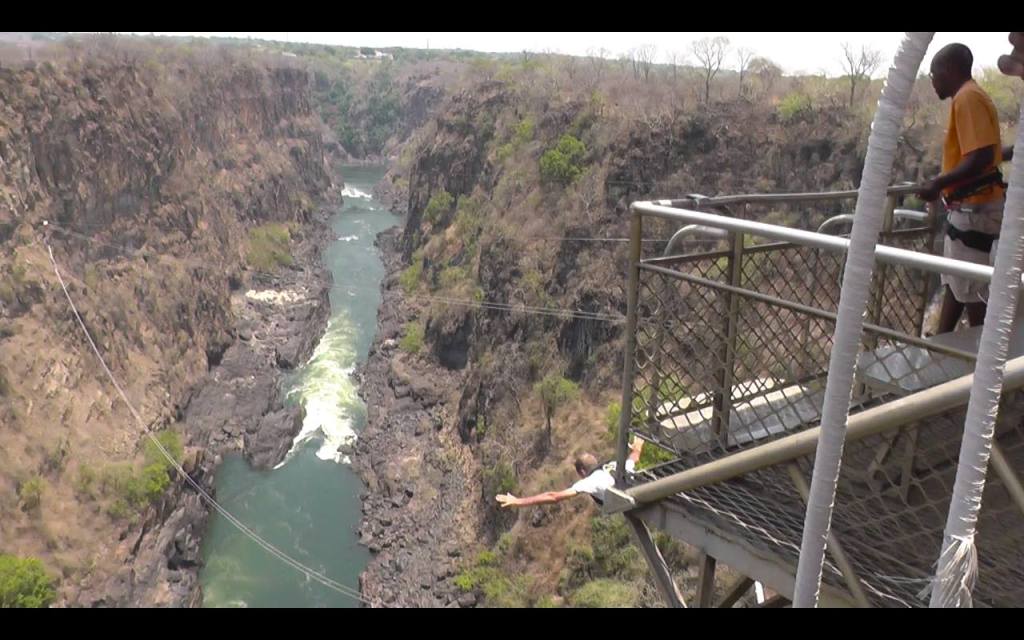 8th November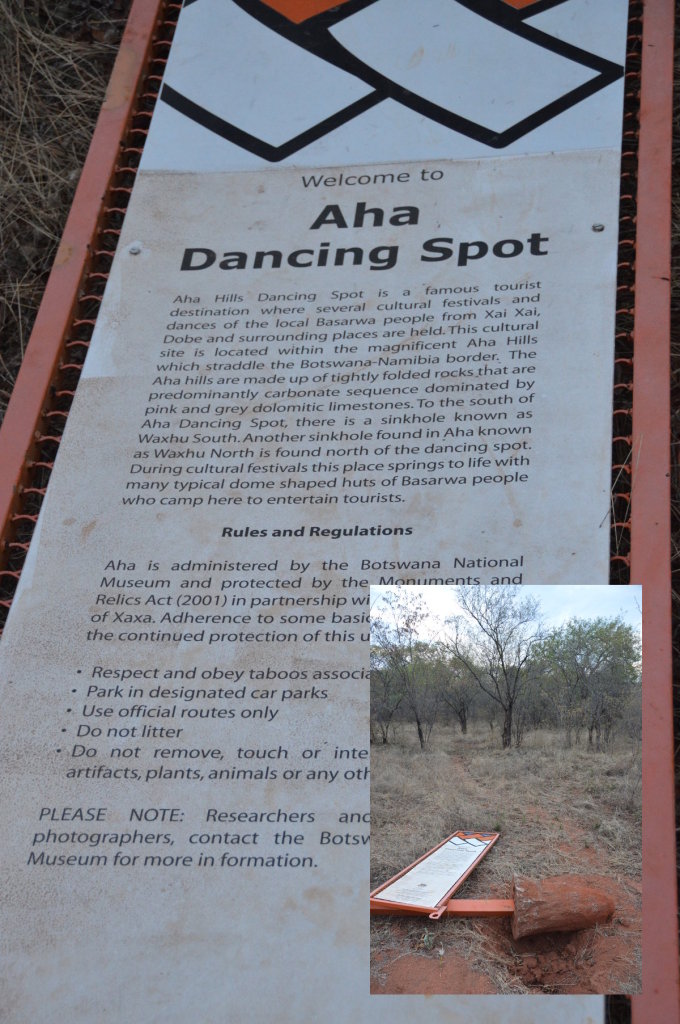 Thunder is rumbling round the limestone hills just like the elephant who was here just before us probably didn't. It seems I never got to finish or post my last blog above – internet access has been very patchy, and we have been travelling around Botswana's more empty spaces. Tonight we are again camping wild, at a place called 'The Dancing Spot' in the Aha Hills of Botswana's North Western Kalahari. We are the only people to have come here since the last rain, but some big round prints in the raindrop-speckled sand suggest a very big elephant came through earlier and poked around the rubbish someone had tried to bury. By the look of the sign, elephant dancing is boisterous! We have a campfire going, which survived the last thunderstorm and we hope will deter too much interest from wildlife…yes, I'm still nervous after the last elephant encounter! It is good to get away from the tourist circuit though – and this place is very much off the beaten track.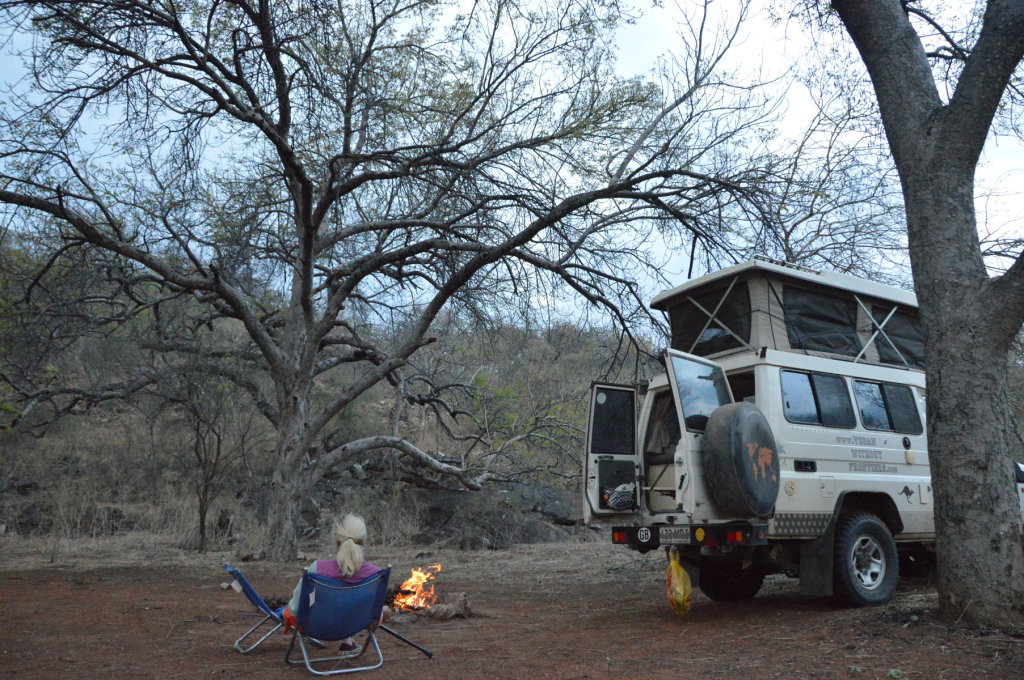 Meanwhile, I have to admit that Katana was not the only casualty in Vic Falls – Troopy was also the victim of some tired end-of-day poor driving on the campsite – whilst discussing where to park I failed to notice an overleaning tree and we rolled back into it – pushing the spare wheel into the back door. A new door is required at some point, but it all works still so will be OK for now. Also – the driveshaft oil leak came back, and when it was taken apart we found the bearing had not been correctly installed at Toyota Kenya, so we are lucky I guess not to have had a more serious failure. In any case, we had the oil seal replaced in Vic Falls, but by the time we had travelled 70km to Botswana, it was leaking again! I'm hoping we have the problem solved this time though – and we had a good time at the garage in Kasungula where I went to try and buy the tool to do the job myself, but ended up helping their mechanic do the job and promising to send them my copy of the Haines manual when we get to Cape Town – very friendly guys there, who were very impressed by the good old Haines manual. If we get to Cape Town without the oil leak recurring, I think they've earned it!
After Vic Falls we stayed in Kasane, where we ran into the French couple we first met in Malawi again whilst stocking up in the supermarket (we have met them 6 times now, as I write this!). The campsite by the Chobe Riverfront was roamed by Warthogs, Baboons and Pythons that we saw, and apparently crocodiles which we didn't. Then after stocking up and getting Troopy sorted we went on to Senyati, where we sat in the bar and discussed the route through Chobe, but in the end decided that a rough road for 2 days through the park was a bit too soon for Katana's healing knee. All this time we were cooking our own food – we are definitely now back in the world of big, well-stocked supermarkets which makes things easier to be sure of vegan meals, but is also somehow disappointing – its as if we are already being slowly transitioned back to things we are used to in London. We are often nostalgic for Ethiopian food, and even the 'charms' of Wadi Halfa!
After another night at a lodge with a swimming pool and a nice meal out at the restaurant for a change, we diverted from the route to Maun and headed into the Makgadikadi pans on sandy tracks for a day of wildlife watching and experiencing the wild open grassy plains of the savanna. No lions were spotted, but we did come across a group of meerkats – another first for the trip.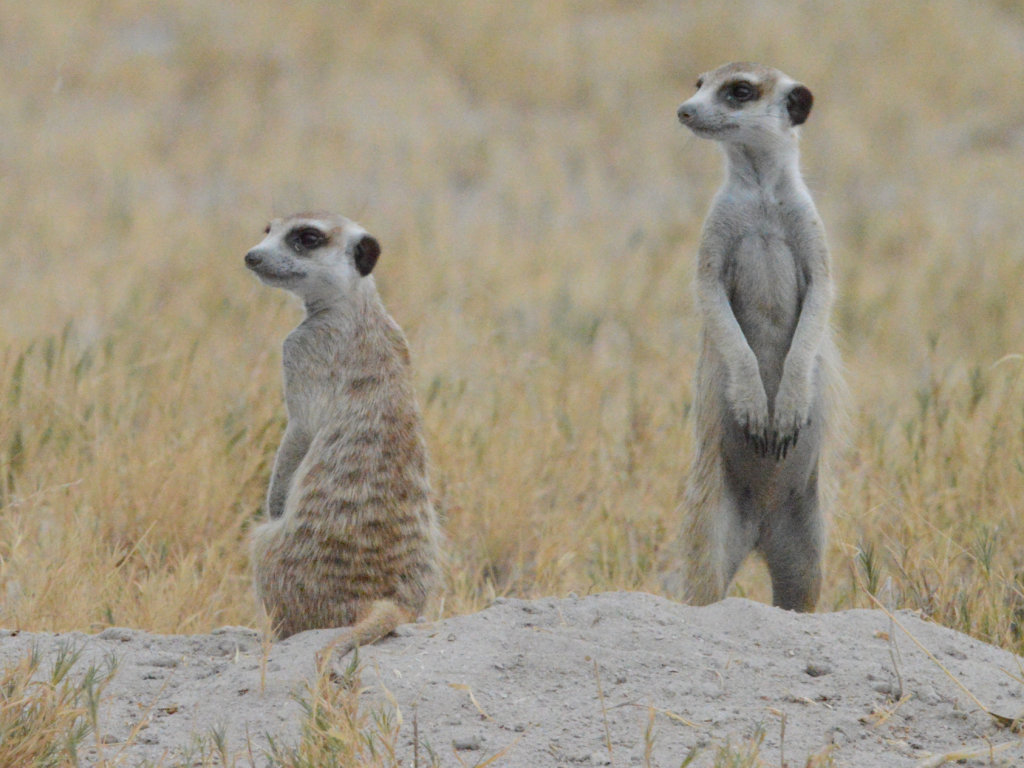 After some playing making fresh tracks we then raced 10km across a (dryish) salt lake, running ahead of a thunderstorm – I didn't want to find out how sticky it gets when wet . We also dropped by a huge, 7-trunked, 500 year old Baobab tree and were suitably awed. Then the rain caught up with us and we slipped and crawled out of the pans in the mud, picking up a puncture but making it to Planet Baobab for the night.
This week has been about travelling onward, seeing Botswana, and letting Katana's knee heal properly. That is not to say we haven't done anything but travel by car – today we drove out into the wild North West of Botswana and visited Drotsky's Caves, which necessitated a bit of mountaineering to get down into the stalactite and bat filled caverns.
We have booked our passage through the Central Kalahari National Park – staying at 2 campsites in the park on the way South. These campsites are 1-group-at-a-time arrangememts so it will be just us and the lions. Hopefully no more close encounters with elephants! We'll check in with an update once we come out the other side.