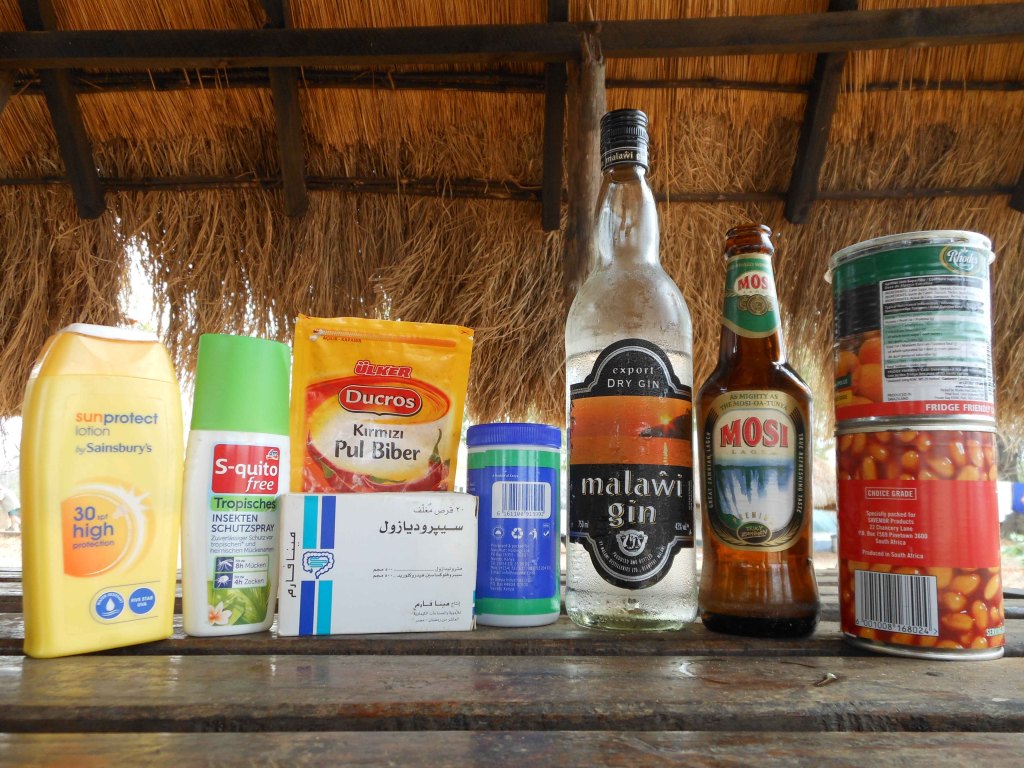 Today I realized, looking at our supplies, that everything we use every day in the car has become an interesting array of international products, some even from countries we haven't visited! (yet)
Since we left Ethiopia, we haven't had much luck finding local delicious vegan cuisine, unless you count Indian food. Especially in Kenya and Tanzania we found many Indian restaurants and fast-food places, some specifically listed as "vegetarian". Starting with Kenya, the first disappointment for us came when we stayed in a hotel and for breakfast, without being asked, were served eggs, liver, and other non-vegan products. This was very upsetting, mostly because we were not even asked what we wanted: the hotel had a breakfast menu, but they just assumed we wanted the Kenyan-style full breakfast. In the end we settled for stale pieces of bread with tiny sprinkles of jam.
When we stayed in Nairobi for a week, we checked out one of the vegetarian restaurants in the city, which was an Indian place. The food really was remarkable, and because the hike to the restaurant was a long, hot and exhausting one, we stuffed ourselves silly. Unfortunately I can't remember the name of the restaurant now, and I can't seem to be too sure which of the vegetarian ones listed on HappyCow this one actually was.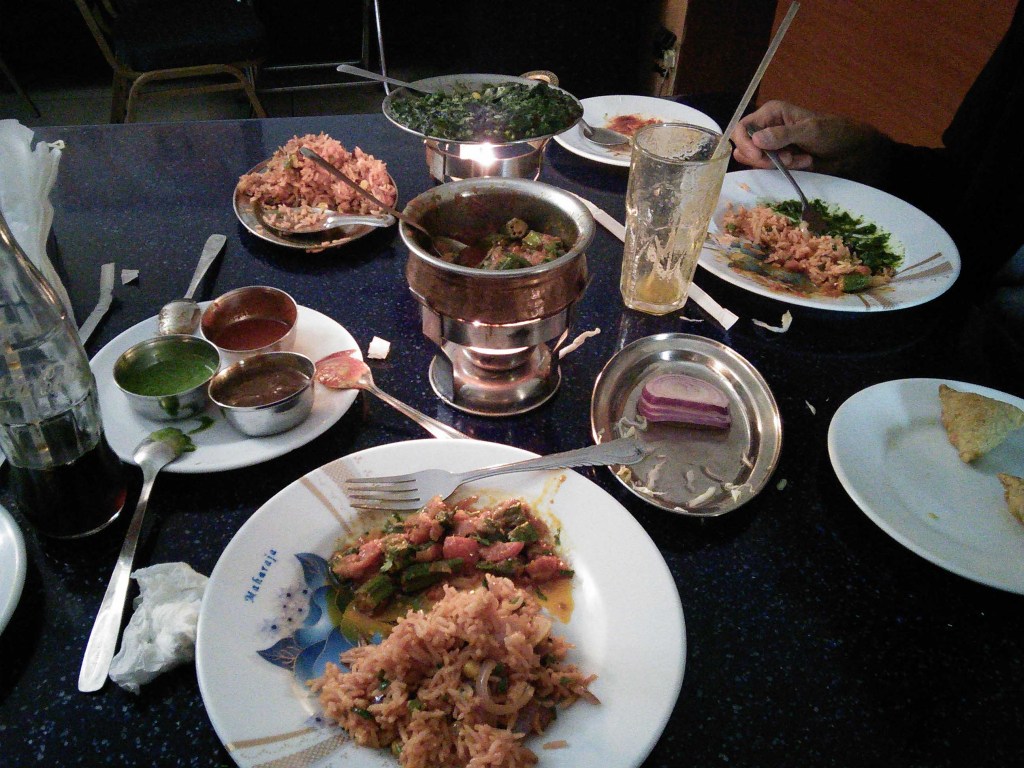 We were in Nairobi for a long time, so we had to cook for ourselves for the majority of our stay at JJ's. Luckily, there was a little market nearby, where we could count on the lovely ladies to sell us the best tomatoes, potatoes, oranges, bananas, and other various vegetables and fruits. One of the first days we were there, Jonathan made a soup out of squash, and a cucumber and tomato salad. It was delicious, considering I don't even like squash.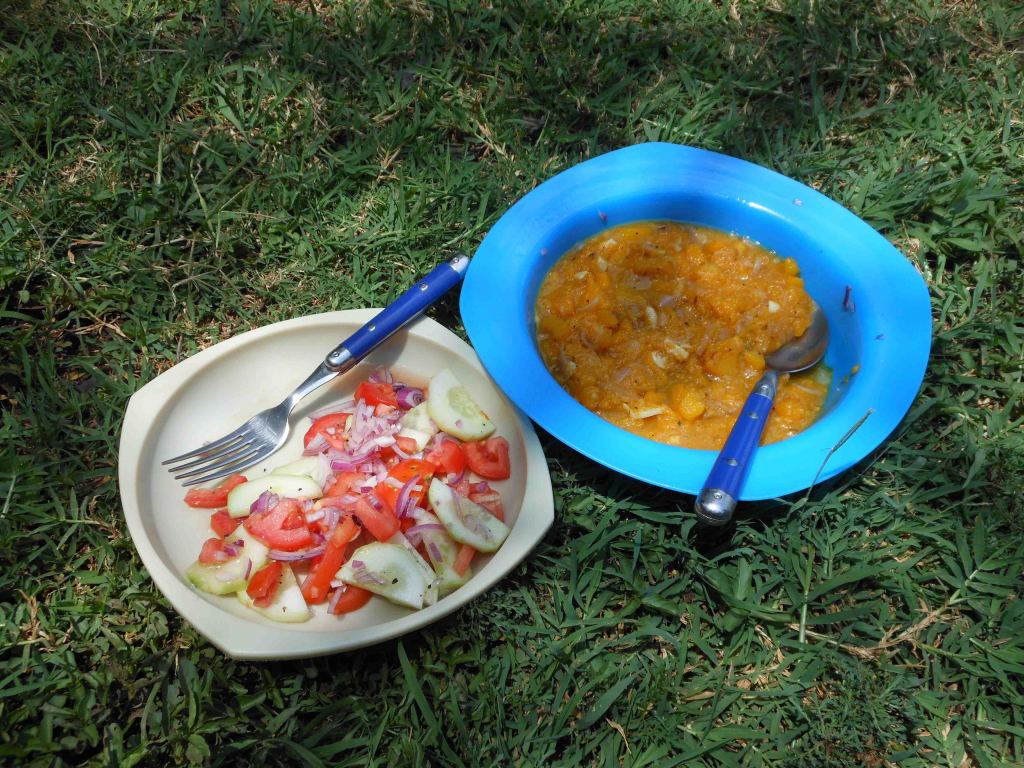 No conversation about Kenya is complete without mentioning the banana chips. Dried crunchy banana strips with savory rather than sweet flavoring. We even got the other campers addicted to the stuff!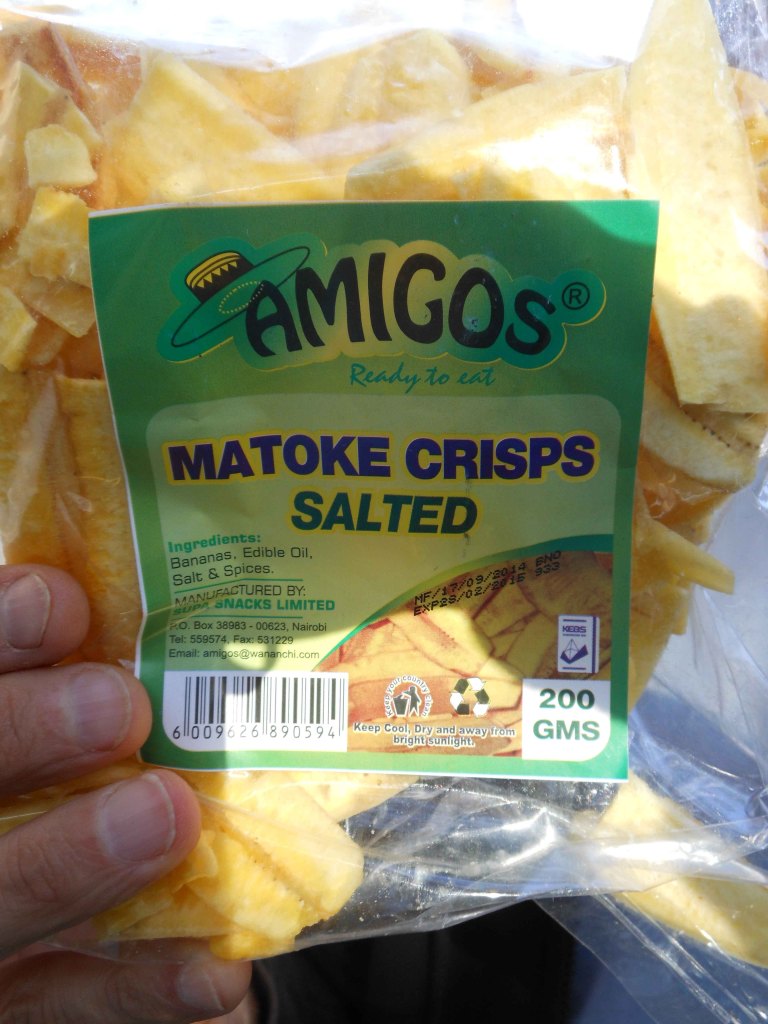 In Tanzania we had more Indian food – twice in Dar es Salaam, and a few times eating in the campsites' restaurants. HappyCow has several listings for vegetarian restaurants in Dar, and as it turned out, we tried pretty much the main ones. We had lunch in a small lunch place Purnima Restaurant where the "no animal products" idea was understood correctly and immediately, and we were given a plate of various fried finger-foods, which we devoured mostly before I even remembered to take a picture!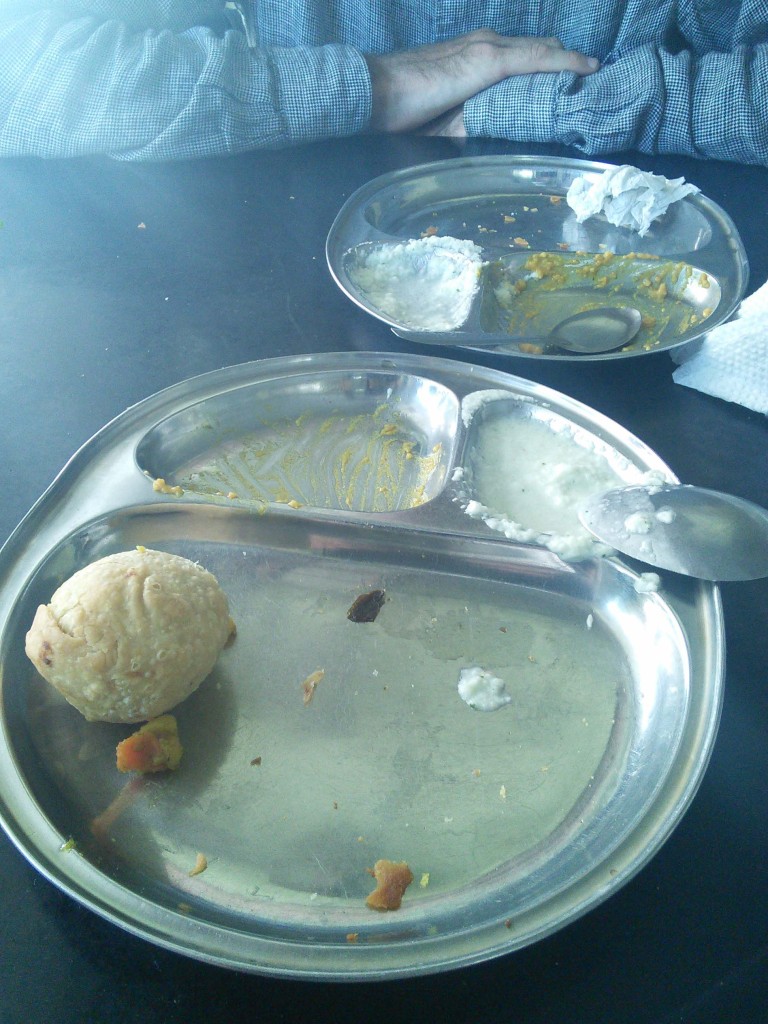 For a pre-dinner snack we headed to yet another fast-food vegetarian Indian place, 56 Bhoq, where we had more fried finger-food, and for dinner we went next door to Retreat Royal, where foolishly I decided to order something that sounded completely alien and not ask in advance what it was – it came with a splash of cheese on top, so I had to swap it for our Rui's (our dinner guest) meal, which was a basic vegetable curry.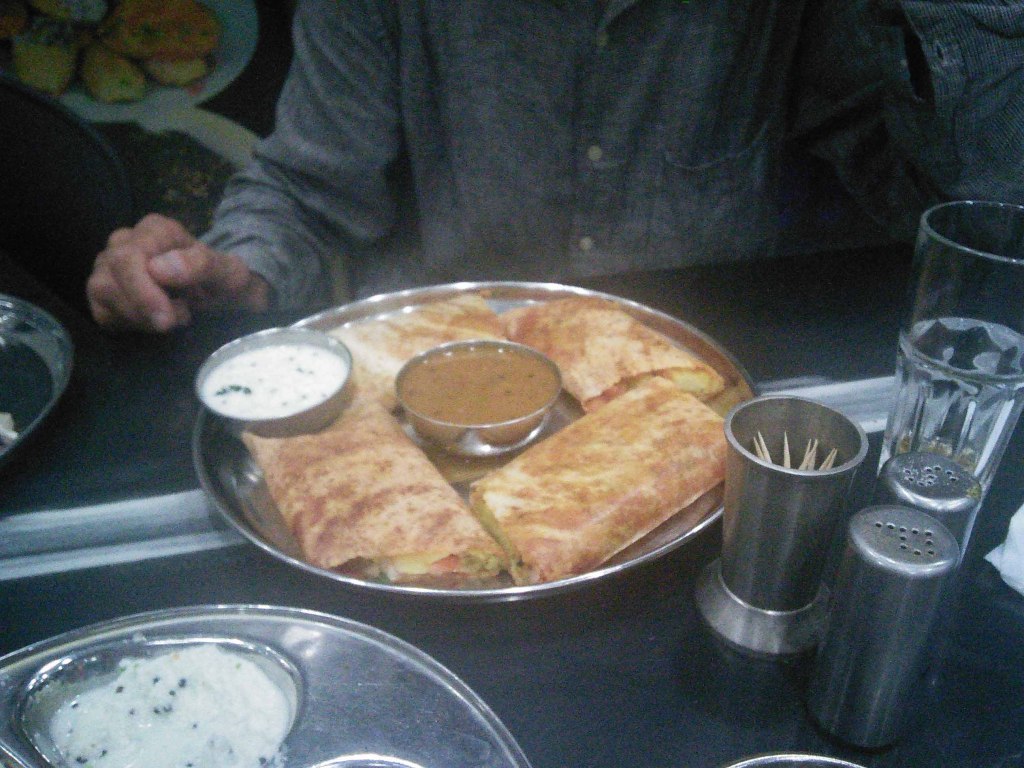 Jonathan's meal was much more enticing, as it came in pancake-type wrappings. Again, very solid meals with interesting flavors, although sadly not as spicy as we would have liked. The only problem I had was with the starter, some fried vegetable balls which had a minty flavor, and I hate mint.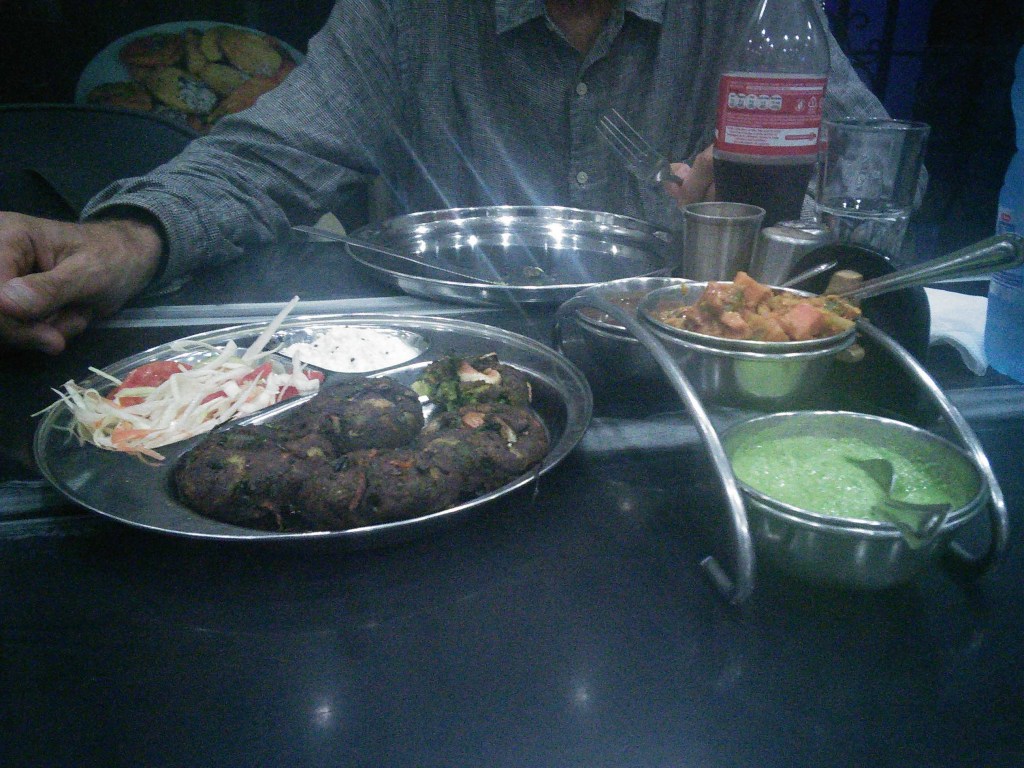 We had a mishap in Tanzania as well in terms of being vegan: while we were staying in Peponi, on the northern Tanzanian coast, and our vegan needs were clearly understood, one night they were not met. We ordered a couple of vegetable samosas, and one of them turned out to be a crab one. Understandably, it is impossible to tell the difference in pre-cooked samosas, but still it was a nasty shock for me to bite into one. Thankfully I don't have an allergy to crab meat, but that does not in any way negate my disgust, my sadness, and the stomach cramps I got afterwards. However, we believe this sort of mistake will never happen again at Peponi, as the cook, the servers, and the manager, all took the time to get to the bottom of this situation and apologized many times over.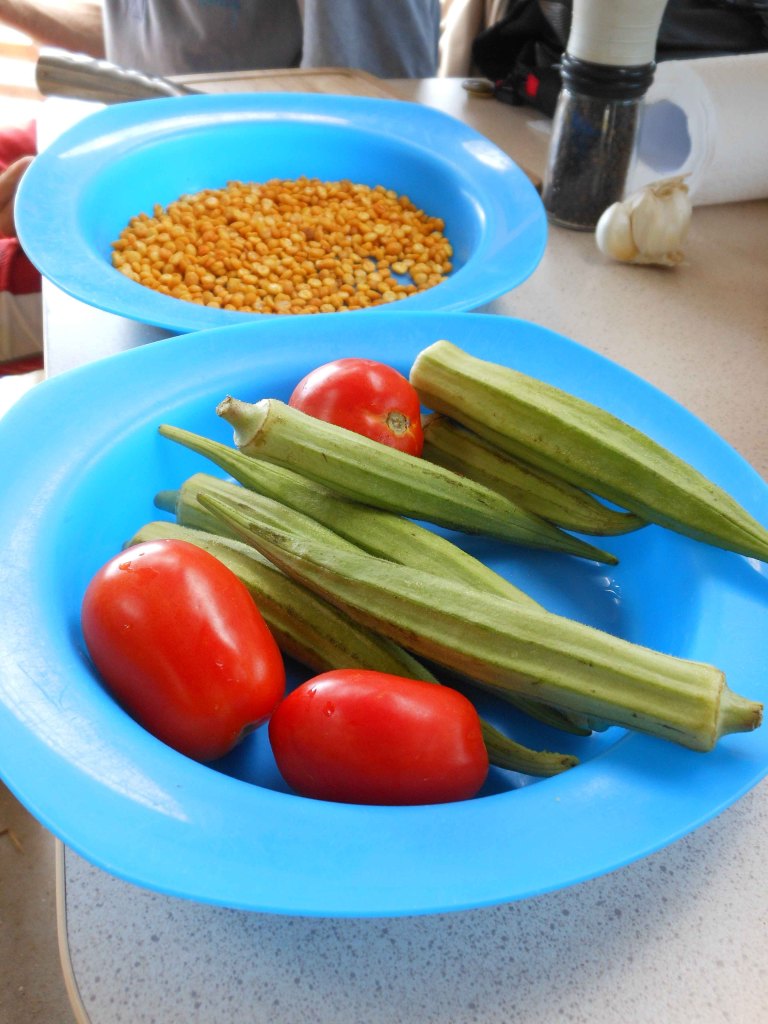 At another beach lodge, further south down the coast, at Kilwa Beach Resort, we were given a custom meal of carrot and coriander soup, vegetable stew and vegetable curry (which looked exactly the same and had exactly the same ingredients except the flavor and the spices were different), and a fried banana dessert. The food was filling, but not in any way was it spectacular cuisine. Still, we were happy to be catered for and understood exactly what we eat and don't eat.
Nothing special can be said about our meal in Masasi, as we just had potato fries and beer. However, it was in Masasi that we bought our biggest, stalest, most bizarre bread loaf yet! It was filling bread, but it had to be toasted in order to be eaten, otherwise it was a strange combination of chewy, dense, dry and mostly inedible.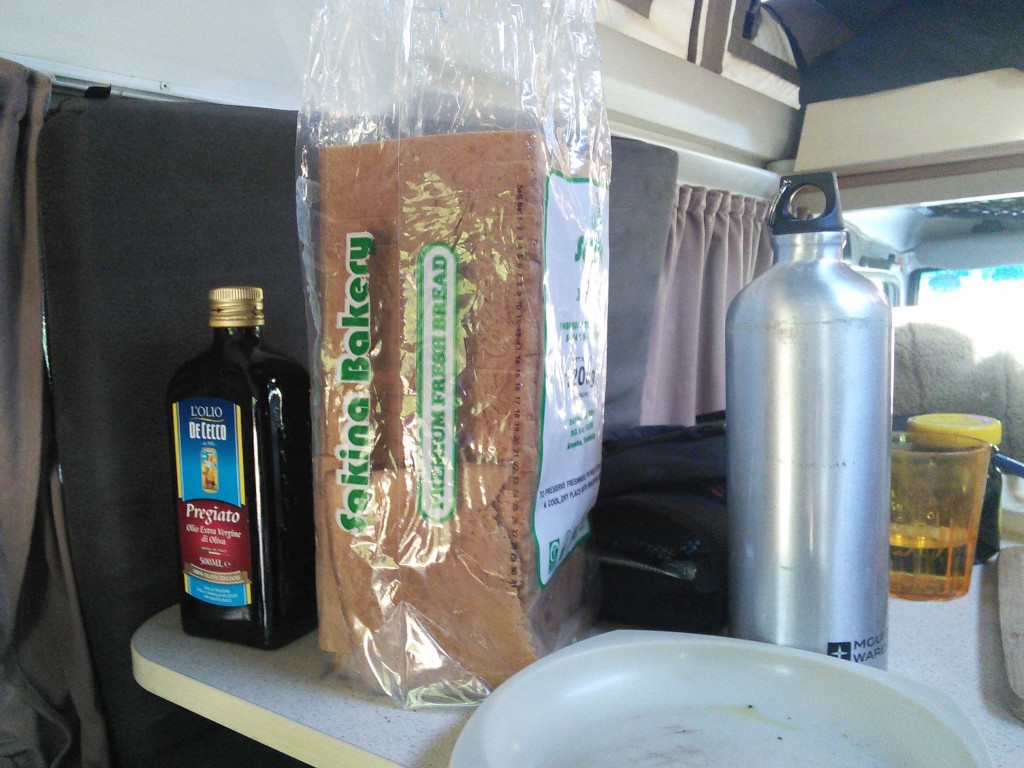 Driving to Malawi, we stayed one night near the Matema village, in the Blue Canoe Safari Lodge, which had few veggie options on the menu, but they made an amazing Indian vegetable curry there, and had authentic German sauerkraut to go with it. Strange combination, but delicious nonetheless.
What can be said for Malawi, other than the all-vegetarian meals provided in the Mushroom Farm, where we stayed two nights. Both nights we had the communal dinner (with special modifications made for us, and we didn't even have to explain veganism, the word alone worked its magic) and also on our last morning there we ordered breakfast off the menu, again with small modifications (no fried eggs for Jonathan). I tried a typical Malawian porridge with mashed banana, potato, onion, groundnut and who knows what else! It was very filling and very tasty.
Other than that, any place I haven't mentioned, we probably cooked in the car or had potato fries, which is the no-fail options for vegans traveling anywhere, at least in Africa. We had them in a market where the lady who fried them spoke no English at all, we had them in an empty campsite where the restaurant and bar area were shut most of the time, we had them in a busy campsite where the bartender did not understand what "vegetable samosa" meant so we ordered fries, again and again and again. My problem with it is the repetition: usually I eat them so rarely that they become a nice little treat, but having to succumb to the oily fried potatoes day-in and day-out, I am getting a little sick of the taste. The only thing that makes it bearable is the variety of hot sauces we have encountered in all the countries so far.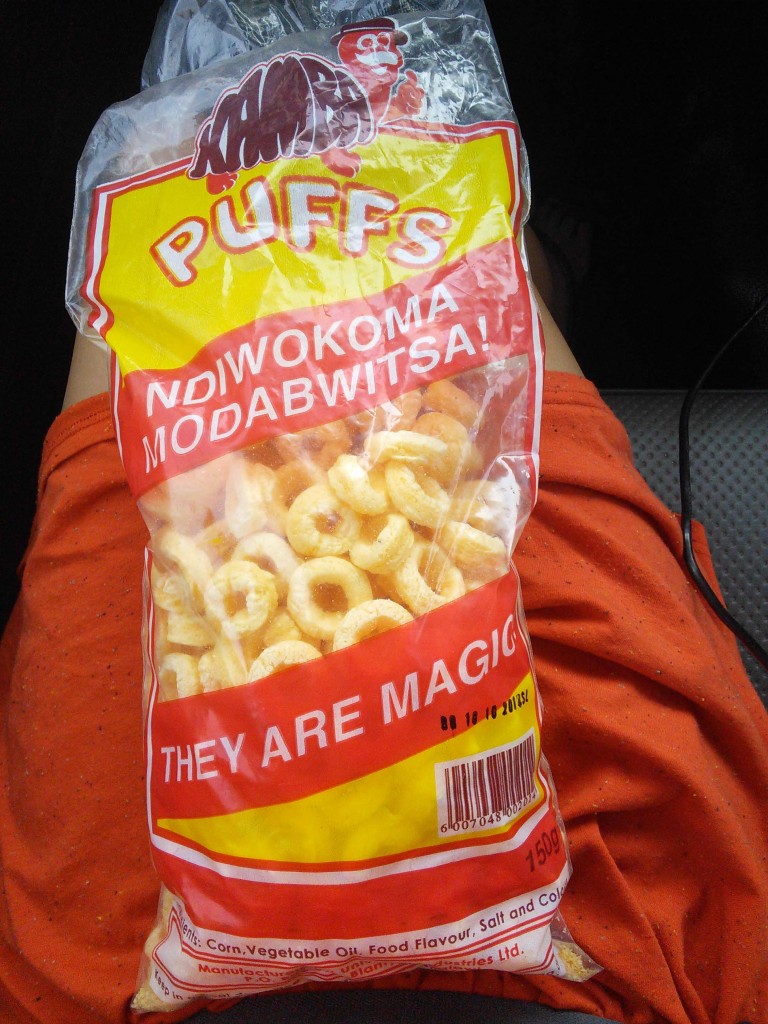 The other amazing thing we found in Malawi, a bit too late I am afraid, is the local corn-puff treat, salty and tasting slightly of instant noodles, we only bought one bag on our way to the Zambian border, and ate it within five minutes.
Another thing to be mentioned here is the lack of variety in most villages' markets: apart from the usual tomato, onion and whatever local fruit, the markets provide little food even to us, so cooking for ourselves sometimes becomes redundant as well. We've encountered cabbage, potatoes, but most of the produce on sale is either over-ripe bananas, unripe or overripe papaya or mango, and buckets of tomatoes, sometimes nice and red, sometimes pale yellow and green. We started buying baked beans in tomato sauce and eating them on toast for breakfast. A little slice of home is sometimes the most welcome.