It has been quite an eventful few days since we last updated. It starts with a hospital in Lusaka and ends in a hospital in Victoria Falls. Both times it has been me, the unlucky vegan warrior stumbling across the African plains.. no, not quite so dramatic.
One of the main reasons we remained in Lusaka for a few nights was actually because I was sick and we needed to see a doctor. I won't go into details, because they are not very pleasant. But in Lusaka we found a nice private clinic, I saw a doctor, then did a bunch of lab tests, after that we waited for a very long time, but finally the results came in: no scary parasites, no weird diseases, but nasty fungal and bacterial infection of the stomach, intestines and who knows what else. I was instructed to take 8 pills every day, and that is not counting Doxycycline for malaria! My body was feeling rough, having been ill for a few weeks and having to pollute it with more medication. On the bright side however, we got to stay for Zambia's 50th anniversary of independence celebrations, in the capital city!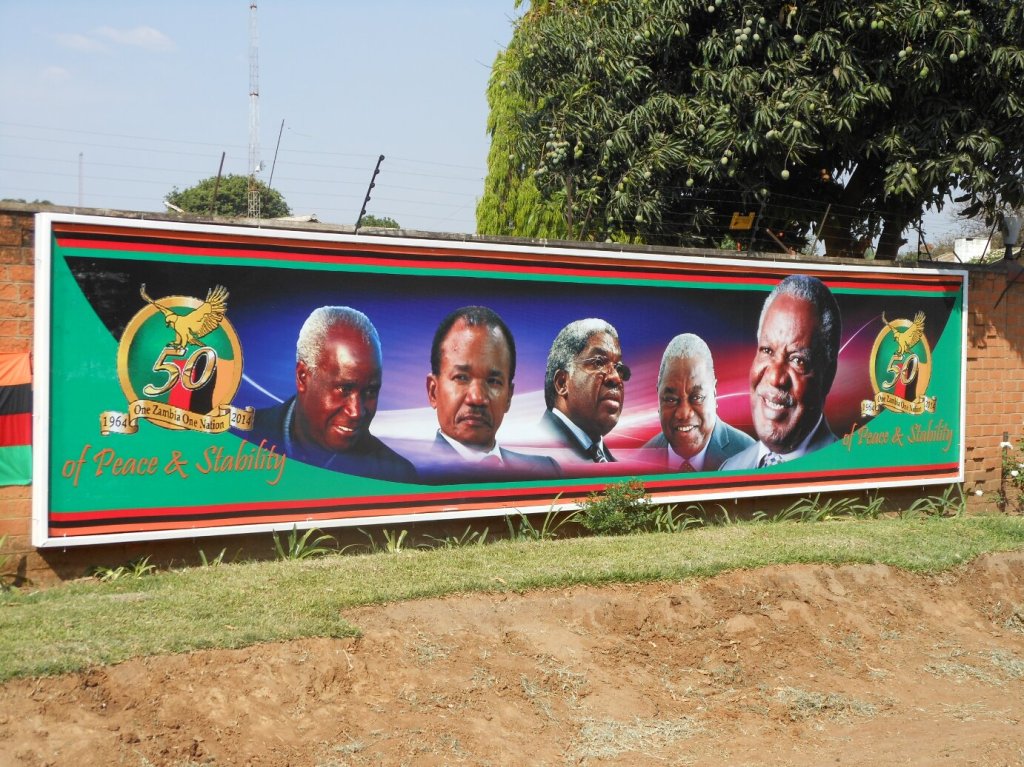 There was a parade I believe, but we missed it. We walked around the city, the streets were quiet without traffic on some of the major roads, and people wearing clothes made out of Zambian flags, the country's national colors, and some men wore national football jerseys, some specifically made for the 50th anniversary. Lusaka's center is small compared to other capital cities, but it is lusciously green and didn't seem too dirty. On our first night in the city, we went out for a beer (that was before the clinic visit and 8 pills) and on the way back encountered an entourage of scantily-clad women hanging out on the corner of a posh street with embassies. We read about the Zambian night-walkers in this part of town, so we didn't really want to hang around and hurried home. On the way back I stumbled upon uneven ground and fell on my knees and palms, with deep scrapes on the latter. I am unlucky! What I also noticed in Lusaka was the amount of foreigners, or expats, hanging out in the center and the shopping mall. Probably comparable to Nairobi, or even more. We also managed to find the Indian corner, as we have done before in African capitals, and bought Indian snacks: some were bland, some were good, and some just downright addictive and greasy.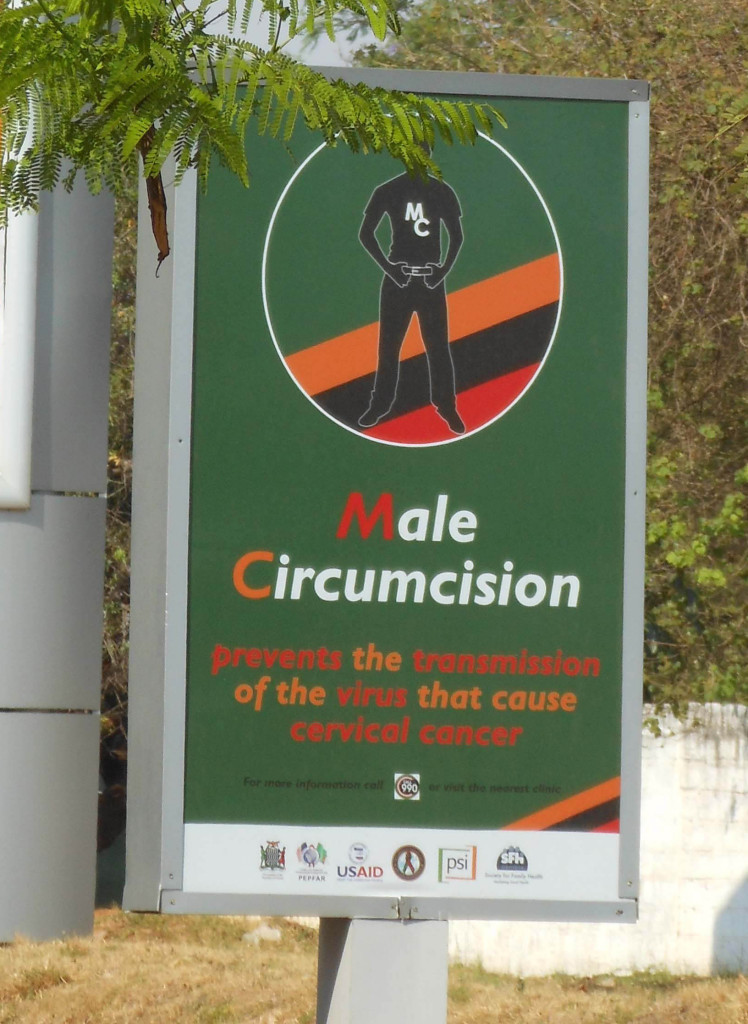 After a few days in the capital we headed for Lake Kariba. We decided to stay one night somewhere on the beach, and the next day continue to the Zimbabwe border. The place we found on the lake had a campsite right on the beach and was completely overrun with people! We haven't seen so many people, especially not foreigners, anywhere in Africa to be honest. There were a lot of Zambian families, either on the lake as a day trip, or staying in cottages for a few nights, and even a few camping in tents. The camping spot was beautiful, with the full view of the manmade lake, the islands, the red soil underneath the water (colored my hair a bit after a swim), but the facilities were unpleasant, and herds of goats came foraging in the trash in the morning.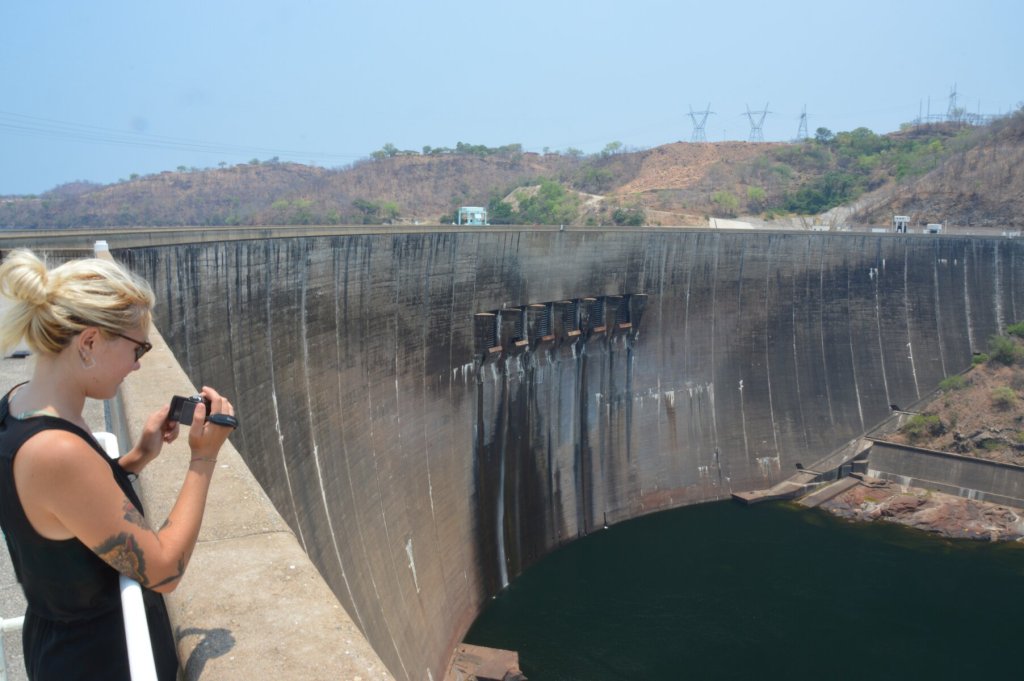 Crossing into Zimbabwe we had to drive on the dam from one side of the lake onto the other. This border post was very strange, it was merely a big tent with a long table and three or four guys sweating inside in the semi-darkness. The strangest thing perhaps was a little short stout man who was half-murmuring to himself (or to us) as we passed him on our way to the tent, but we just thought he was one of those money changers or whoever else hangs out around borders in these parts. The immigration officer sent us first outside behind the tent – and who do we meet, but the same stout man disapprovingly shaking his head at us. It turned out he was the health check person (they have those at some borders too, mostly checking yellow fever certificates or temperature for ebola). He was so upset we didn't follow what he said to us as we passed – apparently he told us to go with him! He accepted no apologies, but made us stand there reciting everything we know about ebola, like two dirty schoolchildren who have just misbehaved and are now made to stand in front of the class and recite the rules. What a peculiar man, and even more peculiar was that he made us ink our thumbs and only then sent us on our way. The inky thumbs stayed with us all day.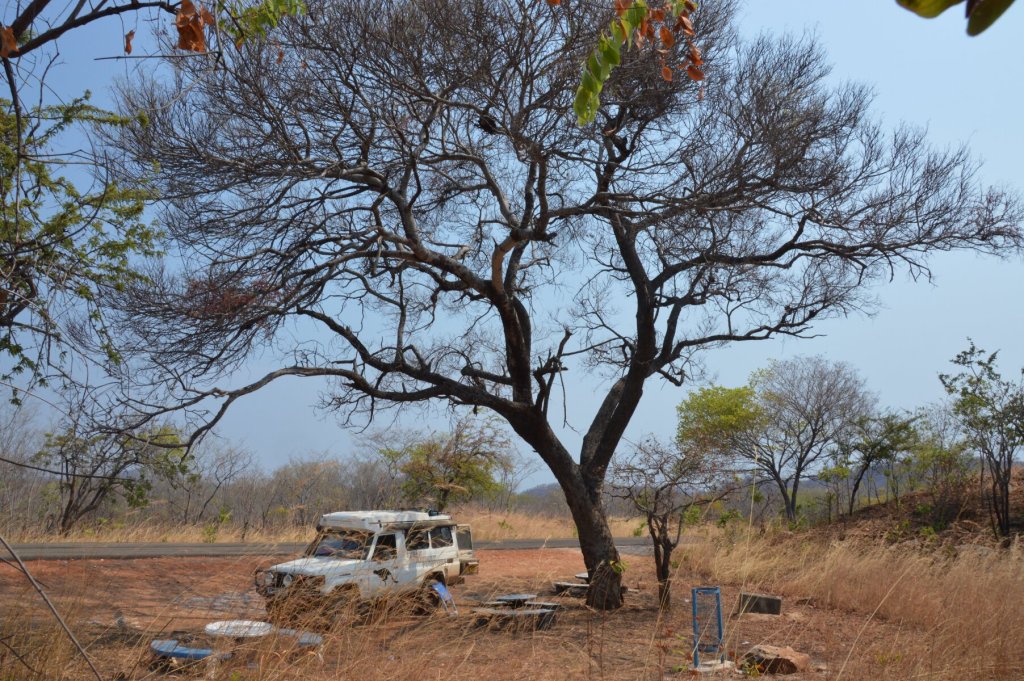 We knew we weren't going all the way to Harare in one day, so we tried to stop at Karoi, but the only accommodation they had was a run-down $80 hotel. We pressed on to Chinhoyi, but just outside the city we saw a Chinhoyi Caves National Park with a pretty decent cheap campsite. In the morning we set out to Harare, got there pretty quickly and checked in at the newly built N1 hotel – we needed wifi for several things and it was nice to relax in a real room for the night.
After getting settled in, we walked around the city for a few hours. It was really quite magnificent: long wide straight roads, the center divided into squares, sidewalks, mostly cleanliness, and the park was lovely as well. The buildings were glistening in the sharp afternoon sun, clean and tall, and some with very unique architecture as well. Definitely unlike any African city we've come across so far!
The next day in Harare was somewhat of a let-downer, and then a steep slope up. We had set up a meeting with the people behind Vegan Friendly Products and V Delights. We were very early, so we drove by one of the campsites in the city, thinking we might stay the extra night and camp there instead of the expensive hotel. As we rolled up to the campsite, and parked just outside the gates, we got approached by three guys, two in nondescript uniforms, and one in normal clothes, claiming that we ran a red light and would have to go to the police, have our car confiscated, and so on and so forth. Looking at it now, they were just regular con artists, but quite intimidating, and we were almost running late for our meeting, so what could we do but give them some money and drive away?
Afterwards we met the lovely vegans, Louisa and her family, but that is going to be in yet another interview post later on. For now let me just say we now have baobab powder, and the most amazing local herbal tea, which I am drinking as I write this.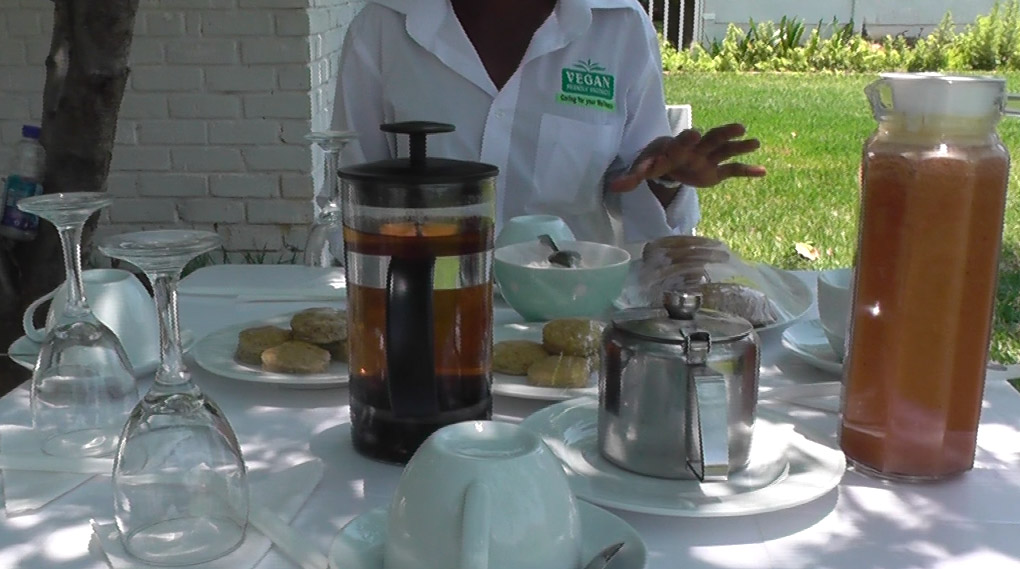 After the "police" incident in Harare we decided to drive away instead of staying the night. We got as far as Lake Chivero, and found a nice place called Kuimba Shiri which is also a bird sanctuary as well as a lodge and campsite. Unfortunately, they were experiencing a dramatic power cut, but the scenery was magnificent and we got to fly some owls! Barn owls are the cutest, I swear.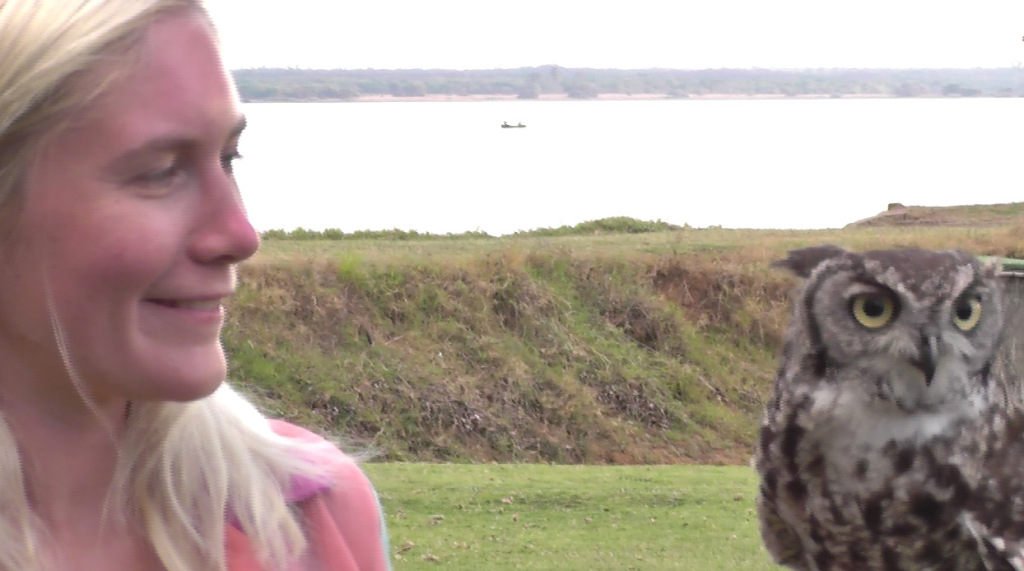 We were told the road from the lake to Victoria Falls, our way – was going to be bumpy and unpleasant. On the first day's drive all was well – we passed some decrepit national parks, dry forests, dry rivers, small villages. It was clear that no foreigners pass through these parts – and even not so many Zimbabweans. We couldn't find a single place to stay – no campsites, no lodges, no guesthouses, so we decided to try our luck at bush camping once more. We followed a small dirt track through the dry wiry forest for few kilometers, then turned onto another, even less used path, and finally came upon a little clearing overlooking a small valley, and decided to stop. We were spooked immensely – people say Zimbabwe is dangerous, not just the people but the wild animals – lions, wild dogs, snakes, elephants, who knows what else. We heard human activity down in the valley and tried to stay as quiet as possible, but had no trouble whatsoever. We rose with the sunrise and packed up, passing only one man on our way out to the main road. Soon after we encountered the bumpy dirt road, and it was really quite awful: potholes, corrugation, big inconspicuous holes, rough gravel, and so on. But eventually we found tarmac again, and proceeded to drive all the way to Victoria Falls. On the way there we encountered a few police road blocks, but the one that got us was because we apparently needed reflective white tape on our car – and had to pay a fine. It was infuriating that literally every road block was catching out the tourists for money. Thankfully we only had one thing wrong according to their rules, and rolled into Vic Falls annoyed but satisfied to have made it here.
We booked a few activities right off the bat, rafting for the following morning and bungy jump and zipline for the next day after that. Later, we walked down to the tapas restaurant, where the food was quite delicious (enough vegan options too!) but at the end of the night the mood turned sour. To understand Vic Falls you have to view it as a complete African package holiday for many people who come here: you have your waterfalls and all the activities to do in the gorge and on the river, you have the national park with all the famous African animals, and you have other more uncomfortable things, such as the "African dances" being on offer every night everywhere. If we were in the bush and encountered a tribe, where a dance was going on, then that would be magnificent. But these were probably college kids, or just locals working a more "exotic" job than selling tourist souvenirs, clad in freshly laundered outfits, and the authenticity is quite spoiled by the women wearing obvious bras and coming up to the stage with backpacks. It was just a bit of a cheap touristy show and we didn't care much for it. The worst though was an old man ("a fat old git" as Jonathan put it) who was clearly trying to secure one of the dancing girls for his table, and later perhaps for his bedroom as well. It was sickening the way he went about it, and it was sickening that the owner of the restaurant allowed this to go on, and even encouraged it, at least from where we were sitting it seemed that way. Profoundly disgusted, we went to bed.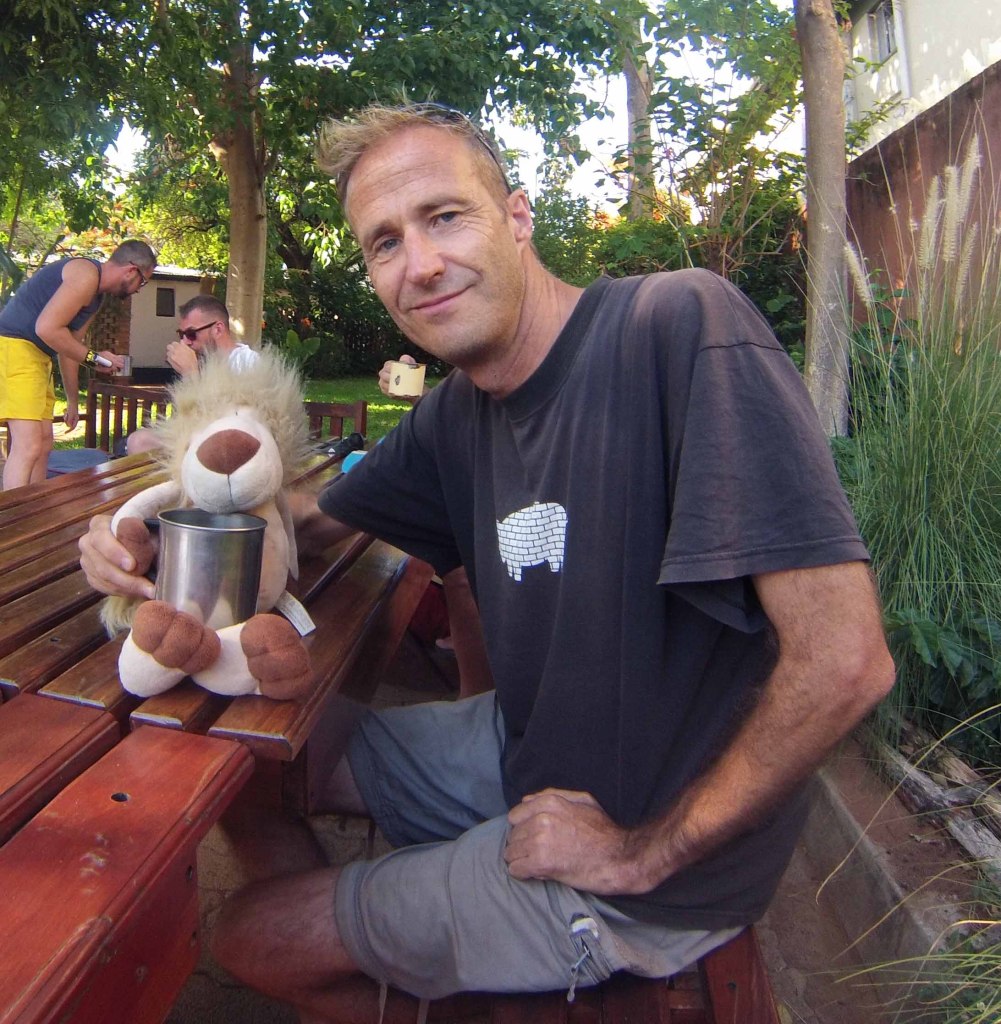 Now onto what happened today. We got up bright and early to go rafting – I'd never been, wasn't scared, and was really looking forward to it. Our path lay through 18 (I think?) rapids, some of them rapid V's (aka very scary and forceful). We had a long meeting with all the other rafters and the guides, they explained the safety, the proper way to paddle, and so on. Finally we got on a truck-bus to the bridge, and from there descended for quite a long time into the gorge to the water. We had seven rafters in our group plus the guide. I sat in the back, Jonathan in the front, with someone in between us. Getting wet, paddling, shouting instructions, it was all great fun, until we came upon a very tricky twisty rapid, where the current either forces you into the narrow rocks, or hits you in the face with full power. What happened next I am not quite sure: I got thrown off the raft immediately as we met the first current, then I spent a fair amount underwater trying to get out but failing, swallowing a lot of the river in the process, and finally clearing the rapid and coming up to the surface, having difficulties breathing. I found my paddle, quickly grabbed it, and was rescued by another raft, with the main guide whose business name is Colgate. It was only after I climbed into the boat I realized my left leg was in a lot of pain. In fact, there was a bleeding gash on the knee with white stuff sticking out, and the ankle down to the toes was a shooting pain that made me think my foot was broken.
They covered my wound as best they could using a first aid kit, but then the problem arose of how to get me back. The gorge is massive, and getting back up is only possible by walking – which I seemed unable to do at this point. Eventually everyone agreed that I should go through the next rapid with my original raft, and then I would be rescued by two guys, who would somehow miraculously take me up the cliffs to the car, and we would drive to a hospital. By the time we cleared the next rapid and I was stationed on the rocks, I lost it a little bit. I had a little sob and a few tears, I was in so much pain and didn't understand how the hell I was going to climb up this gigantic cliff with a non-working leg. But I told myself to pull it together, and with the help of a few able-bodied men I was able to get to the car – most of the journey I was on the back of Brian, the poor young man had to sweat and struggle through a dangerous path of hot rocks and slippery soil with me hanging on for dear life. Not the easiest thing to do in the blazing 40 degree weather going uphill! I have the utmost respect for the guys who do these rescue missions. Out of everyone who helped me this day, I think to these guys I owe the most.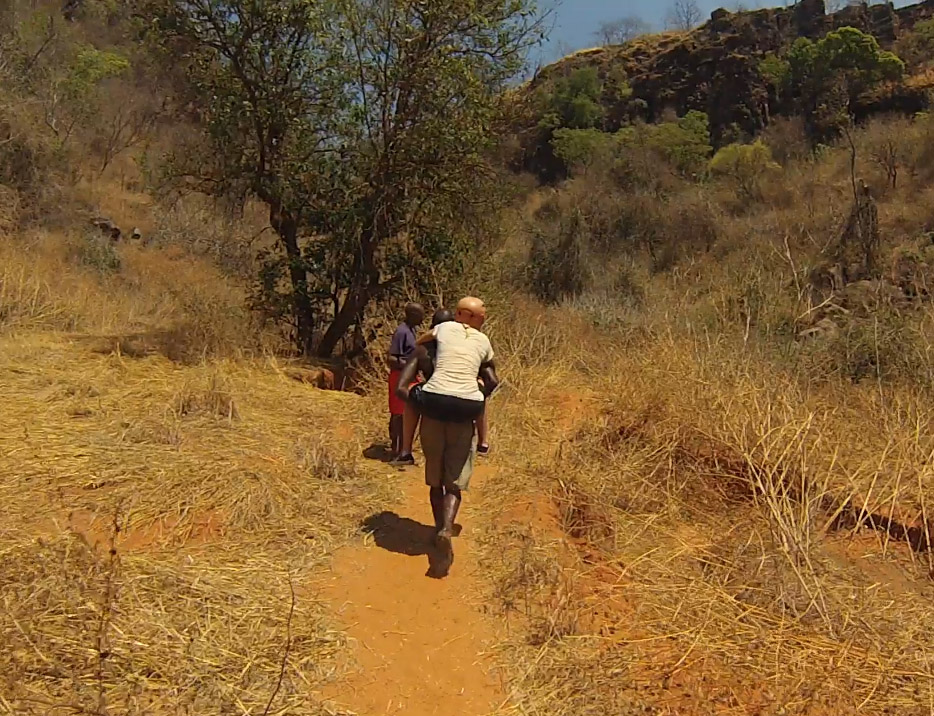 When we got to the hospital, I was introduced to the funniest doctor I've ever met. He seemed so interested in the whole ordeal, like an overly eager intern at the hospital or something of that nature. He explained in detail, and (showed us the gory details inside the knee!) what was wrong with the knee – ruptured patella tendon, gaping hole through which you could see the inside of the knee completely, and a scraped kneecap. He stitched the tendon together, which was quite painful as he had to go digging inside the knee to find the loose end. Then he stitched the tissue, and finally the skin. I am going to have a lovely scar to remember this trip by!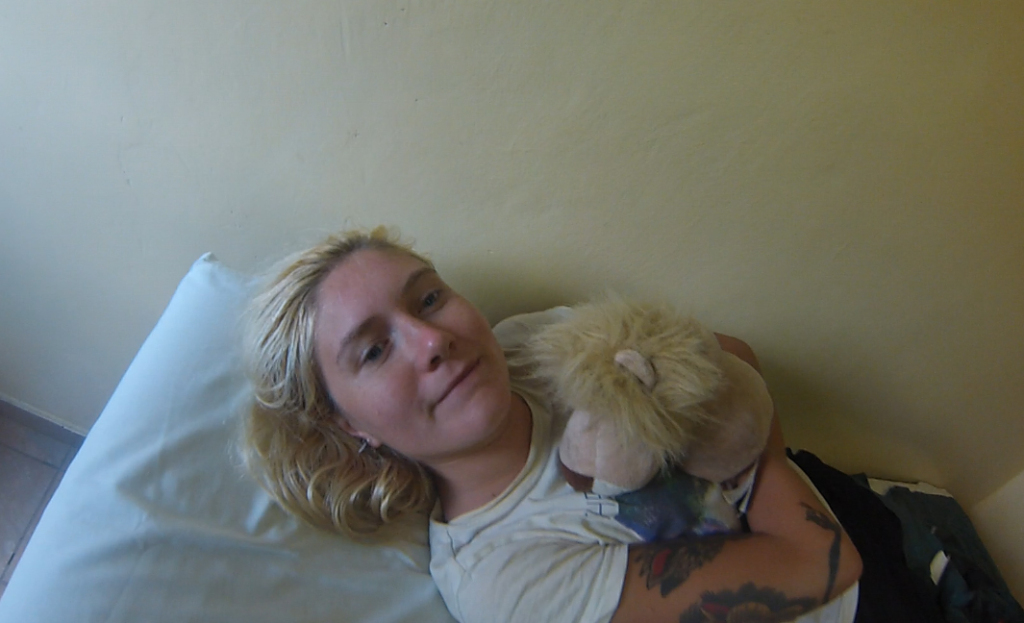 The worst is that I can't really bend my knee, and I am not allowed physical activity for 6 weeks at least, which puts a few questions as to what we are going to do for the rest of the trip? Just drive everywhere, no walking or climbing for me? No swimming for sure… It's all up in the air right now. I guess I was lucky to escape without further injury! Rafting is fun but I am never doing it again.