This post was going to be a bit different, but the IT conspired to deposit my words in a black hole somewhere and leave me with a blank page again. Rather than try to recreate the masterpiece I had constructed from scratch, I have decided to do things a different way. So – here we are on the Indian Ocean coast of Tanzania waiting for a coconut to fall….not a particular one, just any one (I'm not picky). Wikipedia (I think) says that a coconut palm produces 50-200 coconuts per year, and that one takes a year to ripen. On that basis, I would expect each coconut palm to drop a nut very roughly every 2-7 days…but we have been amongst the palms for the best part of a week now and not seen a single coconut fall (despite signs warning us to be aware of dangerous falling coconuts!). There's hundreds of palms loaded up with a whole gang of coconuts each, but not a single thud? Anyone care to enlighten me as to why?
But while I wait for that thud (preferably not on my head), I'll bring you up to date with our travels since we left you in Nairobi. We had heard on the grapevine (or the internet maybe) that there was a place in Nairobi that overlanders headed to for accommodation and repairs. Jungle Junction turned out to be a really good place to relax, restore (and lose) our sanity in peace after some hard miles of rough roads, get some advice on Troopy repairs and meet a great bunch of other travellers. So we spent a few days swapping tips and tales and enjoying the peace and quiet. Not so much the cold, or the rain, but hanging out with the resident (and 1 travelling) dogs was therapeutic. JJs also has a fridge of cold beers which helps pass the time. However, we ended up staying longer than intended after Troopy's visit to Toyota Kenya took 4 days rather than the 1-2 promised…but we got him back fully restored with a new set of wheel bearings and overhauled steering. In the meantime we ventured out of the compound and into Nairobi with a little trepidation, given the warnings we had heard about what a dangerous and unpleasant place it was. As it happened, we went for lunch at a Vegetarian Indian restaurant (good, tasty food), visited 2 consulates (got Tanzanian visas, didn't get Mozambique), did some shopping and found the city and especially the university campus to be surprisingly pleasant…even if populated by giant storks that circle the city looking like pteradactyls and perching incongruously in the twigs of the streets' treetops. We stocked up with fruit and veg from the friendly women at the fruit and veg stalls near JJs and were ready to continue our travels.
Next stop – the Red Elephant Safari Lodge on the border of the Tsavo East National Park, where Rea and Gunther (our new friends from JJs who are travelling around Africa by motorbike, hopefully having more luck with spares by now) had told us of a nice place to camp and seeing elephants close up. Since the lodge is outside the park, the expensive fees for entry are not a problem, and for $10 each we were given a quiet camping spot and access to one of the lodge rooms for shower and toilet facilities. Another place where we were pretty much the only guests, we found ourselves on the evening of the day we left Nairobi spending 2 hours in whispering silence as the sun set, watching about 50 elephants come by for a drink in groups of 5-10. These gentle giants (or not-so-giants as about half were young ones), in varying degrees of red, their skins coated in the red African soil, were drawn to a watering hole about 20m from where we sat on the veranda of one of the lodge's huts. I have to apologise for the lack of photographs but there was no way I was going to go fetch my camera and miss a moment of this experience, so we sat and watched and sipped our beer. Maybe next time?
After that, we just cooked ourselves a meal in Troopy and went to sleep. In the morning we went back to see if there were any more elephants, to check it wasn't a dream, but we hadn't got up early enough to see anything but a rugged looking antelope hanging around after-hours at the watering hole.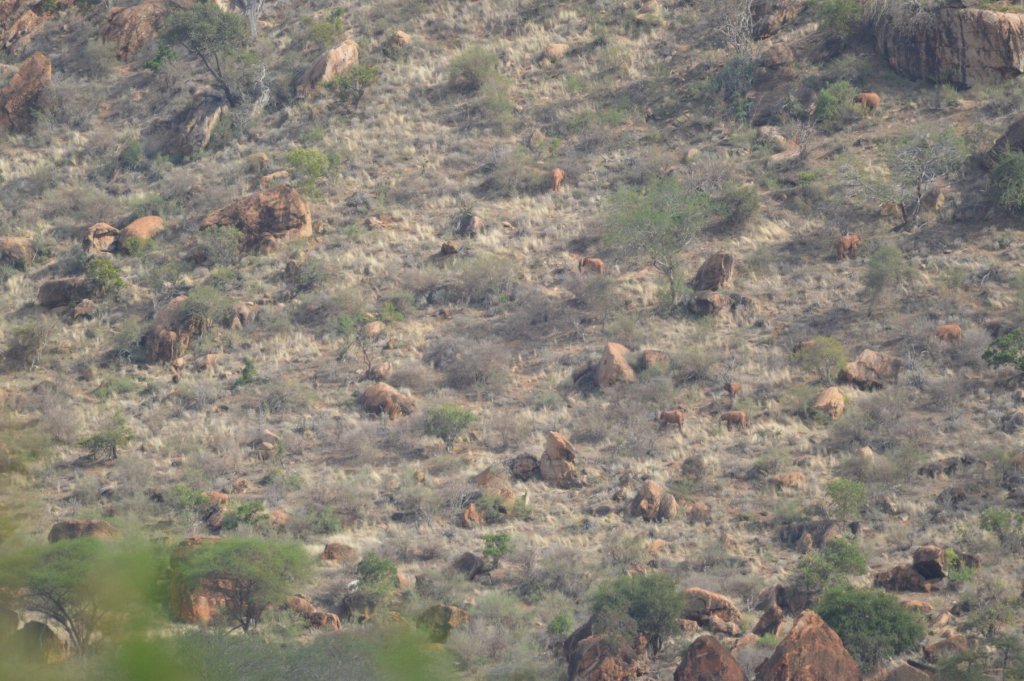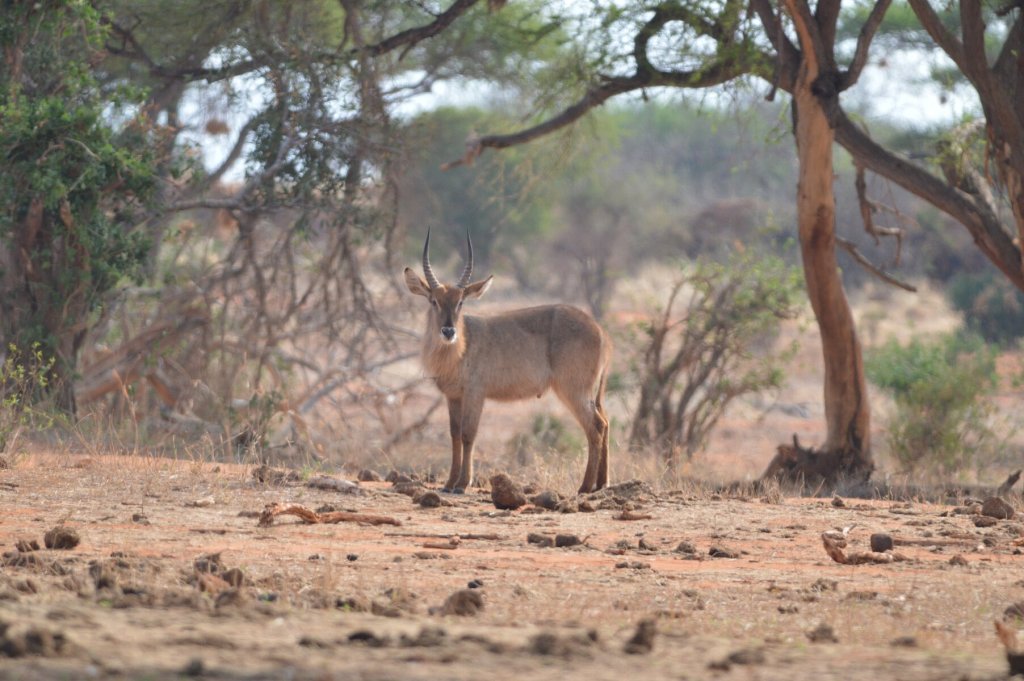 Time to head for Tanzania! We tracked West through Tsavo NP towards Mount Kilimanjaro, stopping for lunch by a dry river in the park and startling a bushbuck that had thought it was a good spot too. Crossing the border was hassle, or not too bad, depending on your point of view as it only took 2 hours – and we were in sight of Kilimanjaro! Well, that is to say we could see the bottom half and a huge mass of cloud above which refused to dissipate and give us a show of the iconic mountain. Maybe next time?
This 2 hours did put us on a bit of a tight schedule if we were to make it to our aim of seeing the Indian Ocean that evening, but the Tanzanian roads were good and we covered the miles well through changing scenery, skirting the Usambar mountains and heading into lush, green banana and palm plantations. Not a lot of wildlife, but not as many people or domesticated animals as Ethiopia either. As we turned off the tarmac onto a dirt road with 42km to Pangani it got dark – pretty much instantly as it does in these parts – and I was a little worried we were in for a rough, tense ride as we tried to avoid holes, lumps, motorbikes and people. In fact, this minor 'road' turned out to be fine and after a quick dash to the coast, some debate over maps and guidebooks in Pangani, and a last 20km of potholed dirt we found ourselves in paradise. Well, Peponi Beach Resort to be exact – peponi meaning paradise in Swahili and not the Italian name of a character from the Don Camillo books I read as a teenager – where we were greeted by friendly faces and good food and drink, which at that moment had the place living up to its name.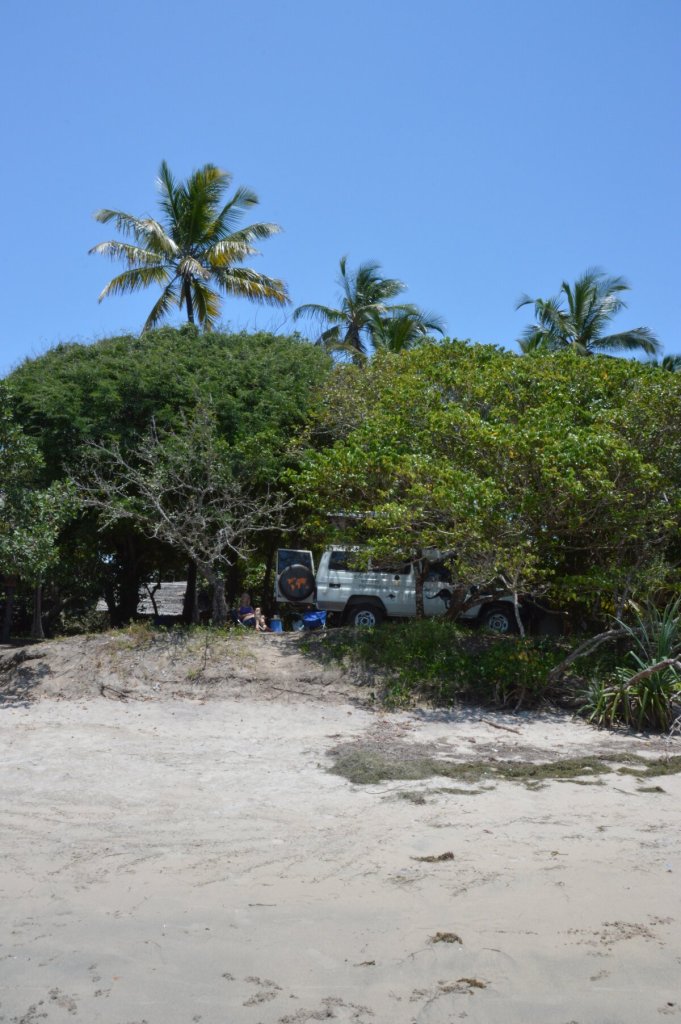 Come the morning, it didn't get worse. We were camped right on the beach under the coconut palms, with clear waters and coral reefs to look out to. This is a typical African scene – just not the one you would probably imagine.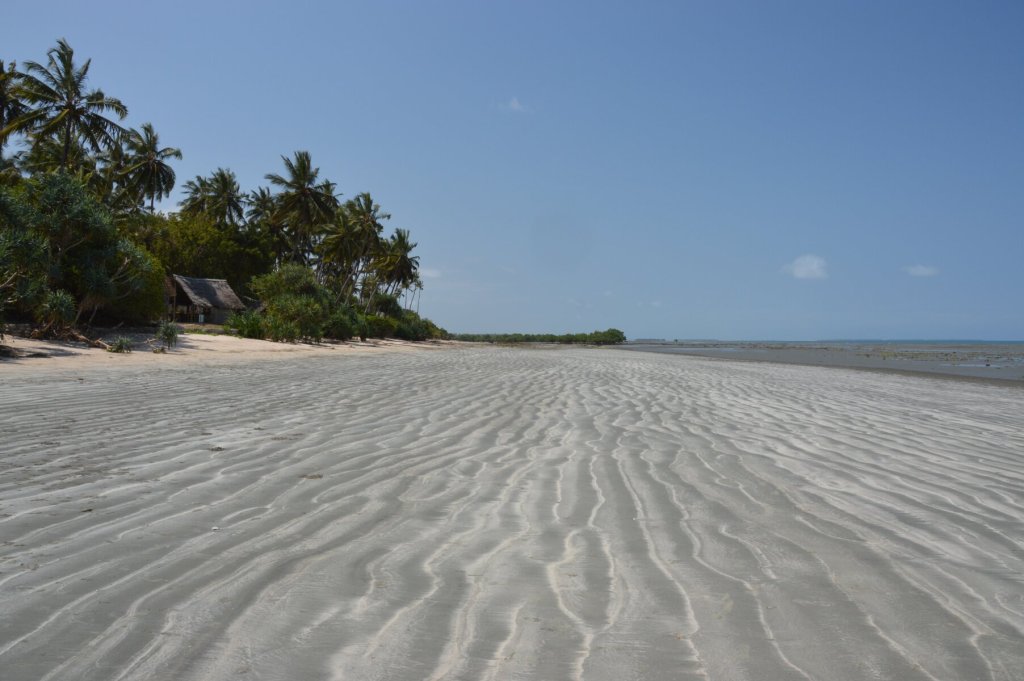 We were intending to head South to Dar es Salaam the next day and visit Zanzibar, but either our host (Carys) or the place itself convinced us otherwise. That a trip to the outer reef here, lunch on a sand island only visible at low tide, some snorkelling amongst the coral and a couple of days soaking in the sun and sea – that would be better than the tourist trap of Zanzibar. Who knows?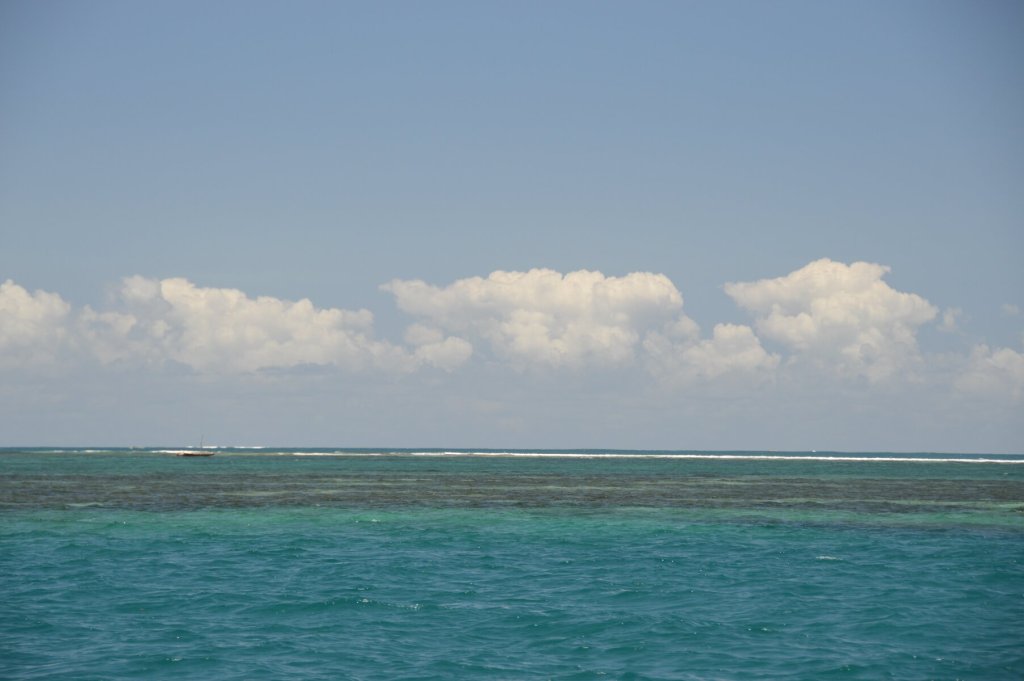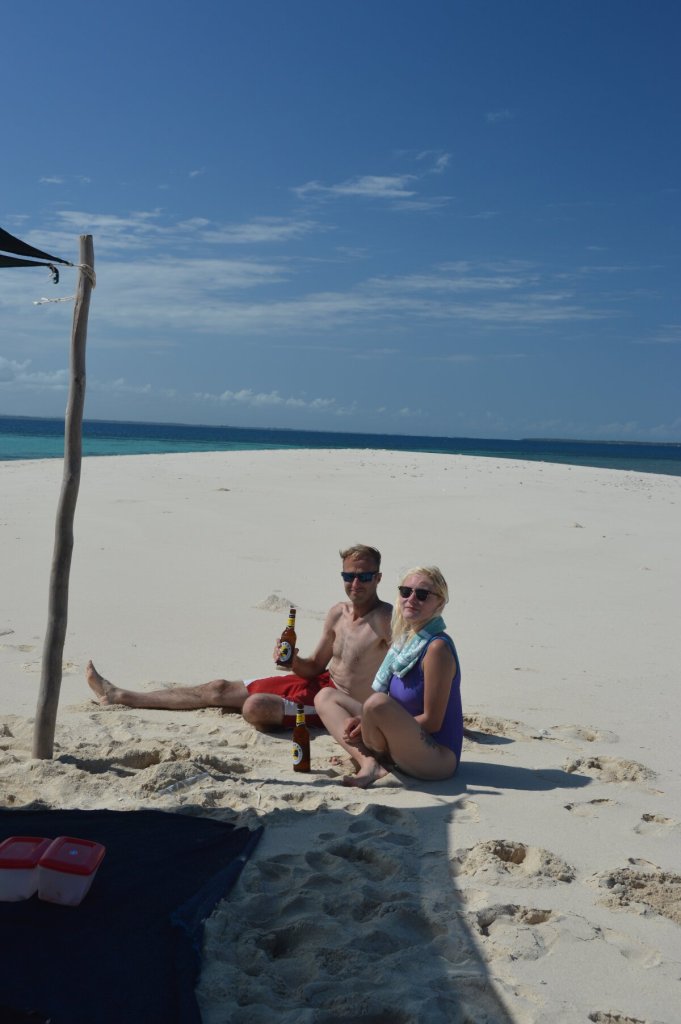 But we stayed, it was beautiful and very relaxing and not for a moment regretted. Even if we did switch to self-catering after a veg samosa turned out to have been accidentally switched with a crab one and Katana spent a night with a bad stomach ache after swallowing a mouthful. These are sadly the hazards of vegan travels where food choices or allergies have not yet become ingrained into the local catering culture. It was a genuine mistake in any case and dealt with with care and proper concern and I'm sure it won't happen there again. Anyway – my cooking is better than anything else on the planet so I was happy for the excuse to take over! 😉
In the end though we had to leave and make the long trek through slow traffic to Dar es Salaam, though we picked up an extra passenger as we did – Leo, the Peponi lion mascot has now joined us for some adventures…we promise to send him back safe and well! At the end  of another long day in the driving seat my butt was seriously complaining as we negotiated the southern sprawl of Dar – though not as Katana would have some people believe in need of surgical implants!  Again it was dark as we turned onto the final stretch to our target camp site, but this time at least it was a proper road. And again we found ourselves camping on the beach under coconut palms – still no thuds though!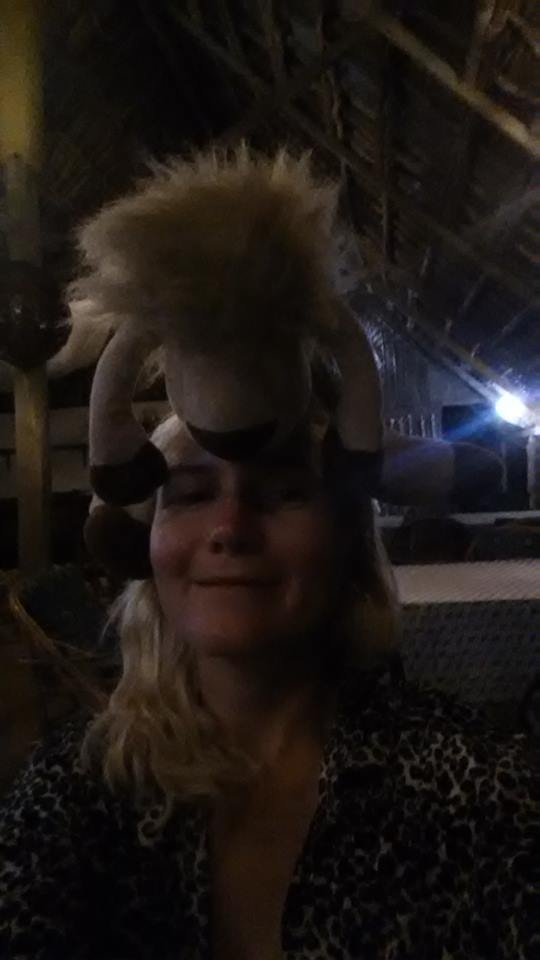 I'm going to leave Katana to catch you up with the next episode as we experience Dar es Salaam and meet up with a friend from the Danakil Depression. Me, I'm going to go look at some coconut palms…