The biggest misconception about vegan travel is that as a vegan you won't find anything to eat in a foreign country and therefore starve. Vegan Without Frontiers is desperately fighting that misconception by traveling, eating out or in, and not starving. I think it is time we wrote a post about food, seeing as how that is one of the main concepts associated with veganism. We have just left the European continent and it is our third day in Turkey. It is about time to reflect upon our meals that we have been having for the past month.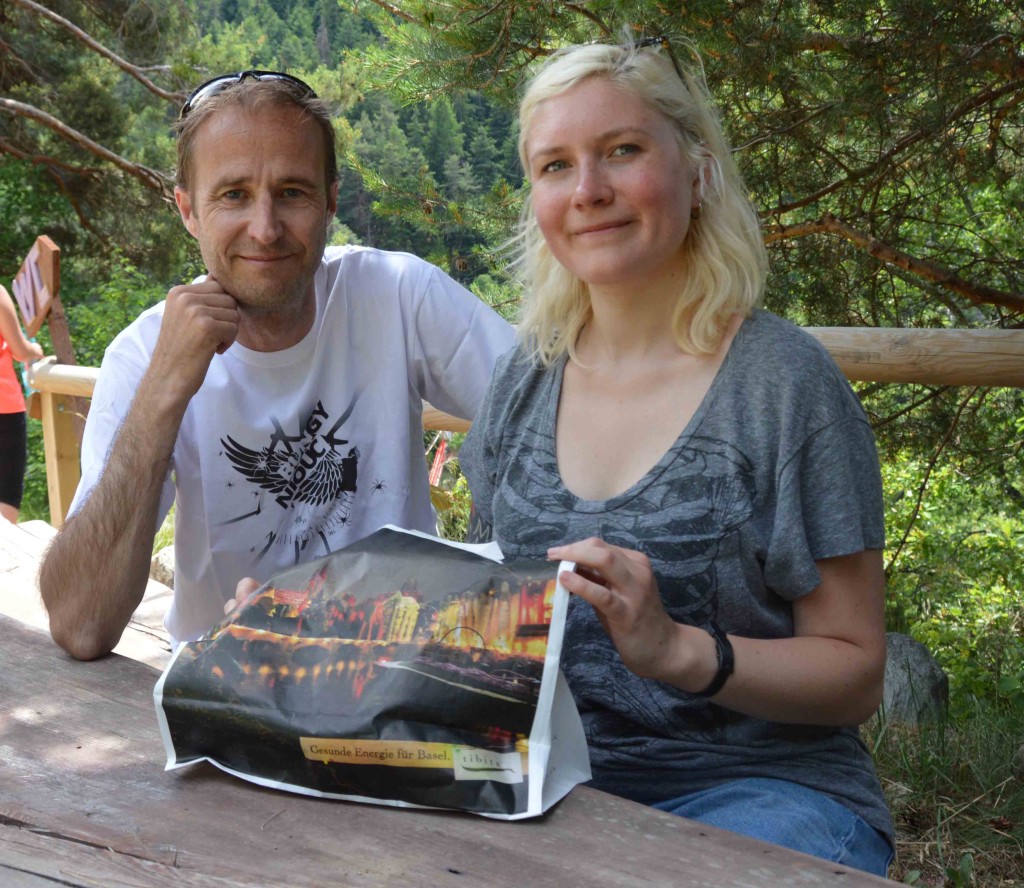 Firstly let me start with eating out because that is usually the biggest "problem". Having left the comforts of London, we stopped in France for about a week, then we drove through Switzerland into Italy. All of those places had easy access to "comfort" food: pizza sans fromage (without cheese). Many people think of pizza as a gooey cheesy meat platter on thin crust, but go to even the smallest restaurant that serves pizza and politely ask for a vegetarian pizza without cheese and they will serve it to you with tomato sauce and grilled (or sadly canned) vegetables. The same goes for pasta: there are four options, either spaghetti aglio olio e peperoncino, spaghetti all'arrabiata, spaghetti carrettiera, or just spaghetti with tomato sauce and no cheese or meat.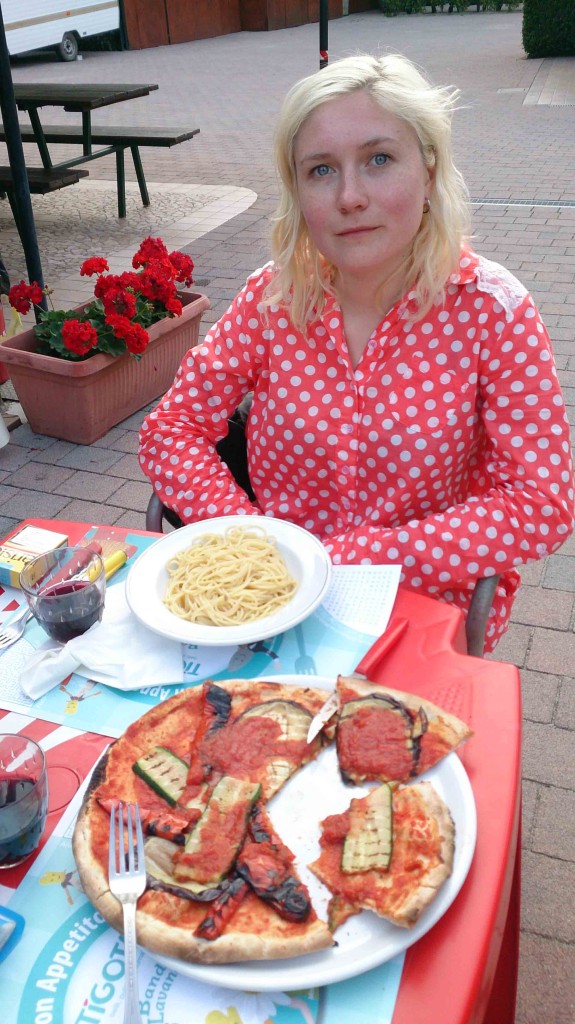 With pizza we have had more luck, even though sometimes we get the puzzled questions "why no cheese" or the downright dirty look of "you don't know what you are missing out" from waiters. Spaghetti was a different story, sometimes we got a delicious plate of slightly spicy deliciously saucy pasta, and sometimes we had problems. In a restaurant at one campsite we asked for a plate of oily spicy spaghetti, and we got badly cooked pale plate of pasta with oil and garlic, and a few flecks of meat, probably from another cooked meal or an unwashed pan. Right before crossing into Albania from Montenegro, Jonathan got a plate of spaghetti with bacon pieces on top. He didn't even touch it, and when the waiter asked why, we explained that we are "vegetarian". The waiter was confused, because he thought the meal was vegetarian, but then as we pointed out the bacon he just shrugged. Clearly the reaction there was "why wouldn't you eat this pasta with extra bits" not "I gave them a meal they didn't want even after being asked if there was anything else in the pasta". The whole notion that people just don't eat certain things and rely on menu descriptions for details on listed items simply doesn't come across once you leave the comforts of London. We tried a different approach as well, by asking the waiters what exactly is in certain foods. Most of the time this has helped a lot and worked in our favor, but one time it didn't.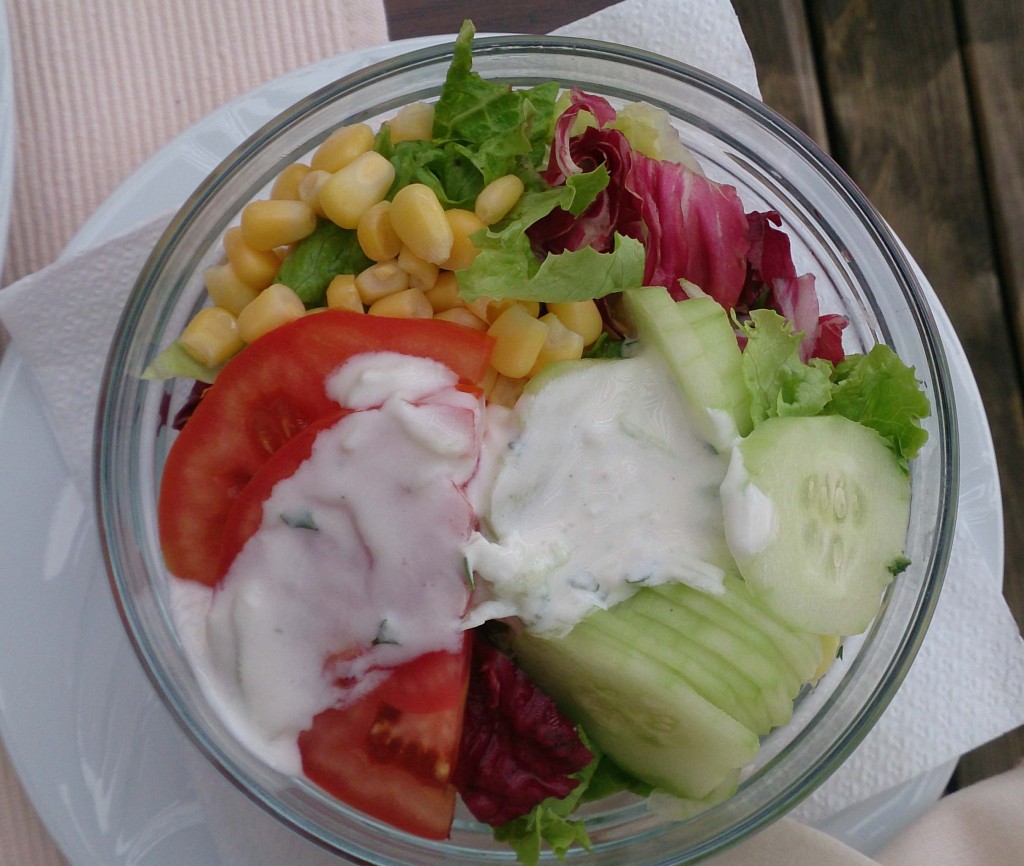 When we camped outside Ljubljana, and went to eat lunch at the camp restaurant, there wasn't much on the menu that we could have. There was a salad of vegetables from this season, so I asked the waiter whether it had anything else in it. She shook her head, and told us it was only vegetables. I made double-sure: "No cheese?". She said "No cheese!". What came out was a bowl of soggy vegetables covered in a creamy sauce. I half-heartedly tried to take out the creamy bits but gave up. When the waiter came to clear the table, I pointed out that I don't eat "creamy things" and she apologized but again, no other reaction. Maybe I am slightly spoiled by America, where if you barely touch your dish, the waiter will ask if it can be replaced. Here they just shrug and probably put you down as a weirdo. And by "here" I mean outside of London, Chicago or Prague, the three places I know so well.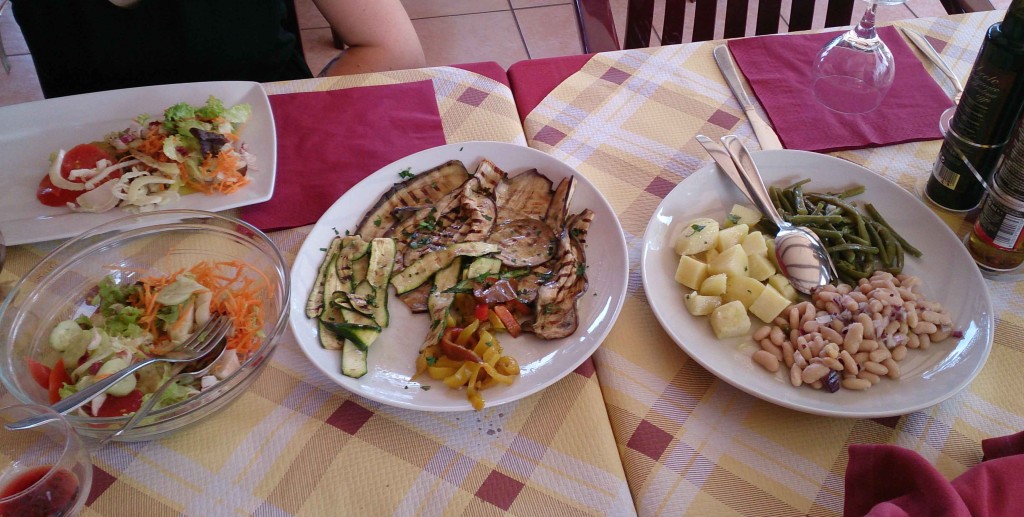 As we moved further, and travelled through Greece, we discovered there are more menu options for vegans, despite the actual menus being rarely translated into English (or any language comprehensible to us). While we were in Italy, we stopped at a random place for lunch, and speaking no Italian managed to get ourselves a custom meal of potatoes and beans, grilled vegetables and a massive bowl of salad. Similar things started happening recently: a staple for eating out now is a salad, and to go with it some vegetables, either grilled, or stuffed with rice, and once in a while French fries, which are getting less fried and more oven-baked as we move further away from western Europe. Once we had a bizarre meal consisting of an enormous plate of olives and another enormous plate of salad, and even though the olives were good, it put us off olives for a while.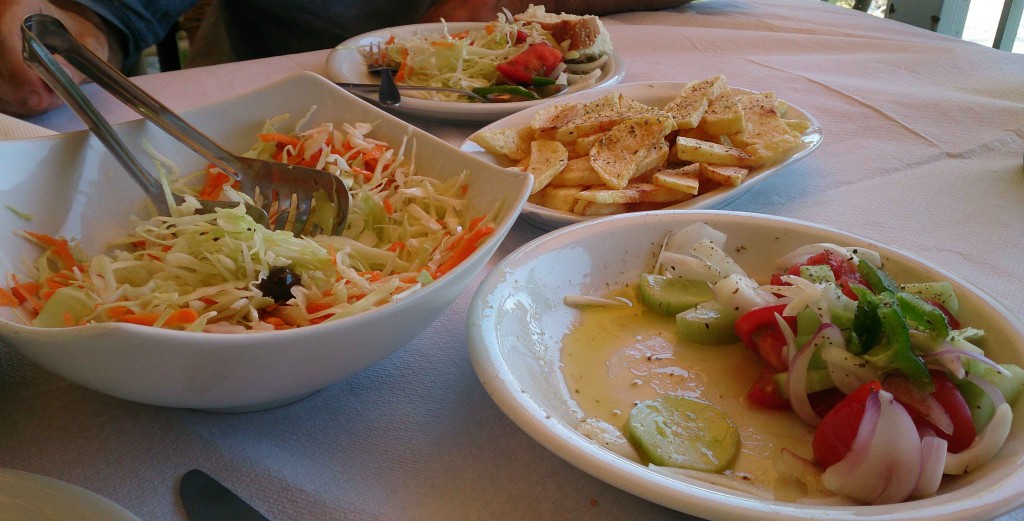 The main thing is not to forget to eat regularly, so snacks are becoming more and more important. We have in the fridge hazelnuts and chocolate, and in the front seat we have random snacks we buy at gas stations, and sweets. Still, the more you travel into unknown lands, the less important "meals" have become. I am not going to lie, sometimes we skip breakfast, sometimes we skip lunch, and once in a while, if we drive a long way in the evening and camp very late, our "dinner" ends up being beer and conversation. When you are that tired, having driven a long distance on an empty stomach, sweating profusely and feeling really hot, once you camp for the night, all you want is a cold drink and a relaxed chat in the crappy outside chairs we bought and keep carrying around. After that it's bed time and hopes of a hearty breakfast, which never follows anyway.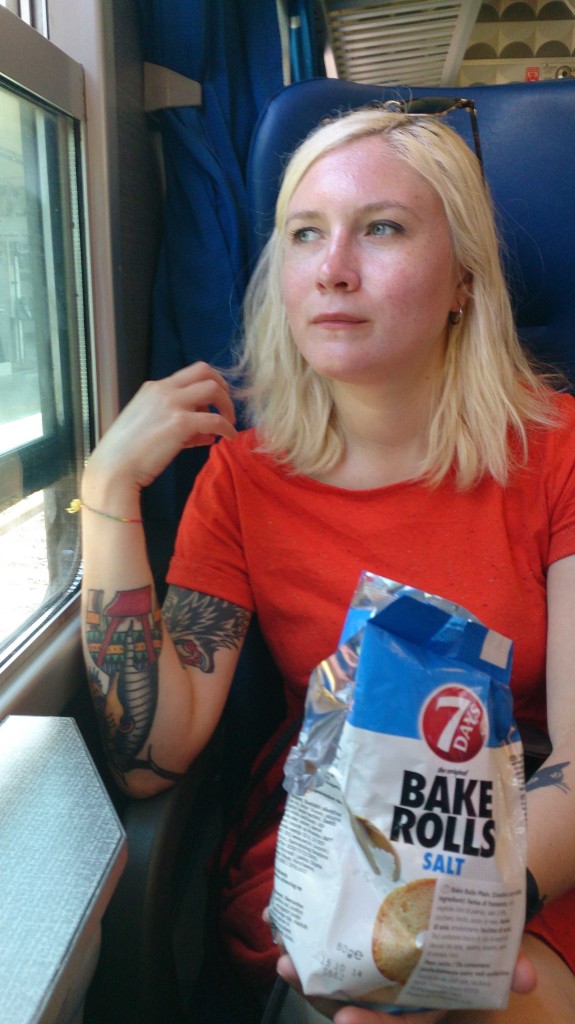 The easiest way to stay vegan and enjoy your food is to cook all of the meals yourself. We have been cooking a lot, and in some countries (where language is more of a barrier than other places, where camping wild is a better option than anything else) we have only eaten "home"-cooked meals.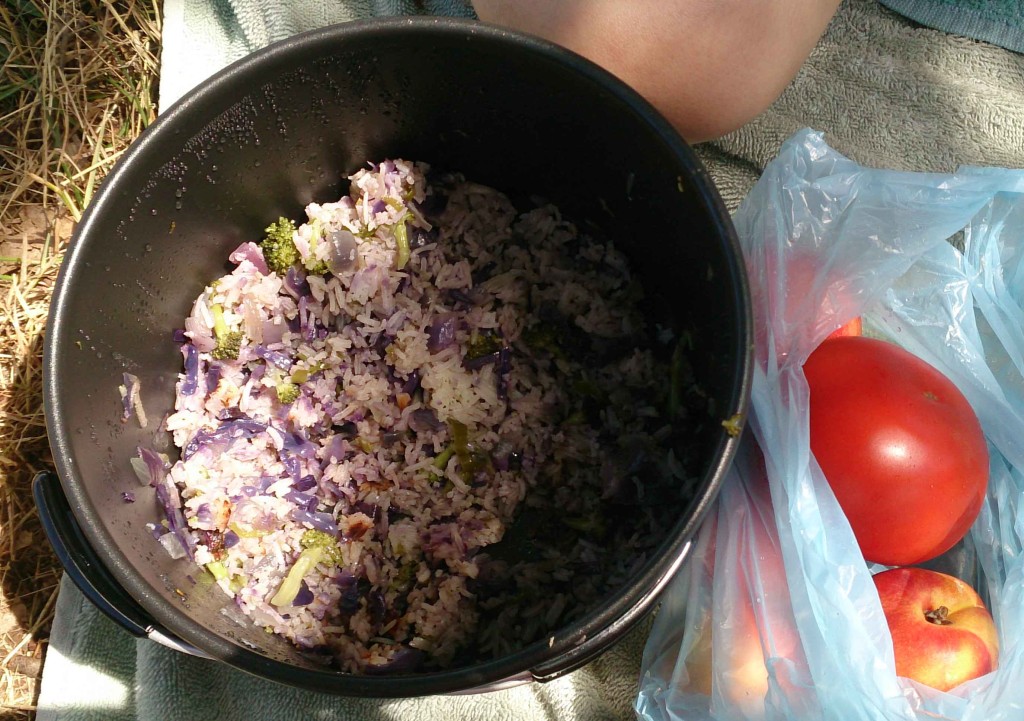 We started out nicely in the south of France: barbecued vegetables and local wine! But as we moved along, we seem to be juggling spaghetti days with couscous or rice days and then once in a while something weird like potatoes or packet soup. It is quite easy to cook in the car, we have a fridge, stored food and spices, and a cooker. The problem is, sometimes we really are too tired, or sometimes the vegetables (usually mushrooms) go off too quickly, so if we end up buying mushrooms, we have to eat them within about two days. Cabbage, as we have discovered, lasts forever in the fridge, even when it has been cut. Jonathan makes very good spaghetti of all sorts, mostly olive oil, tomato and chilly related. I make whatever is left in the fridge, or whatever I crave at that particular moment, soup or salad or fried rice.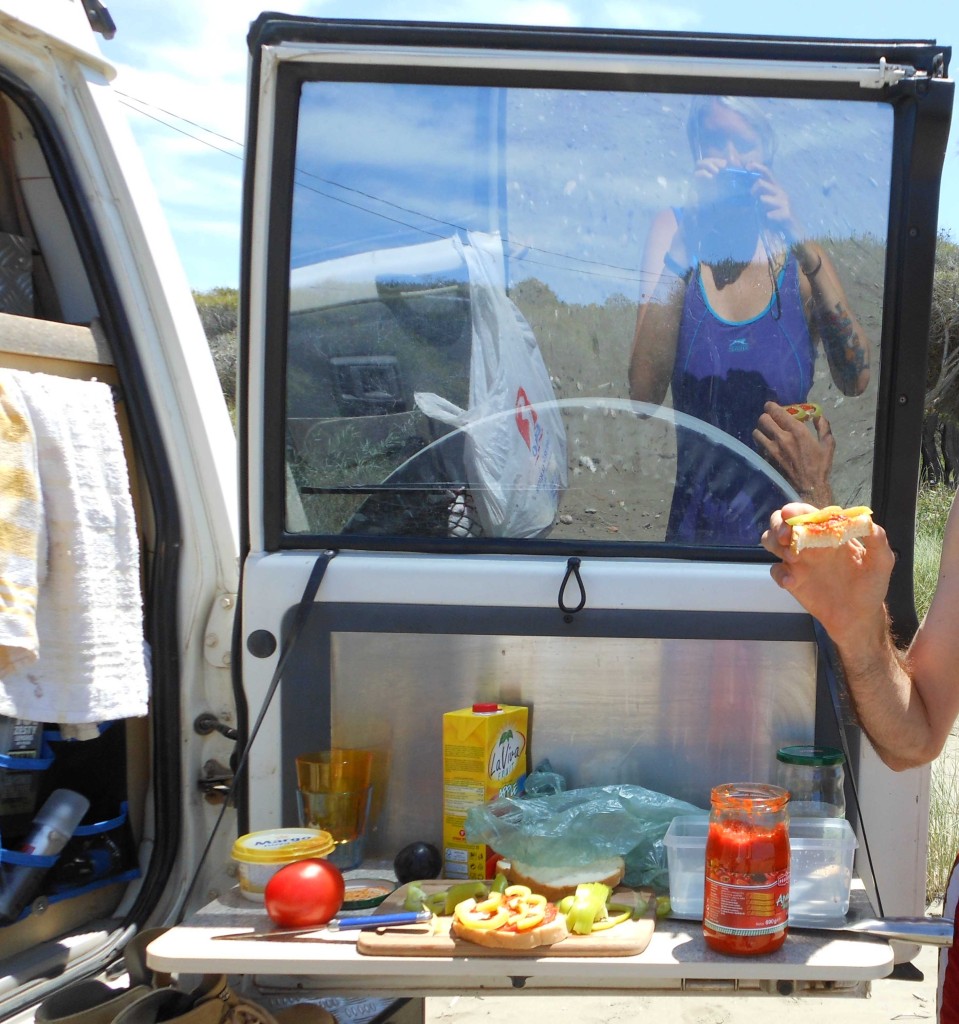 We try and not eat out too much, but sometimes driving all day we end up having to eat out or having to go "raw vegan" just off the main road. Our "raw vegan" usually means cut up vegetables, bread and something to go on the bread, such as Marmite, Ajvar or olive paste. And don't forget all of the ripe peaches, cherries and watermelon we have been eating at certain times as well.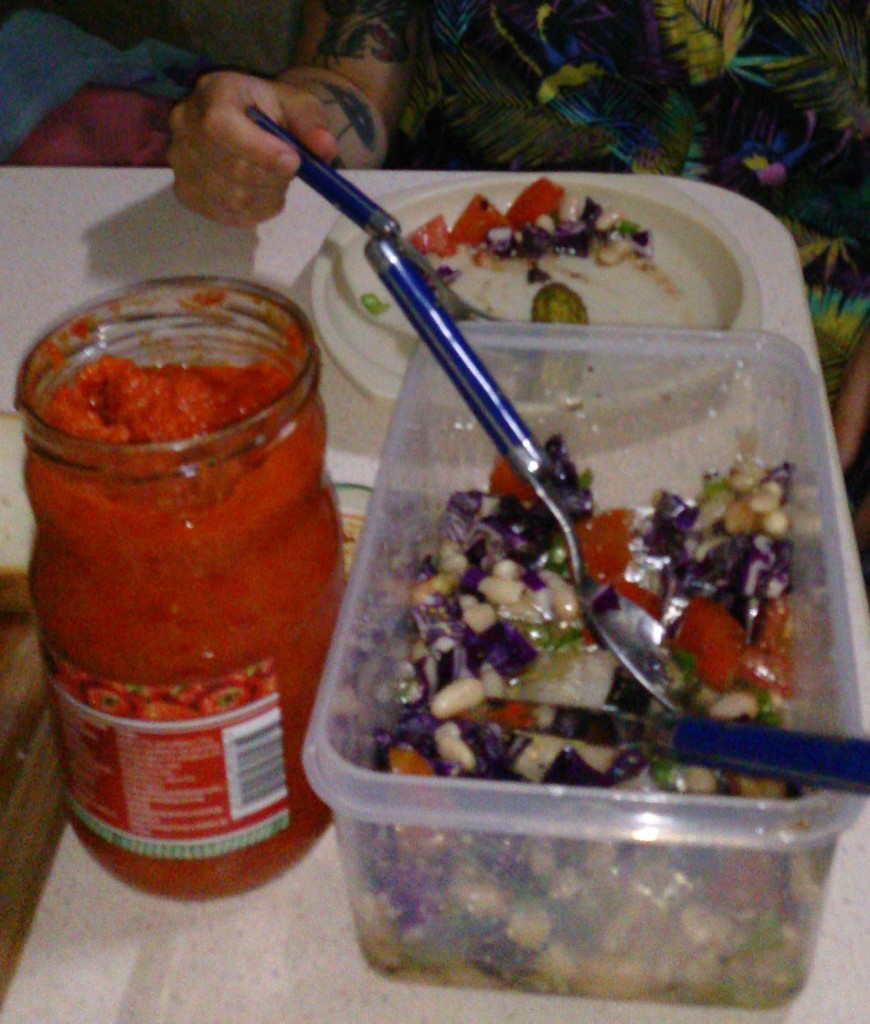 It is in people's nature to think that a country's cuisine is mostly filled with meat, fish and dairy products. Sadly, so far it does seem to be the case. However, that doesn't mean you cannot enjoy the tasty wonders of certain places, because I have been enjoying olives and massive juicy tomatoes all throughout Europe, so telling vegans that traveling for us is hard because we will certainly starve is just not true in any shape or form. Ask questions and be creative is my advice.