I am starting to write this in a bit of a food coma. We are at a camping site, for the second night, in Pisa. On Monday we left the campsite in the Alps on the Swiss side and headed towards Italy, going up a mountain in the meantime and catching the few bits of snow still melting in the high altitudes. We stopped at a little spot with a bit of slanting snow, and I pranced around in the white (cold) slush and then climbed up higher where all the blueberry bushes grow. There were a lot of mosquitoes circling the bushes but I don't think they minded me as much.
In the morning before we left the campsite I went for a little walk with my coffee and discovered that the little forested area that covered the campsite ground opened up quite suddenly to a quite deserted dried up river bank. This was an amazing view to the surrounding mountains, and I took this opportunity to do my first drawing of the trip.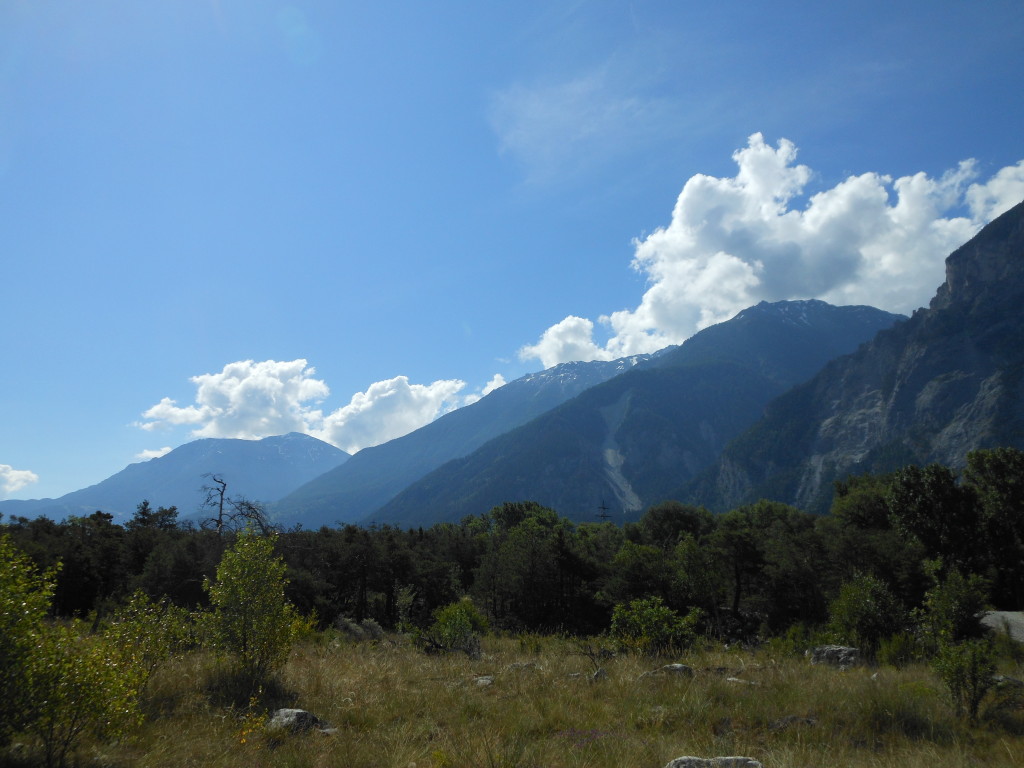 We crossed the Italian border on Monday afternoon and parked in the town called Stresa, on lake Maggiore, for a little walk around and a cold soothing drink. I went down to the somewhat brown and unpleasant looking water to take my shoes off and walk around the slippery rocks for a bit to cool down my feet. We witnessed a very clumsy and stressed duck family, the mother duck kept losing her ducklings, and the scene made me very uncomfortable so after watching for a few I had to leave. I found another dead thing – a rotting fish in the water – for my "Katana's dead nature studies" project.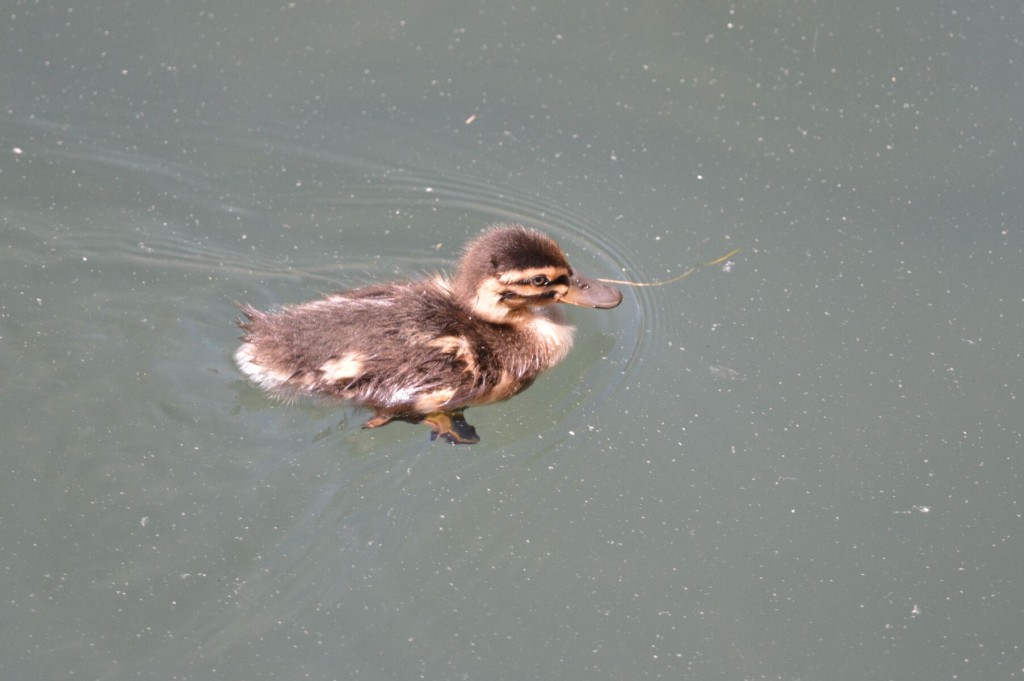 I noticed that the mountains on the Italian side are so much more greener and covered in forests rather than have exposed rock like the Swiss mountains. I also noticed the sudden decrease in cleanliness and an increase in reckless – or weird and unpredictable – driving.
We found a campsite for Monday night just outside of Arona and right on the lake as well. After setting up quickly we had to go for a quick dip in the water, to cool down mostly and instead of using the showers, which we would have had to pay extra for. That night we were too lazy to cook dinner so we went for pizza (without cheese) and pasta (with unfortunate few specks of meat which I had to dig out… I am guessing it was cooked together with a meaty pasta). That campsite was full of Germans, and of course that night Germany played Portugal 4-0. The Germans were happy and mostly quiet and friendly. In the evening we decided to get the playing cards out for the first time. Since neither could remember any suitable game, we settled for Black Jack (with pretty much half made-up rules I think). Whiskey was taken out of course, and I got the cup which still had remnants of coffee, so I ended up with a coffee-flavored water-down whiskey. Not a good combination.
In the morning we swam in the lake again, as a wake-up and a morning shower, two in one. The water was a bit cold but still and lovely. We drove through Genoa on our way to what we thought will be Florence, but ended up being Pisa. In Genoa we had a very unfortunate start – the driving was insane, the parking place was invaded by some strange men selling pieces of colorful string as bracelets (for 40 euros as a starting price!). Jonathan managed to get away with giving them 2 euros for the sad piece of string they had already put on my wrist even though I was sternly declining. The incident made us uncomfortable and we didn't want to leave poor Troopy all alone with those men. Eventually we figured it would be okay, and went to find a vegan place to have lunch, having googled "vegan Genova". Very fortunate for us, we did just the thing! And what an amazing place it was, really. Cibi e Libri. Lorenzo, who served us, was very friendly, and we had a good chat about our adventure, he seemed enthusiastic and even gave me a little pastry present to go.
After the lovely food, we slowly trickled back down to Troopy parked by the port. Luckily, the car was untouched. Maybe I am being slightly too paranoid, or maybe I have had too many robbing incidents.
We started driving toward Florence, but it all turned sour for a bit when Italian driving and confusing tiny-lettered signs really did get the best of us. In the end, we drove to the outskirts of Pisa, loaded up our fridge at a supermarket, and found a campsite that seemed alright. On our way to Pisa, we stopped at a beach on the coast, and I had my first Mediterranean swim of the year! Or a few years, to be exact. It was wonderful, the water was only a bit cold, and once I swam out a bit further, I could see the mountains and the slowly setting sun. Bliss!
We sat up camp and here I am going to go into "what do vegans eat" because Jonathan made a really impressive chili! It had three types of beans, celery (my contribution), tomato paste, tomatoes, mushrooms and spices and such. Absolutely delicious. He made a whole pot so we had plenty for leftover burritos today, and that is why I am in a slight food coma right now.
To make this slightly more humorous, I wanted to tell about my unfortunate trials and tribulations of toilet use. (Yes I do have the LCD Soundsystem song in my head as I type this). Basically I seem to have been collecting amusing toilet stories. Here are a few: when we were at the Italian campsite two days ago, I managed to walk into a chemical toilet disposal cubicle instead of a normal toilet, wondering why the toilet seat was huge (is this a specific toilet for large people?). Then a strange encounter with an English lady at a cafe, I walked up to the door, the toilet was dark and slightly open. I pulled on the handle, it didn't give, but I thought maybe the door is heavy. I pulled again, and out of the darkness I saw a face apologetically looking at me. After a few more minutes she came out. I don't know what someone could be doing in a dark toilet with an open door, when the light switch was clearly marked and the light worked. Of course the latest episode happened today, when I managed to get myself stuck in a cubicle because the lock was stiff and wouldn't open…
I think the lesson to be learned is not to expect much from foreign toilets.
Today we took the train into Florence and spent the day sightseeing, criticizing the tourists, admiring the seeming American tourist overtake of the city, and I got some art in, by visiting the Uffizi.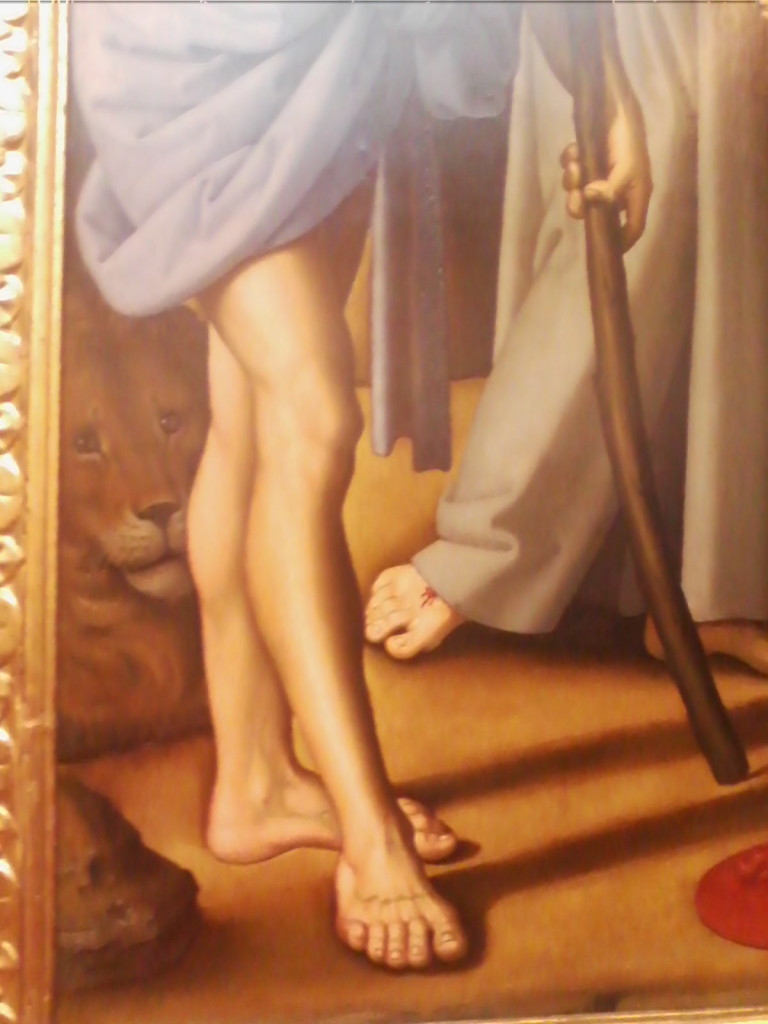 I think I like Italy. Tomorrow Pisa and then onwards to the next bit!
By the way, did you know you can send us messages through the map feature? And leave comments on our blog posts? Please feel free because we're feeling a bit out of touch, especially without internet most of the time.