I am sitting in Croatia, right by the sea, we just saw a bunch of little crabs hiding behind rocks in the tide. And I have two band-aids on one finger, plus a red dot on my wrist and yet another bump on my head, and a slight burn on my other finger. This is what I call one of the best of Katana's clumsy days. But let's start at the beginning.
Last time Jonathan checked in, we were in Vrhpolje at a lovely camp site. On our "day off" in the valley (which apparently leads all the way to Milan! According to one local anyway) I decided to do some serious bit of exercising and hike up a few hills/mountains, leaving Jonathan to his own bits while I took the tracker for a walk. What I planned on was a marked path for about three hours. What I got was a 5 hour confused and slightly lost hike which mostly led me uphill through some very densely spider populated areas. I was exhausted, the weather was humid and hot, I kept running into spiderwebs, I kept getting on the wrong tracks and having to go back. Eventually I found myself at the next village north of Vrhpolje and walked down from there through the valley. Apparently Jonathan followed my route through the tracker the whole way and once he saw I was safely on my way back, he abandoned the idea of having to drive Troopy to rescue me, and instead had some wine. The hike was so hard that for two days my legs were out of order pretty much completely.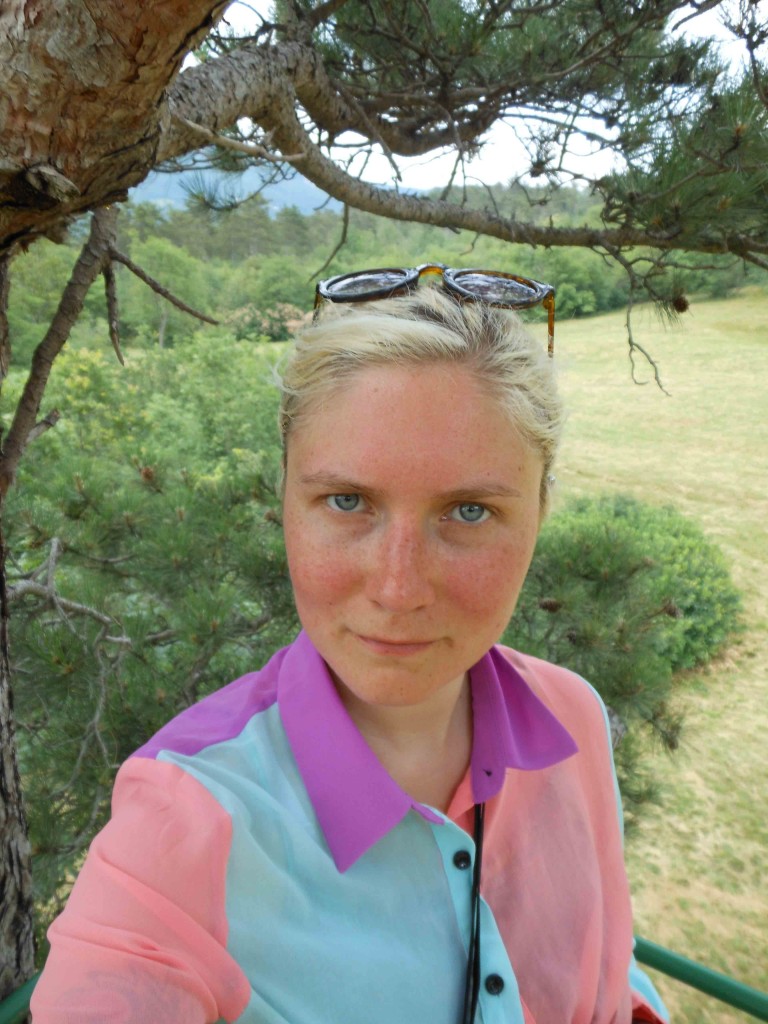 That night we went to the local pizzeria for a few beers and met a lovely English-speaking local man, probably a farmer, who told us fascinated (and long-winded) stories of the valley, why it was important during the Roman empire, and bits of other local trivia. As we said before, Slovenians are very lovely and friendly, always happy for a chat in whatever language, and most of them seem to know English to some extent.
The next day we had to say goodbye to the lovely campsite, its owners, the two Dutch couples who we shared the watermelon with, and the two English guys who came on motorcycles, and headed toward Ljubljana.
Ljubljana is very strange as a city. It seems to occupy a fair amount of space, but the "center" is very small, and you can walk anywhere you want to go quite quickly. On the other hand they seem to have a good bus system as well, and the geography is not too complicated. The first unpleasantness we encountered was from the campsite's restaurant. I ordered a mixed salad, and asked if it had any cheese, and the waitress said "no, no, just vegetables, that's all". When they brought it out, the salad had "bird crap" on it, as we call it: creamy dressing. I was quite upset by this and tried to fish out the bits untouched but in the end gave up. Usually in this situation I would not say anything to the waitress but Jonathan prodded me, and so I did make a comment about how "I don't eat dairy, milk products. I thought this was going to be just vegetables" but the waitress just apologized a bunch of times and nothing came of it. The result? Well, on the one hand, we are hoping next time a vegan comes and asks for a salad, she might ask them particularly what they want on the salad. The other outcome is that I should know better next time and not trust menu listings or waiters for clear information.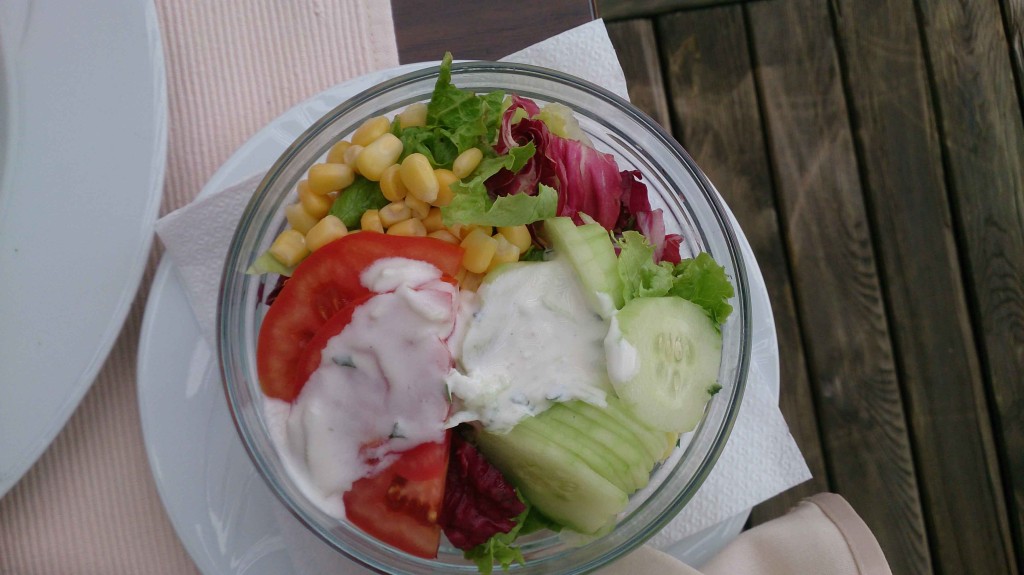 We spent the afternoon walking around Ljubljana, climbed the hill to the castle, and my legs were just killing. We found a vegan frozen cake cafe, which I didn't see listed on HappyCow! The cakes were great, but we didn't linger too long.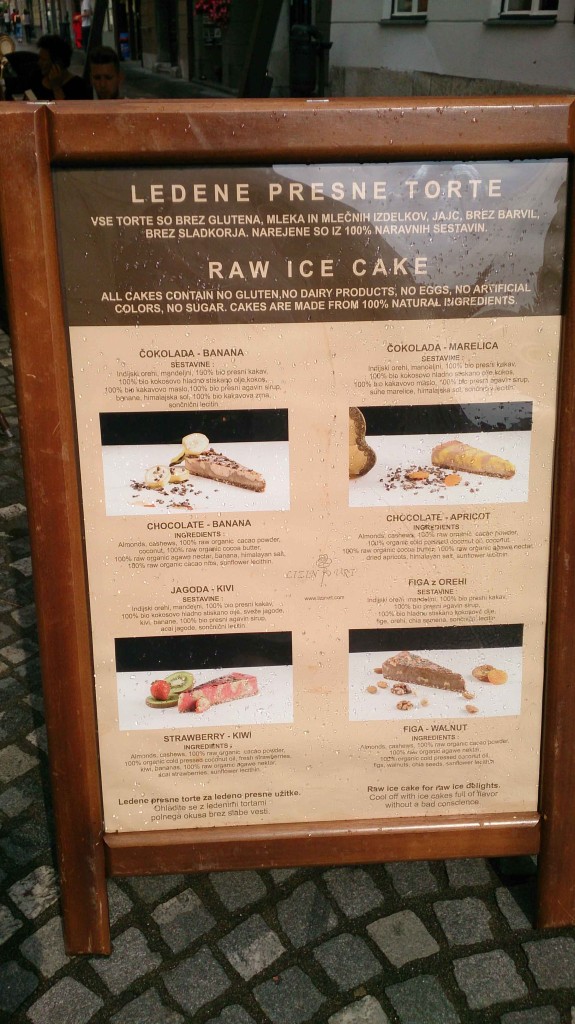 After a few hours of the city, I was ready to collapse. Still tired from my hike, my muscles not working, and having not slept the previous night, I felt dizzy and nauseous. Oh yes – the previous night there was a scary loud and wet thunderstorm, which kept me up most of the night, because I have a fear of lightning and thunder when I am not in a building – and sleeping in Troopy upstairs, well we get rocked around a lot and the wind and the rain are so loud that I was terrified and even spent some of the time underneath curled up in a sleeping bag, trying to shut out the noise. Also, our awning fell and almost broke. So we didn't get much sleep. Instead of checking out one of the vegan spots in the city, we went home (Troopy) as I thought I might actually collapse. My mood improved somewhat by Jonathan's wonderful cooking.
We got an extra day to spend in Slovenia, so we went to Triglav National Park, which is on the northwest side of the country, with the tallest mountain in Slovenia – Triglav – right in the heart of the park. We found a campsite that wasn't too touristy, called Kamp Kamne. It was pouring rain but very beautiful scenery, sort of like the Alps but with less roads and less "Swiss". The lady of the campsite didn't seem too eager on our walk and told us "you can go see the waterfall but it's raining and it will continue to rain so no"… which was a bit odd. But we got our rain gear on and decided to take on the rain, which incidentally stopped and didn't rain again until we returned about 3 or 4 hours later.
We walked to Mojstrana and then instead of looking for the waterfalls, we went on a hike up the mountain, which didn't make my aching legs feel any better. Of course, walking up a slippery road with no proper hiking gear is quite dangerous, and we ended up tumbling down, slipping and falling, getting all our clothes muddy and my shoes covered in bits of earth and leaves. On the way back Jonathan picked up some wild berries, and we didn't even get poisoned from them.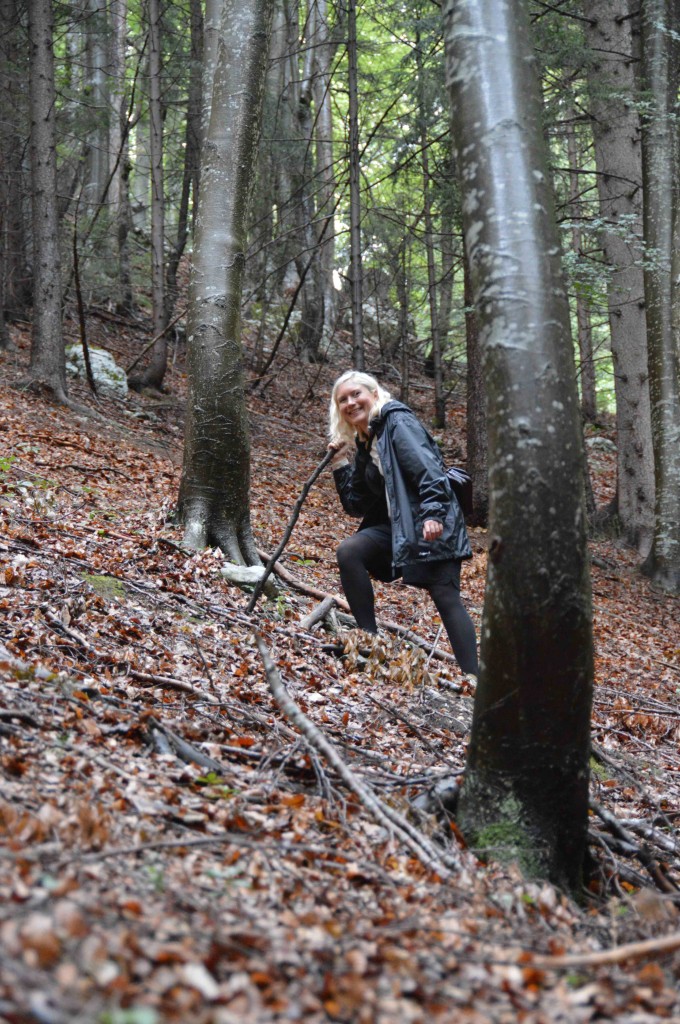 Because it had been raining for days, we were unable to dry any of our clothes at all, so we had to carry around with us stale-smelling damp laundry and towels… not pleasant. Today we drove back to Ljubljana to meet up with Dani from the Slovenian Vegan Society and Nina from the "Osvoboditev Zivali" society (Animal Liberation – rough translation) for a chat and an interview. This meeting deserves its own blog post in the future – which we will do in a few days when I transcribe the interview.
We also looked in on two vegan food places in Ljubljana – Bobencek, which is a tiny little spot in the center with only two tables but lots of amazingly tasting food, and Loving Hut food stand, which had good food also.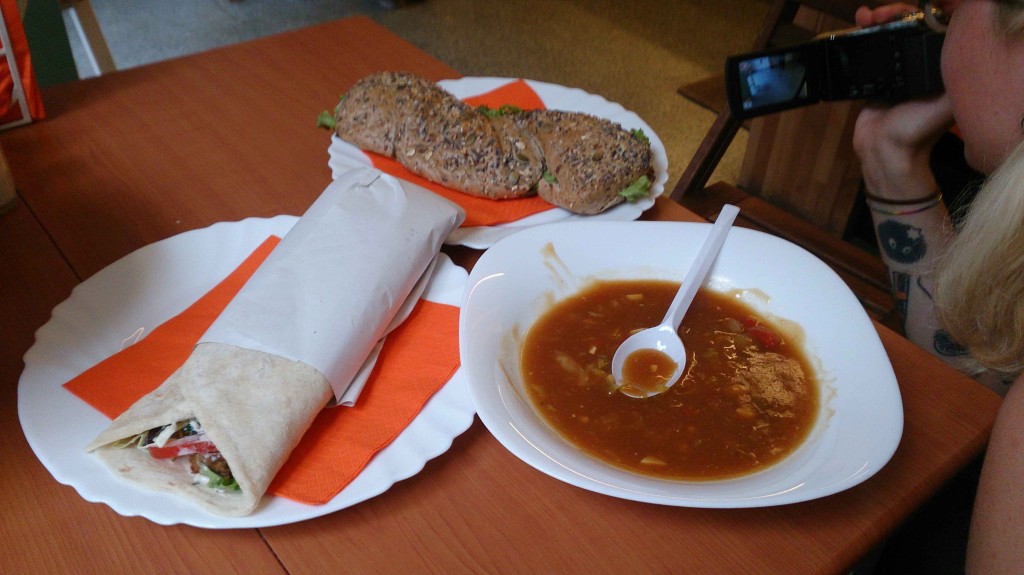 After our lunch we drove to a new country – Croatia!!! And found a campsite right on the northern part of the coast and right by the sea. I mean literally by the sea – I am hearing the waves as I type this.
We went for a swim and strange things started happening. Both Jonathan and I felt weird things touching us / little stings while we swam, but neither confessed until later in the evening, when I had to dig out the medical kit for tick removal. I discovered a tick on my left wrist whilst walking on the campsite. A tiny brown and black thing, burrowing into my skin. I've never had a tick before, so I felt icky and interested at the same time. We tried the old methods – pouring alcohol, pouring oil. But then I googled it and apparently you're supposed to just pull it out gently, not squeezing its tummy. Well, I pulled it out and cleaned the bite. After the tick incident we felt paranoid, so we confessed our weird prodding / stinging feelings in the water, turns out we both felt it but we have no marks on our bodies. Then Jonathan went through my hair looking for more ticks, which probably raised some eyebrows of the passers-by. Then we started smelling our hanging towels and the fleece blanket to see if the stale smell of wet clothes went away. This probably raised more eyebrows. All in all… a good day.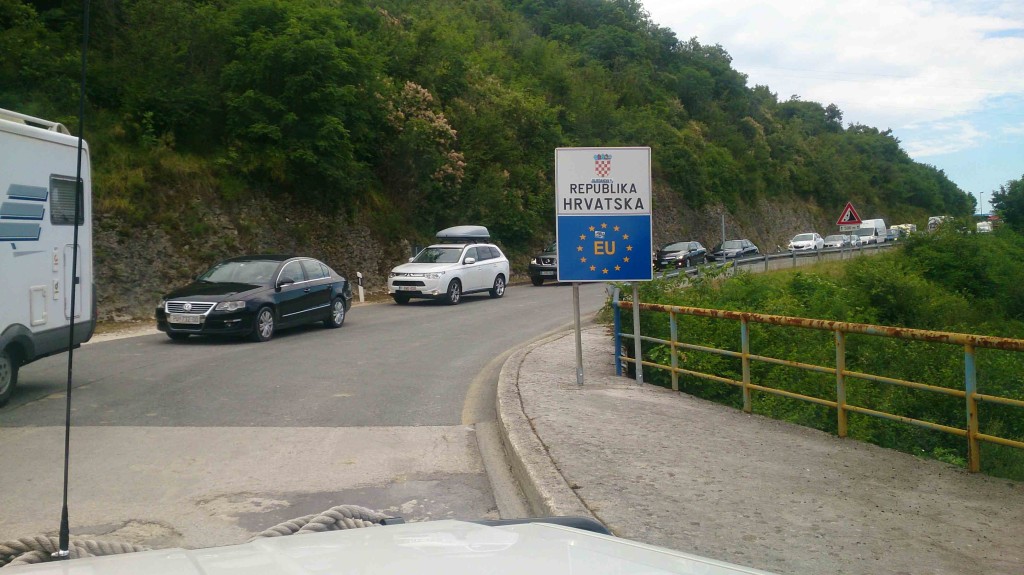 P.S. I am actually posting this the next day from a small coastal town after a third swim in the sea. We had no wifi prior.