First camping trip. First REAL trip with the full crew: Troopy, Jonathan, Katana. A trip through the English countryside on an Easter weekend.
In some ways, this was a very eye-opening little getaway, but also nothing like our actual Africa trip: we fought off cold and freezing rain on and off, we had no paper maps, so relying on google maps became harder and harder as we drove further and further away from London (bad reception, non-existent wifi). However, we learned how to operate Troopy, we realized that we have space to fill but also became baffled by the idea of an enormous fridge instead of an enormous cupboard (we came up with a good use for the enormous fridge by the end of the trip: massive ripe watermelons). We wrote lists of things we definitely need to bring to Africa that we forgot to bring camping this time around, and made mental notes of things we don't need. And we had some tense moments fighting over sleeping spaces, coffee grinds and phones not working.
We started off in Chippenham, where Jonathan lives at the moment. Going on some scenic routes, we were going to visit Jonathan's Mom, and on the way we decided to stop by some sheep fields and cook our first meal in Troops! Couscous and grilled vegetables that we brought with. The cooker is an ancient looking piece of "Swedish design", apparently NOT designed to be operated in any sort of wind. It took Jonathan forever to try and light it, and once we finally got it lit (with many exclamations of "We're definitely going to need long matches and / or gas lighter!"), the cooker then took a long long time to try and boil water. It was during this time we suddenly realized we were doing the couscous wrong, as you don't just dump it in cold water and then bring it to a boil. Well, that cold soggy couscous got chugged in the bushes. Then the new method of boiling water in the kettle almost melted the whole cooker as the flames were jumping everywhere, including the plastic knobs on the front, because the wind was very strong and we decided we should cook outside. Having scrapped that idea, we used the butane Campingaz which was only supposed to be "emergency fire". Having finally made some couscous and mixed that with the vegetables, we were happily fed and on our way to Chulmleigh (North Devon).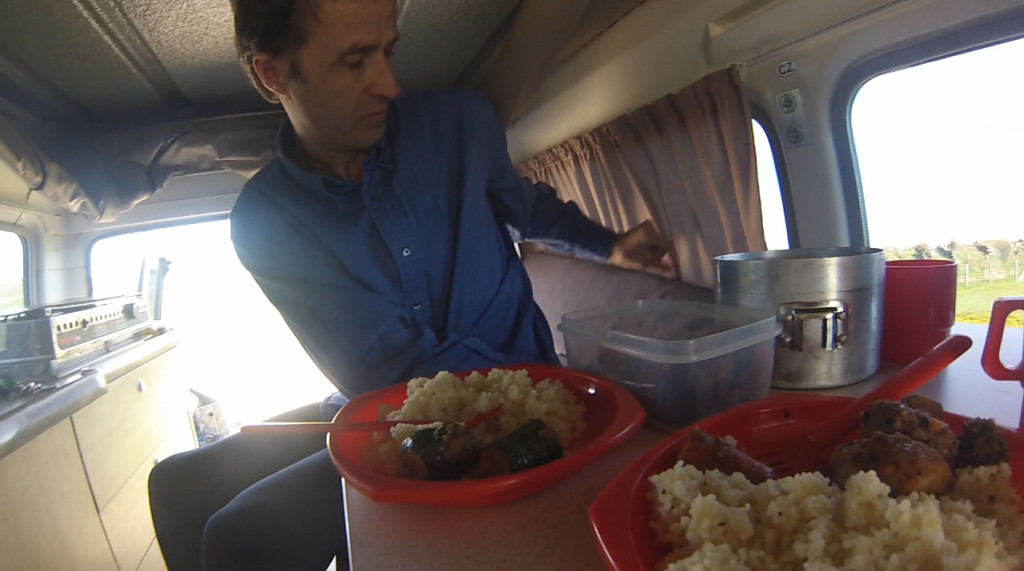 After seeing Jonathan's Mom, we drove to the beach near the Barnstaple area, Saunton Sands. As we got to the sand, the sun was just beginning to set slowly across the sky, and it left brilliant warm and fiery colors. After walking along the beach, we wanted to climb the sand dunes. Personally I have never done this before, and sinking my feet into the warm soft sand was an amazing feeling. We found a large sand pit in the midst of hilly shrubbery, and as I slowly walked/slid down the sand, I noted that it feels like walking on custard, or pie filling. Not that I've ever walked on pie filling.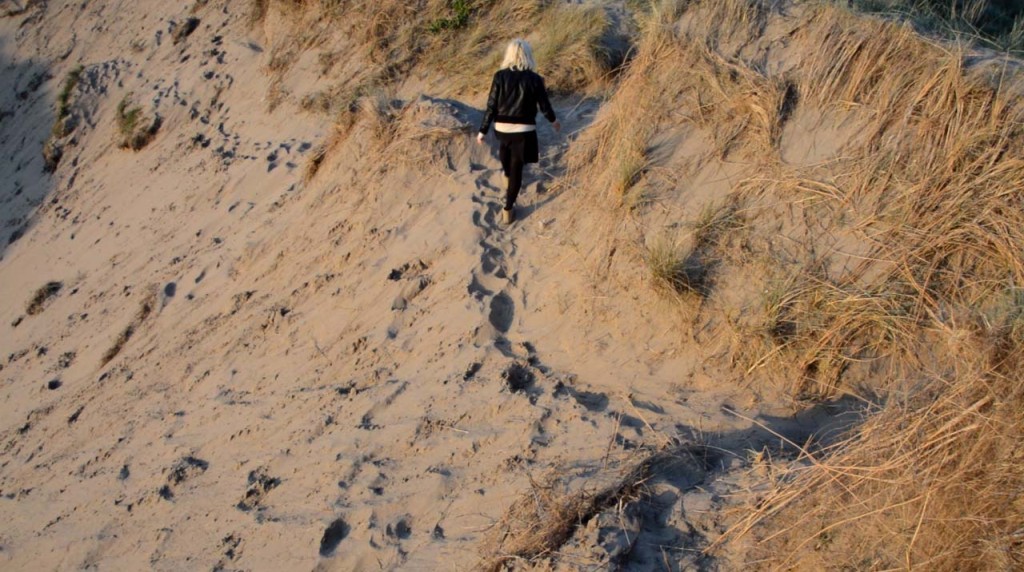 After the sand dunes we decided to find a camping site, which proved difficult with limited internet access. After trying out a site with predominantly screaming children and getting quite frustrated, we did eventually find a little place called "Little Roadway Farm" in Woolacombe, somewhere in the sheep and cow fields. This was going to be our first night sleeping in Troopy. We decided (well, I thought we decided, but apparently it was just me who decided this) that we should try out both sleeping spaces, the top and the bottom, so we put the table down and got all the cushions in place, and then rolled out the fancy new sleeping bags and sleeping bag liners. Getting into one takes some serious skills, but in the end I managed to feel comfortable.
As it turned out in the morning, this was not ideal sleeping arrangements for Jonathan. The problem was that once you fold out the top bed and then put the bottom part of the car into a bed as well, it is impossible to get anything out of the fridge or half of the drawers. Jonathan felt trapped upstairs, unable to access things down on my level. In the morning we had a bit of a tense moment where we discussed the possibility of both of us sleeping upstairs, my argument was that it was nice to go off into your own private corner every night. Later in the day we resolved our very (peaceful) tension where I concluded it would be sane for both of us to agree on the top bunk, and then if I need space I can always go downstairs.
The day proved to be a lovely sunshine filled one, so we decided to try out the awnings, which we never took out before. The side awning wasn't too difficult, except the gigantic mosquito net that is just unbelievably impossible to put on the poles and the car during strong gusts of wind (and the day was so very windy). The other awning, a specifically fitted added-on bonus to the car (by the previous owners) proved a bit of a puzzle, but we conquered it eventually. This awning is particularly nice because it adds extra living space to the car, we can cook in it during strong winds and not burn everything down, but it does take a while to put up.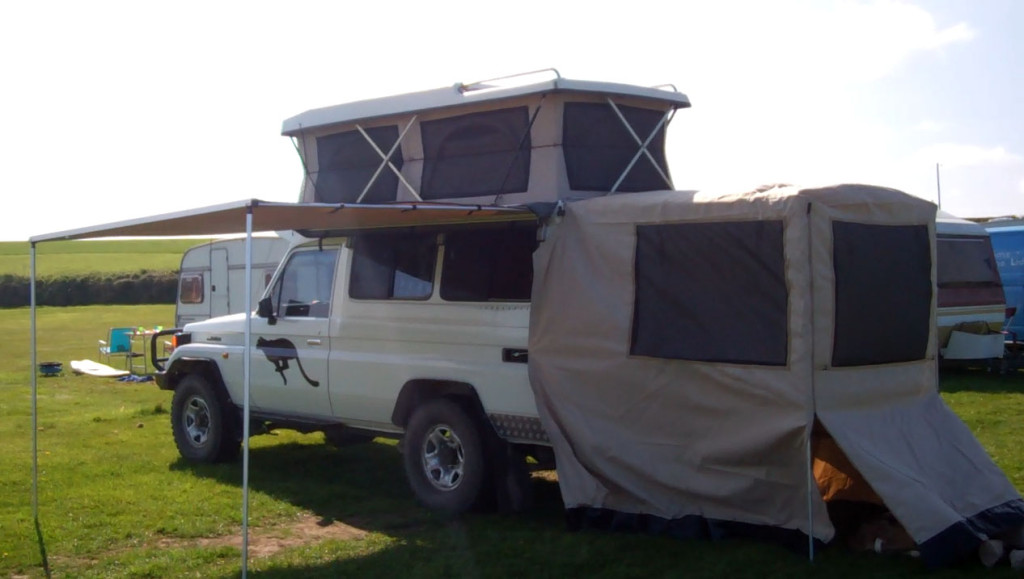 After all this hard work we decided to go down to the sea for a swim. It was sunny, rather cold and windy, but we are brave souls, HURRAH! I noted that going under water felt like icicles stabbing you in the lungs. We can't exactly call this swimming, more like "run in and run out" but we did it, and we feel proud of having done it. Getting back onto the camping site was a bit of an adventure, because the beach was at the bottom of some very steep hills, and the camping site on top of what seemed to be the tallest. We trod through the countryside, across fields of sheep and fields of sheep dung, up the hill on and on, and once we got back, both ran to the showers to wash off our sand-covered feet.
This night was a disturbingly stormy one, and the temperature dropped significantly. In the morning we could see our breathe rising, and the ceiling was covered in condensation. We packed up quickly and headed to Dartmoor, partly because we wanted to catch the scenery in all its gloomy glory, and partly because with the engine running we could put the car heater on. Dartmoor really is everything its made out to be by Conan Doyle in "The Hound of the Baskervilles", foggy, gloomy, eerie and beautiful.
For dinner we went to an Indian place, and after consuming a starter and a main dish (and being completely confused as to which one of the dishes was the Balti), the waiter kept bringing extra bits and pieces: some chicken thing which we apologetically refused to take, orange slices, two shots, one of some coffee liquor and cream on top (obviously we didn't consume this one), the other was Sambuca (I braved that one because Jonathan was driving), and then some chocolates. Afterwards we found a huge camping site with even an indoor pool.
(Here are some cows we hung out with, they decided to lick our shoes. Sorry the photo quality is poor, I took these with my phone in semi-darkness)
The evening was spent quietly writing and looking through the footage we filmed. In the morning we packed up, I went for a quick swim in the pool and we headed back to civilization, through Salisbury Plain where I practiced my driving.